If you follow me on facebook (which if you do by the way, thanks and you're totally awesome.  If you don't, become awesome by going here), you know that I actually made these braised short ribs over a week ago.  It's taken me way too long to post this recipe for you because, well, I got distracted.  I was just so excited to share that Creamy Tomato-Basil Soup with you and then started the birthday festivities for Asheley.
Asheley had a great birthday weekend.  We spent a lot of time with family and friends.  Our friends Steve and Val taught us how to play this awesome new game called Settlers of Catan while delicately scarfing down cupcakes from Molly's.  And the crown jewel of the weekend was a pretty darn amazing meal at the 3-Michelin Star restaurant Eleven Madison Park.   I'll be sharing pictures of that meal with you soon.
But see, now I got all distracted again.  Short ribs.  Right.  I've been really wanting to braise short ribs for a couple months now, and I finally got my chance.  Okay, well yes, technically I did actually braise some short ribs in beer about a month ago for my favorite Fire Roasted Chili recipe.  But let's not get all technical.
Any kind of braised meat is such perfect winter comfort food.  Even better, it doesn't require a whole lot of work.  In fact, it's incredibly easy.  Really.  I promise.
Everything goes into just one pot and spends a few hours in the oven.   The magic happens all by itself, which means I'm free to spend time with Asheley and our arsenal of DVR'd t.v. shows that we neglected all week long.
This is a dish that is perfect for a fancy dinner party without all the stress of a fancy dinner party.  Almost all the work is done way ahead of guest arriving.  The short ribs can even be braised the day before.  They reheat incredibly well, possibly even better tasting than the day they are made.
And the aroma that fills the house while the short ribs slowly cook… it's intoxicating.  You find yourself smiling for no reason.  That, friends, is the power of braised short ribs.
You could just sear the short ribs in oil.  But we're not going for "could just".  Let's start this party off right by cooking up some pancetta and using its fat as a base for searing the short ribs.
I found pancetta already cut up like this at Trader Joes (super convenient).  Alternatively, you can easily just go to a good deli counter, ask for a couple of thick 1/4″ slices of pancetta and finely cube them yourself.
Take out your short ribs from the refrigerator a good 30-60 minutes prior to searing.  Generously, and I mean generously, season your beautiful short ribs with Kosher salt and freshly ground black pepper.
I love searing meat.  Am I alone in this?  There is something so fulfilling in achieving that crispy, deep golden brown exterior.  It completes me.
Make sure to not rush the the searing process.  Patience, something I lack, is definitely required.  It takes a few minutes per side to achieve that good crust.
While your short ribs are searing, prep the vegetables.  It'll keep your mind off of just staring at the short ribs and wanting to turn them prematurely.
Once the short ribs are browned on all sides, take them out of the pot and add your vegetables.
One of the keys to a braised dish like this are the layers of flavor you build throughout the process.  Each step along the way, it's important to season with Kosher salt.  So when these vegetables hit the pot, make sure to season.  Generously.
I don't have a favorite cooking wine.  I just try to stay away from sweet red wines, and typically just use whatever everyday red blend I have lying around.
Once those vegetables are softened and begin to caramelize, it's wine time.  You want the wine to reduce by about half, and then add the beef broth (feel free to substitute chicken or vegetable broth if you have that lying around), bay leaves, thyme, and the short ribs back to the pot.
It's important to make sure the braising liquid comes almost to the top of the short ribs.  If not, add a bit more broth.
Pop the lid on, and then let it hang out in the oven at 350°F for about 2 to 2 1/2 hours.  Carefully remove the cover, and cook for another 20 minutes.  This will reduce and thicken the braising liquid a bit.
At this point, we reach an impasse.  Are you serving these short ribs tonight or tomorrow?  If tonight, let everything in the pot rest for about 20 minutes, then skim off as much of the fat as possible with a large spoon.  You could alternatively pour all the braising liquid into fat separator to do this.
If tomorrow, let everything cool completely and then place the entire pot, covered, in the refrigerator.  Once the fridge does its thing, the fat will have solidified on top and you can easily spoon it off and reheat on the stove or in the oven.
Some of you are really observant.  You're probably the one that always knew how Encyclopedia Brown solved every mystery (remember those books?  I could never solve the dumb mystery).  What, you ask,  happened to that gloriously cripsy pancetta?!
It just took this ordinary swiss chard and made it freaking amazing!
And, once you make some Cheesy Cheddar Polenta, you are ready to eat.  Mashed potatoes are a good alternative, but honestly, is a lot more work.  The polenta is ready in 20 minutes.
I couldn't wait to break into these short ribs.  The low and slow cooking method breaks down all the tough connective tissue into luscious, rich, fall-of-the-bone meat.  Dinner is served.
Update: Did you make this recipe?  Then check out Orecchiette with Braised Short Ribs and Swiss Chard to see how you can transform your leftovers into a fabulous pasta dish!

Print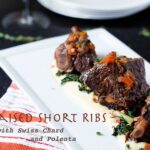 Braised Short Ribs with Swiss Chard and Polenta
---
8 bone-in beef short ribs
Kosher salt
Freshly ground black pepper
4 ounces diced pancetta
4 tablespoons olive oil
4 carrots, finely diced
1 medium red onion, finely diced
2 leeks, trimmed and sliced horizontally
2 cups red wine
2 – 3 cups beef broth
1 bunch thyme
2 bay leaves
2 bunches swiss chard, stems removed
[Creamy Cheddar Polenta|
creamy-cheddar-polenta/]
---
Instructions
Remove short ribs approximately 30-60 minutes before ready to cook. Season generously on all sides with Kosher salt and freshly ground black pepper.
Preheat oven to 350°F. Place pancetta in a dutch oven (or other large oven-proof pot with lid) and cook over medium heat until crispy and all its fat has rendered out, about 7 minutes. Remove pancetta and reserve for swiss chard.
Add 2 tablespoons of olive oil to the pot with the pancetta grease. Raise heat to medium-high. Sear short ribs on all sides until deep golden brown, about 2-4 minutes per side. Remove short ribs and set aside. The bottom of your pot will probably have baked on brown bits. This is good!
Lower heat to medium. Add carrots, onions, leeks, and season generously with Kosher salt. Cook for 6-8 minutes, until vegetables are softened and beginning to caramelize. Pour in wine and stir, scraping all those flavorful brown bits from the bottom of the pot. Let cook and simmer until the wine is reduced by half.
Add 2 cups of beef broth, a bit more salt, and a good helping of freshly ground black pepper. Add short ribs back to pot and make sure they are almost fully submerged. You can add 1 more cup of beef broth if needed. Add thyme and bay leaves.
Place lid on pan and place in oven. Cook for approximately 2 and 1/2 hours, until short ribs are fork-tender and falling of the bone. Remove lid from pot and cook for an additional 20 minutes, which will reduce and thicken the braising liquid a bit.
Remove from oven. If serving the short ribs immediately, let everything in the pot rest for about 20 minutes, then skim off as much of the fat as possible with a large spoon. You could alternatively pour all the braising liquid into fat separator. If serving tomorrow, let everything cool completely and then place the entire pot, covered, in the refrigerator. When ready to serve, you can easily remove the fat, which will have solidified on top. Reheat your short ribs on the stove over medium heat, or in the oven at 350°, covered.
Serve Short Ribs with a spoonful of the braising liquid, Sautéed Swiss Chard with Pancetta, and [Creamy Cheddar Polenta|
creamy-cheddar-polenta/].
For the Swiss Chard with Pancetta
Heat 2 tablespoons olive oil in a large sauté pan over medium heat. Tear swiss chard leaves into large bite-size pieces. Once oil is hot, add half of the swiss chard and the reserved cooked pancetta. Cook, stirring to encourage the swiss chard to wilt. After a minute or two, add the rest of the swiss chard and a splash of water. Season generously with Kosher salt and freshly ground black pepper. Cook for a few minutes, stirring frequently, until the swiss chard is tender.