When I consulted our constantly evolving list of restaurants we want to visit and asked Asheley where she wanted to go for her big birthday celebration, Eleven Madison park was immediately a finalist.  Le Bernandin and Atera were also big contenders, but fell short of the mighty judgement from the birthday girl.  I think those three shiny Michelin Stars reeled her in, and there was no going back.
So, I did what any loving, amazing, top-notch husband would do.  I marked on the calendar precisely 28 days before her birthday to call the restaurant to make a reservation (that's as far out as they reserve).  When I called that morning and after waiting anxiously on hold for about twenty minutes, dinner reservations were already sold out, but openings were available for lunch.  Hey, we're flexible and the menu is the same for lunch and dinner (not to mention that natural lighting for taking photos is better during the day anyway 🙂 ), so we booked it.
Madison Square Park is one of our favorite areas of the city.  We know the area pretty well.  But yet we somehow had no idea where Eleven Madison Park exactly was located.  My phone GPS had us walk up to a giant office building.  This couldn't be it.  It's a huge skyscraper, with no signs of a dining establishment.  And then, tucked in the side of the building under a little overhang, was the grand, marble entrance.  Cue music.
If you've ever been to any Michelin-rated restaurant, let alone the ones at the top with all three coveted stars, you know service is going to be legit.  Walking into the foyer of the restaurant, we were immediately greeted by a swat team of welcoming hosts and hostesses.  And while on the topic, service was exquisite throughout the entire meal.  In some high-end restaurants, the wait staff can exude a pretentious, haughty attitude.  Their was none of that here.  Everyone we interacted with walked that line of being extremely professional and knowledgeable, while at the same time totally humble and down-to-earth.
I was surprised how bright and open the restaurant was.  Huge windows looking out to Madison Square Park flooded the restaurant with light.
After being shown to our table, our head captain graciously welcomed us and gave Asheley a little birthday card from the restaurant.  Nice touch.  She felt extra special.  Score one for husband.  Our captain then asked if we had any food allergies (don't feed Asheley a kiwi unless you want to see her lips swell up) and had us pick between a dry-aged steak or duck for one of the courses.
And then it started.  3 hours.  15 courses.  Or more accurately, 15 tastings.  Few were substantial enough on their own to be warranted a course in my opinion.  It was enough food that you leave feeling satisfied and full, but definitely not like you've had a gigantic meal.
Two miniature black and white cookies is not what I had in mind as a meal opener.  But, they were actually savory cheddar and apple cookies in disguise.
Here are the next four beautifully presented tastings.  The upper left was a very clean and fresh tasting oyster with wood sorrel, buckwheat, and mignonette.  To the right was an unexpected frozen preparation of shaved black radish with sorrel snow and apple.  The bottom left contained a salty custard of sea urchin with raw scallop and chervil.  The best of the bunch was the really delicious surf clam with morcilla sausage and celery root.  I wish we had another 10 of those.
They then came out with their version of a Long Island Clam Bake.  The clam chowder had such a deep, rich umami flavor.  Asheley's eyes lit up at first sip.  The two clam preparations were also good, although I forget what exactly was in each of them.
And Asheley would have also been very happy eating about a dozen more of those Parker House rolls, which were extremely light and fluffy.
Our captain gave us the option of seared foie gras or foie gras terrine.  I jumped at the seared preparation, which was served with sunchoke, dates, and water chestnut.  Asheley ordered the foie gras terrine so that we would be able to try both.  In hindsight, she should have stuck with the seared foie gras. It was absolutely the best I've had.
This was the most fun course of the meal.  Almost like hibachi-show meets fine dining.  A chef came over to our table and attached a meat grinder, and proceeded to grind a small bunch of carrots.
He asked us to first taste the carrot all by itself, which was eye opening experience all on its own.  They were so perfectly, well, carroty.  I now fully understand what a carrot should taste like.
He then explained all the various condiments that we could mix-in to the carrots to make our own tartare.
Okay, how cool is this presentation?  Seriously.  How cool?  A make-your-own carrot tartare is pretty darn cool.
The condiment highlights were a sweet carrot vinaigrette (upper left), pickled apples (right side 2nd from bottom), and... are you ready for this?  A pickled egg yolk (upper right).  Yea, you heard that right.  A pickled egg yolk.  It had a delicate coating on the exterior that, once pierced with the fork, revealed its velvety raw yolk.
Asheley loves bread.  Okay, I love bread too.  We could have easily polished off a dozen of these buttery bad boys.  One roll just wasn't enough.  It was a tease.  But, we had to remind ourselves what happens when we eat too much bread, like the time we ate at Del Posto and went through two entire baskets of bread.  We literally had to waddle back to the car after.  But that bread basket... it really is the best in NYC.
I digress.  The bread here was served with two different house butters, one of which incorporated rendered beef fat with rosemary.
In all honesty, these two courses weren't our favorite.  The poached lobster, served with rutabaga, black pear, and lovage seemed quite chewy.  Maybe I just don't like lobster.  Is that even possible?
Next was a baked potato mash with bonito cream, shallot, and pike roe.  The best part of the dish was that crispy potato skin chip.
One of the chefs then brought over this beautiful rib-eye steak, which had been dry aged by the very well-known meat purveyor Pat LaFrieda exclusively for Eleven Madison Park.  I knew this was going to be ridiculously good.
And it was.  Definitely one of the best courses of the meal.  The steak was grilled with mushrooms, amaranth grain, beef jus, and bone marrow.  It was also served alongside a little bowl (not pictured) of braised oxtail with foie gras and potato.  Everything about this dish was absolutely, fantastically, perfect.
The cheese course was cleverly disguised as a picnic.  The basket contains a bottle of beer made especially for Eleven Madison Park, a soft pretzel, grapes, butternut squash mustard, and Greensward cheese.  We weren't a big fan of the cheese, and I'm not a beer drinker.  A very cute, nice idea for a course (and many people really enjoyed it), but not our favorite.
The first dessert course (not pictured) was a little egg cream with malt, vanilla, and seltzer, which was prepared table-side by our captain.  Then came an earl grey sheep's milk cheesecake, followed by a maple syrup extravaganza.   It was actually a really fun and unique dessert.  Maple cream was covered with a mini mountain of milky shaved ice, then drizzled generously with bourbon barrel aged maple syrup.
Asheley's came out with a candle.  That made her very happy.
Then came the expected but still shocking magic card trick.  To make a long story short, each one of the playing cards had an ingredient listed on it, and after Asheley cut the deck and shuffled all the cards, the two that ended up back on top of the deck were revealed to us: orange and espresso.  We uncovered our plates that were already on the table, and what two flavored chocolates did we reveal?  Orange and espresso.  I still can't figure out this trick.
And, very charming, those sneaky savory black and white cookies that started the meal reappeared, now in their true sweet form.
The captain also each poured us some Apple Brandy, which again was exclusively made for Eleven Madison Park.  She left us the bottle and said to drink as much as we would like.  Let's see how Asheley enjoyed the brandy:
Guess one sip was enough.  She's more of a wine or French martini type of girl.
The meal ended with a mason jar full of granola to enjoy the next day for breakfast, along with a printed menu of everything we ate.  The granola is really spectacular, full of different nuts and fruits.  It's definitely the best granola I've ever tasted.
A special little treat for the birthday girl as well, Asheley received a house-made chocolate bar dusted in gold powder.  We ate it last night.  It was ridiculously good, filled with caramel, marshmallow, and toffee.
Overall, our meal at Eleven Madison Park was excellent, albeit a couple of tastings that didn't quite "wow".  All the courses really showcased the fun, whimsical, creative mind of Chef Daniel Humm.  The meal definitely has a lot of showmanship to it, but the quality of food was also right there to back it up.
In all honesty, however, we both enjoyed the meals at Michelin-rated restaurants Del Posto (NYC) and at Guy Savoy (Paris) a bit more.
And, we actually did leave with one complaint.  During the meal, Asheley and I began to notice that many tables were approached by the Maitre 'd and invited to take a tour of the kitchen.  This didn't come to a surprise to me, since I've read in countless reviews that it was pretty much part of the meal.  You get to stretch your legs, witness the arsenal of chefs doing their thing in the pristinely clean kitchen, and even are treated to some sort of cocktail prepared with liquid nitrogen.  The Maitre 'd made his way over to the table to the left.  They came back with huge smiles on their faces.  I was so excited.  Then, the table to the right of us got that opportunity as they finished their meal.  And us.  Nothing.  Nada.  Zilch.  It was actually pretty disappointing.
You may want to also check out...
The Top 10 Foods You Have To Eat In NYC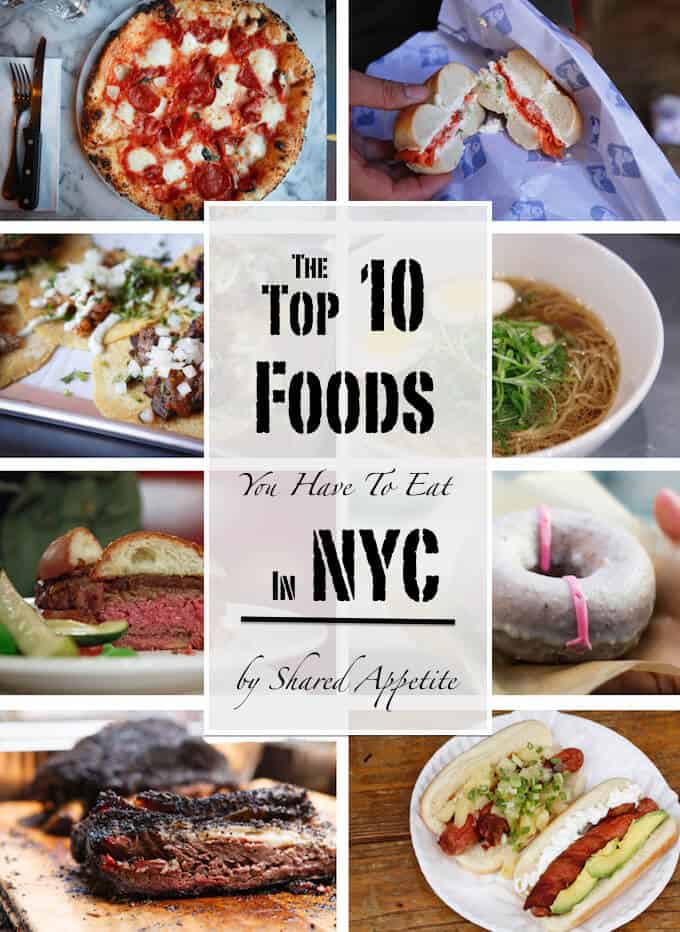 The 10 Best Ice Cream and Frozen Treats in NYC