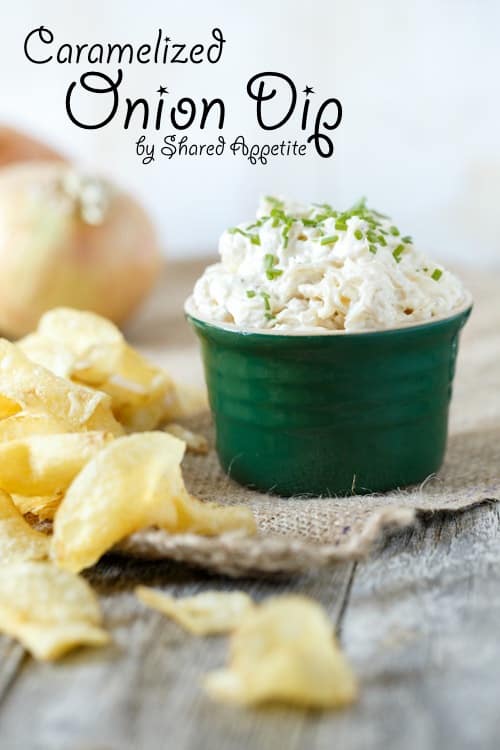 What is it about onion dip that makes it so unbelievably addictive? Growing up (and honestly, even now), I always would make a bee-line directly for the onion dip at backyard bbqs. And yes, almost always it was that powdered mix variety that was combined with a container of sour cream. And sometimes it was even served within that sour cream container. You know what I'm talking about, right?
Just something about that cool and creamy concoction made it impossible to resist. The bowl of potato chips didn't hurt either.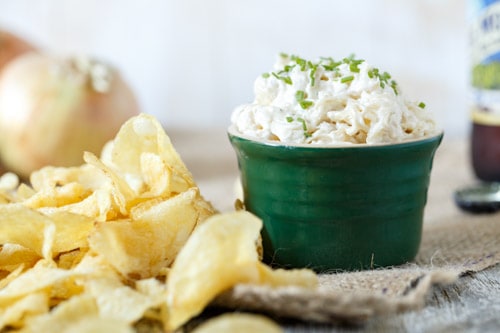 This is the slightly more sophisticated sibling to the powdered dip mix. Yes it takes a little bit more work than opening up a packet and stirring, but it's well worth it. Trust me 🙂
Caramelizing the onions help to develop an intensely rich, deep, and sweet flavor. Mixing them up with some thick creamy goodness, and well, that makes for one crazy good party dip.
And when picking a potato chip, I prefer a strong, sturdy one. There is nothing worse than a weak potato chip that crumbles as it tries to pick up a bit of dip. Then you're trying to pick the pieces out and ugh, it's not pleasant. Go for the good stuff.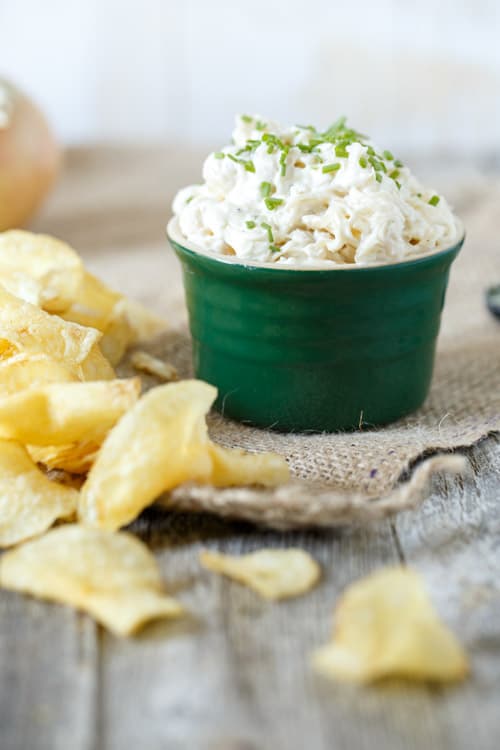 adapted from The Barefoot Contessa
Print
Caramelized Onion Dip
---
Yield:

Approximately

1 ½ cups

1

x
2

large yellow onions, cut in half and sliced very thinly

3 tablespoons

unsalted butter

1 tablespoon

olive oil
Kosher salt
Freshly ground pepper
Cayenne pepper (optional)

4 ounces

cream cheese, at room temperature

½ cup

sour cream

½ cup

mayonnaise
Chives, finely chopped, for garnish (optional)
---
Instructions
Heat butter and olive oil in saute pan over medium/medium-low heat. Add onions and season very generously with Kosher salt. Sprinkle with freshly ground pepper and a little bit of cayenne pepper (if using). Cook onions slowly, stirring occasionally, until onions have wilted greatly and have turned a caramelized golden brown, about 35-45 minutes. Depending upon how hot your stovetop is, this time could vary.
Allow onions to cool. Mix cream cheese, sour cream, mayo, and caramelized onions in a bowl with an electric mixer fitted with the paddle attachment (I use my Kitchen-Aid stand mixer) until fully combined. You could probably mix by hand if needed. Taste and adjust seasonings as needed.
Serve immediately at room temperature. If making ahead, refrigerate until about 20 minutes before ready to serve (to allow for mixture to soften and come to room temperature). Serve with potato chips or vegetable crudites.... but really potato chips.