This Coconut Curry Chickpea Lentil Dal with Cilantro Raisin Chutney will instantly become one of your favorite winter soups!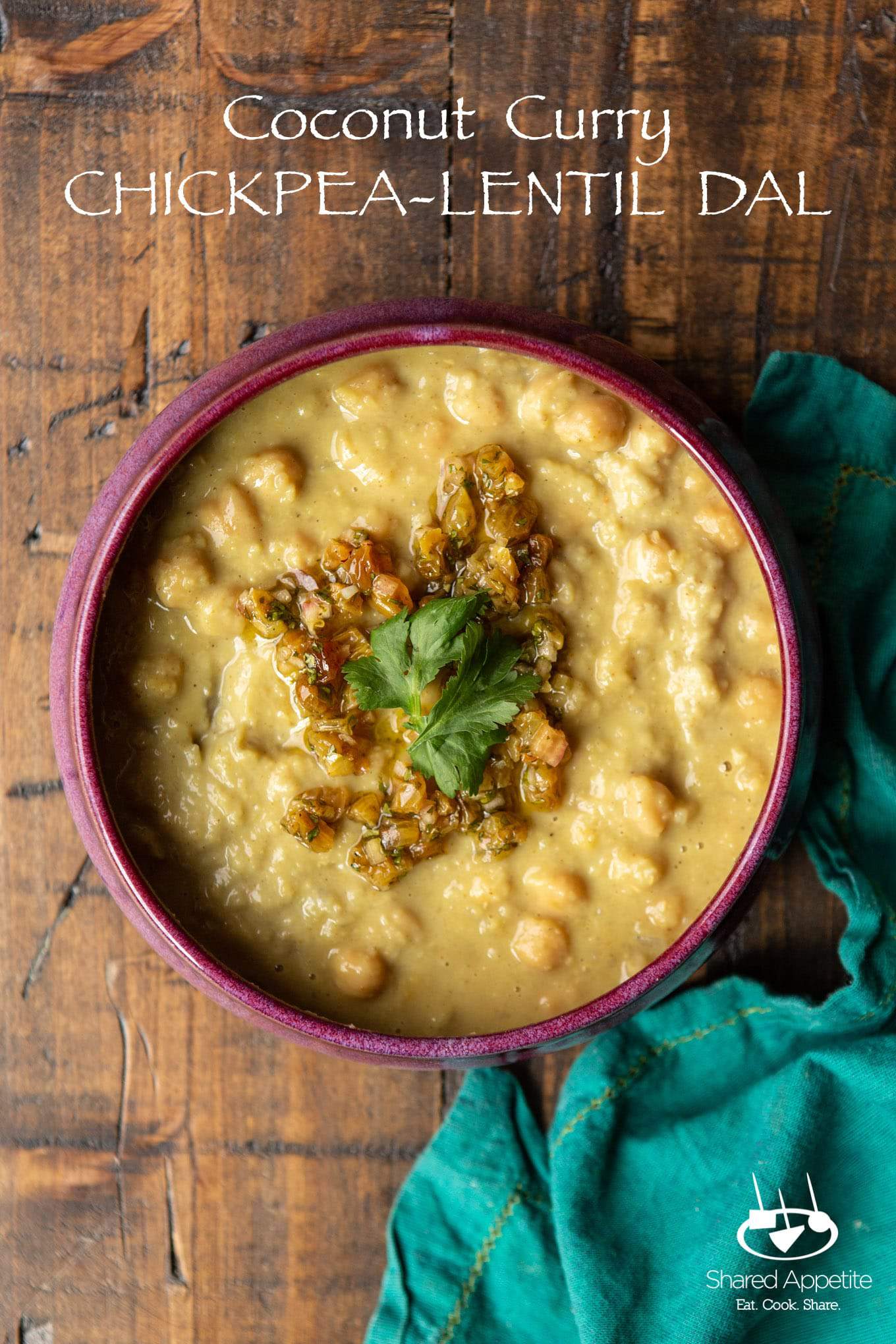 I've made a very strong effort since the New Year to eat better and shed some a lot of extra baggage I've been carrying around this last year. I'm proud to report that I'm down 18 pounds and although I still have a ways to go, I'm thrilled with the progress so far.
I wish I could say it's because I've been exercising like crazy, but to be honest it's mostly because of a big change in my food intake. I'm not one to eat boring food. I just... can't. So I need meals that will deliver HUGE in the flavor category, but can still help me stay on track with the new and healthier me.
I saw this recipe for Coconut Curry Chickpea-Lentil Dal in a recent Bon Appetit magazine and instantly knew this was a dish I needed to add to my new healthy meal planning regimen.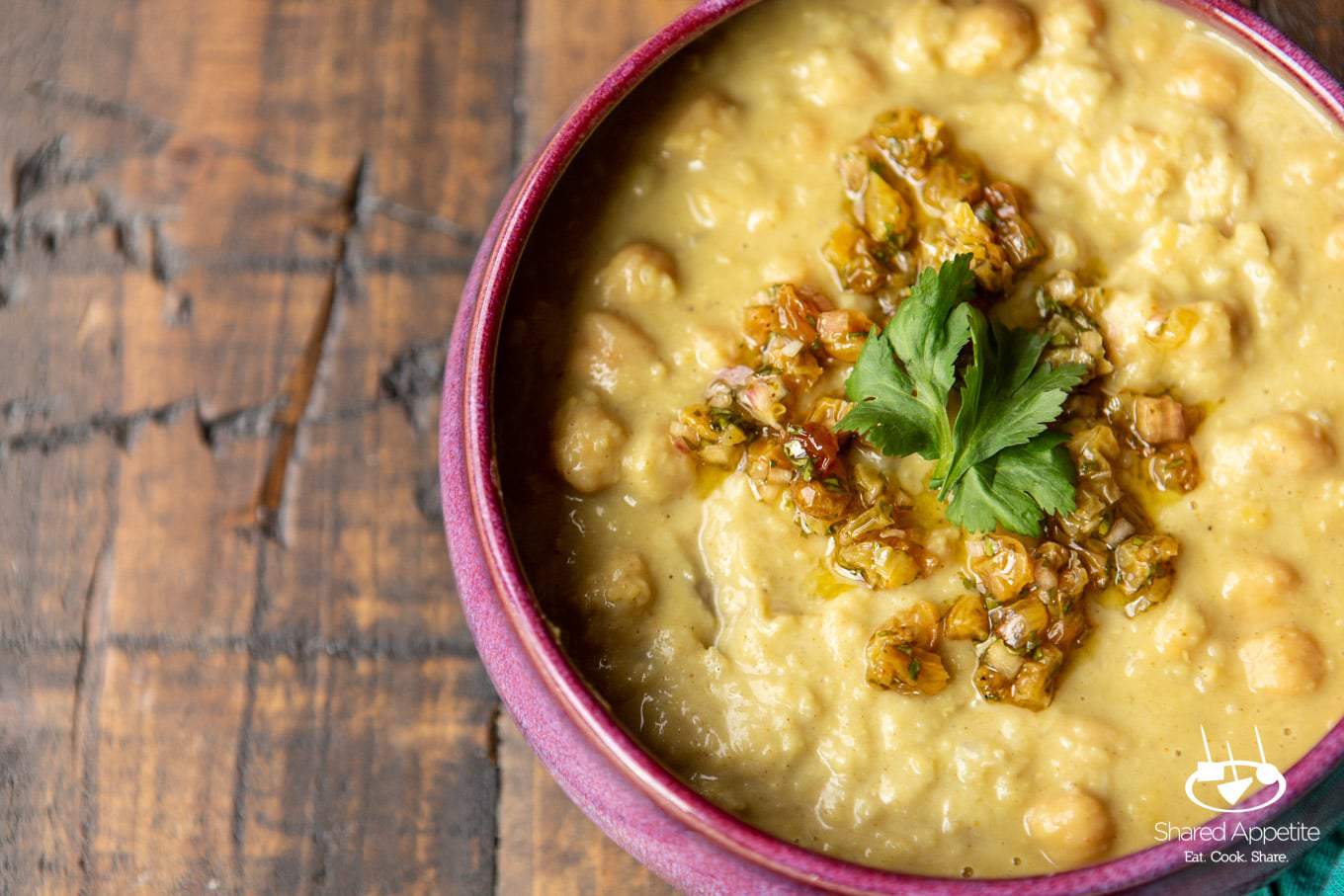 They suggested a few different topping ideas for this Coconut Curry Chickpea-Lentil Dal, but I was immediately drawn to the Cilantro Raisin Chutney. It sounded perfectly weird... and I was intrigued. The sweetness of the golden raisins. The herbaceous cilantro. The bite of the shallot and lime. It's the PERFECT condiment to cut through the richness of the soup.
Friends. I'm OBSESSED with this comforting bowl of creamy goodness. It's jam packed with flavor, is accidentally vegan (and by that I mean I am not searching out vegan recipes... it just happens to be be vegan), and is pretty darn healthy.
I wish I could say this is a quick and easy recipe that's on the table in under 30 minutes, but I'd be lying. It does take some careful planning (you need to soak dried chickpeas overnight), but it's SO worth it. Besides the chickpea soak, you'll need about 1 hour to get this soup ready... but it's almost all inactive time of the soup just simmering away.
This recipe for Coconut Curry Chickpea-Lentil Dal is very close to the original as created by Bon Appetit, but I really like the slight changes I made to the recipe.
Serving suggestion: Trader Joe's sells excellent frozen Naan. Either goes perfectly with this Coconut Curry Chickpea Lentil Dal, but the garlic one is especially good.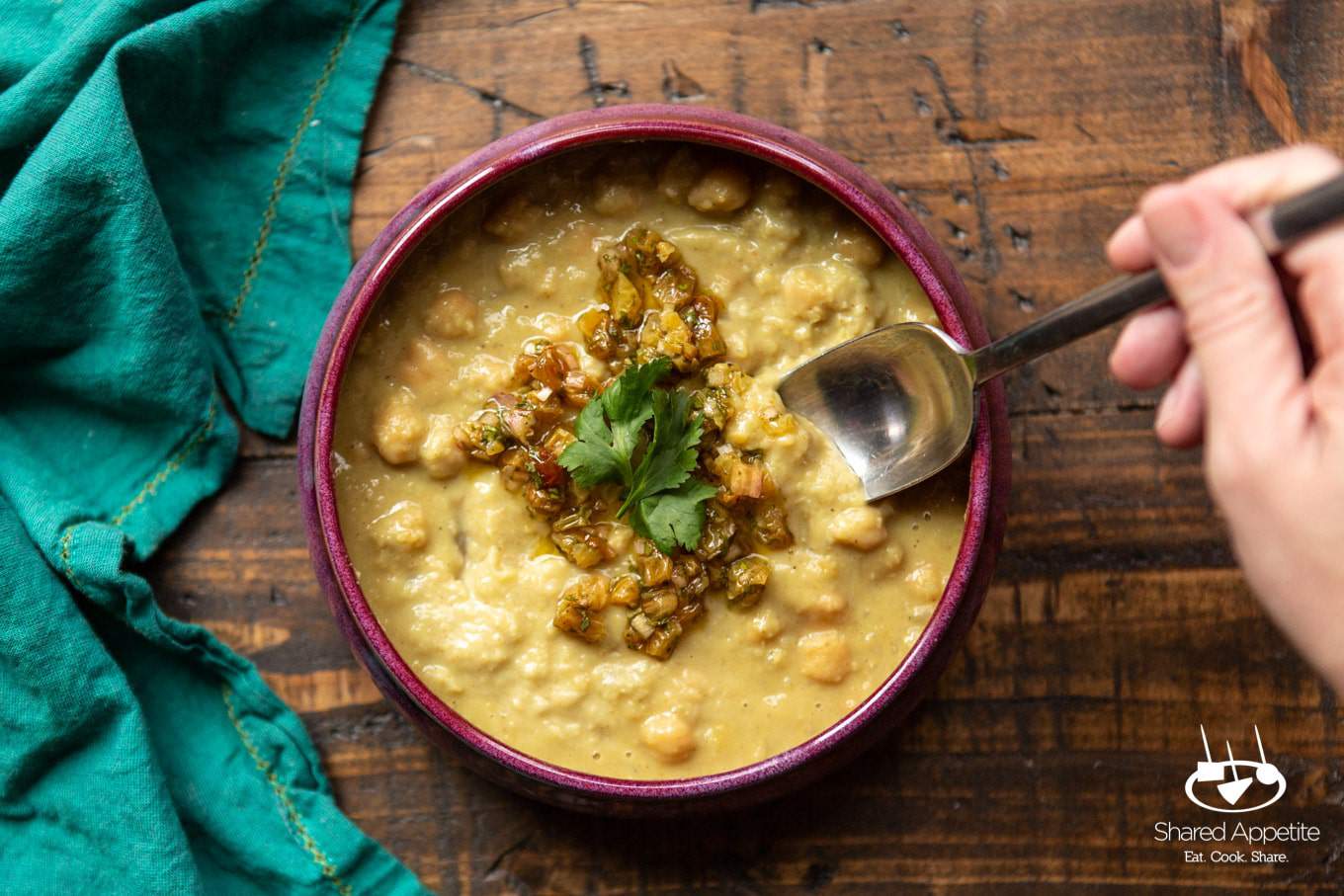 Print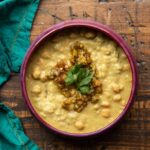 Coconut Curry Chickpea-Lentil Dal
---
---
3 tablespoons

olive oil or coconut oil

2

medium onions, diced

6

cloves garlic, minced

1

2" piece ginger, peeled and minced

1 tablespoon

curry powder

½ teaspoon

cayenne pepper

1 ½ cups

dried chickpeas, soaked overnight and drained

2

(13.5 ounce) cans unsweetened coconut milk

1 ½ cups

split red lentils
for the Cilantro Raisin Chutney
2

shallots, finely minced

6 tablespoons

chopped golden raisins

2 tablespoons

minced cilantro

2 tablespoons

fresh lime juice

2 tablespoons

olive oil
Kosher salt
---
Instructions
Heat oil in a large soup pot over medium heat.  Cook onions, stirring occasionally and seasoning with a generous pinch of Kosher salt, until softened, about 4-6 minutes.  Add garlic and ginger, stirring frequently to prevent burning,  about 1-2 minutes.  Add curry powder and cayenne pepper and cook for 1 minute, stirring constantly.
Add soaked and drained chickpeas along with 5 cups of water, stirring to release any bits stuck to the bottom of the pot.  Season generously with Kosher salt and bring to a simmer, at which time cover most of the pot with a lid (leaving a little bit of space for the steam to escape).   Maintaining a gentle simmer , cook for 25 minutes-30 minutes.
Add coconut milk and lentils to the pot, seasoning again with Kosher salt.  Return to a simmer and cook, partially covered again, until chickpeas are tender and the lentils have broken down to form a thickened broth, 30-35 minutes.  Taste and season with more salt if needed.
Ladle Coconut Curry Chickpea-Lentil Dal into bowls and top with Cilantro Raisin Chutney
for the Cilantro Raisin Chutney
Combine all ingredients in a small bowl and season with Kosher salt.  Can be made up to one day ahead of time.  Cover and chill until ready to use.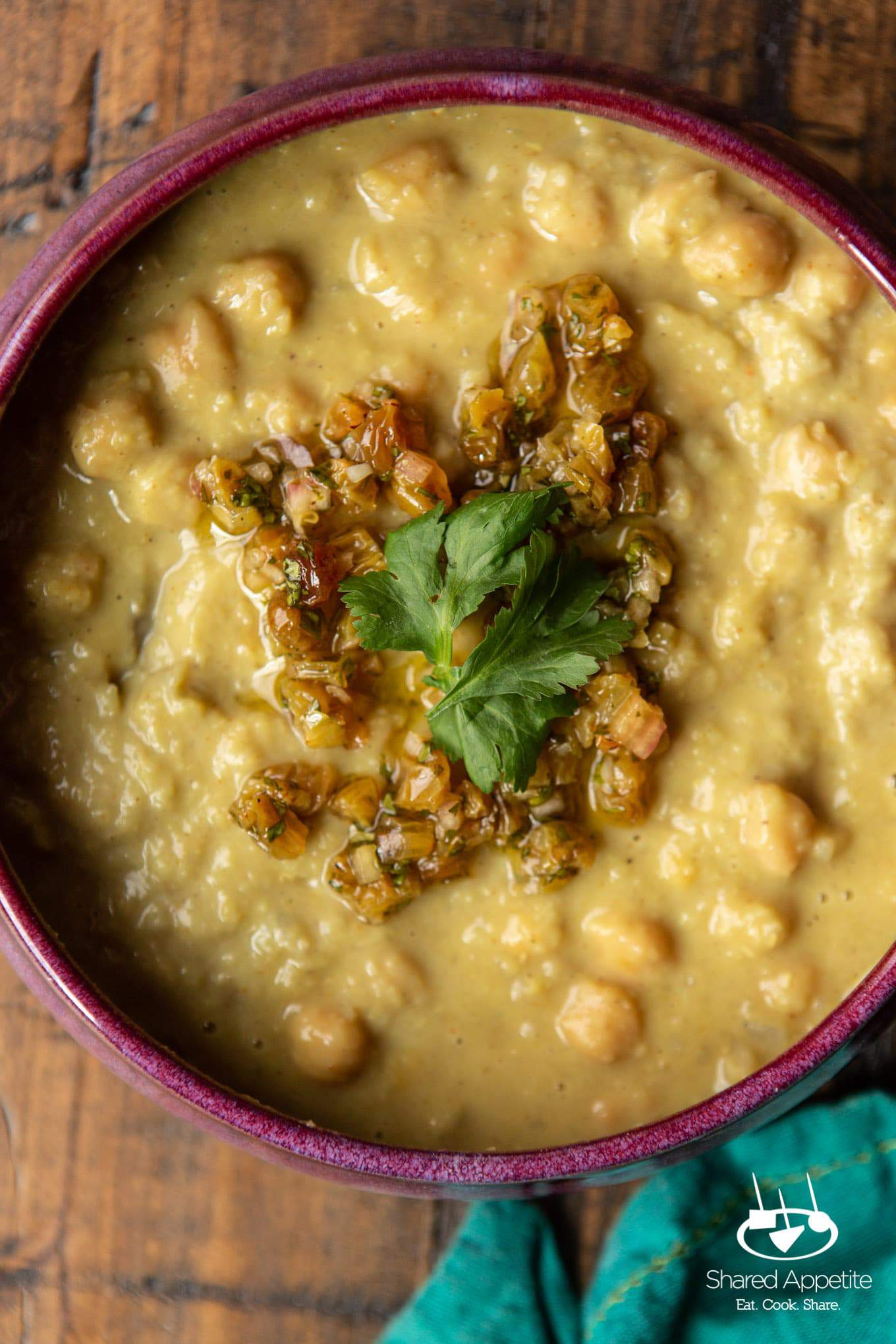 Coconut Curry Chickpea-Lentil Dal