This post for One Pan Cranberry Rosemary Chicken with Quinoa Rosemary & Olive Oil is sponsored by Near East®. As always, all thoughts, opinions and recipes are my own. Thanks for supporting the brands that support Shared Appetite!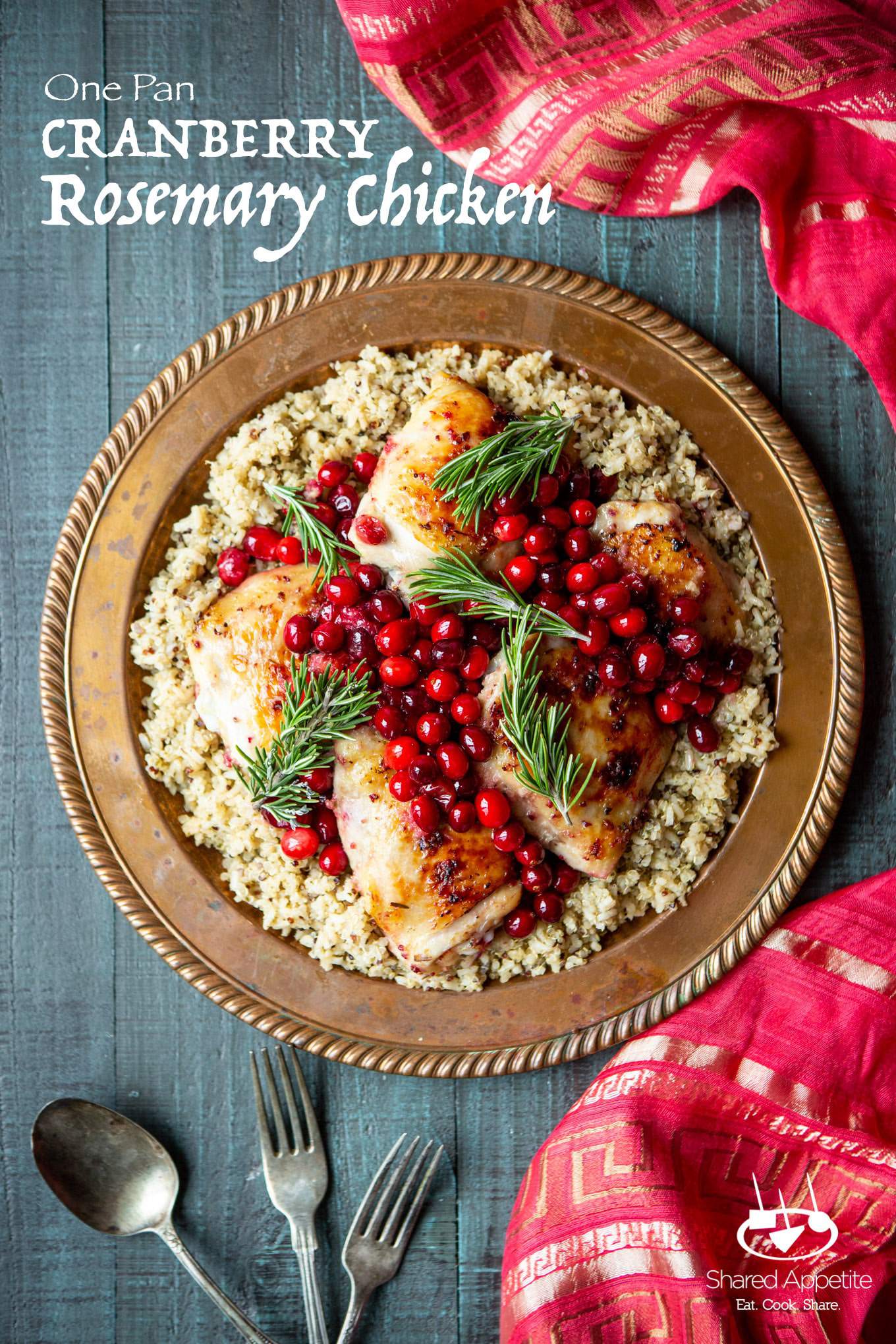 The holidays are officially over, which means it's time to get back on track with cooking delicious weeknight meals that the whole family can enjoy. Bonus for recipes that can help me detox from the over-extravagant eating that the last few weeks always seems to bring on! But here's the problem with weeknight dinner. There's no time!
Oh, you too?
That's when I turn to one pan recipes that only take about 5 minutes of prep, like this One Pan Cranberry Rosemary Chicken with Near East® Quinoa Rosemary & Olive Oil. It's full of big, bold flavors and only takes a few minutes to prep!
So here's the deal. Successful weeknight dinners in my book have to be really quick but at the same time really flavorful. By the time we get home from after school activities, I have about 1% of energy left to get dinner on the table and do our night time routines. Boring bland food, though, is also just not an option. That is why I love this one pan dish!
Want to make this One Pan Chicken Rosemary Chicken with Near East Quinoa? Click to Buy Now!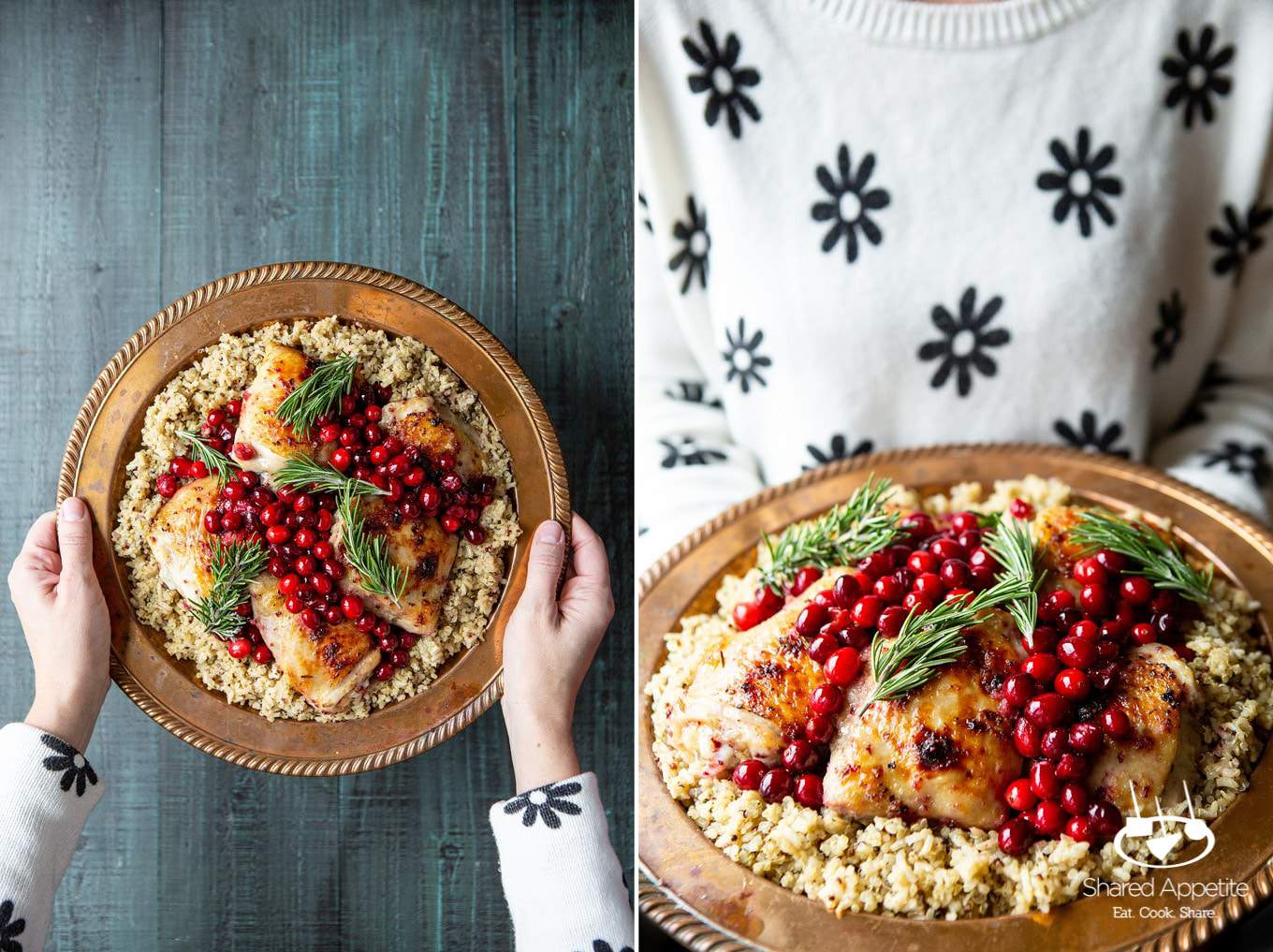 This One Pan Cranberry Rosemary Chicken is beautiful enough to share at your next dinner party, but simple enough to pull off during the week. Also, let's be real. We all have a leftover bag of fresh cranberries in the fridge from these last few weeks of holiday entertaining and this is a great way to reduce holiday food waste. That makes my wife extremely happy, as she always cries a little on the inside when she sees any food being wasted in our home.
Also, did we mention ONE PAN?! Let's not underestimate the power of a great one pan dinner, because you and I both know that if we are pressed for time cooking dinner, we are definitely not in the mood to for washing dishes.
My plan when making this One Pan Cranberry Rosemary Chicken? In the morning before I leave for work, I take 5 minutes (yes, it truly only takes 5 minutes) to blitz together the super simple marinade that consists of pretty much everything I already have in the pantry. Pour it over some chicken in a pan, and let it marinade all day. Get home from work and throw it in the oven. 30 minutes later... boom dinner is ready!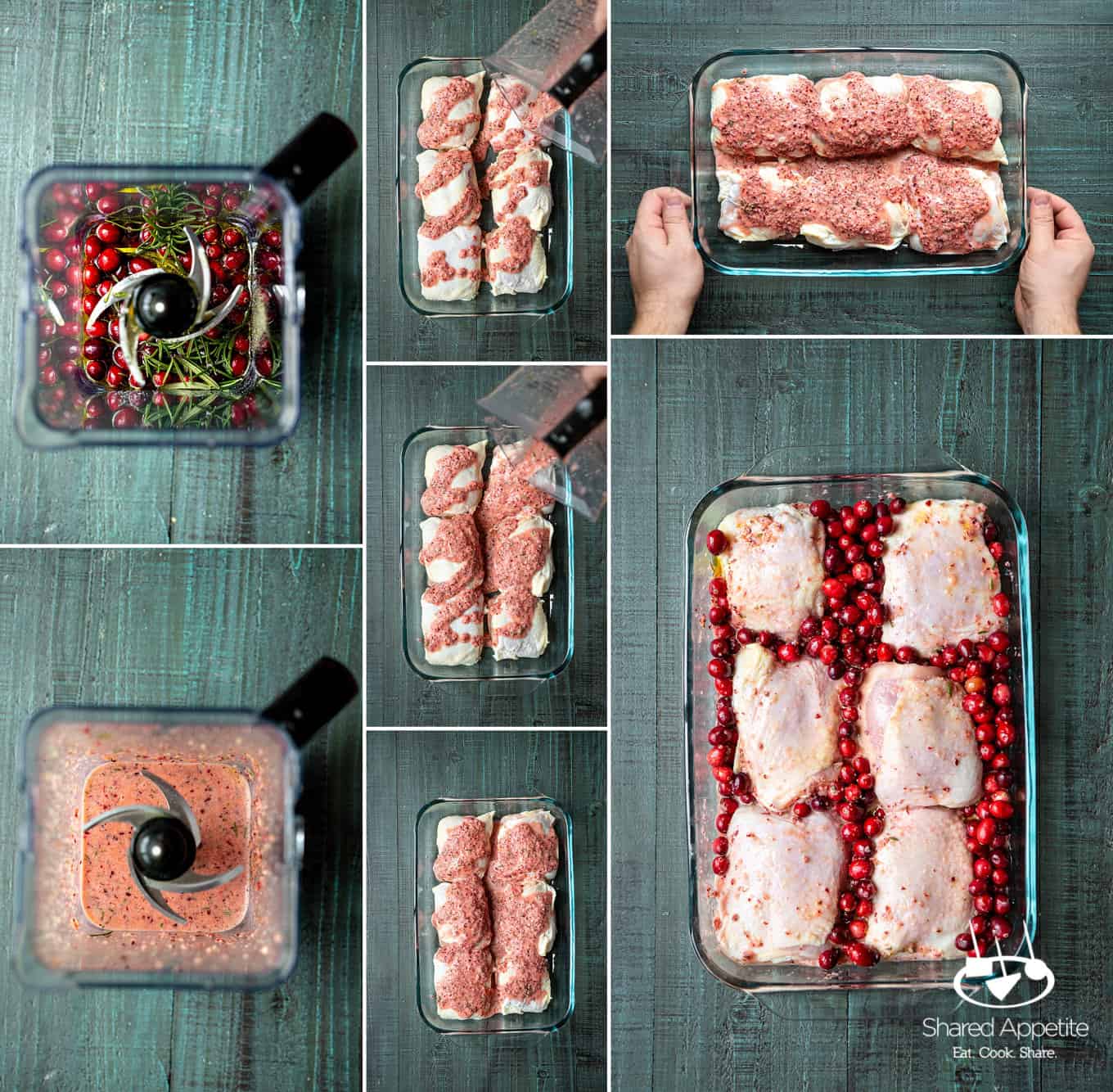 While the One Pan Cranberry Rosemary Chicken is baking, I take literally take 1-2 minutes to prep the Near East® Quinoa Rosemary & Olive Oil and then let it boil for 15 minutes. That's why I love Near Easts products. When you're pressed for time, it delivers a layer of convenience and approachability to cooking to make it SO easy!
Near East products are globally inspired and help bring authentic tastes of the world to everyday meals. Also, let's be real. Side dishes that we can conveniently whip together without any hassle is a HUGE win.
And something I feel really good about with this Near East Quinoa Rosemary & Olive Oil? It's Non-GMO Project Verified and Fair Trade Certified.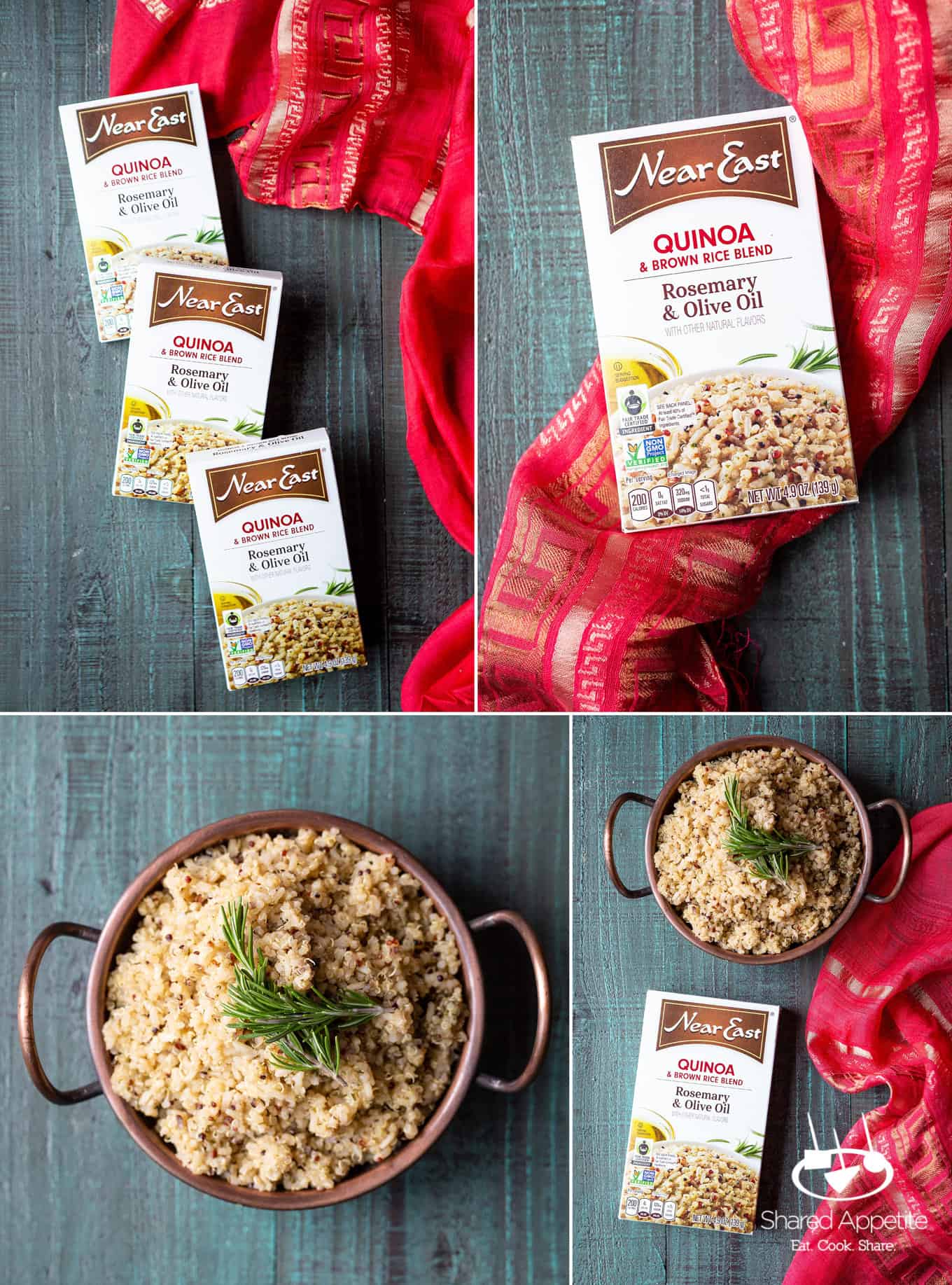 It's a new year, which means like mostly everyone else I have a bunch of goals. Having more time in the day is just never going to happen, but I know that I can get better at making great weeknight meals happen with some careful planning and simple quick meals in my back pocket. You better believe this One Pan Cranberry Rosemary Chicken is one of them, and I'm excited to try swapping in different fruit flavors throughout the year as different produce come in season!
And with a whole line of Near East products to choose from, I know they have my side dishes covered!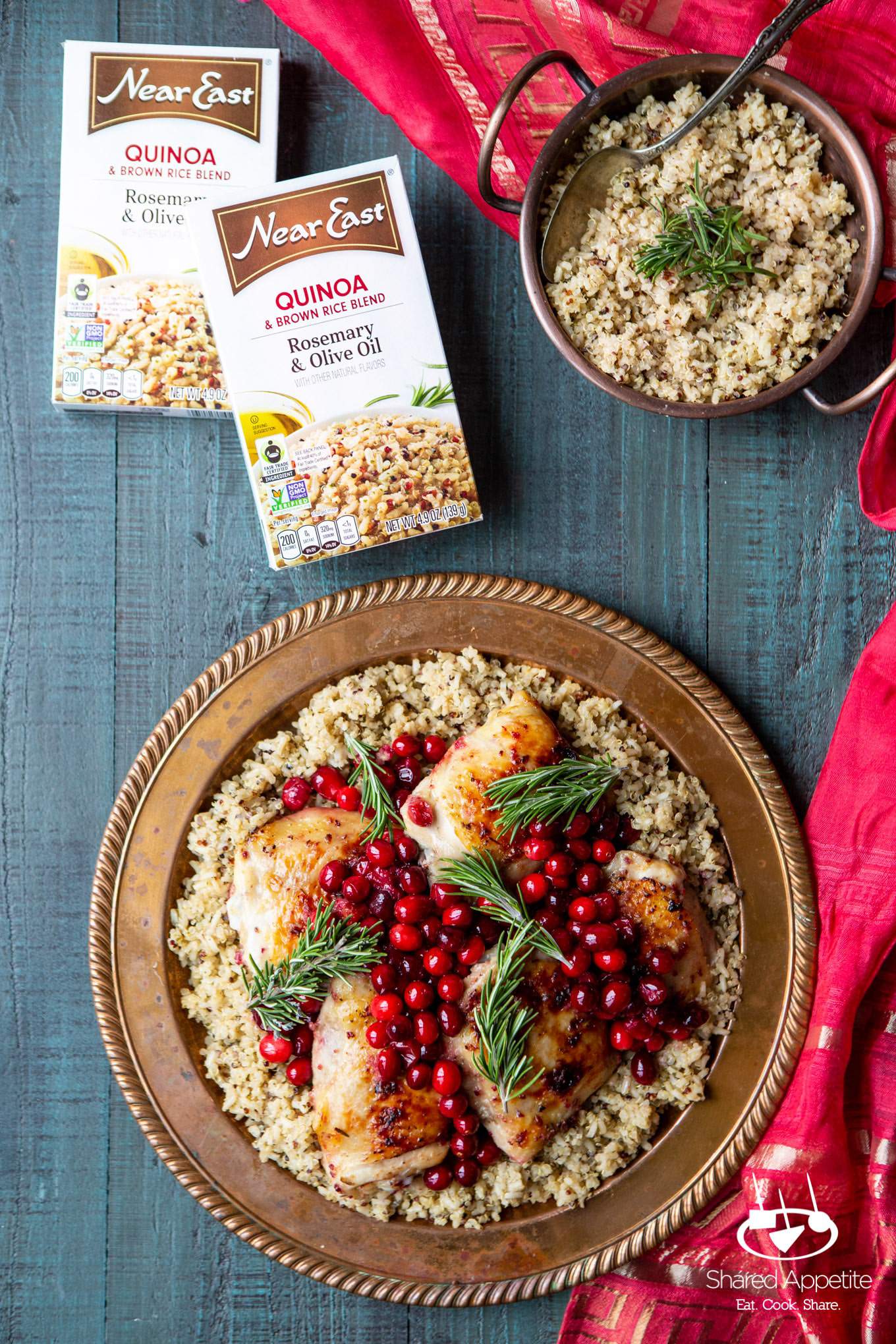 Print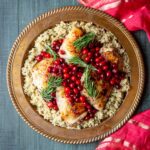 One Pan Cranberry Rosemary Chicken
---
3

pounds (about

6

pieces) bone-in chicken thighs

2 cups

fresh cranberries, divided

3 tablespoons

olive oil, divided

2 tablespoons

light brown sugar

½ teaspoon

garlic powder

1 teaspoon

chopped fresh rosemary

¼ cup

chicken broth

1 teaspoon

Kosher salt

2

packages Near East® Quinoa Rosemary & Olive Oil, prepared according to package directions
---
Instructions
In a blender, combine ½ cup of the cranberries with 2 tablespooons oil, brown sugar, garlic powder, rosemary, chicken broth, and salt.
Lay chicken thighs in a oven-proof bakings dish in a single, even layer.  Pour marinade over chicken and coat.  Let marinade for as long as you can, up to overnight.
Preheat oven to 400°F.  Scrap marinade off of top of chicken thighs as best you can and brush on remaining oil on chicken skin.  Season with Kosher salt.  Add remaining 1 ½ cups cranberries between chicken thighs.  Bake chicken for approximately 25 minutes or until just cooked through.  Heat broiler to high and brown skin, watching very carefully and constantly to avoid burning, about 3-5 minutes.
Serve chicken with the pan sauce, cranberries, and Near East Quinoa.
Prep Time:

5 minutes (plus marinating time)

Cook Time:

30 minutes
Want to make this One Pan Chicken Rosemary Chicken with Near East Quinoa? Click to Buy Now!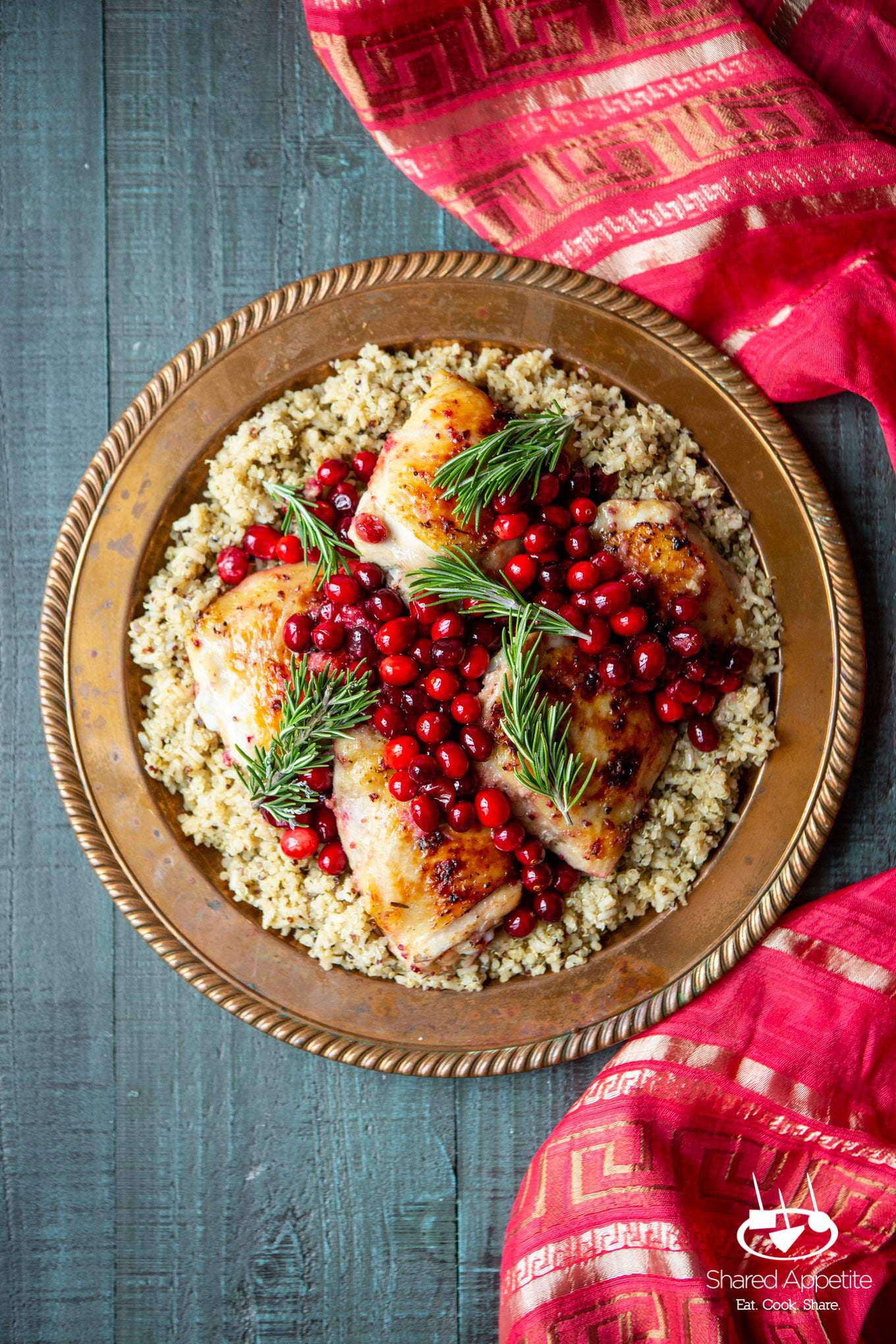 One Pan Cranberry Rosemary Chicken