This recipe for Greek Chicken Flatbread is sponsored by Naked Truth Chicken. As always, all opinions and recipes are my own. Thanks for supporting the brands that support Shared Appetite!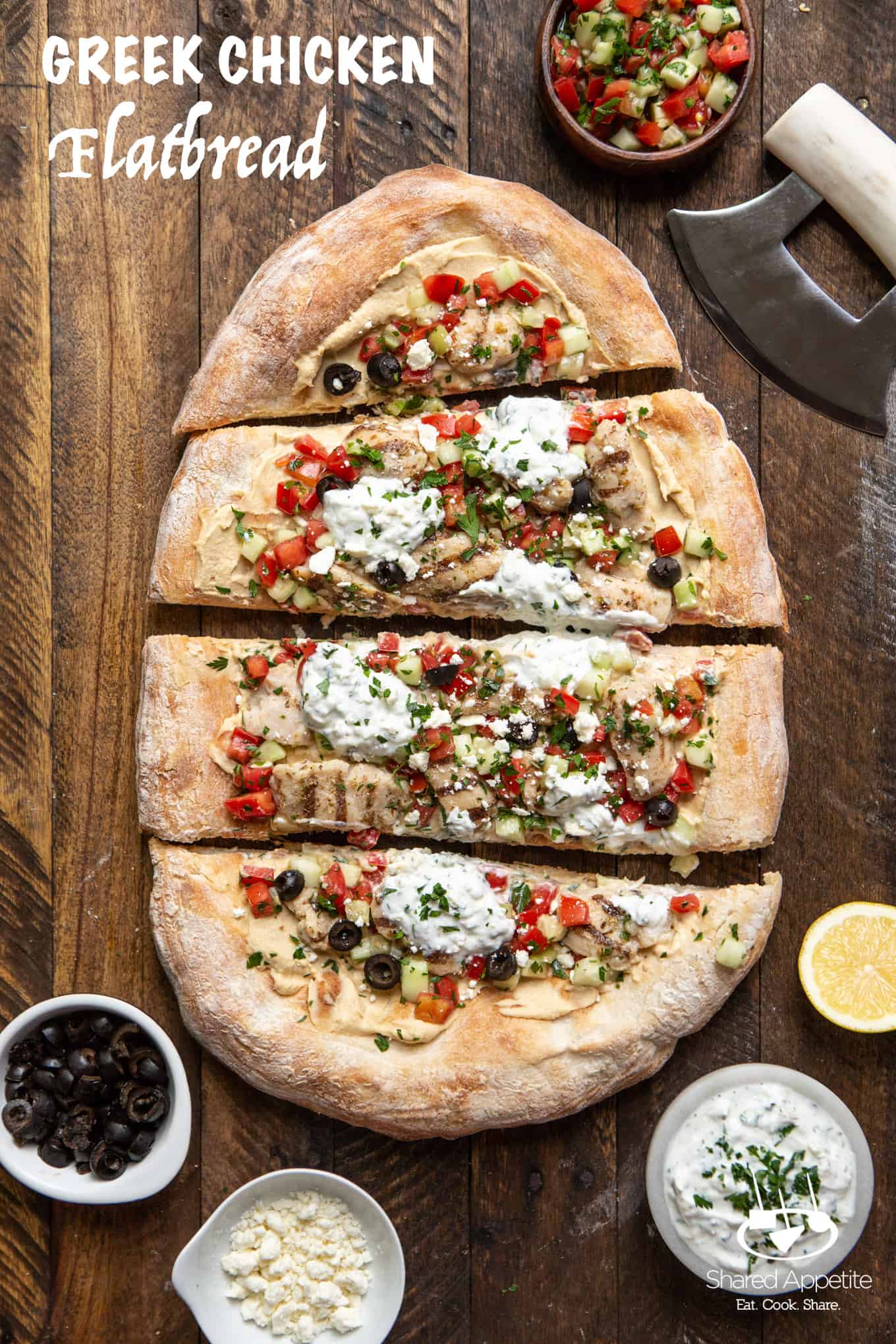 Olivia is at the age where she LOVES to cook. Yes, it takes a bit longer to make whatever it is that's on the menu that day with a four year old's "help", but how can you say no?! Not only is it absolutely adorable to have my little helper by my side, it also helps her try new foods.
My daughter loves to judge food with her eyes long before it ever touches her taste buds. To combat that, I've found that having her help me in the kitchen is the #1 way to get her interested in trying something new. Put that something new in an already loved favorite (I'm looking at you pasta, pizza, quesadillas, and fajitas), and it's almost guaranteed to be a huge win!
I had a huge craving for Greek flavors this past month, so when it came time for pizza night, I knew I wanted to make this Greek Chicken Flatbread. There's a lot of new flavors going on here for a 4 year old, so I quickly said yes when Olivia asked to help me prep dinner!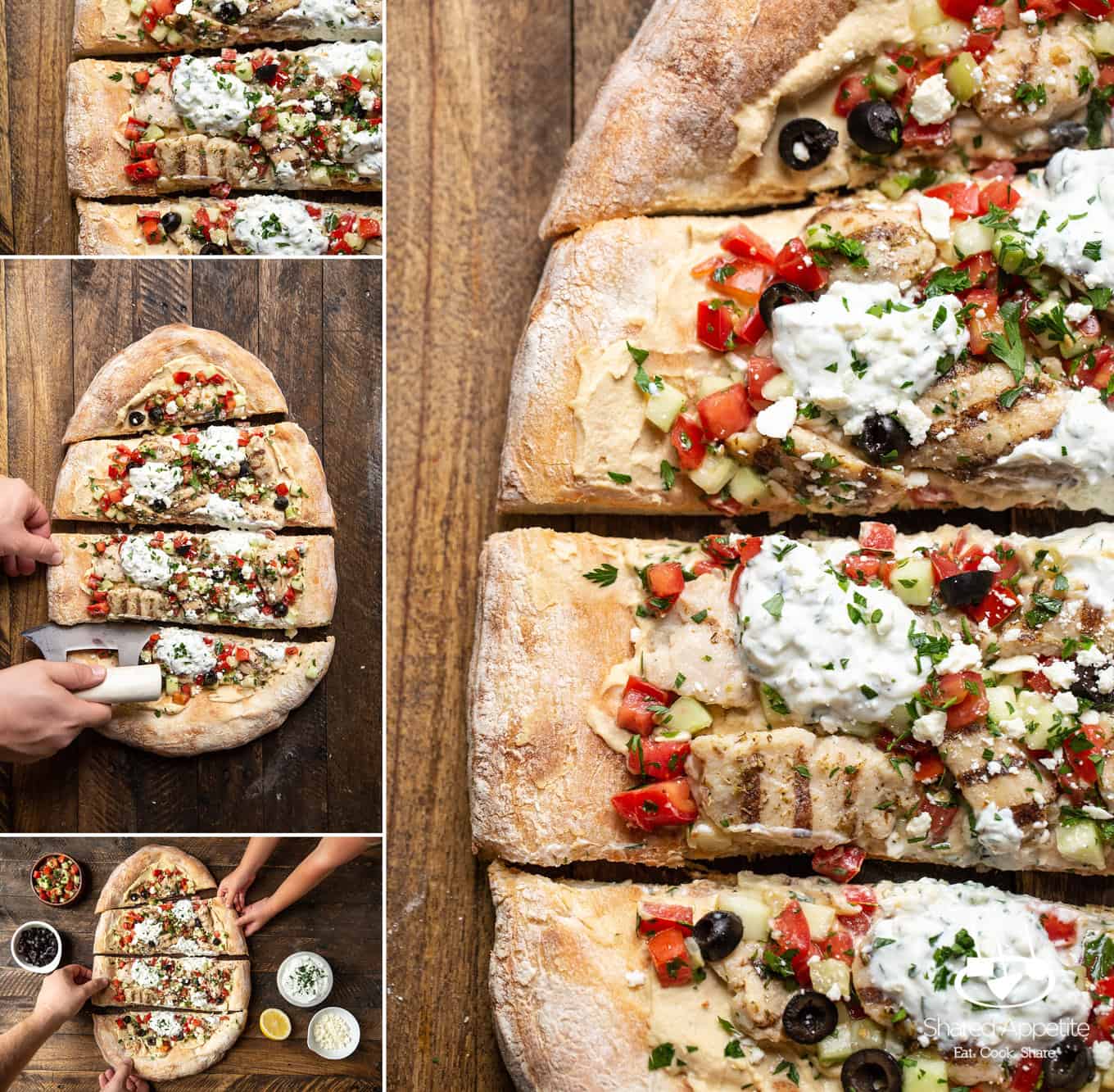 It's hard not to love the flavors of Greece. Creamy hummus. Salty feta. The fresh taste of the tomato-cucumber salad studded with parsley. The sharp tzatziki. Briny olives. And of course, a lot of lemon! Especially on the lemon-oregano glazed chicken!
Put all that together and you have one visually stunning flatbread AND a flavor party for your taste buds!
Were these a lot of flavors for a 4 year old to process? Yes. Did Olivia love everything on this Greek Chicken Flatbread? Well, no. And I'm 100% okay with that, because she learned what she did like, what she wasn't a big fan of, and was excited to cook another Greek inspired pizza soon with the customized toppings she wanted. That's a huge parenting win right there!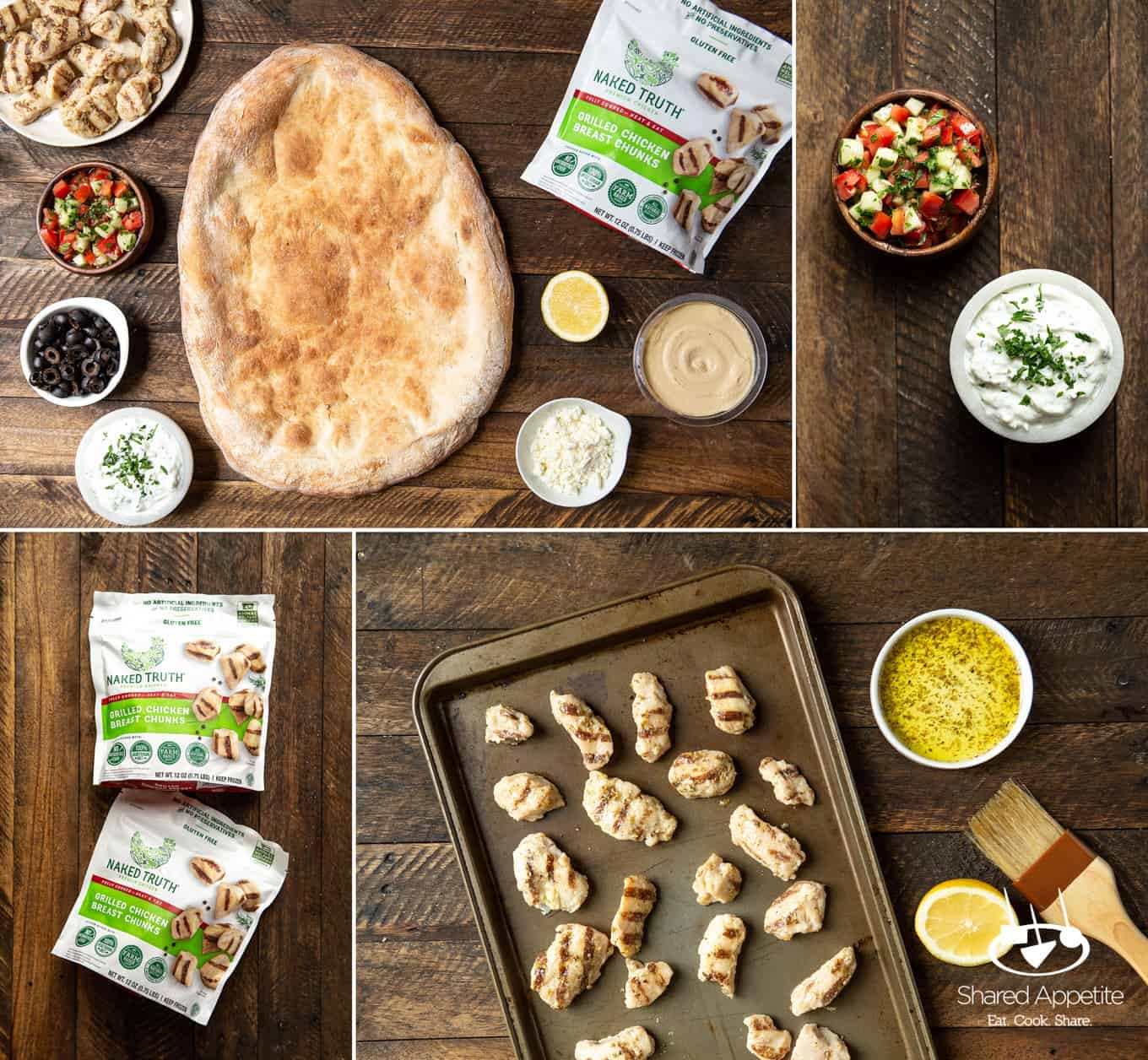 My #1 shortcut for this weeknight quick and easy Greek Chicken Flatbread? Naked Truth Grilled Chicken Breast Chunks. These little grilled chicken nuggets are extremely moist, super tender, and best of all... come fully cooked and ready to heat & serve!
In order to reinforce the Greek flavors in this flatbread and to sort of mimic chicken souvlaki, I brushed these Grilled Chicken Breast Chunks with a simple mix of olive oil, lemon juice, and dried oregano before heating in the oven.
Another great shortcut for weeknight pizza dinners? Grab a pizza dough for just a couple bucks from a local pizzeria!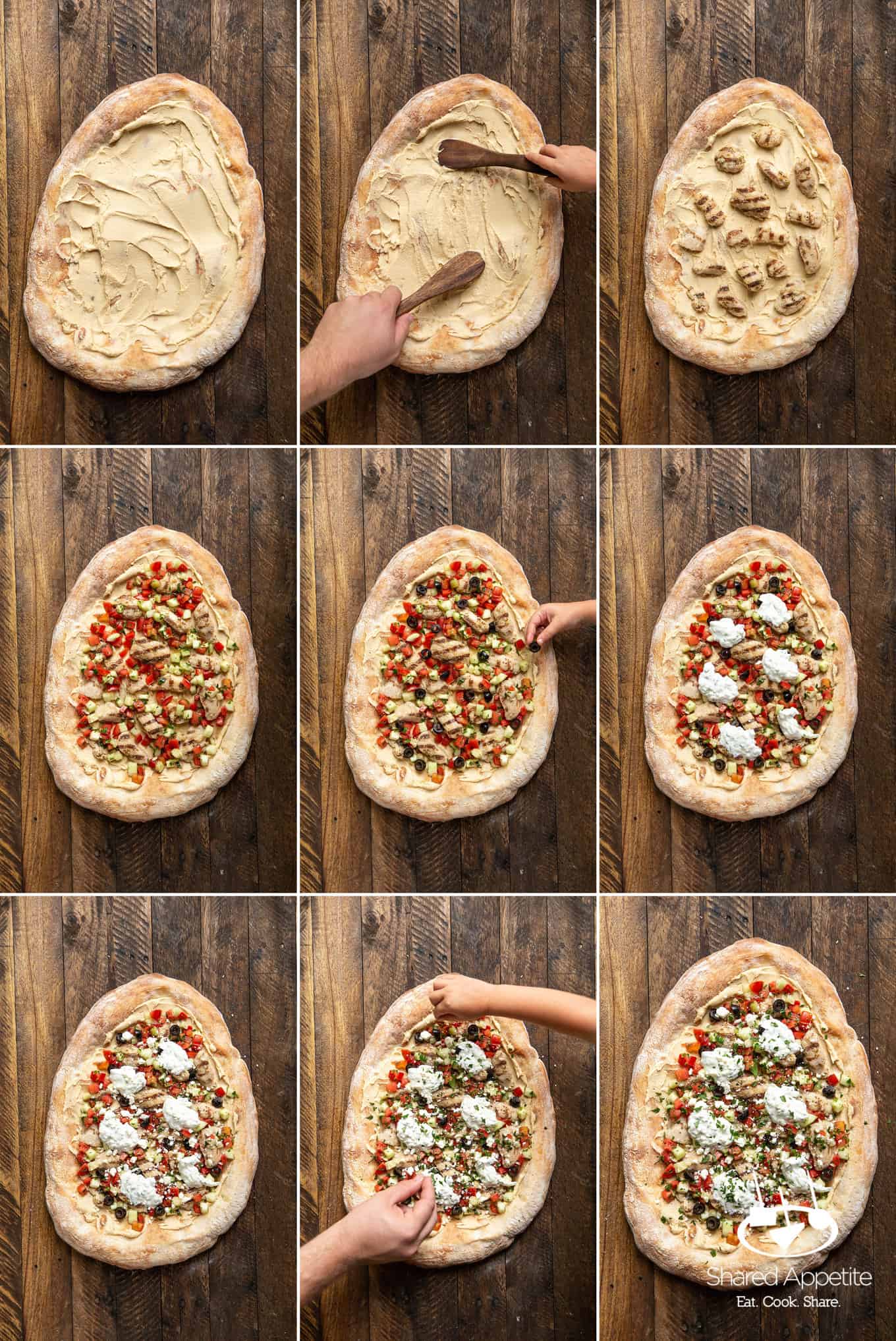 The base for this Greek Chicken Flatbread is a good-quality store bought hummus. You'll probably need one standard size container in order to achieve a nice even layer of hummus on your flatbread.
Next you, scatter those tender Naked Truth Grilled Chicken Breast Chunks all over and spoon the Israeli salad (i.e. the Mediterranean equivalent of pico de gallo) all over. It's super fresh-tasting, super simple to prep, and delivers big on flavor. Also, psst. If you have extra hummus and Israeli salad, save for a great snack the next day. They are a match made in heaven!
I've never met a store bought tzatziki that I love, so I'm a fan of spending the 5 minutes needed to whip up a quick homemade version. I promise it's extremely easy and SO worth it!
The final touches? Some sliced olives, a sprinkle of delicious feta cheese, and a little parsley for garnish!

Print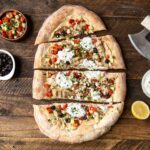 Greek Chicken Flatbread
---
For The Greek Chicken Flatbread
1

package Naked Truth Grilled Chicken Breast Chunks

½

lemon, juiced

1 tablespoon

olive oil

½ teaspoon

dried oregano

Kosher salt

1

pizza dough

1

-

10

ounce container good-quality hummus

Israeli Salad, recipe below

Tzatziki, recipe below

¼ cup

sliced black olives

Crumbled feta cheese

Chopped parsley, for garnish
For The Israeli Salad
1

cucumber, peeled and seeds removed, finely diced

2

plum tomatoes, peeled and seeds removed, finely diced

1 tablespoon

extra virgin olive oil

1 tablespoon

fresh lemon juice

2 tablespoons

chopped parsley

Kosher salt
For The Tzatziki
1 cup

plain Greek yogurt

½

cucumber, peeled

1

lemon, juiced

1

clove garlic, minced

2 tablespoons

finely chopped fresh mint

¼ teaspoon

dried oregano

Kosher salt
---
Prep Time:

20 minutes

Cook Time:

10 minutes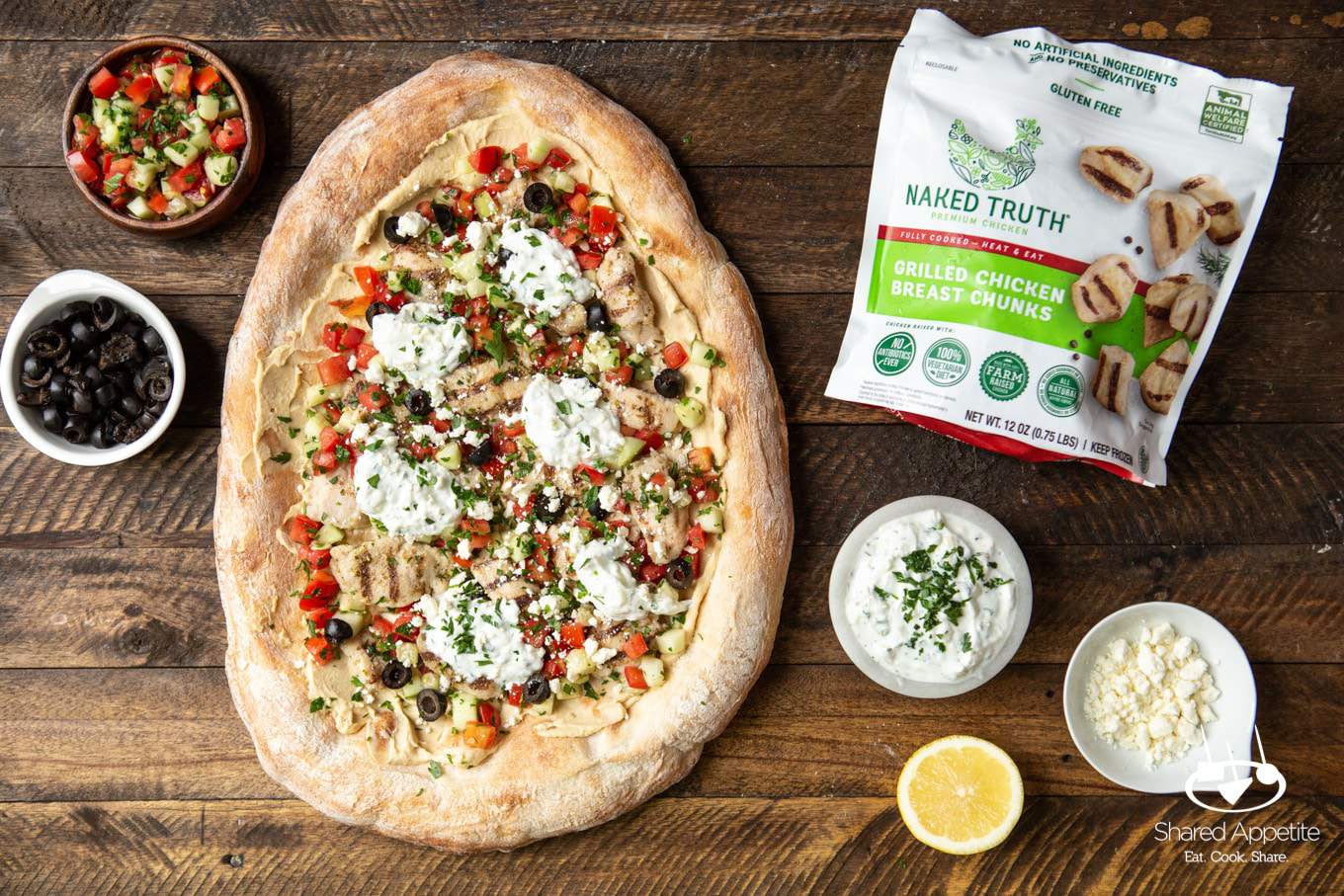 Greek Chicken Flatbread