We'll get to the carnitas.  I promise.  But first, there's something we need to talk about.  Today, along with over 200 other food bloggers, I dedicate my post to Food Bloggers Against Hunger.
I know I'm normally pretty light-hearted and laid back in my posts.  One very, very kind person even said they find my writing witty.  But today we need to have a chat.  It's a pretty serious one.   And I'm asking that you really take a couple minutes and read through this entire post. Don't just skim through the pictures and the recipe.  I've never asked you to do that before, but for this, it's important.
What if you woke up tomorrow and didn't have the financial means to feed your family?  What if literally, your refrigerator was empty.  Pantry empty.  You're not a slacker.  You work hard and put in long hours to try to provide for your family, but the cost of living is simply more than the wage you're paid.
Or maybe you lost your job and were able to successfully apply for food stamps, but that only allots you $4 per day for food.  Four dollars.
What would you do?
That's what filmmakers set out to answer in the recently released documentary, A Place At The Table.  Movies don't often disturb me.  This one did.  A lot.  Here's what I learned...
For approximately 50 million Americans, including 16 million kids, that what if is a reality.  Approximately 1 in 5 children currently struggle with hunger.  1 out of 2 kids at some point in their childhood will be on food assistance.
Their parent(s) lack the means to put nutritious food on the table.  And that can devastating effects: A lack of nutrition during the first 3 years of life can have life-long consequences on a child's cognitive development.
As a public school teacher who has worked for several years in a low socio-economic area, I have personally seen the adverse effects of children that don't get to eat at home.  Forget learning math or reading.  These kids were battling hunger every day.  Focusing on any school task is near impossible when you haven't eaten.
Thankfully, those children did get to eat at school due to public assistance programs.  It very well could be the only food they eat all day long.  I have personally witnessed students that would cry every Friday, since that meant two days without knowing if they would eat.
At home, families can apply for public assistance through the government food stamp program, but that only provides $3-4 of food per person for the entire day.
Our government puts money into subsidizing certain foods to make them more affordable, but unfortunately the overwhelming majority are products such as soy beans, wheat, and corn.  Only 1% of what government subsidizes is actually nutritious fruit and vegetables, so the most affordable food is often the unhealthiest.
Prices of fresh fruits and vegetables have gone up approximately 40% since 1980.  Prices for processed foods?  They've gone down approximately 40% since 1980.  Something is wrong.
With just $4 in your pocket to feed yourself for an entire day, what would you buy?  Our body requires calories in order to function.  Cheap calories, unfortunately, are found in unhealthy, highly processed foods.
 A lot of times when we think of hunger, we think of really skinny people who live in third-world developing countries.  However, hunger does not equal skinny.  It is actually more closely associated with obesity.
Hunger and obesity are next-door neighbors.  They are both a sign that people can't obtain the right types of food.  Take Mississippi for example.  They have the highest rate of food insecurity in the nation, and not so coincidentally, obesity as well.
30% of families in America are food insecure, meaning they don't now where their next meal is going to come from.  According to the IMF, the United States ranks worst in food insecurity among all the Advanced Economy Countries.  The WORST!
Something is broken.  It needs fixing.  Priorities need to change.  Here's an example of the priorities our government has made in the past 10 or so years.  The bank bailout cost $700 billion.  The Bush tax cuts for the wealthiest 2% cost $1.3 trillion over 10 years.  And the 2011 Child Nutrition Act aimed at helping schools provide nutritious meals?  Only an embarrassing $4.5 billion over 10 years, and legislators actually cut spending to the food stamp program to fund it!  This is absurd.
I get that the economy is struggling and Congress needs to make tough budgetary decisions, but our priorities need to include food assistance programs that actually work.  Even though private food banks and charities are such a tremendous blessing to the communities they serve, it's not enough.  The only way for hunger to be eliminated in America is if we make it a public policy priority.
Hunger is a very solvable problem, one that you and I can insist on making our priority.
Here's how you can help:
1. Please, PLEASE, take 30 seconds out of your day to tell your elected representatives in Congress to stand up and support anti-hunger legislation:  Sign this petition.  Get your friends and family to sign it too.  Together, our voices can be very loud.
2. Educate yourself and your family.  Watch A Place At The Table, the documentary that captures this problem of hunger in America.  You can download it through iTunes or Amazon.  I promise it's a movie you will want to see.
3.  Get involved in your community.  Although legislation is by far the most important way to fix this growing problem, you can help struggling families right in your community.  Below is a list of local food banks Asheley and I personally support, which are located in the NYC/Long Island area.
Lighthouse Mission    ////    Bowery Mission    ////   Long Island Cares
On a nation level, check out these two incredible organizations: Share our Strength: No Kid Hungry and Feeding America.
I can't help but think about this beautiful parable...
"One day an old man was walking along the beach. It was low tide, and the sand was littered with thousands of stranded starfish that the water had carried in and then left behind.
The man began walking very carefully so as not to step on any of the beautiful creatures. Since the animals still seemed to be alive, he considered picking some of them up and putting them back in the water, where they could resume their lives. 
The man knew the starfish would die if left on the beach's dry sand but he reasoned that he could not possibly help them all, so he chose to do nothing and continued walking. 
Soon afterward, the man came upon a small child on the beach who was frantically throwing one starfish after another back into the sea. The old man stopped and asked the child, 'What are you doing?'
'I'm saving the starfish,' the child replied. 
'Why waste your time?... There are so many you can't save them all so why does it matter?', asked the man.
Without hesitation, the child picked up another starfish and tossed the starfish back into the water... 'It matters to this one,' the child said."
I can't change the world.  But I can someone's world.  And that's beautiful.
Thanks for reading all that.  If any of it reached your heart at all, I highly suggest watching the documentary.  It really educated me on an issue I didn't even know was that bad.
And onto the carnitas.  I wanted to pick a recipe that is very affordable and can easily be stretched for many, many meals.  It's perfect for those on a tight budget, needing to get the most out of what they buy at the supermarket.  This entire past week (literally 5 days in a row), Asheley and I generously feasted on this slowly-braised pork shoulder.
Pork shoulder is a very affordable piece of meat.  I found it in my local supermarket for only $.99 a pound.  We spend the week eating tacos, nachos, burrito bowls, and a delicious Cambodian-inspired sandwich.  Over the next couple weeks, I'll share all the recipes I used with these carnitas.  Stay tuned 🙂
The following recipe was adapted from David Lebovitz
Print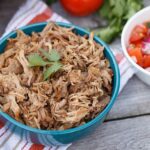 How to Make Perfect Carnitas
---
8

-

10

pound bone-in pork shoulder*

2 tablespoons

neutral-tasting oil

1 teaspoon

chile powder

1 teaspoon

ancho chile powder

2

bay leaves

½ teaspoon

cumin

3

cloves garlic, thinly sliced

1

medium onion, chopped
Kosher salt
*or 6-8 pound boneless pork shoulder
---
Instructions
Cut you pork shoulder in large pieces, very approximately 4-5 inches. Remove excess fat. Season the pork generously on all sides with Kosher salt and refrigerate overnight. (You can skip the overnight part if needed, but I think it helps. At the very least, make sure to salt the pork before the next step).
Preheat your oven to 350°F.
In a large pot (I used my dutch oven), heat the oil over medium-high heat. Once hot, sear pork shoulder on all sides until deep golden brown, approximately 3-4 minutes per side. If your pot is to small to cook all the pork at one time in a single layer, sear in two batches.
Remove browned pork from the pot and use a paper towel to blot away excess grease. Pour in 1 cup of water and use a wooden spoon to scrap up all the browned bits on the bottom of your pot.
Stir in chile powder, ancho chile powder, bay leaves, cumin, garlic, onion, and a big pinch of salt. Return all the pork to your pot and add enough water so that it submerges ⅔ of the pork.
Place uncovered pot in the oven for 3 to 3 ½ hours, turning the pork a couple times throughout the braising process. Pork is done when almost all of the liquid is evaporated and the meat literally falls apart as you try to pick it up with a fork.
Remove bay leaves and discard. Shred meat with two forks or allow to cool a bit and shred with your fingers. Discard any visible big chunks of fat.
If serving right away: Discard any excess braising liquid left in pot with a large spoon. Return pot to oven, turning shredded pork occasionally, until the pork is as crispy and caramelized as you want it.
If making ahead: Remove pork from pan, let cool completely and refrigerate for up to a few days. Alternatively, you can wrap shredded pork in foil and then seal in a ziploc bag and freeze for several weeks. Thaw overnight in the refrigerator and reheat in 350°F oven wrapped in foil placed on a baking sheet. Once pork is heated through, unwrap foil and let pork get all crispy and caramelized if desired.