This past Saturday Asheley and I spent the day cruising around the city for a little food tour with another couple, showing them some our favorite spots.  It's one of our favorite things to do on weekends.  Good food.  Great friends.  Creating memories.  That's what life's all about.
On the way home, we were talking about what the favorite food of the day was.  That's always a tough question, because everything is so freaking good.  And there was much to choose from.  We kind of ate a lot.  That tends to happen.  Our one friend mentioned that he absolutely loves tacos… like he could happily eat them every day, so Dos Toros Taqueria and Brooklyn Taco Company were some of his favorites.
I love tacos too.  They are little bundles of joy.  It's the perfect food, at least in my mind.  And they are so versatile.  The combinations are endless.  This is one I think you'll really enjoy.  I know I did 🙂
Upscale tacos.  Mexican fusion tacos.  Tacos from food trucks.  Bodega tacos.  I love them all.  I have even been known to hit up Taco Bell on several occasions with Tyler during our weekly get-togethers while we talk food photography and boring technical stuff about the blog.  Tyler's a TB connoisseur.  Little known fact.  Now you know.
I guess one of my favorite things about tacos is that they are so versatile.  There are no rules.  Combine anything that tastes good and slap it on a tortilla.  Boom.  A dynamite taco.
Of course you want to try to balance your flavors to have a successful taco.  For instance, in this taco, the bright-tasting salsa verde helps cut through the richness of the pork, as does the tangy crunch of the pickled onions.  The queso fresco adds a velvety, salty punch and the cilantro that fresh herbaceous flavor.
If you've been reading the recipes posted the past couple weeks, you may recognize the different components of this taco.
Easy Pickled Onions.  Check.  Carnitas.  Check.  Corn Tortillas.  Check.
Salsa Verde.  Uhm.  Wait.  Okay, well actually I called it Roasted Tomatillo Salsa.  It's the same thing, just with roasting the ingredients first.  I think it gives the salsa a deeper flavor.
And listen, you totally don't have to make corn tortillas from scratch.  Feel free to pick them up at the grocery store, although the homemade corn tortillas are really easy to make and taste much, much better.
Or do what Asheley does and substitute flour tortillas.  She's not a big corn tortilla fan.  Remember, there are no rules in the playground of taco-making.  Go crazy.
The carnitas recipe makes way more pork than you could ever need for one dinner.  What Asheley and I do is wrap portions just big enough for the two of us in foil packets and then freeze them for easy weeknight taco dinners.
Carnitas freezes and reheats incredibly well.  Definitely as good as the day it's made.
And those pickled onions will last for several weeks in the fridge.  Put those on sandwiches, tacos, salads, tacos, nachos, tacos… did I mention tacos?
Pickled onions add a nice tangy crunch to anything it touches.
If you can't find queso fresco, feel free to substitute another crumbly, mild, salty cheese, such as cojita, feta, or paneer.
Or just scratch all of that and add shredded cheddar or monterey jack.  But really, try to find one of the ones above.  It's worth it I think.
Print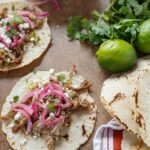 Carnitas Tacos with Pickled Onions and Salsa Verde
---
[Carnitas|
how-to-make-perfect-carnitas/]
[Pickled Onions|
easy-pickled-onions/]
[Salsa Verde|h
roasted-tomatillo-salsa/]
[Corn Tortillas|
how-to-make-corn-tortillas/]
Queso Fresco, crumbled
Cilantro, finely chopped
---
Instructions
Warm corn tortillas by wrapping in a very slightly dampened towel (kitchen towel or paper towel) and microwaving on medium power until heated through. Alternatively, briefly heat tortillas in a dry skillet over medium heat, one at a time.
Feel free to purchase corn tortillas at your local supermarket to save time or substitute flour tortillas if you prefer.
Top each tortilla with some carnitas, a few pickled onions, and a spoonful of salsa verde. Sprinkle with queso fresco and cilantro.
If you cannot find queso fresco, you can substitute cojita, feta, or paneer cheese.
Leftovers: Pickled onions can be stored for a few weeks in the fridge. Salsa Verde can be stored in the fridge for several days. Leftover carnitas can be stored in fridge for a couple days or frozen for quite awhile wrapped in foil and sealed in a plastic bag. Reheat carnitas wrapped in foil in a 350°F oven until warmed through.