The humble tortilla.  A tabula rasa.  A perfect, innocent, beautiful blank canvas.    It's the foundation on which so many of my favorite foods are built.  I love tortillas.  I'm uncertain if life would be worth living without them.
I have to admit, I'm more of a flour tortilla kinda guy.  Judge me as you will.  There are times that I do totally dig the corn tortilla though, and I know a lot of you might be partial to them as well.  I figured the safest bet would be to learn how to make both kinds to appease the masses.  For those of you who share my flour preference, stay tuned for that post.  Today is all about the corn.
This was actually my first attempt at making tortillas.  I've always wanted to, but figured it would be a lot of work.  And store-bought tortillas do the trick just fine, don't they?  Wrong.  And wrong.  I can't believe how simple and quick it was to whip up a batch of homemade tortillas, and they taste so much better than the commercially packaged ones.
I've been really digging Rick Bayless's Mexican Everyday cookbook the past couple of weeks.  I highly recommend it to all my fellow Mexican food enthusiasts.  There are some really spectacular recipes in there, especially those Cowboy Beans Asheley is so obsessed with.
His recipe for corn tortillas looked (and is) so easy.  Masa harina (corn flour) and water.  That's it.  This recipe has been only slightly adapted in such a way that I think makes it even more simple.
Chef Bayless highly recommends the Maseca brand of masa harina, which I found no trouble finding in my local supermarket with a very decent Mexican food section.
After mixing together the masa harina and water and letting the dough sit for fifteen minutes, it will most likely be too stiff.
At that point you should add some more water, a little bit at a time, until the dough feels like soft cookie dough.  If you add too much water though, it will get sticky.  We don't want sticky.
A tortilla press
 was something that's been on my Amazon wish-list forever.  I finally just decided to buy it for myself.  That's how I roll.  Don't tell Asheley.
It's one of my new favorite kitchen gadgets.  There are few kitchen tasks that are more enjoyable than smushing these tortillas.  I'm serious.  It's awesome.  And I actually just learned from Alton Brown that a good, heavy tortilla press like mine can also double as a tool for making carpaccio.
If you don't have a tortilla press, you could use a rolling pin, although I cannot guarantee it will be anywhere near as much fun.
The tortillas cook for about 30 seconds per side, so it's easy enough to get into a groove of pressing one tortilla while another is cooking in the skillet.  Don't even think about trying to be all clever and pressing all your tortillas ahead of time because they will just dry out.
And don't freak out if your first couple of tortillas don't come out as perfectly browned as you want.  There's a brief learning curve as you figure out exactly how hot the skillet has to be.  Not hot enough and they won't brown.  Too hot and they'll burn.
I ended up having to adjust the heat as I went.  I found that the goal is to hear a faint sizzle as the tortilla hits the pan.
Freshly-made tortillas are best enjoyed when they are, duh, freshly-made.  Stack 'em and wrap 'em in a kitchen towel to keep warm as they come off the skillet.   They'll stay warm for awhile.
I'm actually thinking it would be fun for guests to press and cook their own tortillas at get-togethers.  Less work for you and it makes the whole eating process a lot more fun and interactive.
You can refrigerate the tortillas and reheat in the microwave if need be.  Just wrap them in a slightly damp towel and heat on half power.
Now it's time for some tacos.
Print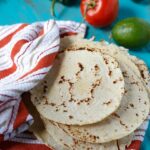 How to Make Corn Tortillas
---
Yield:

Makes about

15

tortillas

1

x
1

and 3/4 cups masa harina
Very warm water
---
Instructions
Combine masa harina with 1 cup plus 2 tablespoons very warm water with your hand until it just comes together to form a dough. Cover and let sit for 15 minutes.
If dough is stiff (and most likely it will be), knead in 1/2 tablespoon of very warm water at a time, until the dough feels like a soft cookie dough (but not sticky).
Preheat a heavy dry skillet, such as a cast iron skillet, over medium/medium-high heat.
Working one at a time, pinch off dough into approximate ping pong sized balls. Roll out each ball of dough to approximately 1/8″ using a tortilla press lined with plastic wrap (or a rolling pin if needed). Carefully transfer tortilla to the hot skillet and let cook for about 30 seconds. Flip and cook for 30 more seconds. Repeat with remaining dough.
You may have to adjust heat of skillet as you go. The goal is to hear a faint sizzle as the tortilla hits the pan.
Keep finished tortillas stacked on top of one another wrapped in a kitchen towel and serve immediately. Alternatively, let cool and refrigerate. Reheat corn tortillas wrapped in a slightly damp kitchen towel on 50% power in microwave until completely warmed through.