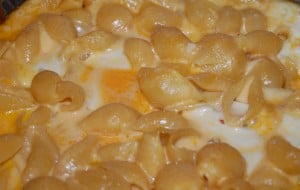 No, I'm not talking about that stuff that comes in the little blue box.  There is a better option out there!  Homemade Macaroni and Cheese is simple to make and you can easily customize it however you like.  This cheesy comfort food is something I always pair with my pulled pork dinner (don't forget the cornbread and sweet potato casserole!).
Macaroni and Cheese
Ingredients
1 box of medium shells or any pasta
3 tbl. butter
3 tbl. flour
2 cups whole milk
1 – 8 oz. block sharp cheddar cheese*
 1 – 8 oz. block pepperjack cheese*
salt/pepper
1 tbl. adobo sauce – from a can of chipotle with adobo (optional)
1 tomato, sliced thin (optional)
Crispy breadcrumb topping (optional, in recipe below)
*shred 3/4 from both blocks of the cheeses.  With the remaining 1/4 of the cheese blocks, crumble into bite size pieces.
[column size="1-2″ last="1″]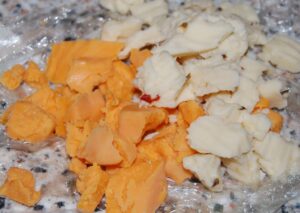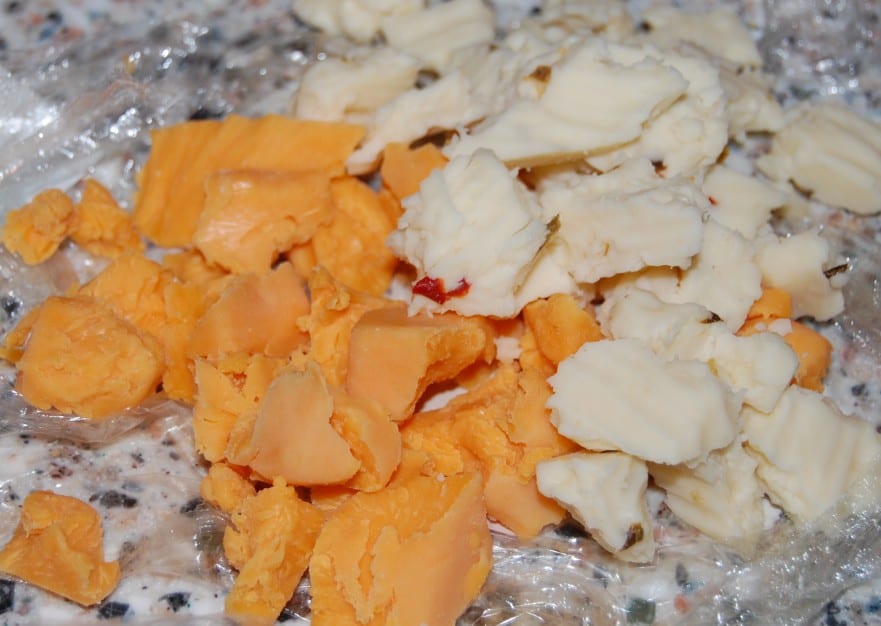 [/column]
1) Preheat oven to 375.  Bring a pot of salted water to a boil and cook pasta to al dente.  The pasta will continue to cook once combined with the cheese mixture in the oven, so to avoid a gummy mushy mess, do not overcook the pasta.  It would be best to undercook by a minute than to overcook by a minute.  Drain pasta.
2) While the pasta is cooking, make a roux with the butter and flour.  Heat a saute pan over low/medium-low heat and melt butter.  Once butter is fully melted, add flour and stir constantly until all lumps are gone.  Let cook, stirring occasionally, until the roux becomes golden brown (about 2-5 minutes, depending on how hot your stove is).
3) Add milk to roux, stir frequently until roux is fully incorporated into the milk and lumps are gone.  Season with salt and pepper to taste.  Cook, stirring occasionally, until milk mixture thickens, about 5-10 minutes.  Do not let mixture come to a full boil, but it may bubble here and there (at which time you should stir).  You want to keep it at just below a boil.  If you are adding adobo sauce (for some nice, smoky heat), add and let cook another minute.
4) Remove milk mixture from heat, promptly add shredded cheeese and stir until all cheese is melted (cheese will melt from the residual heat of the milk mixture).  Add pasta into cheese mixture and combine.
5) Briefly stir in crumbled pieces of remaining cheese.  These pieces of cheese will melt fully in the oven and give you surprise bursts of cheese flavor!  Transfer mac n' cheese mixture in an oven safe casserole dish.
6)  Mac n' Cheese Topping Options (optional): In the summer months when tomatoes are in season, I like to add some sliced thin on top of the mac n' cheese.  They add some acidity and brightness to the dish and makes it feel more  like summer.  Want a crispy crunch exterior?  You can add an easy breadcrumb topping (just combine 2-3 tbl. melted butter, 1 1/2 cups dried breadcrumbs or even better, panko breadcrumbs.  Want an extra kick: add a bit of chili powder).  I've even heard of some people using crushed up cheez-its as a topping.
7) Bake in preheated 375 degree oven for about 20 minutes, until heated all the way through with bubbly cheese and the top is slightly golden brown.
Macaroni and Cheese is totally customizable.  The add-ins are endless.  Make it a full meal by adding in some sort of protein: cooked ground beef, chorizo, etc.  Have some leftover vegetables lying around?  You can easily incorporate those in too!  Just throw in your cooked add-ins after after you combine your cheese sauce with the pasta.  Don't have cheddar and pepperjack cheese?  No probelm.  Use whatever good melting cheese you have lying around!
Do you have a favorite macaroni and cheese recipe?  Share with us below!
Sponsored link – Syosset law Firm