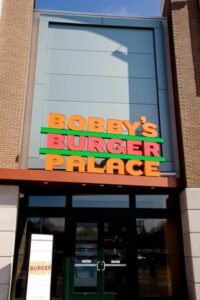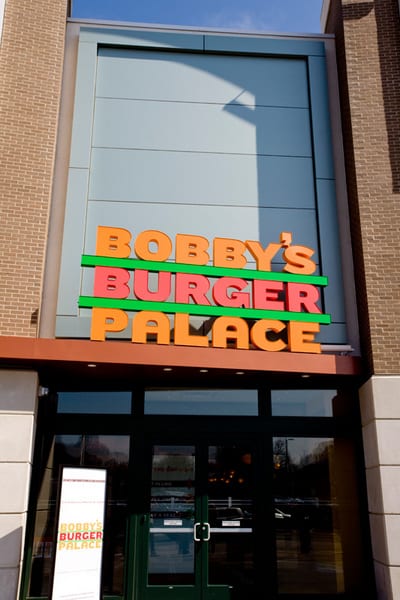 I've been meaning to write a review of  Bobby's Burger Palace (BBP, for short) for a couple weeks now, and with their second Long Island location grand opening today (there are 9 in total) at Roosevelt Field in Garden City, there is no time like the present.  Owned by NYC-based celebrity chef Bobby Flay,  BBP offers classic and delectable signature burgers, fries, and the most amazing, killer shakes I've ever had the pleasure of imbibing (among a myriad of other menu offerings).
Inspired by Iron Chef Flay's travels throughout America, each of his signature BBP burgers features regional flavors:  Miami, Dallas, Napa Valley, Philly, Sante Fe, and Los Angeles are all represented here.  All burgers are 80/20 Certified Angus Beef served on a soft sesame seed bun.  Fries are hand-cut and always crispy.  The BBP shakes are what every other shake wishes it could be.  Don't eat red meat and dragged here by a loved one that is?  There are choices for you too:  turkey burgers, chicken breast burgers, griddled cheeses, and salads are all up for grabs.  What do I think of BBP?  Well, since you asked...
I would gladly eat at Bobby's Burger Palace weekly if 1) My fiance allowed me and 2) My waistline allowed me.  However, I do find myself here about once a month.  It is just too delicious to part ways for longer than that.  Now, I fully admit that I most definitely am a Bobby Flay fan.  I've happily dined at all his current restaurants several times (Mesa Grill, Bar Americain, and Bobby Flay Steak) and I enjoy watching his amassed empire of Food Network television shows.  I am a fan of his bold flavor profiles, as well as his style of American southwestern food.  So, one could say I walk into BBP a little biased, but after bringing countless other people along with me to my burger mecca, they tend to agree: it's good eats.
Walking in to BBP, you are greeted with a giant wall-mounted menu.  Figure out what you want, step up to the register line, and find an empty table or couple seats at the long, undulating counter.   With classic elements of a burger joint look juxtaposed with colors and shapes to match Flay's bold flavors, BBP is brightly lit, with a casual but energetic, fun, edgy interior design.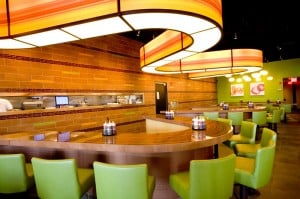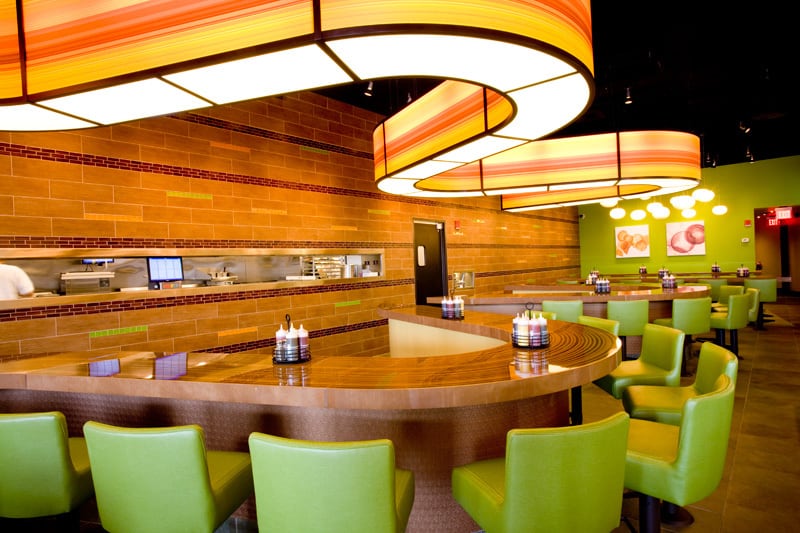 Burgers
Offering to cook your burger 5 ways, anywhere from rare to well-done (although with local county health codes I'm not sure if you will ever truly get a rare burger), these burgers are 6 oz. of certified angus beef.  Flay uses  80/20 beef, which is what I recommend for burgers as well.  Anything leaner than that and you are just asking for a dry, flavorless burger.  The soft sesame bun is perfect for burgers.  I personally am not a fan of fancy or crunchy burger buns.  I like mine soft and simple... just a background vehicle to get me to the delicious interior.  Getting cheese on your burger?  Bobby is passionate about his cheese being just right... it's always fully melted, gooey goodness on his burgers.  No matter what burger you decide to order, BBP offers free crunchification (yes, I did just make up that word!).  In Bobby's words, getting your burger crunchified means you can top your burger with crisp potato chips at no additional cost.
In addition to the permanent arsenal of burger choices available daily at BBP, each month Bobby Flay offers a different Burger of the Month.  Past burgers have included a Breakfast Burger, Chicago Burger, Nacho Burger, and this December he is featuring a Pacific Northwest Burger with cremini mushrooms, white american cheese, and a red wine-BBQ sauce.
Although I have tried almost every burger on the menu, one definitely stands out in my mind:  The Dallas Burger.  I'm talking about a spice-crusted patty with perfectly-melted monterey jack cheese, cole slaw, pickles, and some amazing bbq sauce.  Oh yes, and of course I crunchify it.  The gooey cheese, the bold and rich house-made bbq sauce, the cool and tangy cole slaw, and the thin crunchy-salty potato chips all work in beautiful, perfect food harmony.  I'm literally salivating and getting hungry just writing about this burger!
 Fries
The French Fries with BBP Fry sauce (tastes like a red pepper mayonnaise) is nothing spectacular, just your typical french fry.  However, I thoroughly enjoy the Sweet Potato Fries.  They are crisp, thin, and well-seasoned.  The sweet potato fries are served with a honey mustard horseradish sauce.  I personally am not a fan of horseradish anything, so instead I always ask the server for a side of the BBQ sauce that is served on the Dallas Burger, which they always happily oblige.  There are many other dipping options as well for your fries...  Scattered throughout the dining room, there are trays of 5 different condiments: Burger Sauce, Chipotle Ketchup, Jalapeno Hot Sauce, Mustard, and Ketchup.  The burger sauce is equally enjoyable on your burger or dunked by your fries, while the delicious but spicy chipotle ketchup and jalapeno sauce shows Bobby Flay's affinity of the flavor of different chiles.  Personally, I line up a little bit of burger sauce, chipotle ketchup, and jalapeno sauce on a plate and go nuts.  I use them each by themselves, and then try different combos.  Who said you couldn't play with your food?  It is plain old fun!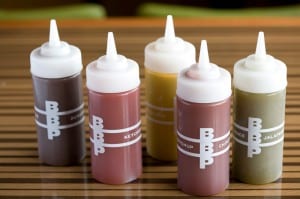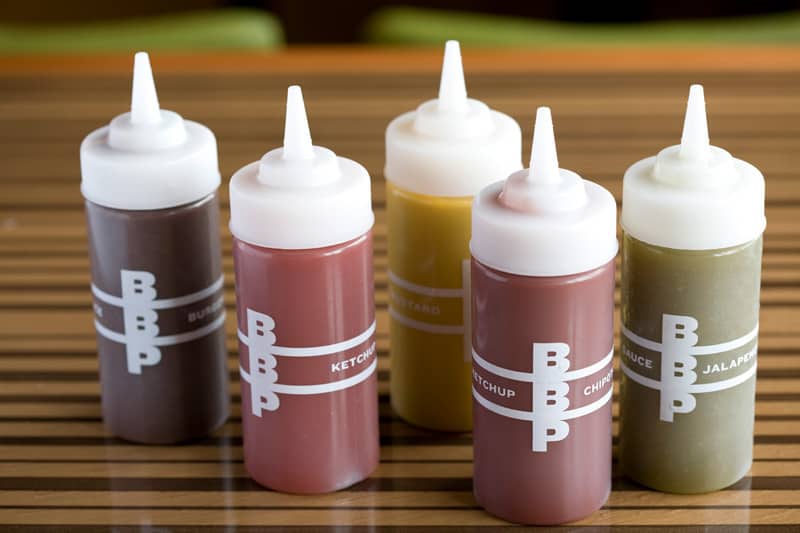 Shakes
If you just remember one piece of advice from this entire post, this is it: Get a shake!  In fact, it's worth the trip to BBP just for the shakes.  They are that good.  Specifically, I am absolutely in love with the Dark Chocolate Shake with Whipped Cream (real whipped cream, none of that canned stuff).  The shakes are rich, decadent, flavorful, super smooth, and unbelievably creamy.  I promise you, if you get the dark chocolate shake, you will not be disappointed.  They also offer vanilla bean, pistachio, black and white, blueberry-pomegranate, and much more.  My new shake love affair is one of BBP's three spiked shakes:  Vanilla Caramel Bourbon.  Although not as ultra creamy as the dark chocolate shake, it has tremendous flavor.  His other spiked shakes include a Mocha Kahlua Vodka and Pineapple Coconut Rum.  So, just to clear up any confusion... you are getting a dark chocolate shake when you go to BBP, right?!
A Burger Alternative
Sometimes, although I'm embarrassed to admit it, Asheley does not feel like a burger.  When this occurs, however, BBP has a really great alternative.  Their Griddled Cheese Deluxe sandwich is made with brie and goat cheeses, bacon, and tomato.  Both Asheley and I both really enjoy goat cheese, and this griddled cheese definitely highlights that tangy, creamy flavor.  If you are not a fan of goat cheese, you probably will not enjoy this.  The brie adds to the creaminess of the sandwich, although I really don't taste its flavor all that much with the powerful goat cheese flavor dominating my palate.  The tomato adds some acidic brightness and freshness to the sandwich, the bread is deliciously buttery, and the bacon... well, c'mon, everything is better with bacon.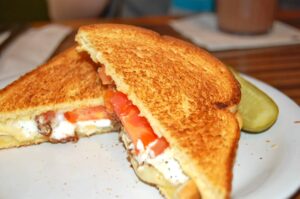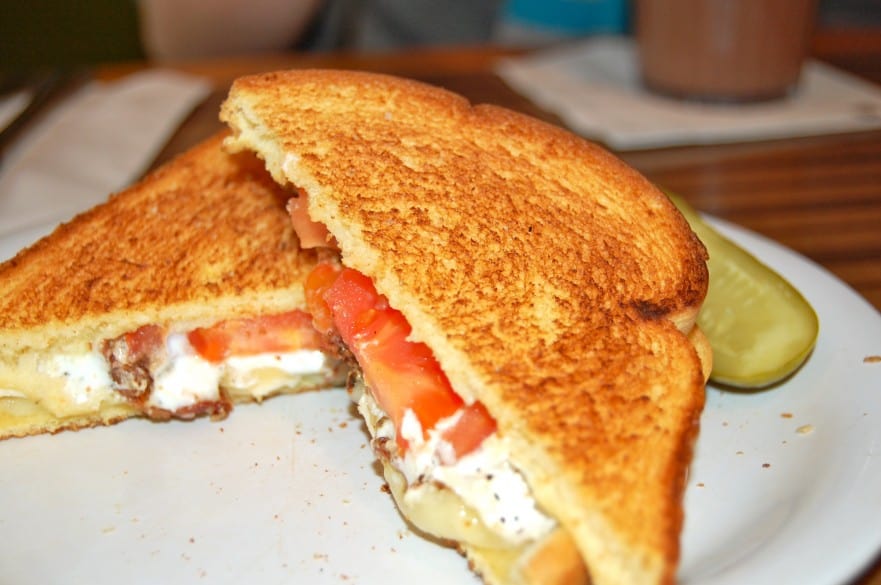 Although more expensive than a fast food joint, the quality at BBP is incomparable.  Burgers and Griddled Cheese Deluxe are about $7-8, fries are $3, and the milkshakes are $5 ($7-8 for spiked shakes).  For Asheley and I, our bill normally comes to about $30: 2 burgers, 2 shakes, and 1 fry to share.  Of course you can go get another burger, fry, and shake combo meal for a lot less, but be prepared to be satisfied... a lot less.  The quality of ingredients and the consistent technique of preparation (I get a perfectly cooked burger almost every single time and fries are always crisp) are excellent at BBP.
Some reviews of BBP out there complain about BBP's service.  However, I think the service at BBP is perfectly average to a little above average.  After you order and take your choice of seats, the casually-dressed servers in jeans and BBP Golf Shirts will bring out your food directly to your table (you have a number tag that you display).  Servers are typically very attentive to guests and come around to ask if they can get you anything.  At peak dining hours, do the servers get backed up a little bit?  Yes, they do.  At those times you may need to wait a little longer for service.  But does that happen in many restaurants?  Yes, it does.  The only difference here is that is is more noticeable because the service windows are in the public view.  If you want very fast and attentive service, 6 p.m. on a Saturday night probably isn't your best bet!
I don't know about you, but with all this BBP talk, I'm definitely getting a Dallas Burger crunchified, Sweet Potato Fries (with a side of that bbq sauce), and a Dark Chocolate Milkshake with whipped cream by the end of this week.  Who's with me?
Please comment and share your BBP favorites below!