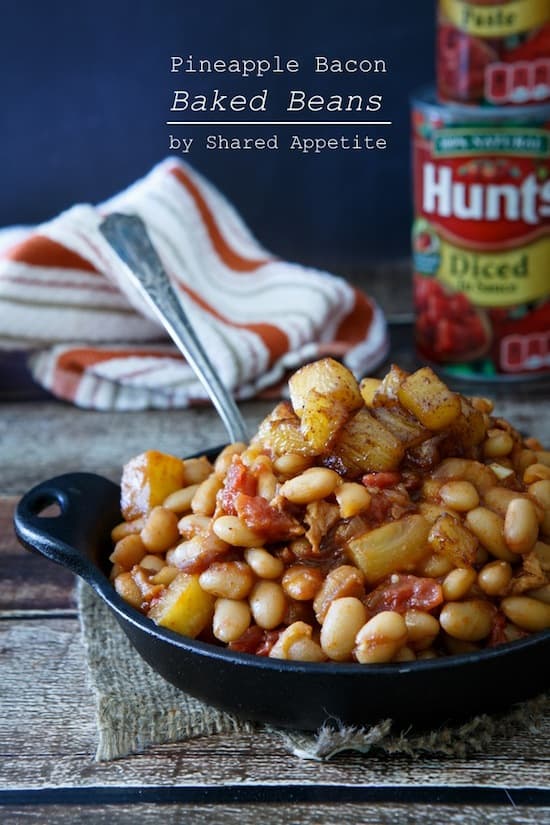 Summertime is all about easy cooking.  And these sweet and sticky Pineapple Bacon Baked Beans are the perfect summer side dish for all your backyard grill-outs, barbecues, and all around shenanigans.
I'm getting the June itch.  It's an itch that every fellow teacher gets right around this time of year.  Yea, you know what I'm talking about.  Summer vacation.
Two months of pure bliss.  #cantwait
And with our new house becoming more and more a reality each day we get closer to July, I'm beyond pumped to have some killer backyard bbq's this summer!  Oh heck yes.
I've wanted to make legit baked beans for a while now.  My home-cooked cowboy beans have become quite legendary among friends, but I don't want to be a one trick legume pony.  Diversification is where it's at.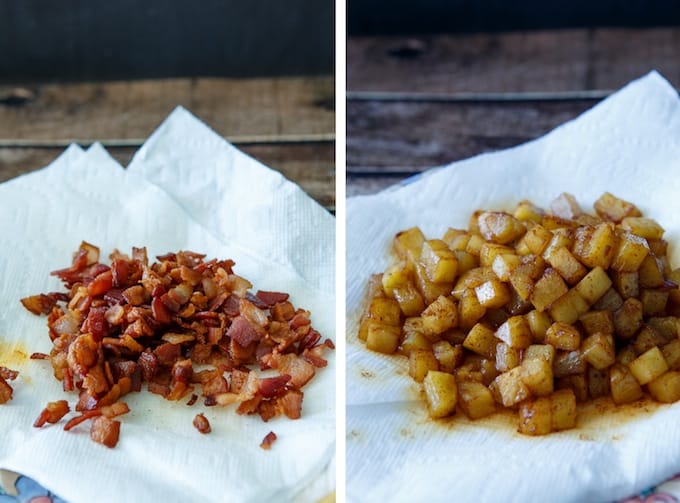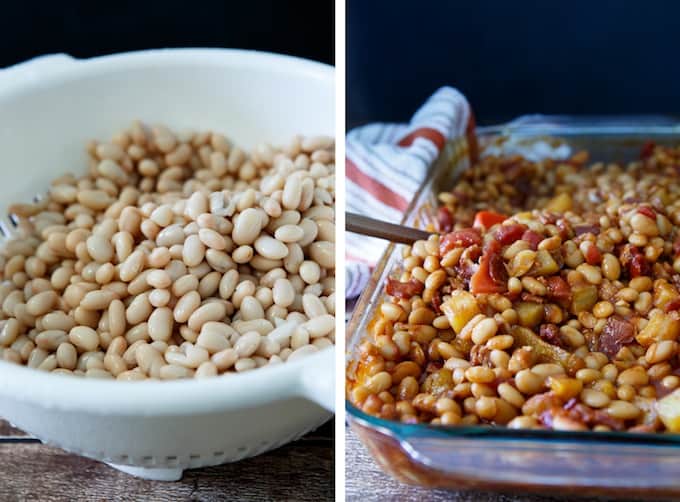 Doing a quick search of the interwebs, there is definitely no shortage of baked beans variations.  It's one of those classic summer recipes.  But I wanted to do a little spin on the classic, using bacon (duh!), pineapple caramelized in the bacon fat (double duh!), and some of the best canned tomatoes out there.
But let's just pause for a second on that pineapple.  You read correctly.  You're going to dust it with chili powder and cook it up in the bacon fat.  Pineapple has never tasted so freaking good.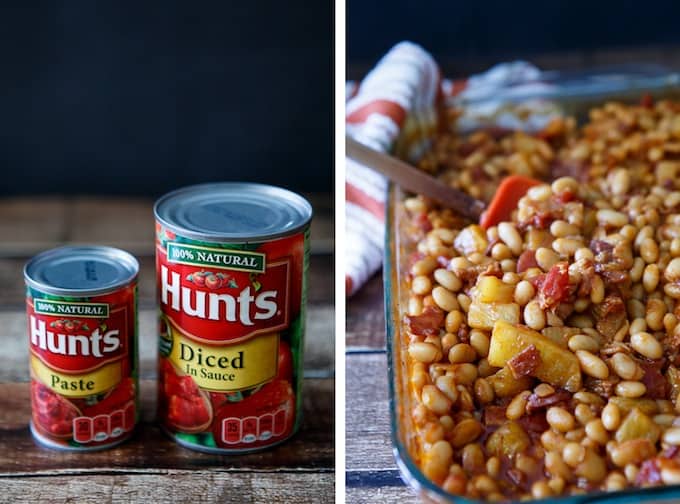 Now that we are crashing with my parents for a few weeks before we move into our new home, I have an extra taste tester on my hands.  You already know my dad is one of the most boring eaters in the world and would never even look at a bean, but my mom is all about trying new recipes.  She's pretty awesome.
And ladies and gentlemen, my mom has declared these to be the best baked beans she has every tasted.  That's a bold claim coming from a most reputable of sources, people.  Get on this creative baked bean action before it's too late.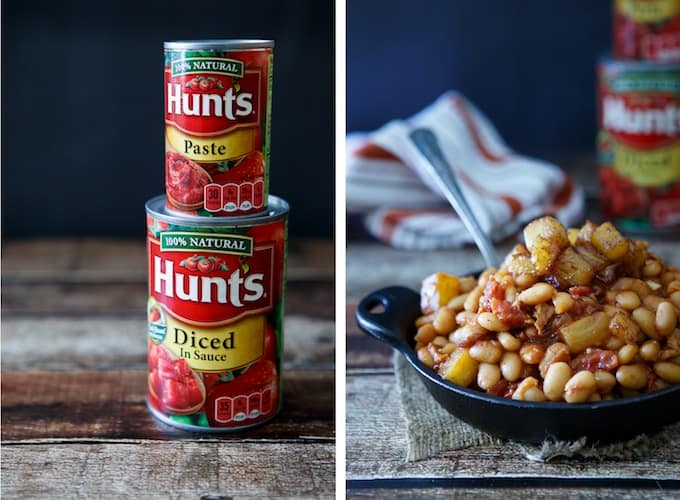 Pineapple Bacon Baked Beans Recipe below
Print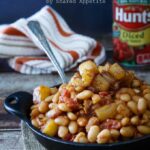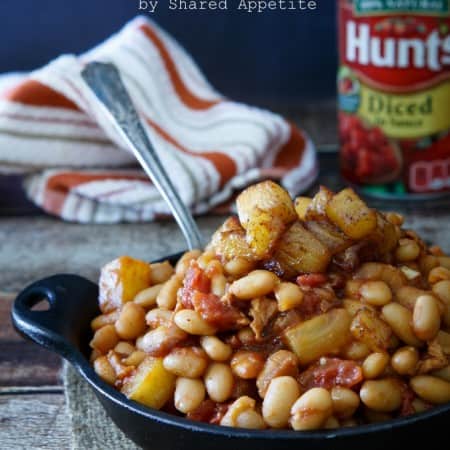 Pineapple Bacon Baked Beans
---
Total Time:

1 hour 40 minutes

Yield:

8

-

10

people (as a side)

1

x
1

(12 ounce) package thick-cut bacon, diced

1/2

fresh pineapple, finely dinced

1/2 tablespoon

chili powder

1

large red onion, finely diced

2

cloves garlic, minced

5

(15 ounce) cans great northern white beans, drained and rinsed

1 cup

water

1

(14.5 ounce) can diced tomatoes

2 tablespoons

tomato paste

1/3 cup

molasses

1/4 cup

brown sugar

2 tablespoons

maple syrup

1 tablespoon

red wine vinegar

2 teaspoons

ground dry mustard
Kosher salt
---
Instructions
Preheat oven to 375°F. In a large skillet, cook diced bacon over medium heat until crispy. Remove bacon using a slotted spoon and drain on a paper towel lined plate.
Add pineapple and chili powder to skillet and stir, cooking for about 4-5 minutes, until golden and slightly caramelized. Remove using a slottted spoon and drain on a paper towel lined plate.
Pour off all but 1 tablespoon of bacon fat from the skillet. Add onion, season generously with Kosher salt, and cook, stirring occasionally, for about 4 minutes. Add garlic and cook for 1 minute, stirring to avoid burning.
Add beans, water, diced tomatoes, tomato paste, molasses, brown sugar, maple syrup, red wine vinegar, ground dry mustard, and cooked bacon. Stir to combine. Season to taste with Kosher salt.
Transfer mixture to an ovenproof baking dish, cover with aluminum foil, and bake in preheated oven for approximately 1 hour. Remove from oven, stir in pineapple, and cook for an additional 20 minutes. Serve hot.
Prep Time:

10 mins

Cook Time:

90 mins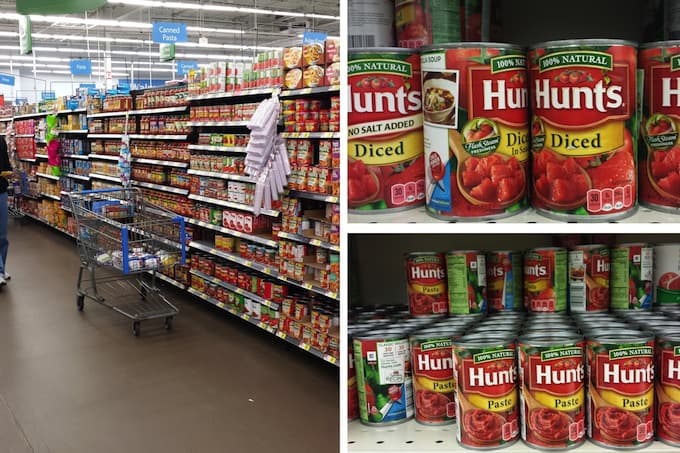 I shopped at Walmart for Hunt's Canned Tomatoes.  #DinnerDone #CollectiveBias
Hunt's canned tomatoes uses a unique flashsteam peeling method.  No artificial preservatives are allowed to this party.  And I personally use Hunt's products in my cooking all the time.  It's one of my faves.  If you're down for more great recipes and information on Hunt's tomatoes, feel free to check them out here and here.