Beans often don't get the respect they deserve.  And they are sick and tired of it.  You go out to Mexican restaurants and devour your tacos and burritos and fajitas.  You even eagerly gobble down the Mexican rice.  But the beans?  You leave them there.  You don't call.  You don't write.  You don't even friend them on Facebook.  And that's just hurtful.
I'm just as guilty as you are.  Up until a few years ago, I was not a big fan of beans.  But you know what?  We can't be too hard on ourselves.  It's not entirely our fault.  Too often beans are served as an underwhelming afterthought.  They seem to be there to just fill up the empty space on the plate.
But once in a while, you come across that quintessential example of what every bean wishes they can grow up to be.  It's magical experience of bean euphoria.  And then you realize, maybe you should call.  
Rick Bayless is the man.  He knows his stuff.   He has multiple James Beard awards, won a season of Top Chef Masters, is chew/owner of numerous Mexican restaurants, and is one of the authoritative voices of authentic Mexican cuisine here in the United States.
When I saw the recipe for home-cooked cowboy beans in his amazing cookbook Mexican Everyday, I knew I had to try them.  Rick (we are on a first name basis) rarely fails me, and I desperately wanted to give those underwhelming beans the second chance they deserve.
We aren't talking about opening up a couple cans of pinto beans, throwing in some spices, and calling it a day.  This is the real deal.  And you know what, it's totally worth it, because it tastes like the real deal.
Asheley loves, loves, LOVES, when I make these cowboy beans.  Although not scientifically proven, it is estimated that her day gets 14 times better when she knows there are cowboy beans on the docket for dinner.
Although this dish takes time, it is ridiculously simple.  Break out that slow-cooker before work and get the beans started.  When you get home, you'll have beautiful home-cooked pinto beans.  They are good in their own right and perfect for burritos (or burrito bowls for you carb-conscious people).
But then you are going to go ahead and transform those humble beans into rockstar Frijoles Charros.  a.k.a. Cowboy Beans.
So what exactly are Frijoles Charros?  Loosely translated to "cowboy beans", it is a traditional Mexican dish comprised of pinto beans that are stewed with onions, bacon, and garlic.  Other typical ingredients are chiles (in this case pickled jalapenos) and tomatoes (I used canned fire-roasted tomatoes).
Serve up your Cowboy Beans as a side to any of your Mexican favorites.  I usually also make them as a supporting role to my Authentic Pulled Pork on a Gas Grill for summer get-togethers.
So like I said.  Rick Bayless is the man.  These beans are ridiculously good.
I like mine topped with some salty, crumbled Queso Fresco goodness and a couple extra pickled jalapeños.  You could also add some chopped cilantro, but at this point you probably know Asheley has a court-ordered restraining order against it.  She loathes the stuff.
Beans, we're sorry for not believing in you sooner.  You were there all along.  We messed up.  Let's start over.  Hi, I'm Chris.  Nice to meet you.
The following recipe has been slightly adapted from "Mexican Everyday" by chef Rick Bayless.
Print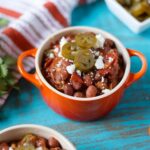 Home-Cooked Cowboy Beans (Frijoles Charros)
---
1

(16-ounce) bag dried pinto beans

2 tablespoons

neutral-tasting oil, such as canola or vegetable oil

1

large onion, finely diced

1

(12-ounce) package bacon, cut into small-bite sized pieces

5

cloves garlic, minced

1

(15-ounce) can diced fire-roasted tomatoes

¼

-

½

cup pickled jalapenos, finely chopped
Kosher Salt
For Garnish (optional)
Queso Fresco, crumbled
Cilantro, finely chopped
Pickled jalapeño slices
---
Instructions
Pour beans into a colander and rinse. Look over beans and make sure they are clean and free of any stones or dirt that might have made its way into the bag. Place beans and approximately 2 quarts (8 cups) of water into a large pot and bring to a boil over high heat.
Once boiling, carefully transfer the beans and water into a slow-cooker. Add oil, onion, and season with about ½ tablespoon of salt. Cook for at least 6 hours on high, although you can leave for a few hours more. I've also had success cooking them on low for 10-12 hours if that works better for you.
When beans in the slow cooker are ready, cook the bacon in a large pot over medium/medium-low heat until crisp, stirring to avoid burning. Once bacon is crispy, remove some of the bacon grease, leaving only about 1 tablespoon in the pot. Don't throw away that liquid gold! Store in refrigerator for future use.
Add the garlic and cook for about 1 minute, stirring constantly. Add the can of fire-roasted tomatoes and a pinch of salt, and with a wooden spoon, scrape up any browned bits that are stuck to the bottom of the pan from cooking the bacon. Let mixture cook for about 3-4 minutes, stirring occasionally.
Stir in the beans with a slotted spoon, and then add enough of its cooking liquid to cover the entire mixture. Add the pickled jalapeño (½ cup will definitely give you a nice kick, so use less or more according to your spiciness threshold) and simmer on medium-low for about 20-30 minutes. Taste and season with more salt if necessary.
Serve in bowls topped with crumbled queso fresco, pickled jalapeños, and/or cilantro.
Cowboy Beans can be stored in the refrigerator for several days. They reheat very well in a saucepan over medium-low heat.