March is a such a great month.  There are so many things to be happy about.  Asheley's birthday is almost here.  That means celebrating with lots of good food, surrounded by our family and friends.  We actually also made a reservation for the two of us to celebrate at Eleven Madison Park in NYC.  We are super excited about that.
The sun is beginning to stretch out it's light ever so slightly.  I wake up and it's actually not pitch black.  My drive home is spent in warm sunshine.  This month builds up my anticipation for all the good things that comes with spring.
But as much as I can't wait for nicer weather and long sunny days spent outside at my grill and in the vegetable garden, I will definitely miss the warming, winter comfort food that Asheley and I have been grasping onto these past couple months.
We've been on this tomato soup binge recently.  It's quick.  It's easy.  It's no fuss, delicious, homey, make me forget about the frigid weather outside type of food.  This creamy tomato - basil soup hits the spot, especially with a side of extra-gooey grilled cheese.  I make the soup.  Asheley's totally in charge of the grilled cheese.  I get yelled at for using too much butter (like there is such a thing as too much butter).
It's incredible how easy this soup is to make and how quick it comes together.   You can whip it up on a busy weeknight, when you have a bunch of other tasks to accomplish as you cook.  It's definitely a multi-tasking friendly sort of dinner.  You don't need to constantly stand over it the entire time.  Get it started, do a couple things you have to get done, come back and stir once in awhile.  Bam.  Dinner.
If you're a weekend cooking fiend like me, you can make this soup ahead of time for extra fast weeknight dinners.  The soup refrigerates and freezes very well.  I have a stash of it in the freezer right now. When I have to reheat it I use a small pot.
Have I mentioned I'm totally in love with my new immersion blender.  Not just like it.  Maybe even not just love.  It's a gotta have it sort of relationship at this point.  My immersion blender is such a time saver, both in cooking and cleanup.  And I feel rather manly, almost as if I'm at the helm of a big, burly power tool.  Little do you know that's as big and burly as I get.
If you don't have an immersion blender, you need one.  You know you do.  They are as much fun as they are extremely practical.  And surprisingly, quite affordable.  Check them out here: Immersion Blenders.
You could also use a blender to purée the soup.  It works just as well.  Or just skip the puréeing step entirely.  It adds a bit of rustic texture to the soup if you're into the sort of thing.
You have a couple options for serving the soup.  For parties, I like to serve the soup in small micro-bowls.  It makes for a perfect little appetizer.  A couple tiny basil leaves to garnish is a nice touch.
I recently had some leftover pesto in the fridge, so a dollop of that (along with some freshly ground black pepper) became a fun garnish one night.
But my trusty standby, the way I typically serve up this soup, is with a pinch of cracked black pepper and a good sprinkling of freshly grated Parmigiana Reggiano cheese.  Go for the good stuff.  The processed parmesan cheese in those tubular containers just isn't the same.
If you're Asheley, you will add about half a block of cheese to your bowl.  She loves her cheese.
And if you're feeling extra fancy one night, you can always add a chiffonade of basil: just roll up some basil leaves and cut into thin strips.
Print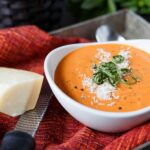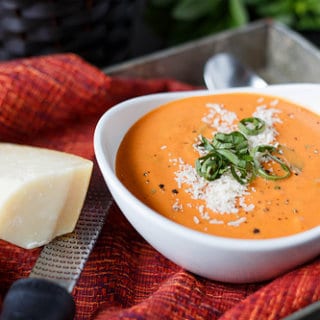 Quick and Easy Creamy Tomato - Basil Soup
---
3 tablespoons

olive oil

2

red onions, chopped

3

cloves garlic, minced

1

(28-ounce) can crushed tomatoes

4 cups

good-quality chicken stock
Kosher salt
Freshly ground black pepper

¾

-

1

cup heavy cream

1

bunch basil, torn into small bite-size pieces
Parmesan cheese, for garnish
---
Instructions
Heat olive oil over medium-low heat in a dutch oven or large pot. Once hot, add onions and season generously with Kosher salt. Cook the onions, stirring occasionally, until soft and starting to turn golden brown, about 15 minutes. Add the garlic and cook for 1 more minute, stirring to avoid burning the garlic.
Stir in the tomatoes and chicken stock. Season generously with Kosher salt and freshly ground black pepper. I like to use about ½ tablespoon of black pepper, which gives a little kick to the soup. Bring the soup to a boil, then lower heat to maintain a simmer for at least 15 minutes. You can feel free to leave it longer if you forget about it. I have.
Purée mixture using an immersion blender or carefully transfer soup to a blender. If using a blender, return mixture to the pot.
Stir in the cream and basil and let simmer for at least 15 minutes, although I like to leave it for a bit longer so it can reduce down to a thicker consistency.
Serve immediately, topped with freshly grated Parmesan cheese (I highly recommend using Parmigiano-Reggiano for its superior quality), a little sprinkle of black pepper, and a chiffonade of basil.