This Sous Vide Steak with Chimichurri Sauce and Grilled Scallions was created in partnership with Everywhere Agency on behalf of FoodSaver®. As always, all opinions and recipes are my own. Thanks for supporting the brands that support Shared Appetite!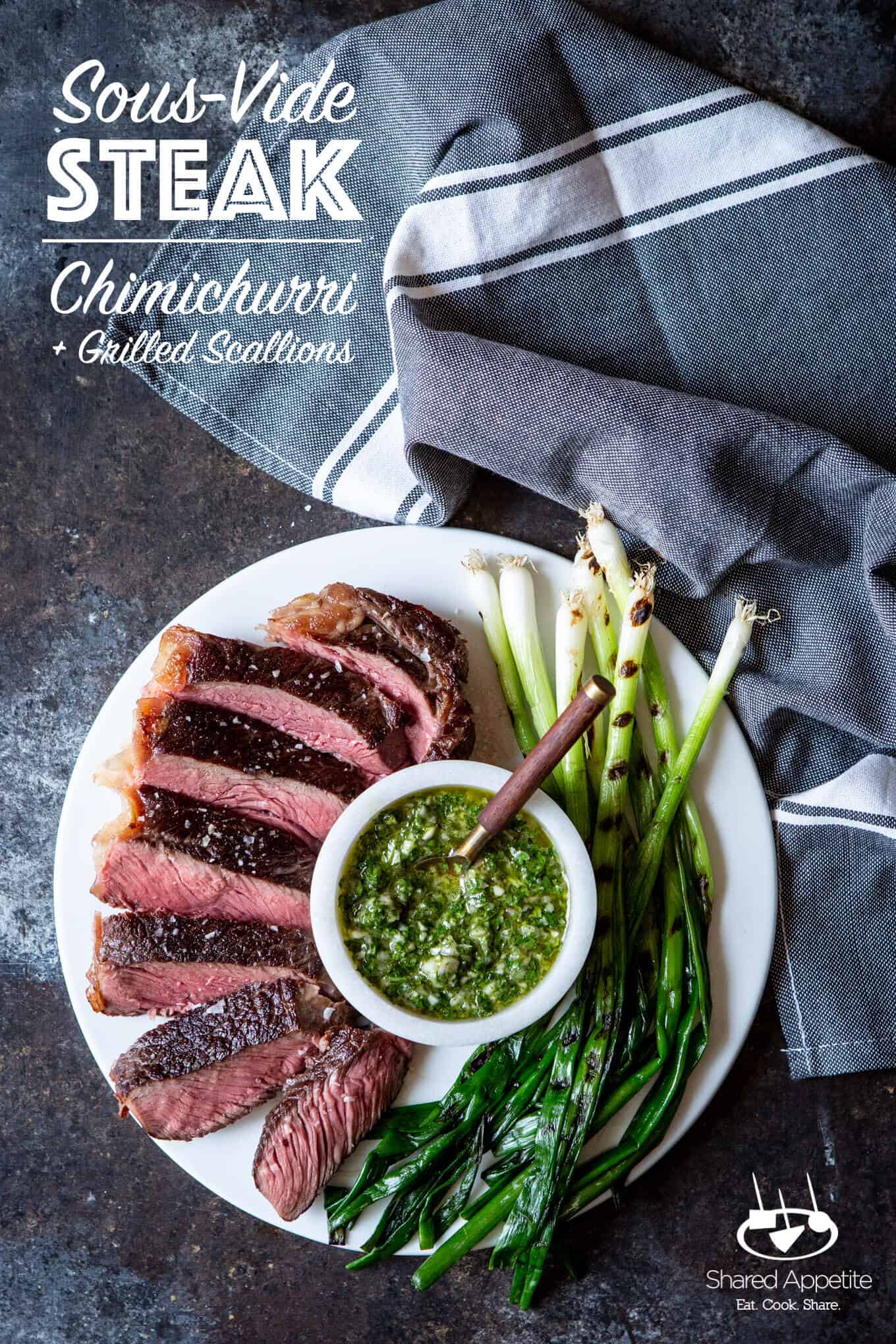 I have to be honest. Cooking at home with a toddler and a newborn is tough. Asheley has been a rockstar with taking the lead with our new addition to the family, but I've been trying hard to give Olivia lots of attention to help ease the transition from only child to big sister. Between keeping up with a highly active toddler and giving Asheley a hand with Bennett so she can get a few hours of sleep throughout the day, being able to focus on cooking a legit meal is near impossible.
Take steak, for instance. Getting a steak to be cooked perfect is hard enough, but you can completely forget about it these days. The last thing I would want to do is spend all that money on an epic steak to have it ruined because I was distracted during cooking. 1 little minute could mean the difference between not cooked enough or a rubbery overcooked mess.
BUT… I have the answer. Sous Vide Steak with Chimichurri Sauce and Grilled Scallions with FoodSaver® Sous-vide Vacuum Seal Bags!
I know what you're thinking. Sous vide is that fancy cooking technique used at those expensive restaurants. Yup. That's definitely true. It is also 100% accessible to the average home cook. And if we're being honest with each other, cooking a steak sous vide is actually way easier than traditional cooking methods. So get ready to enjoy that old favorite in a whole new way.
Perfect steak. Every time. Even when your focus is elsewhere, like changing a diaper with one hand while having a toddler tea party with the other. You're welcome.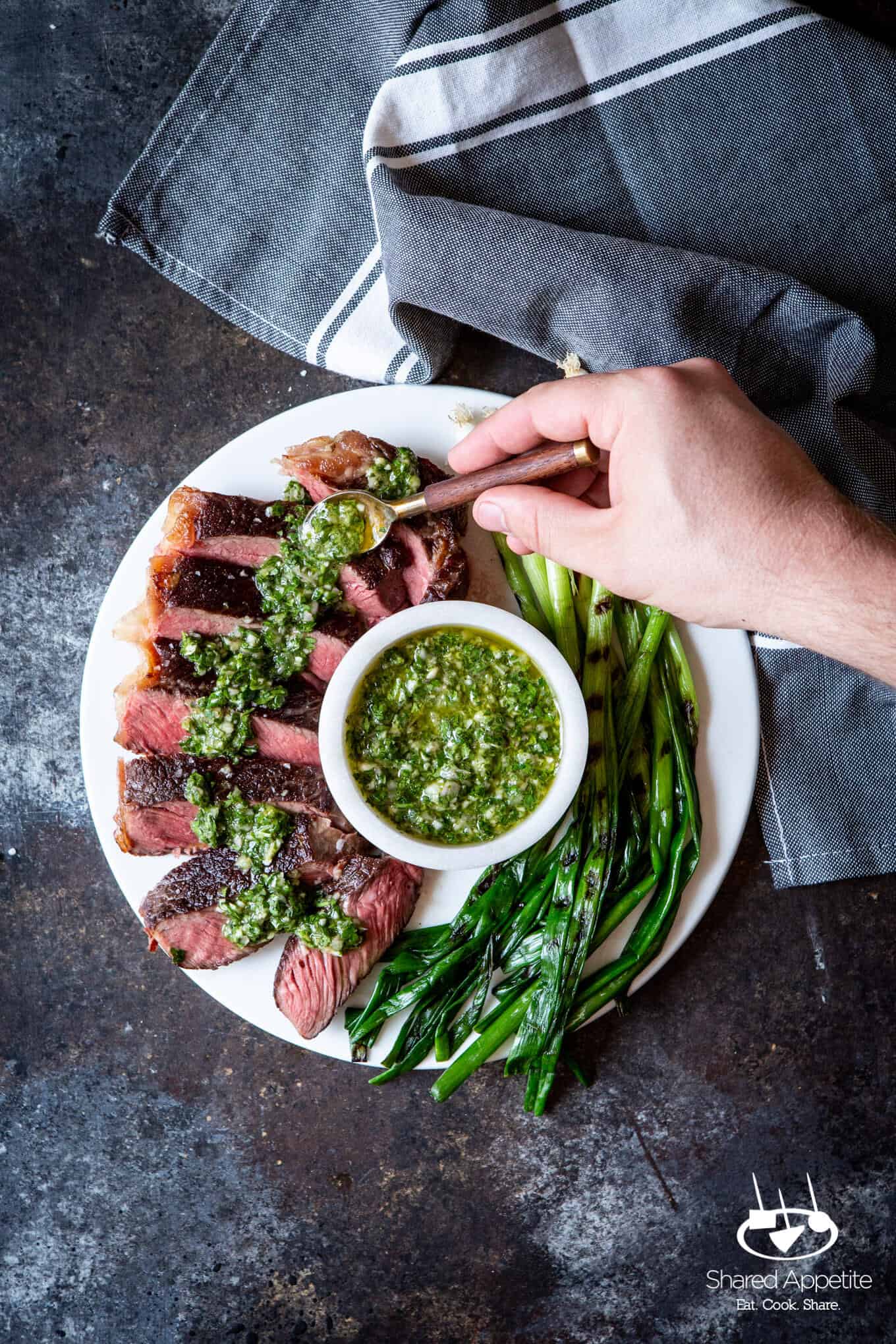 Here's the deal. When you cook steak the traditional way, you're pretty much guessing. You are hoping that when you take it out of the pan or off the grill it's cooked perfectly through, but unless you're using a thermometer it's a complete toss-up until you cut into that beautiful piece of meat. And even when you are using a thermometer, cooking steak requires your constant attention.
Here's the beauty of using the sous vide method with FoodSaver® Sous-vide Vacuum Seal Bags. You can set the temperature to the exact doneness you want the steak to be. Even if you overcook your steak by AN HOUR, it'll still be perfect. You read that correctly. Overcooking your sous vide steak is pretty much not even a possibility!
Perfect quality, every single time.
It's my preferred way to prepare steak always at this point, and especially when I'm hosting a dinner party or may be otherwise distracted (i.e. hello parenthood)!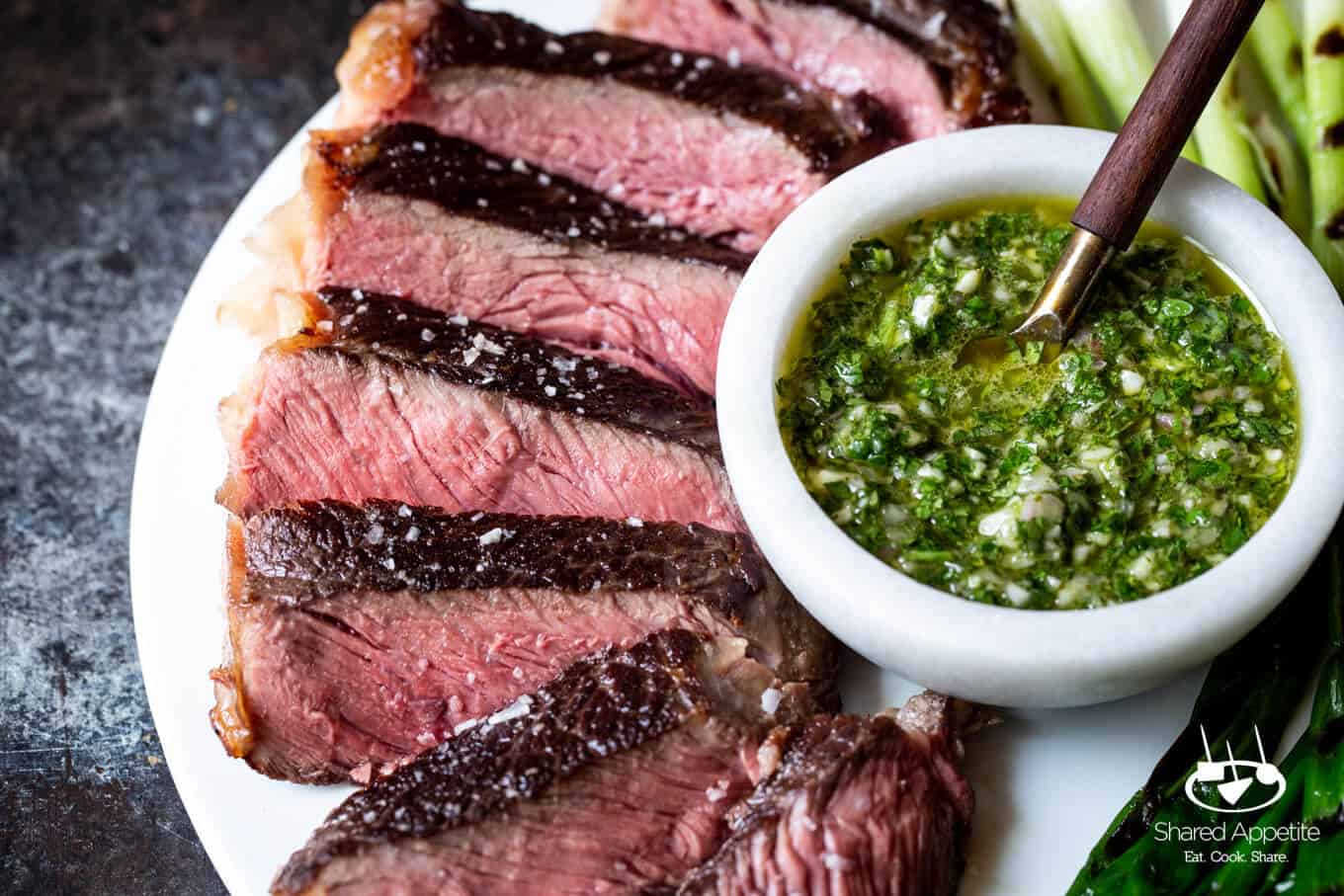 So let's break down how to cook this Sous Vide Steak with Chimichurri Sauce and Grilled Scallions.
When you sous vide, it means that an immersion circulator is used to heat and maintain a water bath at a specific temperature (and immersion circulators are now readily available and are quite affordable). You'll find your preferred steak temperature by experimenting, but I usually like my steak cooked to 57°C (that's right between medium-rare and medium).
While a pot of water gets preheated with your immersion circulator, you'll want to take out one of the most important sous vide tools in your kitchen. The FoodSaver® FM2000 Vacuum Sealing System with sous vide bags. They have become the ultimate choice in food bagging technology for sous-vide cooking.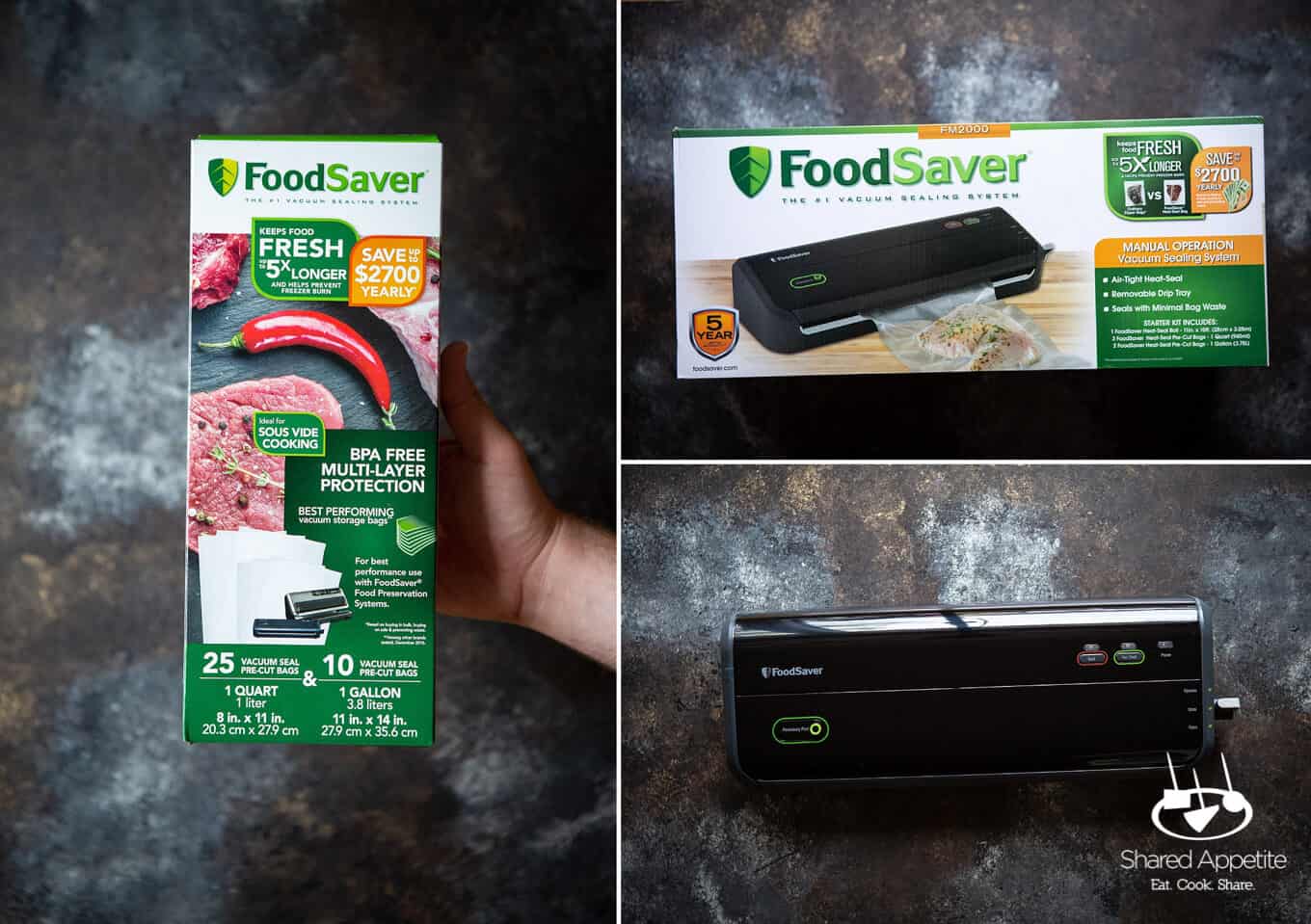 By using these sous vide bags, you are making sure your steak is completely airtight in the water. This is crucial in making sure you achieve consistent, great-quality results in your sous vide cooking, and also prevents your food from floating while in the pot.
These sous-vide bags have multi-layer construction and they lock in freshness and flavor! It's also safe for the microwave, fridge, and freezer! In fact, one of my favorite features about these sous vide bags is that if I purchase steak at the store and then don't plan on using it right away, I can use the sous vide bags with the FM2000 system to vacuum seal them and put them right into the freezer to help preserve the quality of the meat (the same goes for preserving other types of food for storage). I can then go right from freezer to the hot water bath with no separate defrost or change of bag needed! How's that for convenient!
These sous-vide bags are available in a variety of sizes, and you can now purchase both the FoodSaver® Sous-vide Vacuum Seal Bags as well as the FoodSaver® FM2000 Vacuum Sealing System at 20% off during the month of July in- store or online at Target!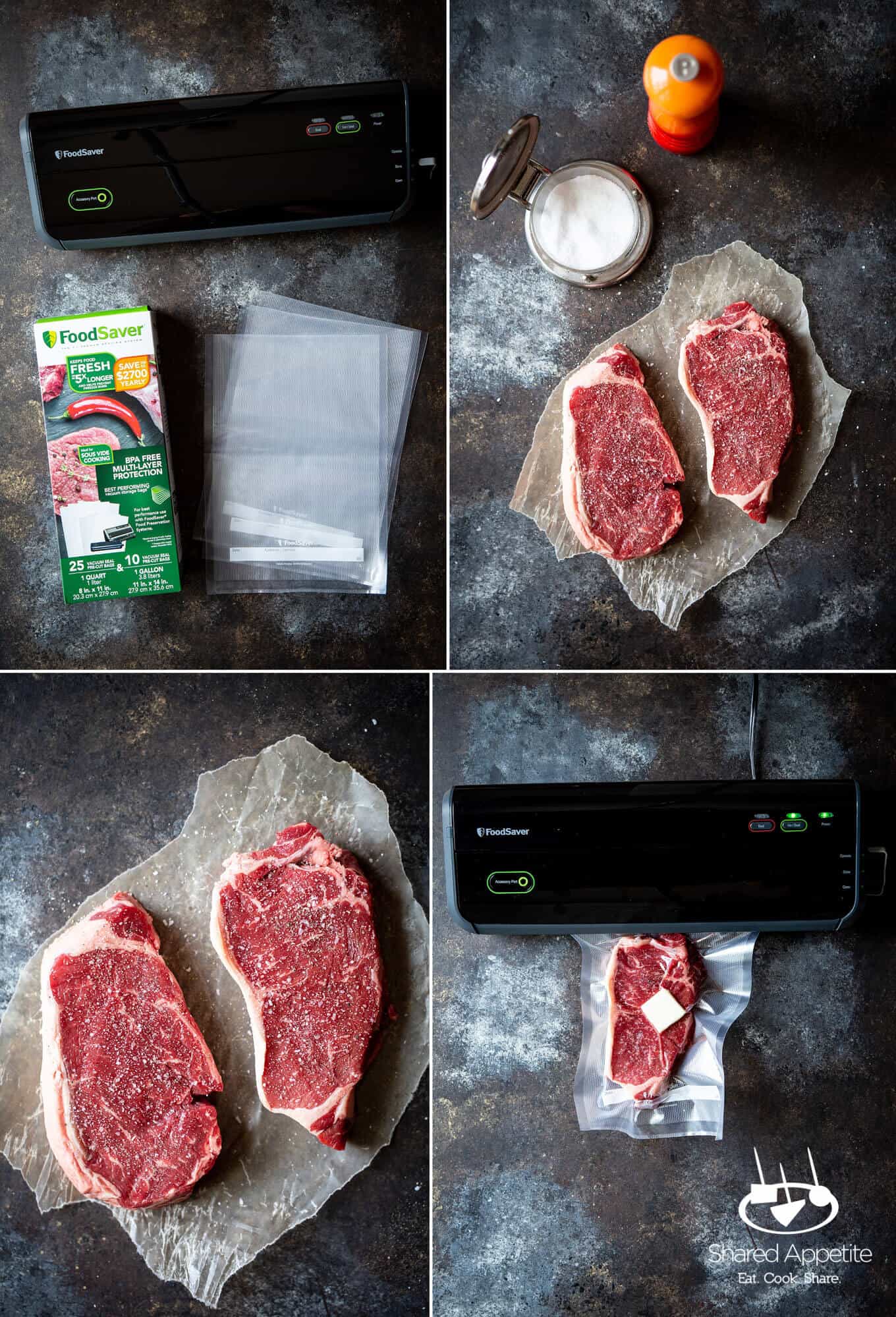 Before placing your steak in the sous-vide bag, I like season the meat generously with Kosher salt and some freshly ground black pepper and toss in a knob of butter or drizzle of olive oil. I also like to sometimes throw in some fresh herbs like thyme or rosemary, but I'm not this time around because I'm serving this sous vide steak with an herbaceous chimichurri sauce after cooking. I wouldn't want the flavor of rosemary or thyme to compete with the flavors in the chimichurri.
Using the FM2000 system, you can then vacuum seal your bag. It's oddly satisfying and relaxing watching all the air get sucked out!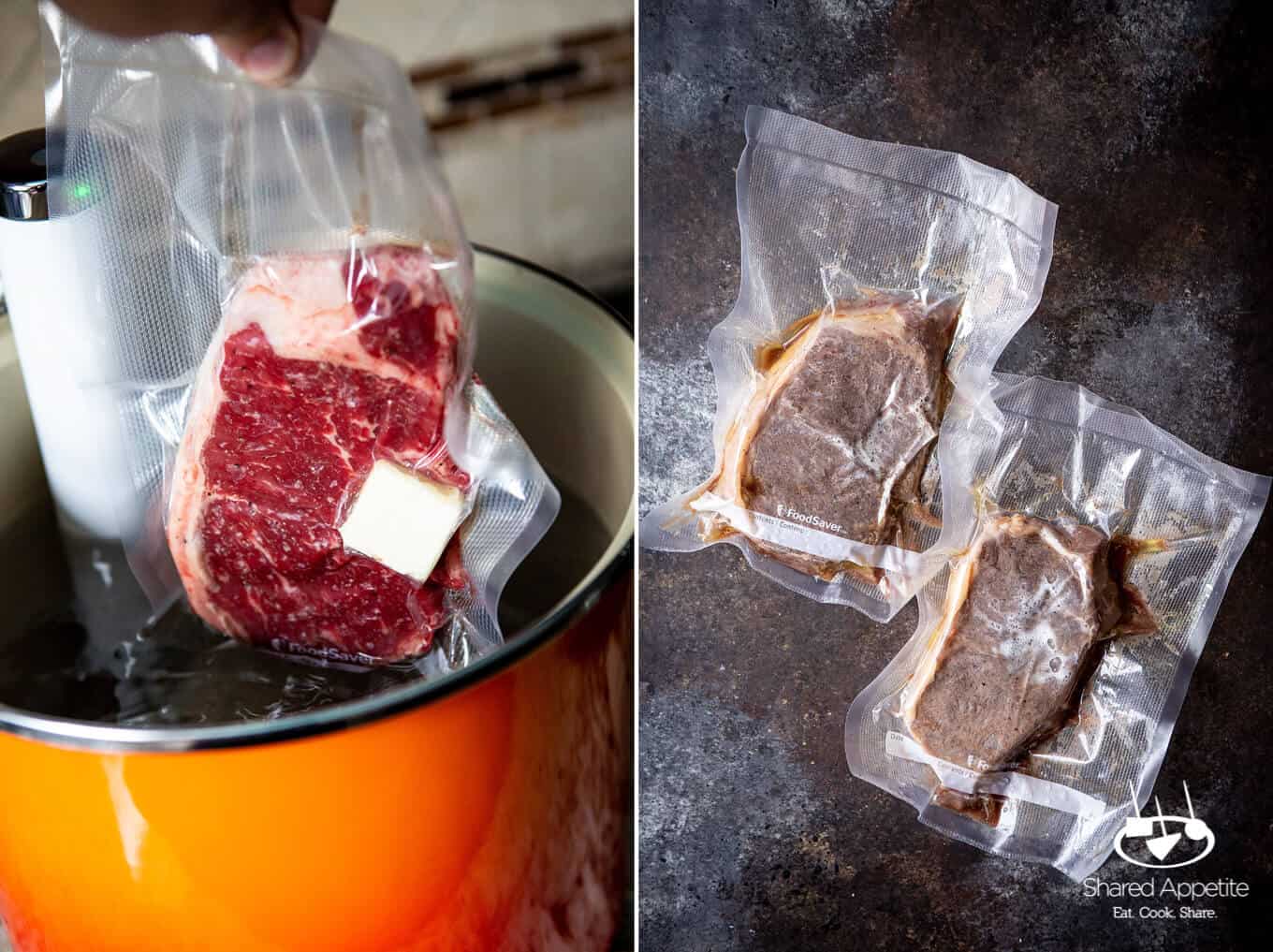 You can then gently drop your steaks into the water bath and let it go! For standard 1″ steaks, it'll be ready in 1 hour, but you can leave it in there for a few hours if needed! There's a BIG window for success using sous vide cooking! And let me tell you, taking away the stress with cooking steak is so liberating. You can go tend to guests if hosting a party, and not freak out if someone is running late which delays dinner. You also don't have to worry about leaving a pan unattended while helping clean up whatever messes 2 kids under the age of three conjure up with their imaginative minds!
Once you're ready to eat, you just remove that sous-vide bag from the water, cut open the vacuum-sealed pouch, and take out your cooked steak. At this point, it will look like an unappetizing gray blob. Don't worry… on the inside it's cooked PERFECTLY. Take your sous-vide steak and pat it dry with paper towels.
Grab a pan (or use your grill) and heat it over super high heat. Take your steak and sear it for about 30-60 seconds per side. That will give you the golden brown exterior you expect with steak. Let it rest for about 5 minutes, then slice it up and serve!
I'll say it again. Sous-vide steak. It's perfect… EVERY TIME.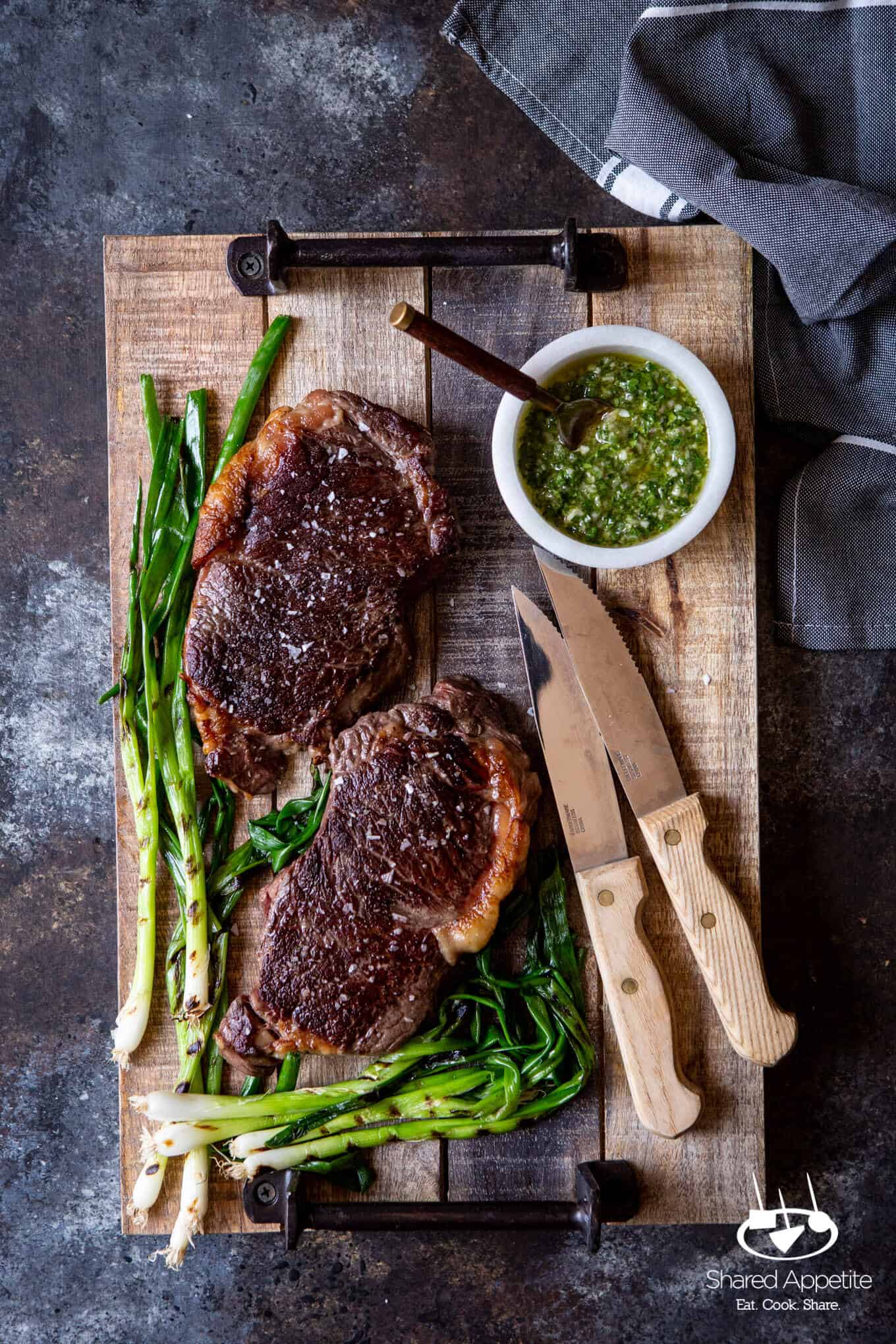 Let's back it up a second. While your steak is cooking in the water bath, you can prepare your bold-flavored chimichurri sauce. It's so easy to whip together and it adds a huge punch of flavor to your steak dinner! Purists will say to hand chop all your herbs, but I'm going to be real and say that a food processor is perfectly acceptable in this case. You'll want to make the chimichurri at least 15 minutes before wanting to eat so that the flavors have time to meld.
Just be prepared. After cooking up a perfectly cooked sous vide steak with chimichurri sauce and grilled scallions, you will most likely be deemed a kitchen hero by your family and friends. Sshhh… you don't have to tell them how easy it was to nail that steak. It'll be our little secret 🙂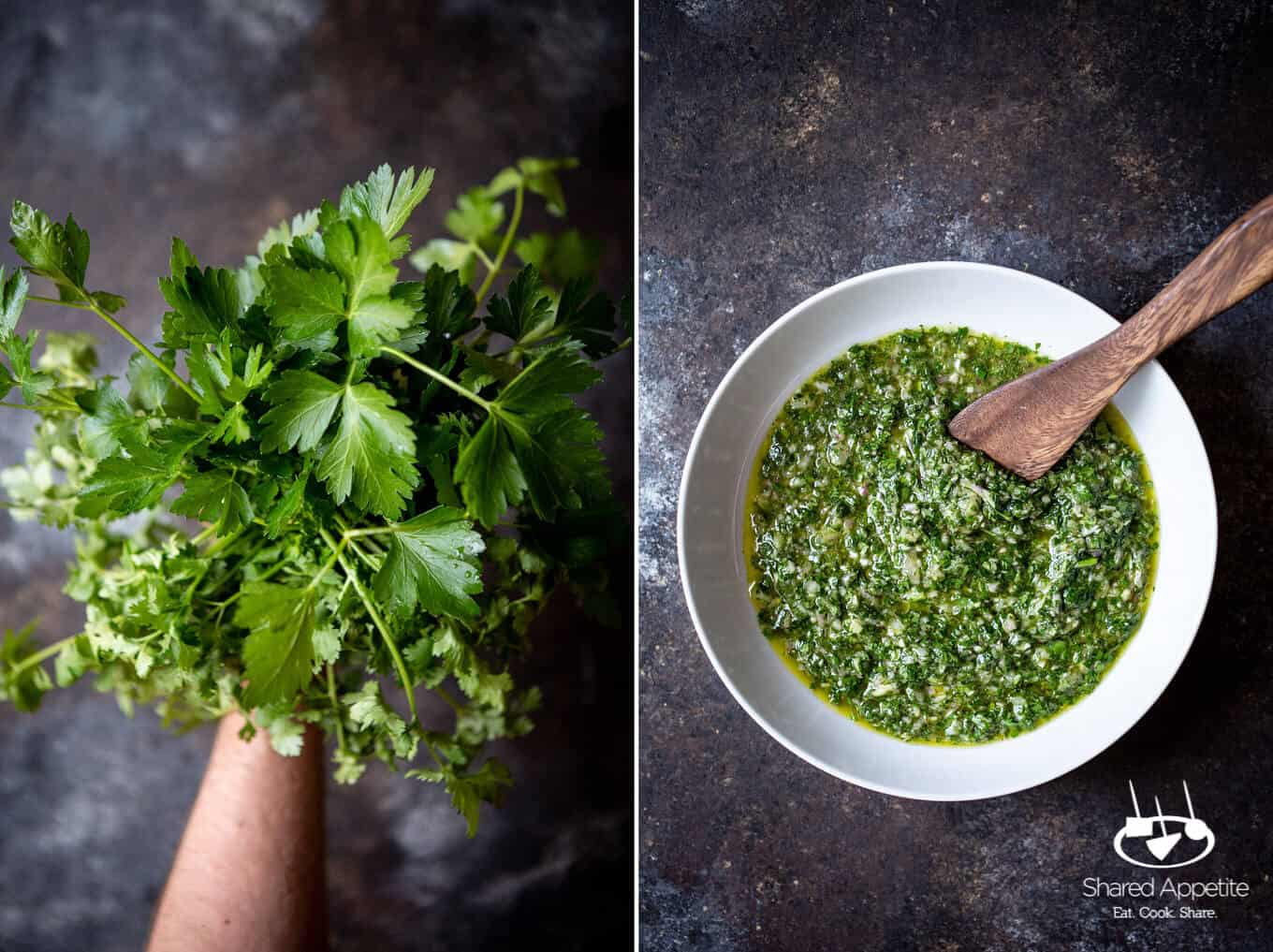 So let's review:
Cooking steak the traditional way is hard and takes a lot of focus.
Cooking steak sous-vide is pretty much fool proof and you'll get epic results every single time.
FoodSaver® Sous-vide Vacuum Seal Bags and the FoodSaver® FM2000 Vacuum Sealing System are essential for successful sous-vide cooking!
Chimichurri Sauce and Grilled Scallions help amp up the flavors in the steak and make for one heck of an impressive home-cooked dinner!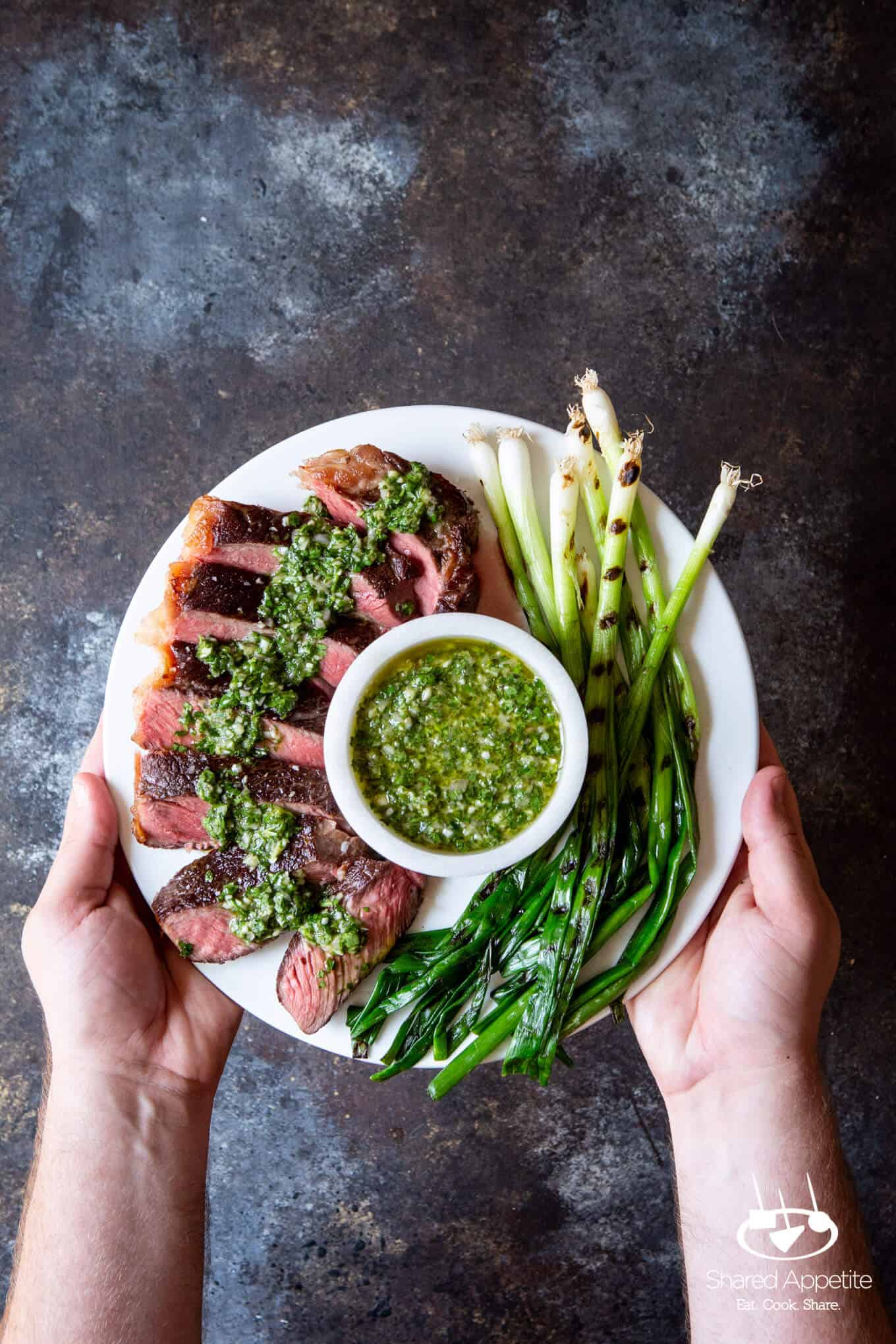 Print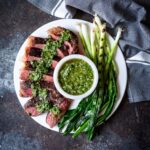 Sous Vide Steak with Chimichurri Sauce and Grilled Scallions
---
4

strip steaks, 1″ thick

2 tablespoons

butter, divided

1 tablespoon

vegetable/canola oil
Grilled Scallions*
for the Chimichurri Sauce
1 cup

packed fresh parsley leaves

1 cup

packed fresh cilantro leaves

3

cloves garlic

1

small shallot

1/2 cup

extra virgin olive oil

2 1/2 tablespoons

red wine vinegar

1 tablespoon

lime juice
Kosher salt
Freshly ground black pepper
---
Instructions
Preheat immersion circulator in a large pot of water to desired temperature**.  Season steaks generously with salt and pepper. Place in sous vide bags along with 1/2 tablespoon of butter.  Seal sous vide bags using vacuum sealer and place in water bath for 1-2 hours.

Remove steaks from water bath and sous vide bags and pat dry with paper towels.  Heat a heavy bottom skillet over high heat.  Once it's very hot, add vegetable/canola oil and then gently lay steak, one at a time, in the skillet.   Sear steaks for 30-60 seconds per side, until golden brown.  Remove steak from pan, allow to rest for 5 minutes, and then slice.  Serve with grilled scallions and chimichurri sauce.
for the Chimichurri Sauce
Combine all ingredients in a food processor and puree until combined but still a bit chunky.  Season generously with Kosher salt and freshly ground black pepper.  Allow flavors to meld for at least 15 minutes before serving.
Notes
*Grilling scallions is as easy as brushing a little oil and salt on whole scallions and grilling until softened and grill marks appear.
**I prefer 56°C for a nice rosy medium.  54°C will give you a medium rare.
Prep Time:

15 minutes

Cook Time:

1 hour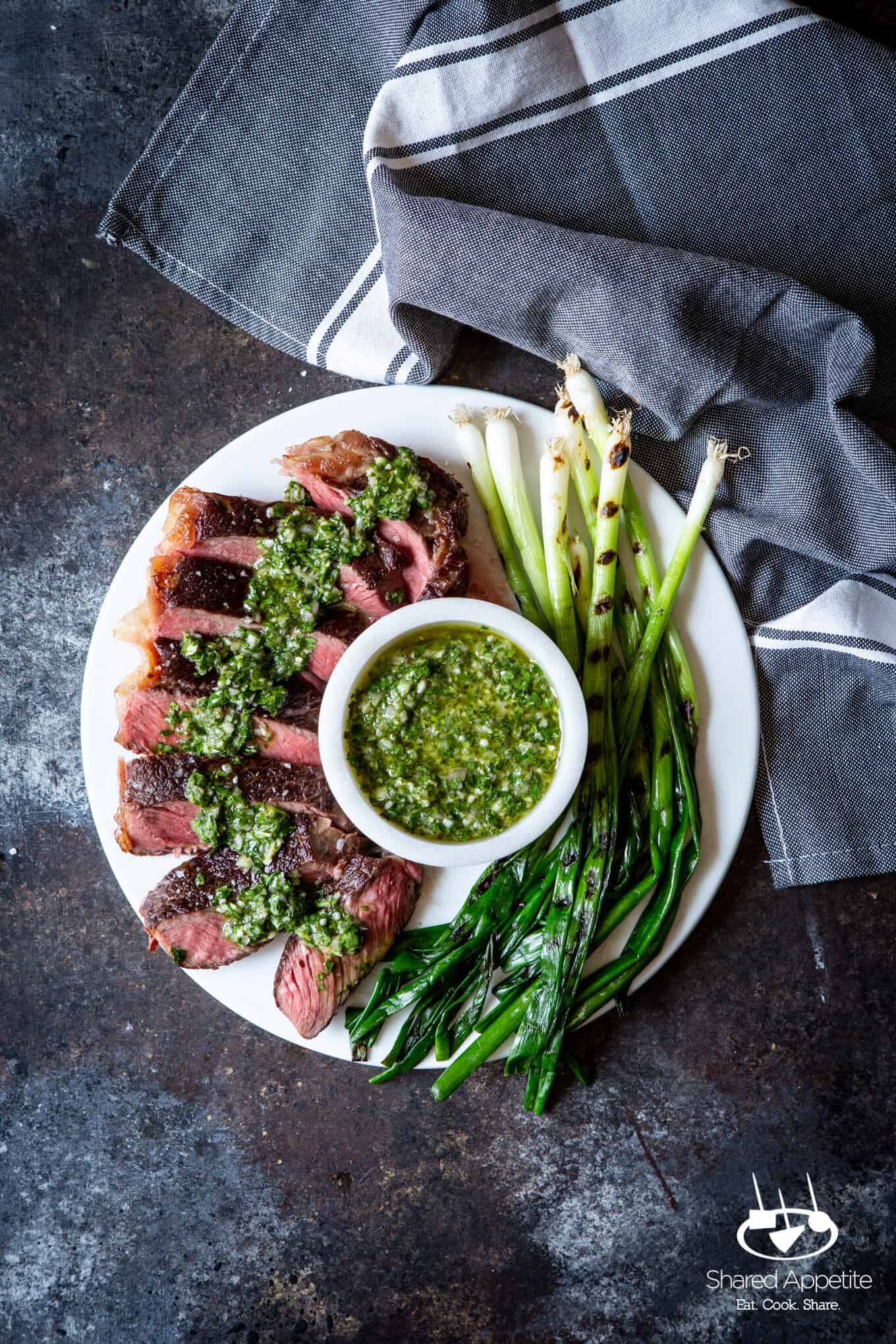 Sous Vide Steak with Chimichurri Sauce and Grilled Scallions