These Zucchini and Corn Quesadillas were created in partnership with Daiya. As always, all opinions and recipes are my own. Thanks for supporting the brands that support Shared Appetite!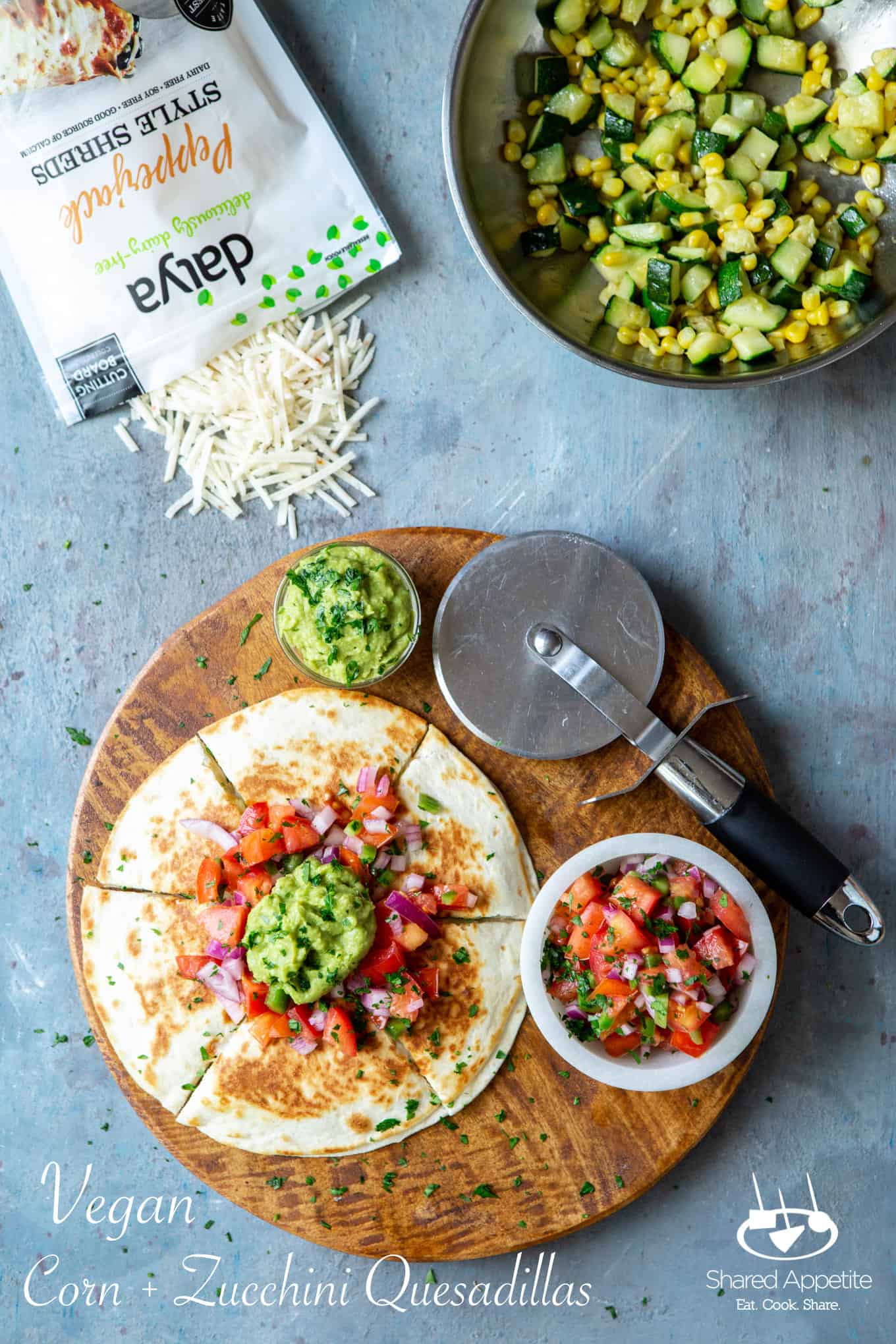 In case you didn't already know, my full-time gig throughout the year is being a teacher. Specifically, I teach band. For many around the country, school has already started. For us here in New York, we still have a little bit more time. But it's definitely the "Sunday" part of our summer break. When vacation first starts for us at the end of June, every day feels like Friday at 3pm. School just let out and there's an entire weekend to look forward to. There's no school in sight, and it's the best feeling. But now it's Sunday. Every time your head hits the pillow at night, you know you are one day closer to another long school year. Mid-August = Sunday. Ugh.
Although I have to admit, there's always a bit of excitement that comes with a start to a new school year. I love teaching, after all. And this year I'm moving up from the elementary to the high school. It's going to be quite the change… and I'm eager to replace Hot Cross Buns with some more challenging music!
The beginning of the school year is always a bit of a difficult transition for families, and it's definitely true for our little party of four. With me on summer break and Asheley on maternity leave, we've been without a regimented schedule for us and the kids the last two months. That's about to change big time, including getting myself and both kids out the door at 6am on school days so I can bring them to the sitter before the school day. Send help.
Olivia's at the age now that all these activities are starting. Monday is gymnastics. Wednesday is dance. Soccer is starting too, so I'm sure that's another weeknight. All this means I have less time to get dinner on the table, and I really don't want to get into a take-out dinner routine on busy nights. Instead, it's all about strategic easy weeknight dinners like these Zucchini and Corn Quesadillas that can get on the table with extremely limited prep!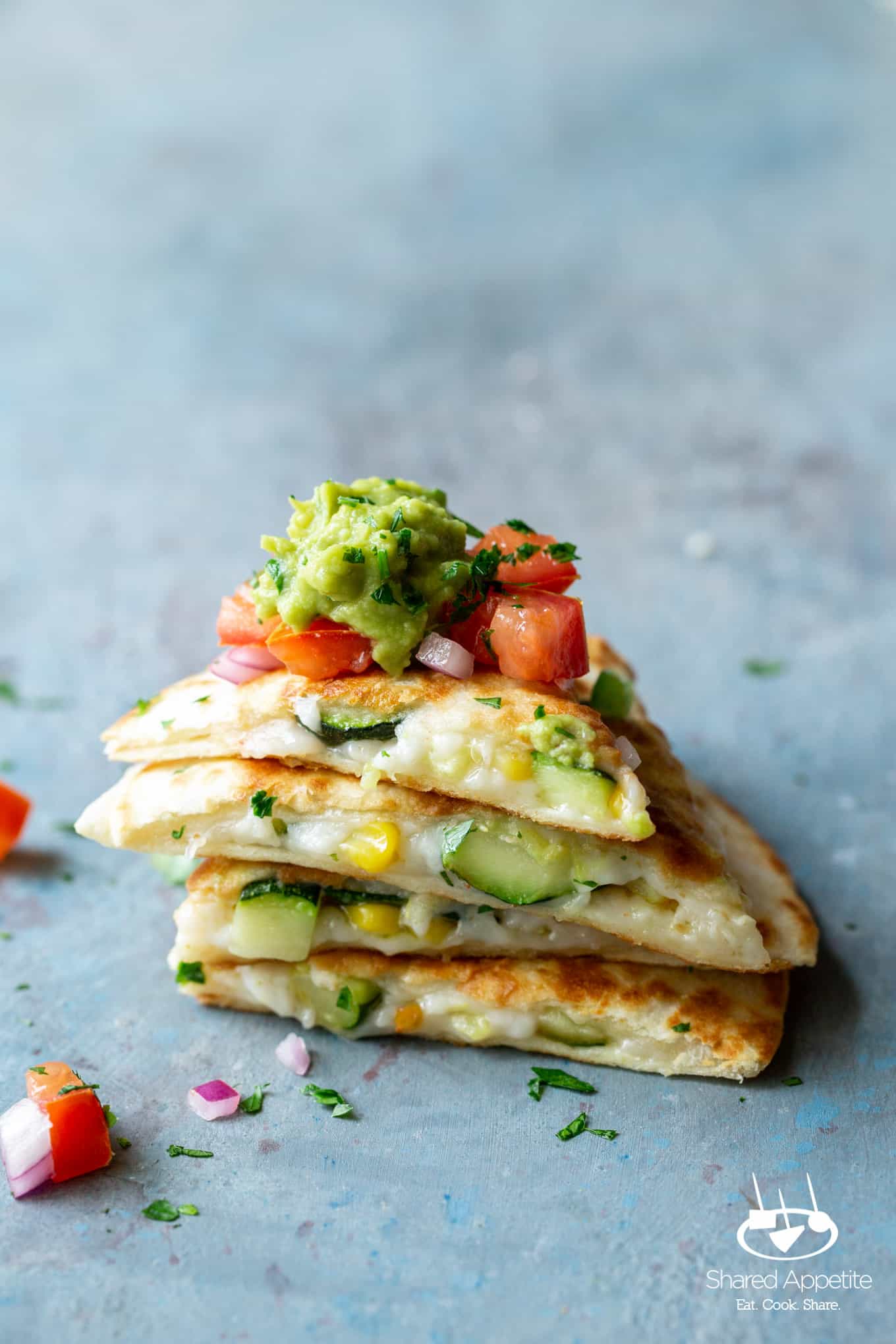 Summer produce on Long Island is pretty fantastic. We're past the very short berry season, but zucchini and corn (and peaches!) are upon us in force! I've been buying zucchini and corn at the store like it's my job, because Olivia is obsessed with both of them. Not going to lie, it's a pretty great flavor combo and just screams summer!
Even with being in back to school mode, we will be soaking up every last bit of summer with these beautiful zucchini and corn well into September. They are quick to prep and sauté up together with a bit of olive oil and salt for the most legit meatless summer filling for these quesadillas.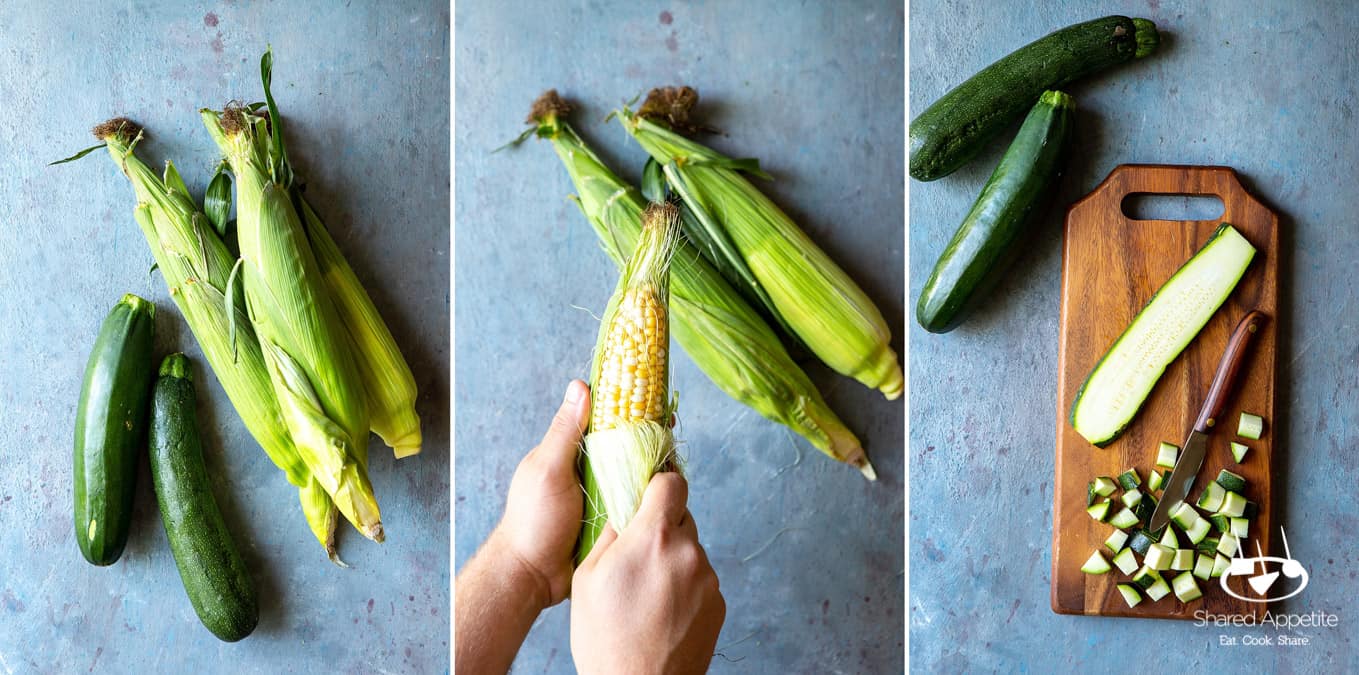 You can't have quesadillas without cheese. But can I tell you a secret about these Zucchini and Corn Quesadillas? They are actually vegan.
But how Chris? How can that be? I see all that ooey-gooey cheesy goodness!
And you'd be right, except it's the incredible Daiya Pepperjack Style Shreds.
Needless to say I was a little skeptical that the plant-based Daiya Pepperjack Style Shreds would achieve that perfect melted cheese state that we all crave and expect with quesadillas, but friends….
Daiya Pepperjack Style Shreds is the real deal!!!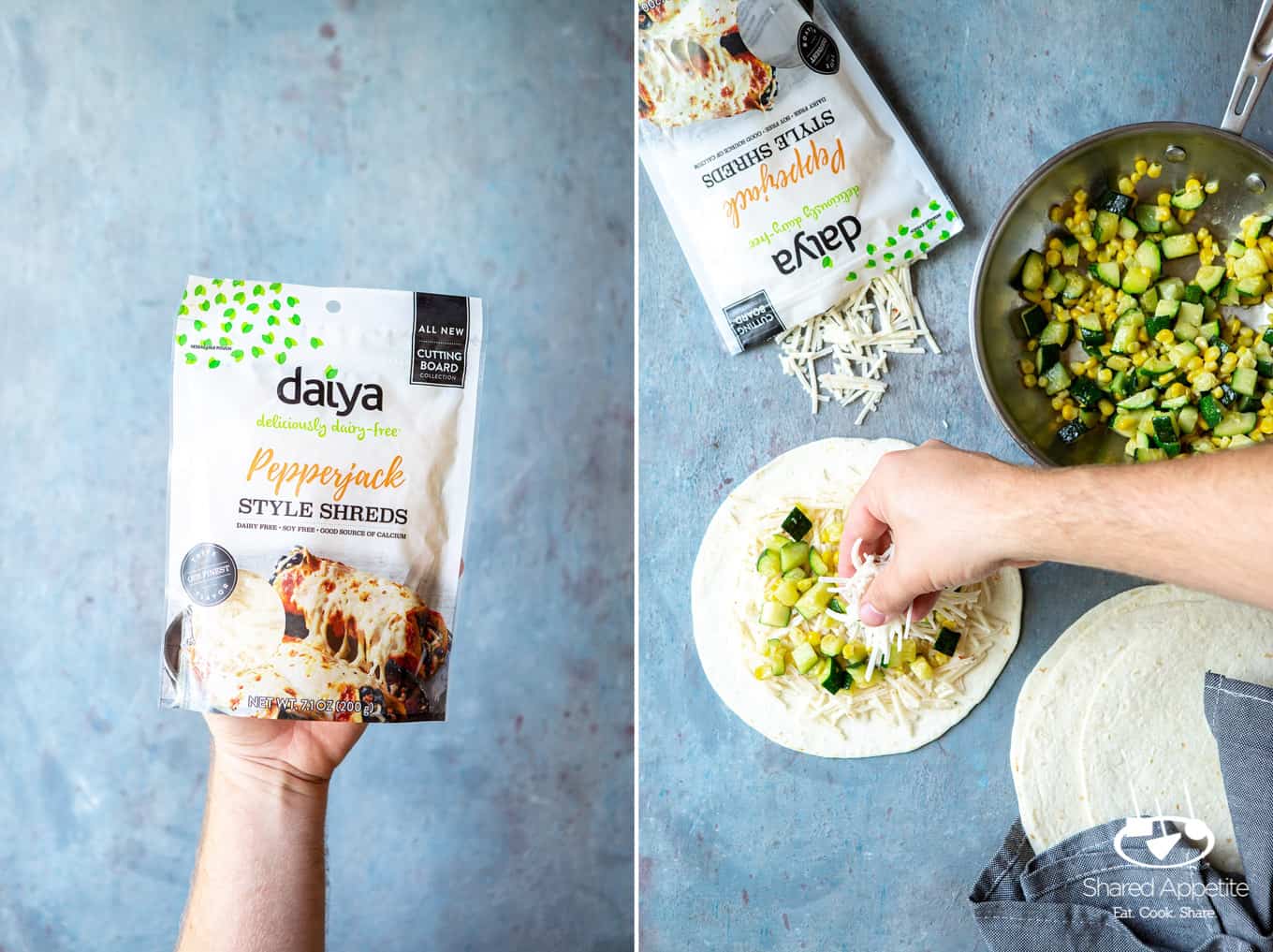 As I cut into and pulled apart my Zucchini and Corn Quesadilla, the cheese was perfectly melted. That was an incredibly good sign. But that's just half the battle. It still had to taste good. As always, my quesadilla got topped with some of my simple pico de gallo and the best guacamole. I took my first bite and… fireworks went off on my tastebuds. It was, through and through, the most perfect quesadilla experience.
I immediately called my lactose intolerant friend and told him about these Daiya Cutting Board Collection Shreds. They stretch and melt just like dairy-based cheeses and he needs them in his life!
These Daiya Cutting Board Collection Shreds are made from an award-winning formula and are made with 100% plant-based and non-GMO ingredients! The flavorful line is available in Cheddar Style, Mozzarella Style and Pepperjack Style. I can already see that these shreds are going to be perfect for so many cheesy recipes, like nachos, queso dips, pizzas, and more!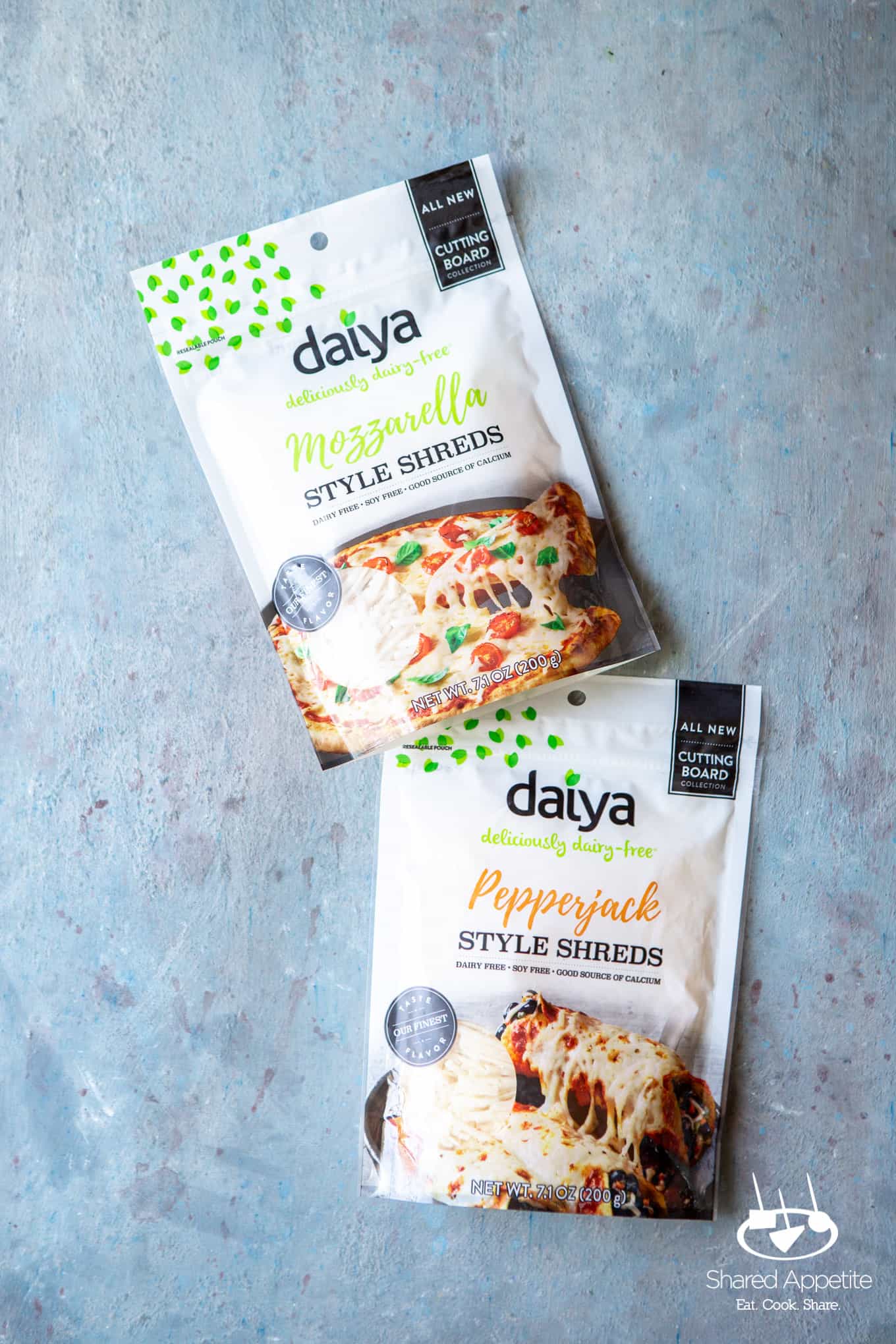 Daiya. Thank you for making me a believer!
For those of you wondering more about Daiya, they are a leading maker of cravable, plant-based comfort foods that are free of top food allergens like dairy, gluten, nuts and soy! Good news for back to school: they recently launched some tasty new options that are perfect for lunch boxes or after-school snacking, like burritos, frozen desserts, and dairy-free cheese sticks!
Daiya can be found in more than 25,000 grocery stores in the U.S., including Whole Foods, Kroger, Safeway and Publix, as well as most natural food retailers.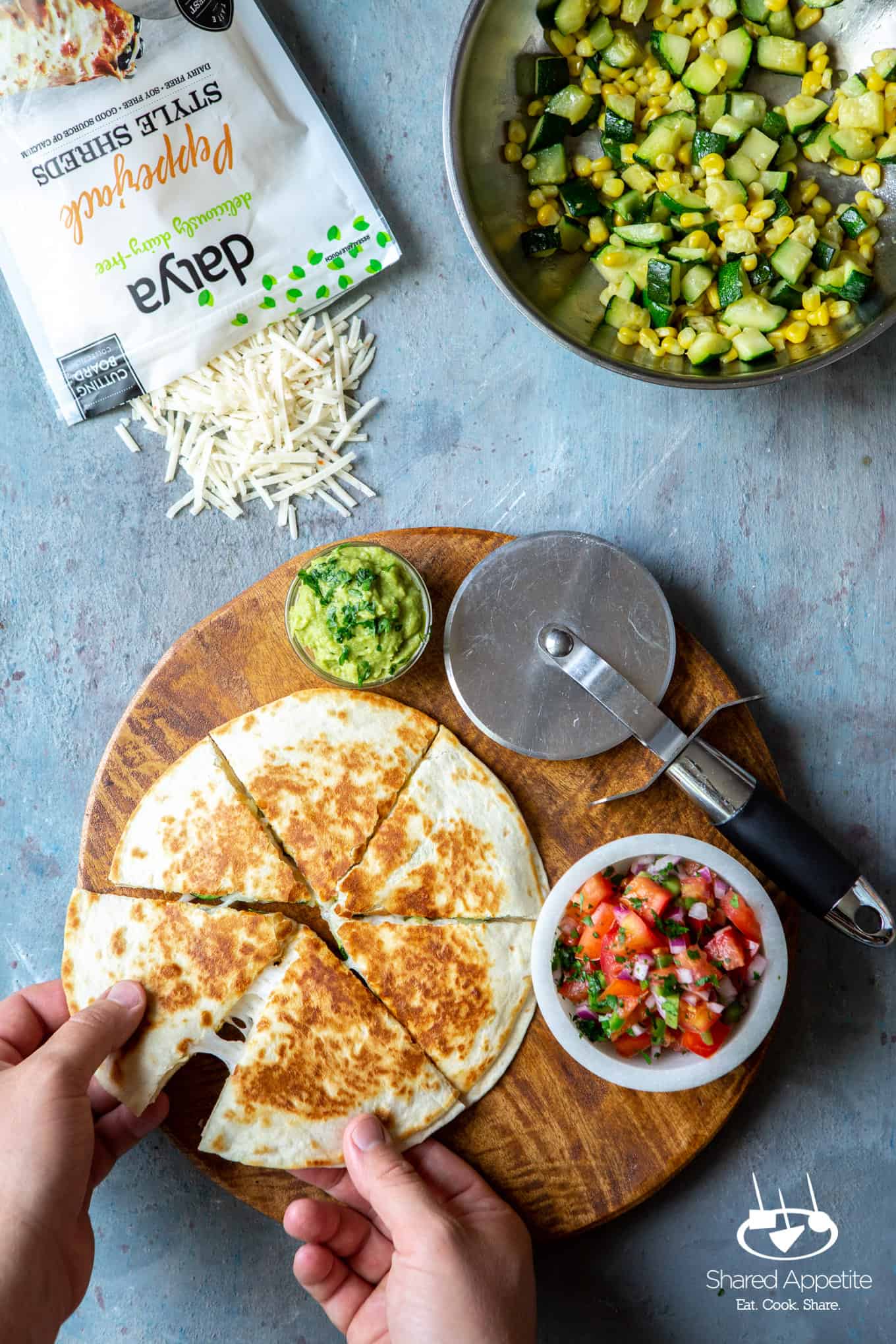 Just look at that cheese pull!!!
These Zucchini and Corn Quesadillas are the perfect weeknight dinner! Done in under 20 minutes and a meal you can feel good about serving to your entire family!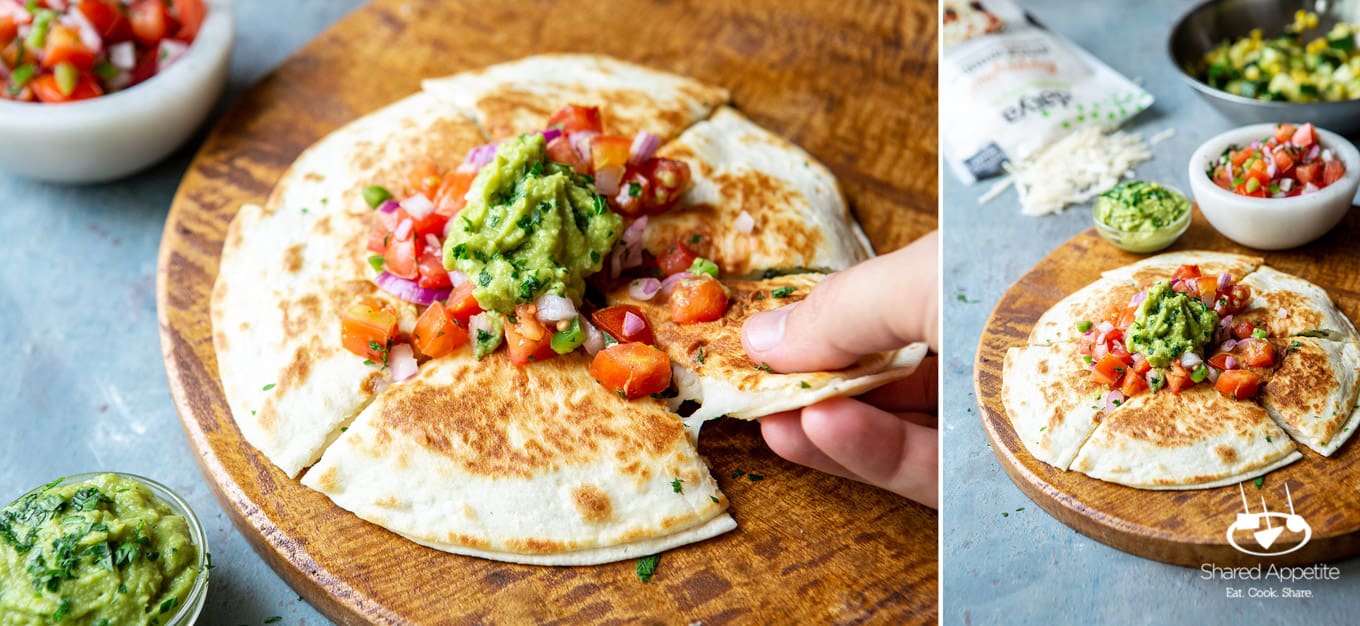 Print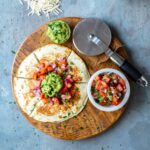 Zucchini and Corn Quesadillas
---
Author:

Chris Cockren

Total Time:

20 minutes

Yield:

4

servings

1

x
8

medium-sized soft flour tortillas

2

(7.1 ounce) bag Daiya Pepperjack Style Shreds

1 tablespoon

olive oil

1

zucchini, chopped

2

ears corn, kernels removed
Kosher salt
---
Instructions
Heat olive oil in a medium skillet over medium heat.  Add zucchini and corn and season generously with Kosher salt.  Cook, stirring occasionally, until vegetables are softened and cooked through.  Remove from heat and set aside.
Top four tortillas with Daiya Pepperjack Style Shreds.  Add a spoonful and evenly spread the zucchini-corn mixture to each, and then top with remaining tortillas.
Heat a medium nonstick skillet over medium heat.  Spray with non-stick cooking spray, then cook quesadilla until cheese slightly melted and tortilla is golden brown and crisp.  Carefully flip tortilla and cook until tortilla golden brown and cheese is fully melted.  Repeat with remaining quesadillas.
Slice quesadilla into 6 wedges and top with pico de gallo and guacamole.  Devour!
Prep Time:

10 minutes

Cook Time:

10 minutes
Zucchini and Corn Quesadillas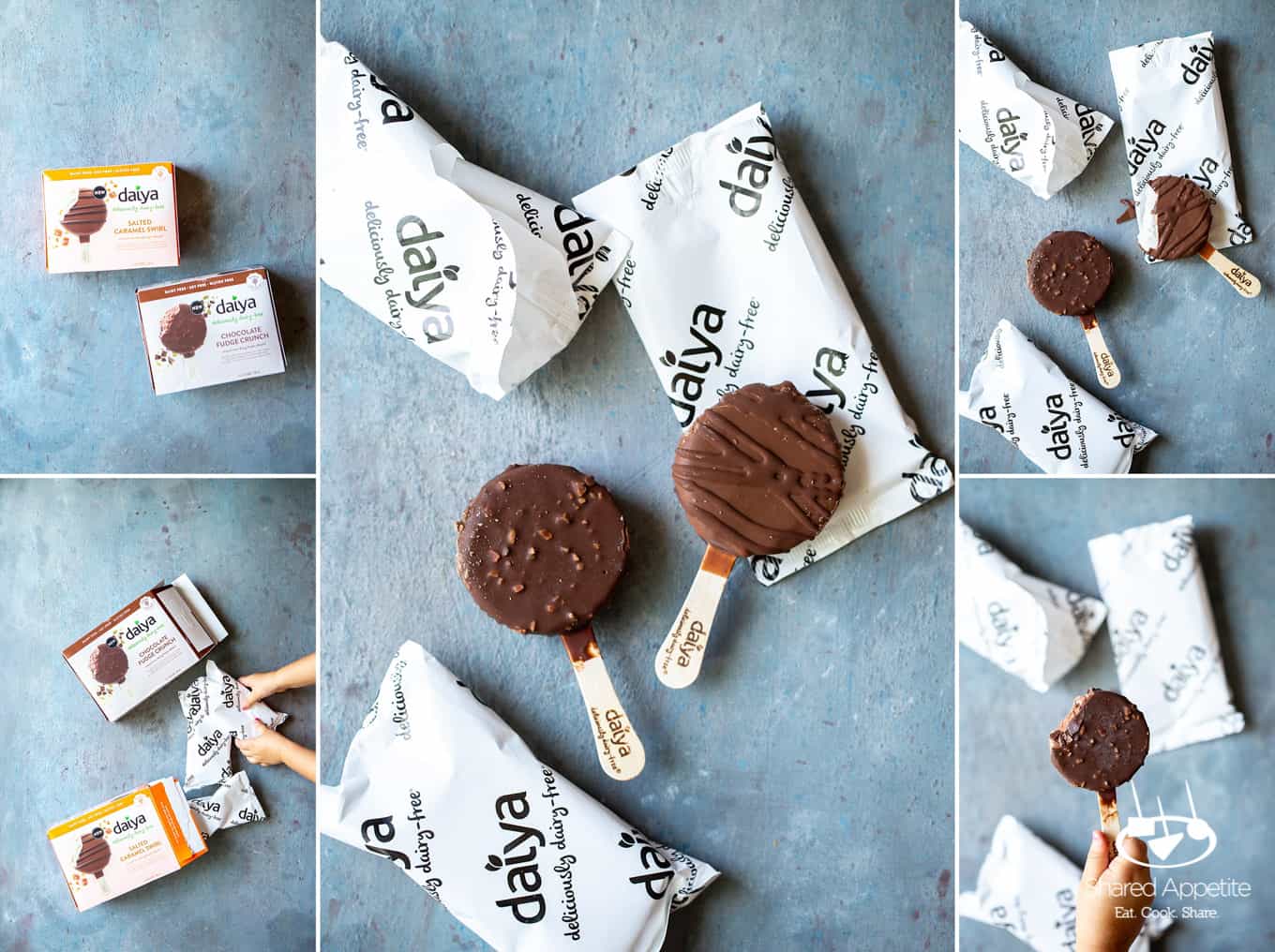 Olivia is definitely my daughter. She has a sweet tooth just like me and she loves her treats. After dinner we tried out Daiya's new Non-Dairy Frozen Desserts. Usually I'm really not a fan of non-dairy frozen desserts but these have a creamy coconut base and you would never know by tasting them that they're dairy-free! They were SO SO SO good! Guys. I'm seriously impressed over here!
I love that these dessert bars feature premium ingredients like semisweet chocolate, fair trade dark chocolate, real vanilla extract and 100% Arabica coffee. Daiya Frozen Desserts are available in four varieties: Chocolate Fudge Crunch, Classic Vanilla Bean, Salted Caramel Swirl and Espresso Coffee.
And as you can see from Olivia enjoying her Chocolate Fudge Crunch dessert bar below, it is super creamy and melts just like ice cream!