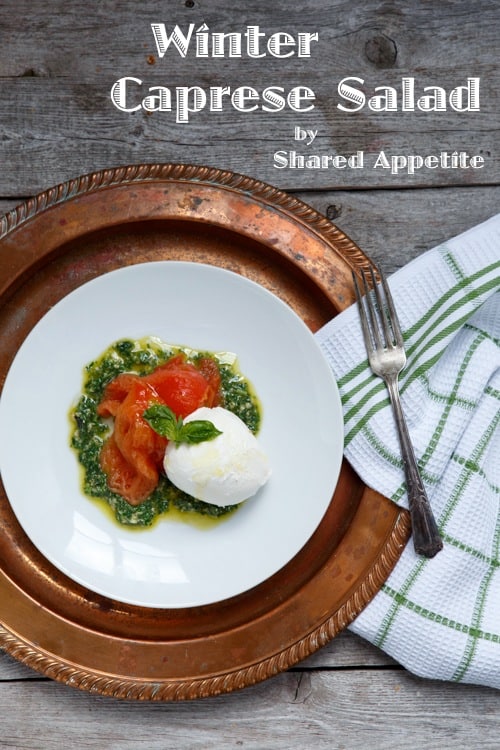 This Winter Caprese Salad featuring slow-roasted tomatoes is an elegant and creative dinner party appetizer that can be made ahead of time for easy entertaining!
This past weekend Asheley and I voluntarily participated in a sleep deprivation experiment, also known as chaperoning our church's middle school youth group on their Winter Weekend retreat. For many of the kids, it was their first time going away without their parents. And for middle school boys, apparently that means let's eat as much junk food as possible and not shower all weekend. I smelled things I don't think I'll ever be able to erase from my memory.
But in all honesty, it was a wonderful experience for both the kids and us leaders. Watching kids interact with each other and forming friendships. Joining together with a whole lot of other kids from various churches in worship and game time. Having great, in-depth discussions about some difficult subject matter. It was a really great weekend.
And let's just say that when we got home, Asheley and I enjoyed a long, LONG night's sleep.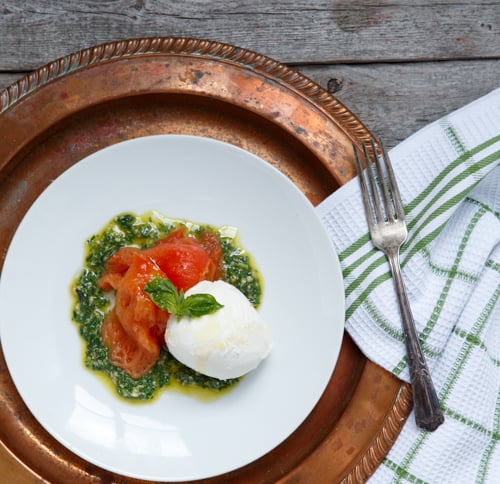 I wish I could somehow make some sort of crazy, clever transition into talking about this Winter Caprese Salad. But my brain is still not caught up on sleep apparently.
But let's just say this. If you are a fan of caprese salad in the summer, when tomatoes are at the very peak of optimal ripeness and juiciness, you are going to go bonkers over this dish. And if you're a fan of Mario Batali, you'll go extra bonkers.. this is a dish from his restaurant Otto in NYC.
Winter tomatoes stink. Flavorless. Pale. Sad. But when they are gently slow-roasted in the oven and then tossed in agrodolce (the Italian answer to "sweet and sour"), something utterly magical happens.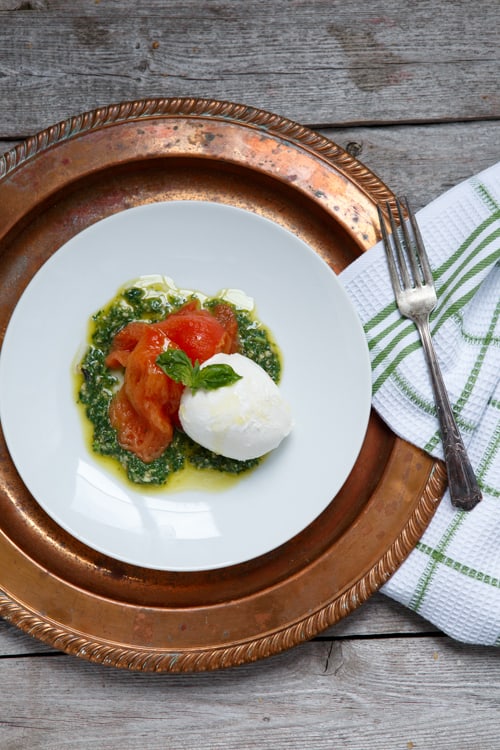 This is a dish that I have repeatedly served at dinner parties, and because everyone always raves about it, will continue to be featured as an appetizer for years to come. All the components of the dish can be made ahead of time way before guests arrive, which is a major plus in my entertaining book.
And listen, you'll notice in the recipe I suggest pine nuts as a garnish. I apparently forgot to do that in the photos above. Doh! Hate it when that happens.
Print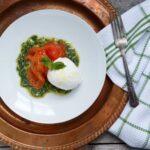 Winter Caprese Salad
---
Oven-Roasted Tomatoes
Agrodolce
Basil Pesto
Six

3

-ounce balls fresh mozzarella (preferably mozzarella di bufala)*
Pine Nuts, for garnish
for the Oven-Roasted Tomatoes:
12

Plum Tomatoes
Olive Oil
Kosher Salt, for seasoning
for the Agrodolce:
⅛

c. red wine vinegar

⅛

c. sugar
for the Basil Pesto:
2

cloves garlic

1 ½

-

2

cups fresh basil

⅛ cup

pine nuts (also called pignoli)

½ cup

extra virgin olive oil

¼ cup

good-quality parmesan cheese
Kosher salt
Freshly ground black pepper
---
Instructions
for the Oven-Roasted Tomatoes
Preheat oven to 350°F and line a baking sheet with aluminum foil. Cut the tomatoes length-wise in half and using your fingers, scoop out the seeds and pulp. Place tomatoes on the baking sheet and drizzle lightly with olive oil and sprinkle with kosher salt. Using your hands, make sure tomatoes are evenly coated with the oil and salt. Arrange cut side down on the baking sheet.
Bake the tomatoes for 20-30 minutes, until the tomato skin begins to shrivel. Remove from oven and let cool slightly. Reduce the oven temperature to 250°F.
Carefully remove the skin from the tomatoes and discard. Transfer peeled tomatoes to another baking sheet lined with aluminum foil and roast for about 1 ½ hours, until the tomatoes are collapsed and slightly wrinkled but still moist. Let cool. These can be made a couple days ahead of time and kept refrigerated.
for the Agrodolce:
Combine the sugar and red wine vinegar in a small saucepan. Bring to a boil over medium heat, stirring to dissolve the sugar. Remove from heat and let cool. This can be made a few days ahead of time and kept refrigerated.
for the Pesto:
Place the garlic in a food processor and chop. Add in the basil and pine nuts and process until finely chopped. With the motor running, drizzle in the oil. Transfer the mixture to a small bowl and stir in Parmesan cheese. Season with Kosher salt and freshly ground pepper. If making ahead of time, top pesto with a thin layer of extra virgin olive oil to prevent browning and refrigerate. Bring to room temperature and stir before serving.
When Ready to Serve:
Combine the tomatoes and with agrodolce in a small bowl.
Divide the tomatoes among six plates. Top with mozzarella and pesto. Garnish with pine nuts and serve.