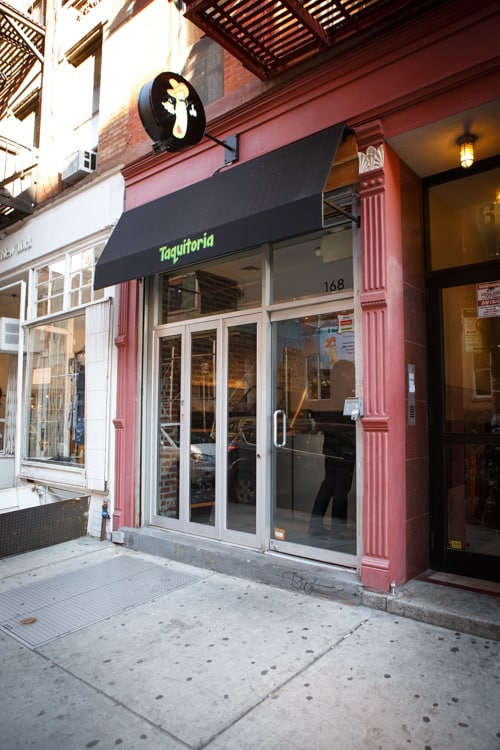 Run by three Restaurant Marc Forgione alums, this Lower East Side eatery serves up amazing taquitos filled with top-notch, high quality ingredients.
Can I tell you about one of my favorite new spots in the Lower East Side. It's a gem.
Raise your hand if you've heard of Iron Chef Marc Forgione? Raise your hand if you actually raised your hand to a computer screen? (gotcha again, didn't I?). Anyway, he's responsible for bringing together the all-star team behind Taquitoria. All fine-dining restaurant vets that met at Restaurant Marc Forgione, Barry, Matthew, and Brad joined forces to serve taquitos to the masses.
You know I'm a sucker for any type of food remotely resembling Mexican/Tex-Mex cuisine, especially when it's handheld and doesn't require utensils. And I'm also a sucker for the Lower East Side. I love that neighborhood. Put them together, and well, I think I'm in love.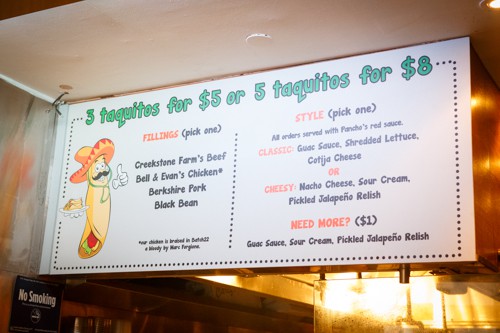 As you can see, you can get an order of three ($5) or five ($8). Pick your filling (the only bummer is that you can't mix and match… only one filling per order) and then decide what kind of style you're feeling.
And just a note: an order of 3 taquitos is a good snack or appetizer. I'll grab those if I'm food hopping or grabbing a quick bite while waiting for a table at one of the many restaurants in the area. You're going to want 2 orders for a full meal.
The filling options:
Chicken – it's braised in Bloody Mary mix from Restaurant Marc Forgione. The chicken is tender, juicy, with just a hint of spice. I honestly normally skip chicken on a menu, but here it's a great choice.
Berkshire Pork – why is Berkshire important? It's a heritage breed renowned for its richness, juiciness, tenderness and overall depth of flavor.
Creekstone Farm's Beef – I honestly haven't had the beef filling, so I can't really speak about it too much. But if you try it, let me know in the comments below, will you?
Black Bean – you would think this would be on the menu just to appease vegetarians, but the little-bit spicy, bold flavors of the black bean filling make it one of my favorites.
And hey, good news if you are vegetarian/vegan – the black bean taquitos have their own designated fryer and are fried in a vegan-friendly oil varietel (the exact oil they use escapes my memory at the moment).
The styles:
Cheesy – I'm definitely a cheesy type of guy. Your taquitos get a generous drizzle of nacho cheese and sour cream, and then is studded with little dollops of pickled jalapeño.
Classic – although I prefer getting cheesy, you can't go wrong with a squeeze of guac sauce, a hefty pile of romaine lettuce, and sprinkling of cojita cheese.
And to finish off every order, you'll get a little side of their red Pancho sauce. Dunk your taquitos in it or drizzle it on top of your order, but whatever you do, don't let this well-seasoned hot sauce go to waste. It's delicious.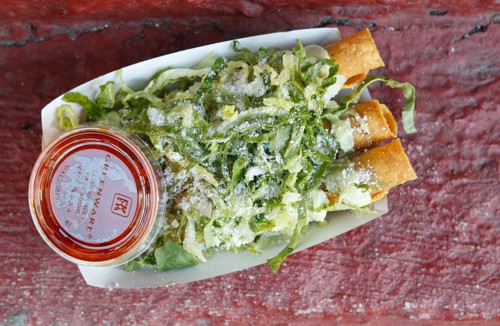 One feat we need to talk about is how these guys get their taquitos to be fried to crispy perfection without them feeling the least bit greasy. It must be some sort of secret wizardry, really.
I asked Brad Holtzman, co-owner and the guy that I always see running the front of house at Taquitoria, about their secret process. He happily explained that they extensively researched taquitos in San Diego and the crispy-crunch factor was one that they wanted to definitely nail. They actually double fry the tortilla, similar to french fries. The first fry is at a low temp, and then it's fried again in hotter oil to get them super crispy just before serving.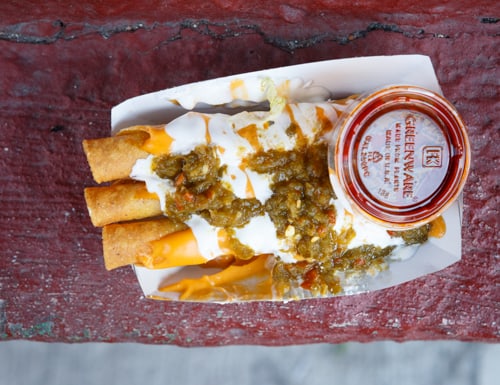 So why is this place so successful? A few reasons:
their product is great. I brought a skeptical friend along one day (really, it's just taquitos. It can't be that special of a place). Man I love proving people wrong. He was instantly hooked.
it's a micro-focused restaurant, which means they do one thing really well. They can focus all their attention on getting the taquitos right.
It's a great location with high traffic. The Lower East Side has a vibrant night-life. Can you think of anything greater to eat while bar hopping?
It's open late. Real late. And you know drunk people need to eat. And they can't be expected to have the fine motor coordination necessary to manage forks and knives. Handheld taquitos are a perfect answer.
These three guys obviously love what they're doing. They put out consistently great food, always have smiles on their faces, and always want to know how you enjoyed everything. They are genuinely interested in your eating experience. Great customer service, guys.
Taquitoria 168 Ludlow St
(between Houston St & Stanton St)
New York, NY 10002
(Lower East Side) 212-780-0121
You may want to also check out…
The Top 10 Foods You Have To Eat In NYC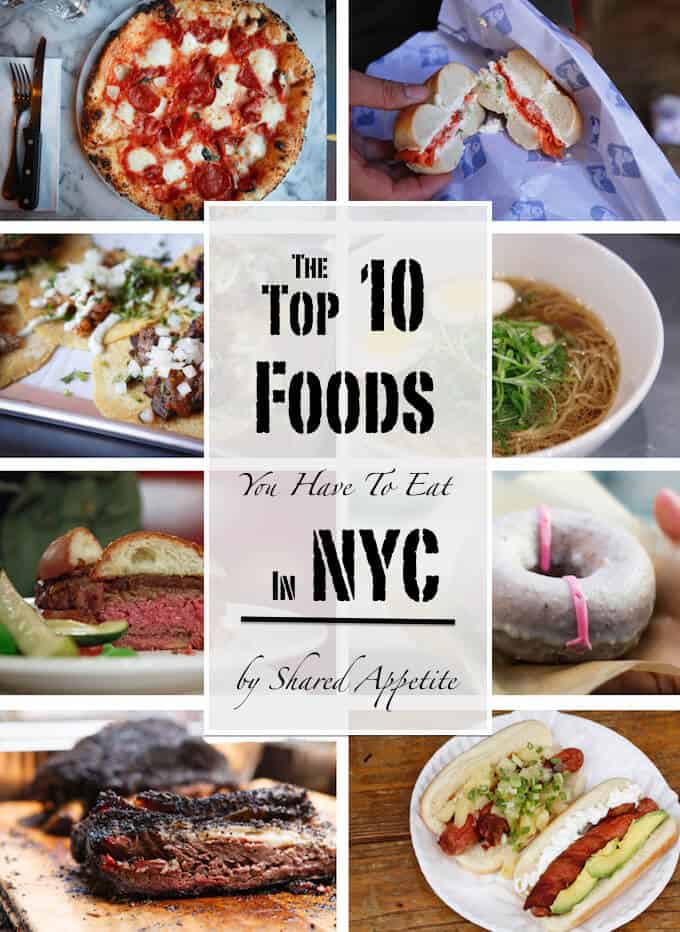 The 10 Best Ice Cream and Frozen Treats in NYC