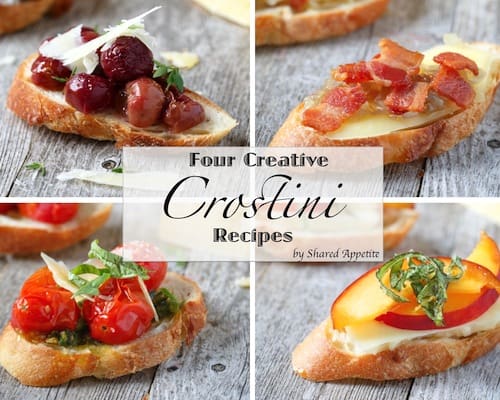 Compensation for this sponsored post was provided by Castello Cheese: Alps Selection. As always, all views and opinions are my own.
You may remember those Four Creative Crostini Recipes from a couple of weeks ago? I've been eagerly serving them up a bunch to friends and family recently and the two favorites so far have been the Bacon, Caramelized Shallot, and Honey and the Nectarine with Lemon-Basil Sugar 🙂
Well, a bunch of fellow food bloggers also had the opportunity to play around in the kitchen with the three cheeses within the Triple Alps collection of Castello Cheeses. Here's what their creative minds all came up with…
Alpine Cheese and Caramelized Onion Biscuits
Braised Short Rib French Onion Soup
Broccoli and Red Onion Quesadillas
Chive, Chili, and Cheese Souffle
Hirten Cheese Ice Cream with Stout Caramel
Paignets – A Cross Between Panini and Beignets
Poached Salmon over Hirten Cheese Grits with Summer Succotash
Roasted Garlic, Beer, and Cheese Dip
Roasted Sausages and Summer Vegetables with Garden Fresh Pesto
Roasted Tomato Crostini with Weissbier Cheese and Fresh Basil
Win a Private Cheese Tasting in your own home – enter by clicking on the banner below. Castello Moments and this post is a collaboration between the blogger and Arla Foods USA.