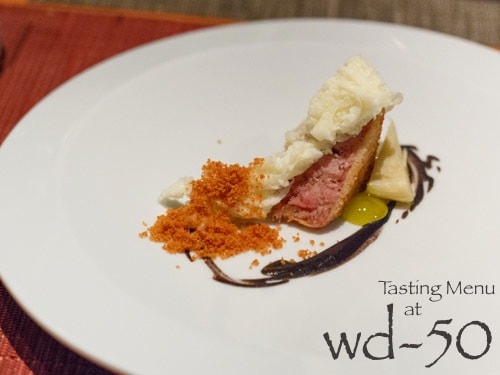 Asheley and I have been wanting to check out Chef Wylie Dufresne's wd-50 restaurant in the Lower East Side for quite some time. And although our official 1-year anniversary celebratory trip to San Francisco and Napa Valley was to depart a couple days later, what kind of husband would I be if we didn't honor the actual official wedding date in some way. Score 1 husband point for Chris.
Probably best known for its use of molecular gastronomy, eating at wd-50 is basically an adventure in eating. Chef Wylie Dufresne is renowned for his innovative mad-scientist approach to ingredients and culinary techniques... so much so that he won the 2013 James Beard award for Best Chef in New York.
Here's a look at the tasting menu at wd-50.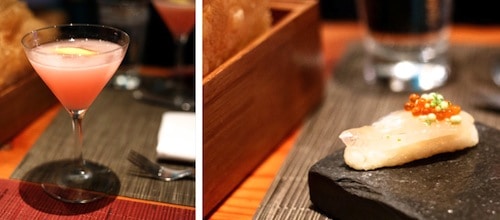 Asheley and I both ordered Cosmos. No, I don't normally drink cosmos. But I asked the server for something with vodka and he couldn't stop talking about how the mixologist at wd-50 makes the best cosmos. He was right. It was really, really good. Asheley might of had a few.
The first bite in our tasting was Nigiri, Salsify, Seaweed, Sesame. A very light and fresh sushi starter.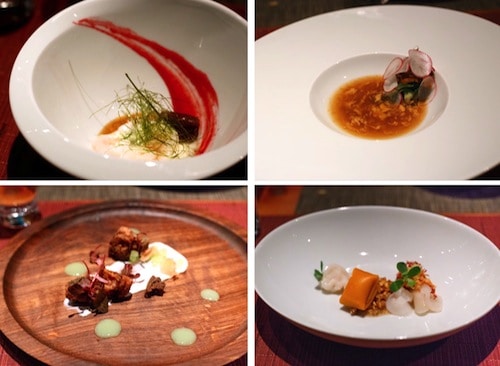 The Sweet Shrimp, 'Pine Needles', Chestnut, Cranberry (top left) was interesting. The manufactured 'pine needles' tasted, well, just like pine needles. And it was a bit overbearing. But interesting nonetheless.
I loved the Chilled Egg Drop Soup, Sea Urchin, Mushroom, Radish (top right), with the exception of the sea urchin. But that's just me, since I'm not a big sea urchin fan.
The Sweetbreads, Cucumber-Lychee, Tonic, Fermented Black Bean (bottom left) was amazingly good. The sweetbreads were super tender and melted in your mouth and had a perfectly crisp fried coating.
And the Sea Scallop, Berber Granola, Carrot, Marcona (bottom right) was an expertly composed dish. It had a bunch of different textures and I loved the carrot ravioli.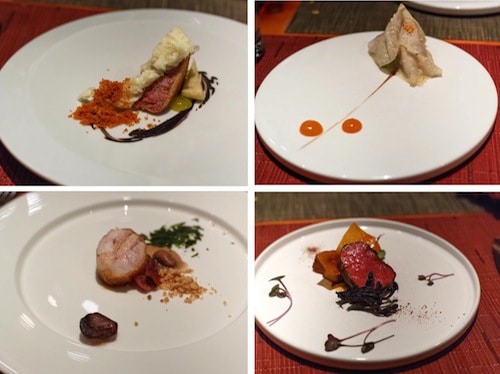 Probably one of my favorite courses was the Pig Tail, Artichoke, Olive Oil Jam, Hazelnut (top left). This was also the course Asheley was the most nervous about (Will a curly tail come to the table?!?!). The pig tail was more of a terrine and then encased in a dough similar to Beef Wellington. It was moist, tender, and had an incredible amound of rich pork flavor.
The Walleye Pike, Celery, Macadamia, Grapefruit (top right) was also very good, although paled in comparison to the other four dishes in this group of four.
Cooked perfectly, the Rabbit, Spring Onion, Hibiscus, Thai Basil "Nori" (bottom left) was excellent. I also really liked the thai basil and charred spring onion.
Wagyu Flat Iron, Mushroom Jerky, Grape, Verjus (bottom right) must have gotten the sous-vide treatment. It was cooked to a perfect medium rare throughout. Normally when you cook a steak, it'll be more done towards the outside and less so in the middle. This steak had a excellent seared crust with a beautiful medium-rare interior throughout.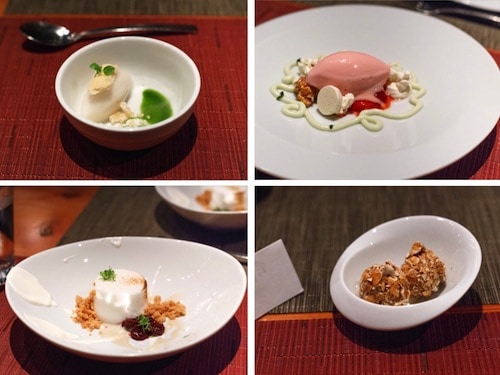 Although Asheley was not feeling the Rice Wine Sorbet, Honey-Milk Crisp, Tarragon (upper left), I was a fan. The rice wine sorbet had a really unique flavor and I loved the crunch of the honey-milk crisps.
The unanimous dessert favorite (between the two of us, that is) was the Popcorn Vacherin, Strawberry, Kaffir Lime, Watermelon (upper right).
The Key Lime Pie, Ritz Cracker, Cherry (bottom left) was also very good. I'm a big fan of lime, and hello buttery ritz crackers!
Our final bite, a bon bon of Beer, Malt, Pretzel (bottom right) was very creative. The beer ice cream was encased with a pretzel brittle coating.
A couple final thoughts:
Dining at wd-50 is definitely for special occasions. That is, unless you are comfortable with dropping $155 a person for a casual Tuesday night out. And if you are, can I get a piece of that pie?
There is also a smaller tasting menu available for $90 a person, as well as the option of being able to order any 2 dishes for $25 at the bar. And just a note: all guests at the table must order the same menu. We witnessed one irate guy yelling at the waiter when him and his wife wanted to order different menus.
Eating at wd-50 is more of an adventure of experimental and intellectual food than a delicious, comforting meal. If you are going in expecting to be wowed by the flavors of every dish, you will probably be disappointed. Go in with an open mind and enjoy the process and creativity. That being said, Asheley and I won't probably be going back now that we've experienced it. We're finding we enjoy those comforting meals more 🙂
I was wondering what the name of the restaurant meant. Luckily the guy at the table next to me asked the server, since once hearing his response it's actually pretty obvious. You probably already figured it out, didn't you? The chef's initials are W-D and the restaurant is located at 50 Clinton Street. Duh. Not my most intelligent moment.
wd-50 50 Clinton Street New York, NY 10002 (Lower East Side) 212-477-2900
You may want to also check out...
The Top 10 Foods You Have To Eat In NYC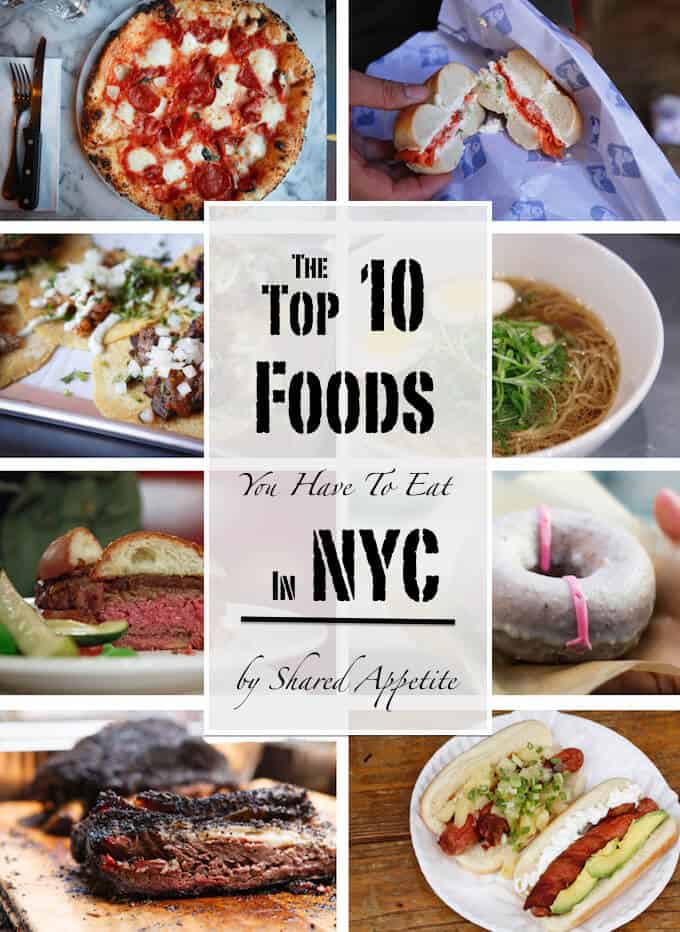 The 10 Best Ice Cream and Frozen Treats in NYC