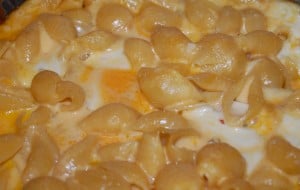 No, I'm not talking about that stuff that comes in the little blue box.  There is a better option out there!  Homemade Macaroni and Cheese is simple to make and you can easily customize it however you like.  This cheesy comfort food is something I always pair with my pulled pork dinner (don't forget the cornbread and sweet potato casserole!).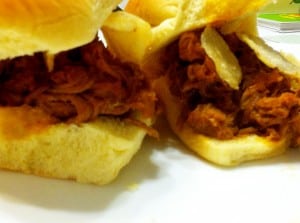 I love pulled pork.  It's the dish I always order at a BBQ joint.  In fact, every time I check out a new BBQ restaurant, the three things I always tend to judge their food quality on is their pulled pork, mac n' cheese, and cornbread.  To me, it's the perfect trifecta of BBQ eating…  add in some sort of sweet potatoes and I'm a happy, happy man.  Making authentic pulled pork at home would involve smoking the meat for hours and hours outdoors under my careful watch.  Although I can't wait to own a smoker and embark on the art of smoking meat, there is a simpler, easier, no-fuss way to make a delicious pulled pork meal at home that doesn't require you to be outdoors with a smoker all day long.
Our outing to S'MAC, short for Sarita's Marcaroni & Cheese, all started because of a snowy NY day in October.  Snow in October?  Yup, it was a nasty mess of a day  as Asheley and I headed into the city for a concert at Irving Plaza.  Many people would be content with just going into the city to see a concert, but not us.  Any trip to the city means one thing: food!  I thought it was a perfect day to try out a new place I heard about called S'MAC.  There is just something so comforting and warming about piping hot mac n' cheese on a cold, wet day.