Our outing to S'MAC, short for Sarita's Marcaroni & Cheese, all started because of a snowy NY day in October.  Snow in October?  Yup, it was a nasty mess of a day  as Asheley and I headed into the city for a concert at Irving Plaza.  Many people would be content with just going into the city to see a concert, but not us.  Any trip to the city means one thing: food!  I thought it was a perfect day to try out a new place I heard about called S'MAC.  There is just something so comforting and warming about piping hot mac n' cheese on a cold, wet day.
As we drove our way through the East Village, down 12th Street and between 1st and 2nd Avenue, we peered through the rain drops and snow flakes for the tiny S'MAC storefront.  Low and behold, we actually found a decent parking spot and ran as fast as we could into S'MAC.   Well, we didn't know it at the time, but apparently they have two locations within two storefronts from each other.  We actually ran into S'MAC OUT, which is dedicated to take-out and delivery.  There were no chairs or tables in this small space, so we decided to take out and eat in the car (which was completely fine, as we were in a rush to get to the concert anyway).  Within 10 minutes of placing our order, our coveted mac & cheese was waiting for us in a little s'mac logo'd "pizza" box and we were out the door to our car.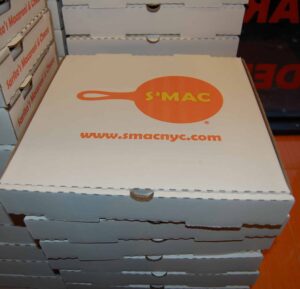 S'MAC is created and owned by husband and wife team Sarita and Caesar Ekya (If you notice, Caesar's name was not included in the title of the place... I guess C'MAC doesn't roll off the tongue as nice as Sarita's name did).  They have a menu of about ten different signature mac n' cheeses, but with the build-your-own creation option, the combinations are truly endless.  S'MAC travels the globe with their signature mac n' cheese offerings, including Masala, Cajun, La Mancha, Mediterranean, Napoletana, and the upscale Parisienne, made with creamy brie, roasted figs, roasted shiitake musrooms, and fresh rosemary.  If you can't decide what to choose, they offer the S'MAC sampler, which includes a tasting of 8 different signature mac n' cheeses (only offered at the sit-down restaurant however).
With four sizes to choose from, anyone can get their fill of comfort food: Nosh ($5-7), Major Munch ($8-11), Mongo ($13-19, and Partay! ($33-47).  One nice thing about S'MAC is that all items can be served with either regular, multi-grain, or gluten free macaroni.  Breadcrumb topping is a free option on all mac n' cheeses.
We decided on getting two Nosh sized mac n' cheeses: the 4 Cheese (with breadcrumbs) and the Buffalo Chicken (without breadcrumbs and the crumbled blue cheese).  The 4 Cheese is made with cheddar, muenster, gruyere, and a touch of pecorino.  I put a packet of hot sauce and ketchup in my take out bag just in case the mac n' cheese was dry (which I'm sure you have all sadly experienced at least once in your life).  There is nothing worse than dry mac n' cheese.  But, S'MAC didn't disappoint on this one.  The combination of cheeses had a very rich and tasty flavor and it was very, very cheesy.  Actually it was almost on the verge of too much cheese.  The macaroni itself was cooked well.  It wasn't a complete mush as many other mac n' cheeses are guilty of.  There was still some bite to the pasta.  The breadcrumbs on top added some really nice and well needed texture to the dish.  Because the dish is very shallow, you were able to get that crispy breadcrumb topping in every bite.
The buffalo chicken mac 'n cheese wasn't as impressive.  The flavor of the buffalo sauce was good and spicy, as it should be.  However, the dish was very oily and I found that there was way to much buffalo sauce.  The result was a runny consistency that felt like oily soup.  The flavors were very good though.
The Nosh sized mac n' cheeses filled us up plenty.  It did the job of warming us up and filling that comfort food craving.  Although not the best macaroni and cheese I've ever had, S'MAC does a good job of offering creative spins off the original mac n' cheese.  If I go back, I'm definitely heading to the main S'MAC for the sit down experience.
Rating - 6 out of 10
You may want to also check out...
The Top 10 Foods You Have To Eat In NYC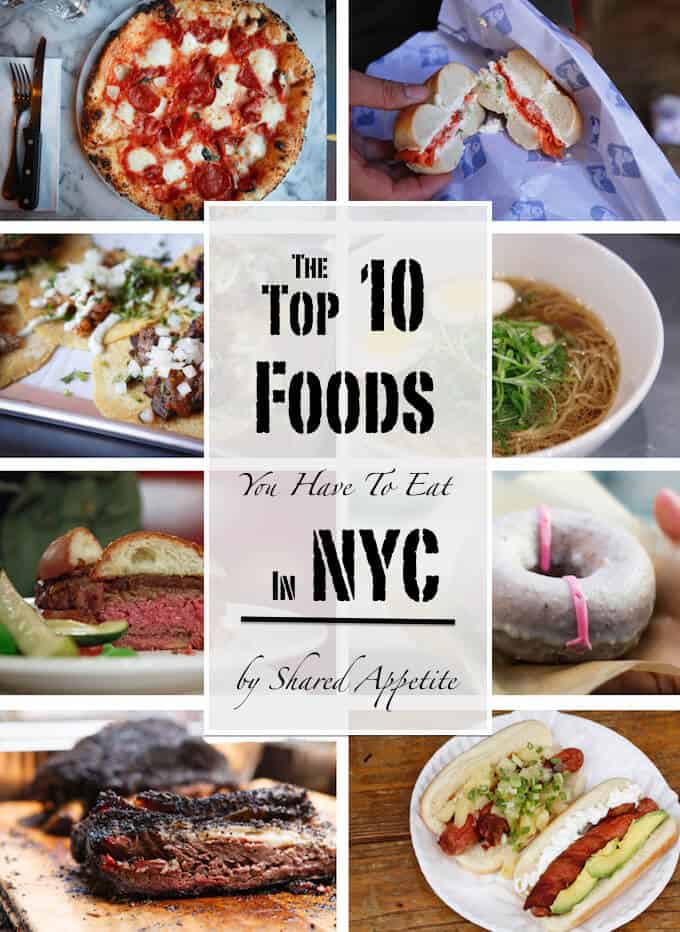 The 10 Best Ice Cream and Frozen Treats in NYC