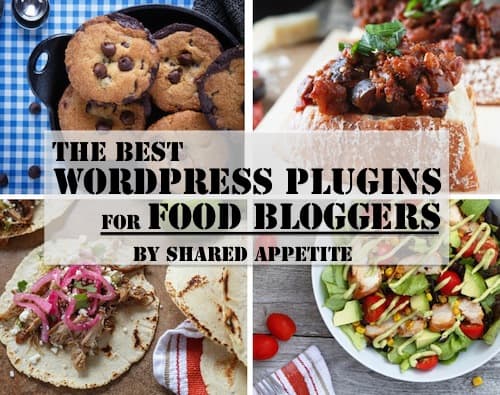 There are a lot of food blog plugins out there. Unfortunately, a lot of them just aren't that good. After a couple years of experimenting and learning, here's a look at my favorite and what I consider to be the best wordpress plugins for food bloggers.
Let's face it. I'm not a programmer. The mere thought of coding a website overwhelms me. Good thing WordPress has an easy solution... plugins. A plugin is basically a pre-designed, coded program that adds a specific function or feature to your website. It can help your website become more interactive and more professional looking, without the need of actually knowing how to code stuff. It's good stuff for us non-techie folk.
Although Tyler and I still experiment with new plugins all the time, here is a list of our top wordpress plugins for food bloggers. These are the plugins that we have found extremely useful and currently use on Shared Appetite (unless otherwise noted).
And listen, do me a favor. If you know of some plugins that help you out a lot and aren't listed here, let me know in the comments so I can try them out. Thanks 🙂
---------------------------------------
Akismet - you'll be amazed how many spam comments are submitted every day to your blog. This plugin does an amazing job at blocking trackback spam and those spam comments without the need of using captcha. Captcha is that extra step of typing in two random words or patterns of numbers that some sites have you do before being allowed to comment in order to insure that you are human. This Akismet plugin blocks all my spam...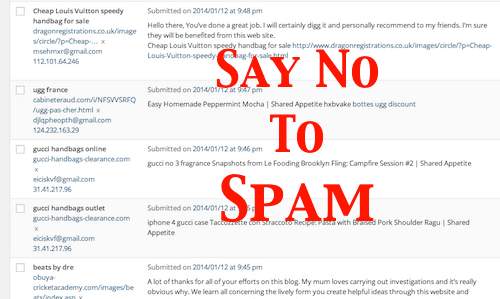 ---------------------------------------
All in One SEO Pack - this plugin helps with Search Engine Optimization, meaning the visibility of your post in search engines such as Google. While writing your post, look for the "All in One SEO Pack" box where you can enter your title, description of post, and keywords. Mine looks like this: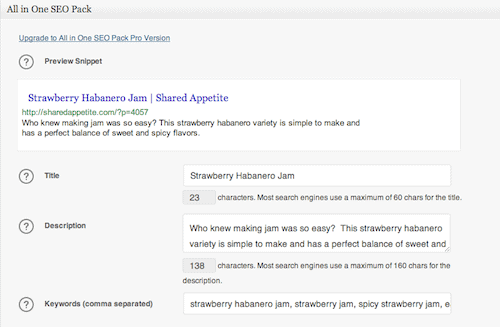 ---------------------------------------
Shareaholic - There are many social sharing plugins out there nowadays, but this is my favorite so far. It adds an attractive social bookmarking menu and related content widget to your posts, pages, index, or any combination of the three. I actually don't use it for the related content (I'll get to that in a second), but love the social bookmarking menu. The social menu is actually full of different customizations as well, which is pretty darn cool.
--------------------------------------
ZipList Recipe Plugin - when you scroll through a recipe post on a blog and see a well-organized recipe at the end with the option to print, that's typically a recipe plugin. There are several recipe plugins available for wordpress, but ZipList is what I currently use. It helps make your recipes more SEO-friendly and therefore improves the rate that they show up in a google's recipe search. For your readers, ZipList makes it easy to print your recipe and a super cool feature, save the recipe to their recipe box.
Note: I am currently looking into other recipe plugins just to see what else is out there.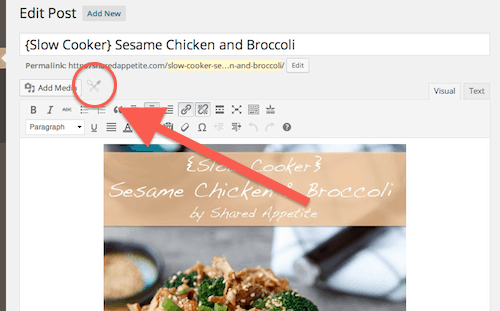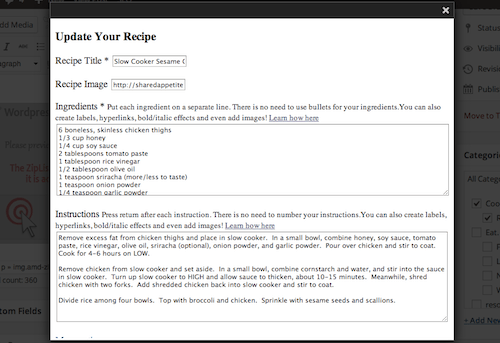 ---------------------------------------
Pinterest Pin It Button for Images - Pinterest has quickly become the absolute best source of referral traffic for food bloggers. Now that facebook is highly limiting how many of your followers will see your content without paying them to "promote it", Pinterest is hands down the best way to get your recipes out to the masses. In order to make your content easily "pinnable", this plugin will display a "pin it" button whenever a reader scrolls over any of your photos. We customized our buttons by following this tutorial.
When you scroll over an image, the "Pin It" button appears...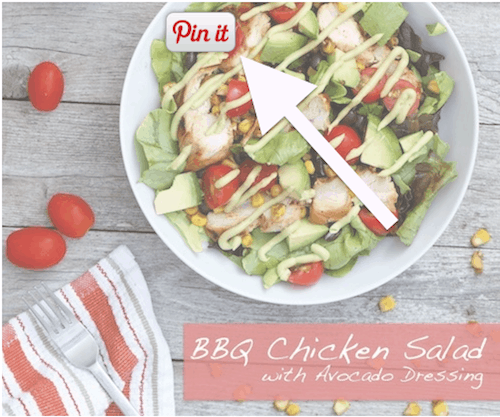 ---------------------------------------
Related Posts Thumbnails - After your readers finish combing through your post, you want them to check out another one, right? This plugin automatically displays a customizable amount of related post thumbnail photos to the end of your blog posts, making it easy for readers to find another post they would like to check out. Here's an example of what it will add at the end of a post. I customized it to add 6 related posts: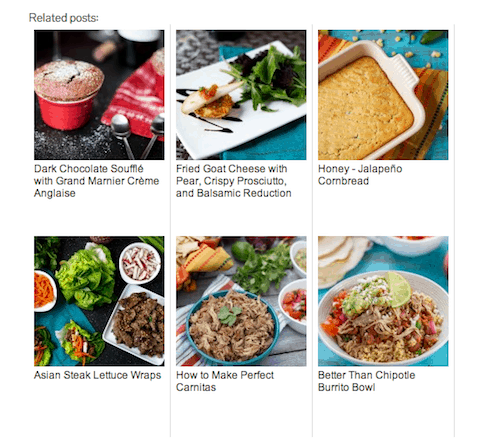 ---------------------------------------
Comment Luv - this is a great plugin that allows the commenter to link back to their most recent post, as well as add their twitter username. It's a cool little way to offer incentive for people to comment on your blog. It's free publicity, really, for readers to possibly check out what other bloggers have going on over on their side of the blogosphere.
I paid for the full Comment Luv plugin, but I've read that their is also a free lite version.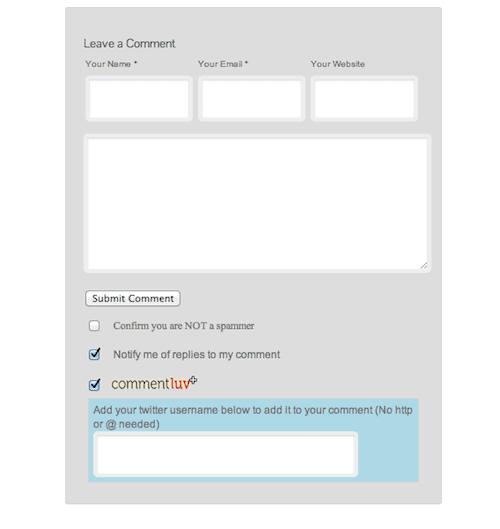 Once you add your website in, the "commentluv" box automatically opens to display your most recent posts... click the one you want to promote...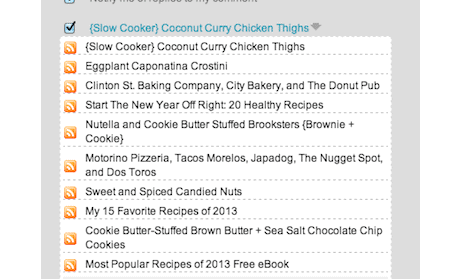 ---------------------------------------
Subscribe to Comments Reloaded - I used to use this plugin before I splurged for CommentLuv. It adds a checkbox that commenters can click to sign up for email notifications for follow-ups or responses to their comments, and therefore can help create a dialogue on your blog posts.
---------------------------------------
Facebook Comments for WordPress - I've since stopped using this plugin just to declutter my comment section a bit, but it definitely was successful and you might find it useful. This plugin enables readers to comment on your posts using their facebook accounts. No need for them to fill out the standard form with name, email, and website.
The only bummer is that unlike regular comments when I was notified every time someone commented, this plugin didn't notify me, meaning I had no idea when people left a comment on this plugin. There was no chance for me to keep the dialogue going.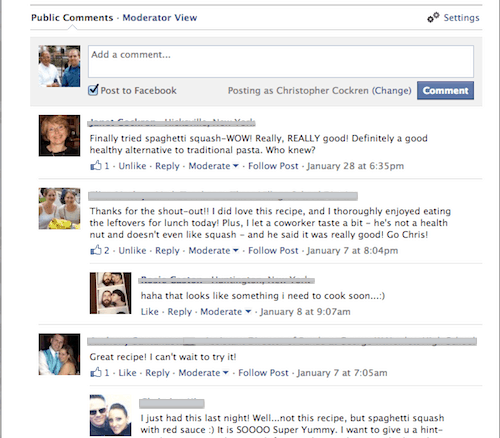 ---------------------------------------
Ninja Popups - If you've come to Shared Appetite lately, you probably noticed that something resembling the photo below popped up on your screen. That's the Ninja Popup plugin. Although it's $18, I'm really loving it. Already my email subscriber base has more than doubled in just over a week. In a week! That's nuts.
You can fully customize your popup or use one of the many pre-designed templates they offer to create whatever kind of popup you want. And don't worry, I have this popup set so that you'll only see it once every 30 days on your computer 🙂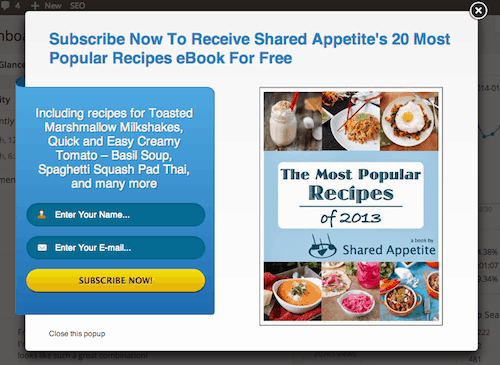 ---------------------------------------
Image Widget - this is my newest plugin. If you take a look at the right sidebar, you'll notice there are square-ish small photos promoting some of my other most popular posts. This image widget plugin is incredibly easy to use and is a great way to get readers to stay on your site and check out more of your content.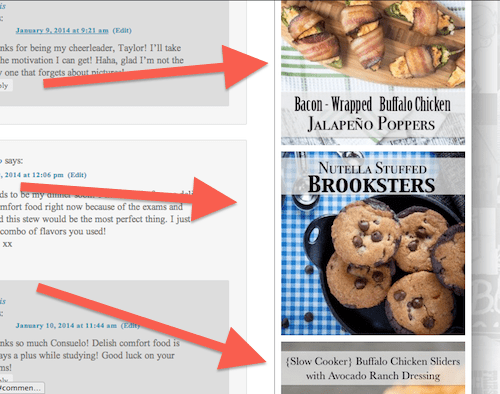 ---------------------------------------
Pinterest Sidebar Widget - Pinterest is the KING of food blogging social media right now, so any chance you get to try to steer people toward your Pinterest page, the better. This sidebar widget will automatically display your latest pins and with a click will take readers right to your Pinterest page.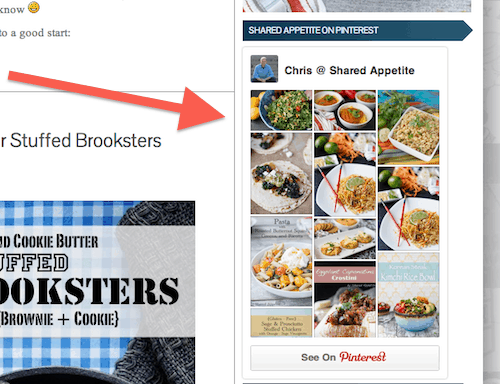 ---------------------------------------
Ultimate NoFollow - If you are planning on writing sponsored posts, it is necessary to make sure all links to your sponsor are "no follow" links according to Google's terms of service. Failure to do that can result in them pretty much blacklisting your site so that you don't come up AT ALL in their search engine. Scary.
In order to make your sponsored links "NoFollow", you could code each of the links yourself, or just use this super awesome plugin that adds a simple "no follow" checkbox in the "insert link" popup box.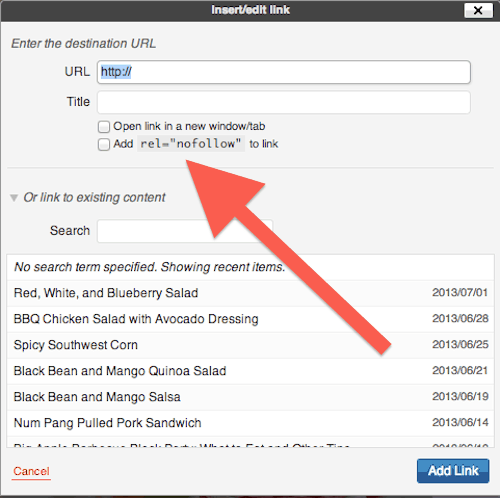 ---------------------------------------
Google Rich Snippets - when you search for a recipe in google, you'll notice some of the search results will display a little thumbnail of the recipe image. How cool is that? It instantly grabs the attention of the reader and makes them much more likely to click on that search result.
Here's how to many rich snippets activate on your recipe blog posts... you must have at least two of the following fields coded for rich snippets (I can add these in easily using my recipe plugin): prep time, cook time, total time, calories, rating, review count, or image. (Note that reviews are not the same as comments.) In addition, if you want recipes to show up in the results when people look for specific ingredients within a Recipe View recipe search, you will need to code your ingredients.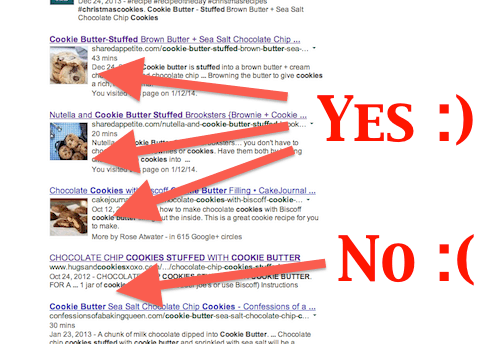 ---------------------------------------
I don't have images for these last two plugins, but they are still incredibly useful:
Google XML Sitemap - this plugin will generate a special XML sitemap which will help search engines to better index your blog. Additionally, it notifies all major search engines every time you create a post with new content.
WP Super Cache - This plugin helps speed up your blog. I don't know why. But it does. And a faster-loading blog is good.
Are there other plugins that you like to use on your blog? Let me know in the comments below so I can check them out 🙂 Thanks!