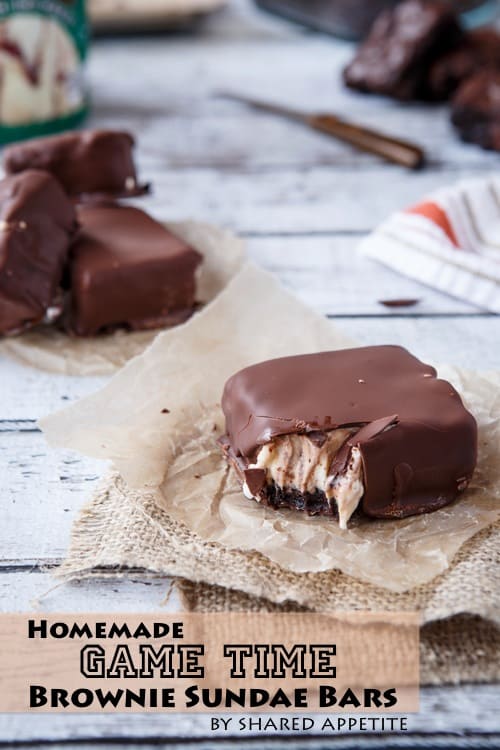 The Big Game deserves a big dessert recipe, like these no-utensils-required handheld brownie sundae bars, coated in homemade magic shell!
Apparently there is some "Big Football Game" coming up. Anyone know anything about it? I swear that if it weren't for all the amazing game time recipes showing up throughout the blogosphere, it would pass me right by. That would be a major bummer though, because although I don't necessarily partake in football fandom, I do enjoy me a party full of good game time food. And if there's one thing that The Big Game brings out in all of us, it's some great munchies.
In case you missed it last week, here's a pretty extensive recipe roundup of great football party ideas. But in my book, a good party also needs some good dessert. And this definitely hits the spot.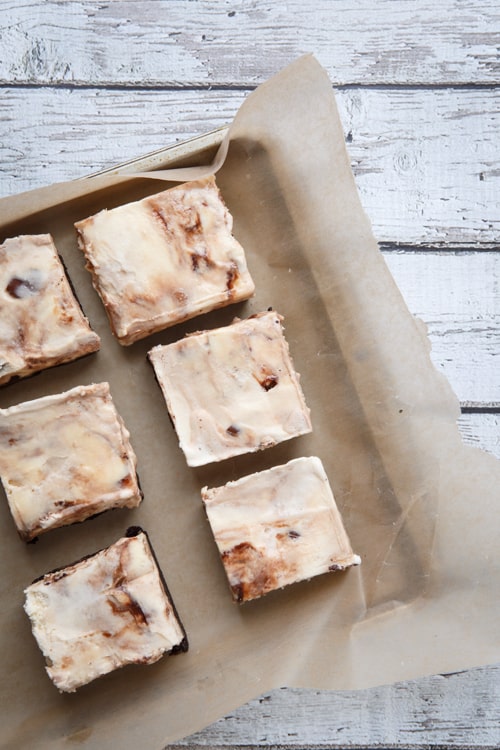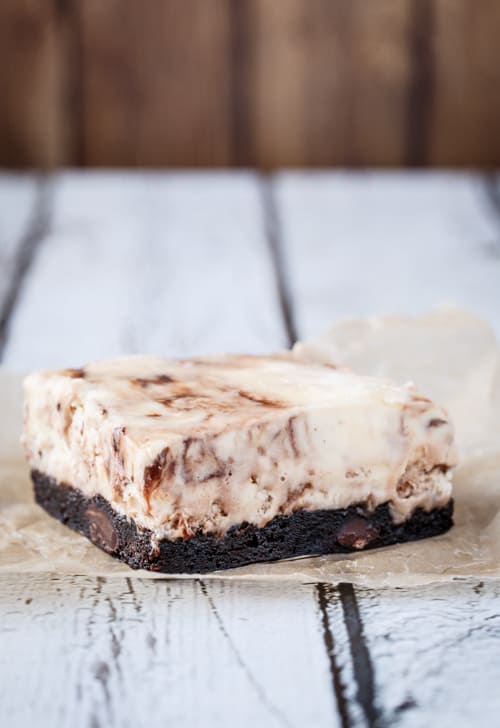 So when I initially started thinking about what I wanted to do with this Edy's Limited Edition Touchdown Sundae I picked up from Walmart, I was a bit torn.
Some sort of milkshake? I do enjoy slurping down those bad boys. But then the cool caramel-filled chocolaty footballs hiding in the ice cream would get demolished.
Ice cream pie? I do love pie. But I don't want to have to deal with cutting up a pie and using utensils at a party.
Brownie sundae? Yes, oh man, love me some brownie sundaes, but then there's that whole utensil thing again. No one has time to handle utensils while simultaneously trying to frantically figure out if there's any remote chance of possibly winning money in your work's football pool. Please tell me it's not just me. I never win. This is going to be the year though. I can feel it.
Out of nowhere, I had this vision. Let's do that brownie sundae. But let's make it handheld. No utensils needed. Yea, a handheld brownie sundae, encased in a homemade magic shell. Boom.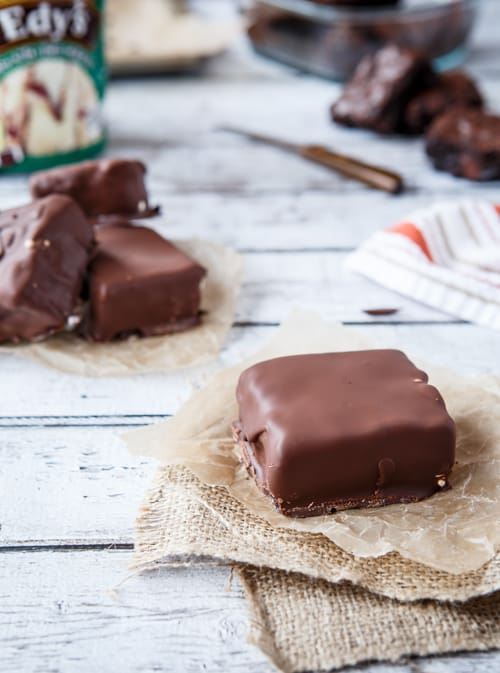 And who knew making a homemade magic chocolate shell was as easy as 2 simple ingredients. Chocolate + Coconut Oil.
I seriously can't wait to serve these up to our friends this Sunday. And best part... I can make them way ahead of time and have them just chilling out in the freezer waiting for their triumphant debut.
Enjoy The Big Game! And more importantly, enjoy the food that goes along with it 🙂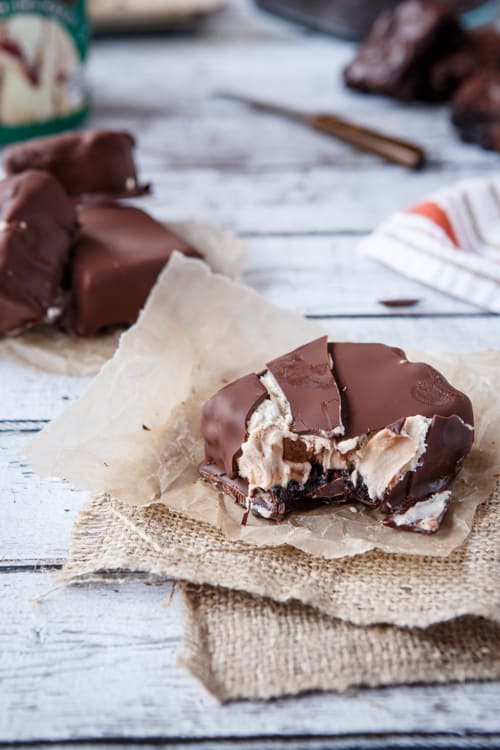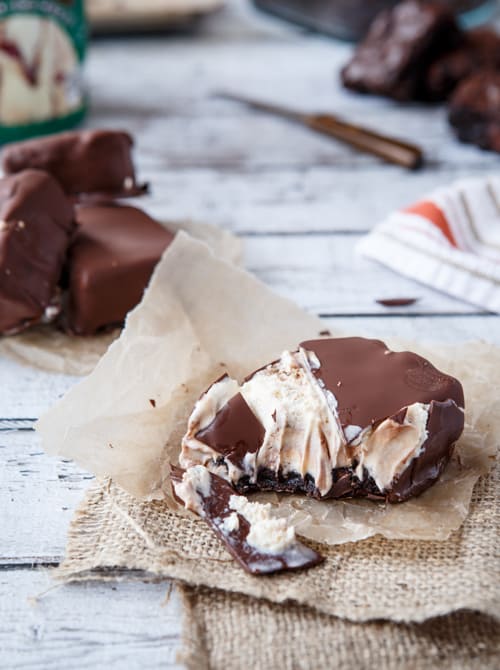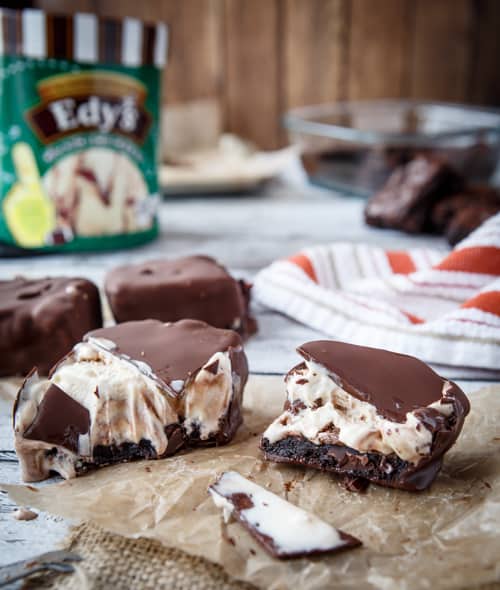 Print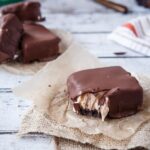 Homemade Game Time Brownie Sundae Bars
---
Yield:

9

Brownie Sundae Bars

1

x
1

box of your favorite brownie mix, mixed according to package directions

1

(1.5 quart) container Edy's Touchdown Sundae Ice Cream, or your favorite ice cream

16 ounces

dark chocolate, chopped

¼ cup

coconut oil
---
Instructions
Preheat oven to stated temperature on brownie mix box. Line a 9x9" square baking pan with foil or parchment paper, allowing extra to hang over the sides of the pan, and spray with nonstick cooking spray. Spread about ¼" even layer of brownie batter into the pan and cook until done, approximately 20 minutes. Of course feel free to bake rest of brownie batter in a separate pan for another use 🙂
Let brownies cool completely in the 9x9" baking pan. Remove ice cream from freezer and allow to soften slightly. Add an even layer of ice cream, about ¾" thick, on top of the brownies (I used about 1 quart of the ice cream). Use an offset spatula dipped in hot water to shape and smooth out the ice cream into an even layer.
Cover pan with plastic wrap and place in freezer until ice cream is solid, at least 4 hours. Remove pan from freezer and using the foil or parchment overhangs, lift the brownie/ice cream block out of the pan and place on a cutting board. Remove foil/parchment and working quickly, cut the ice cream into 9 equal squares. Place on a baking sheet and return to freezer for at least 1 hour.
Combine chocolate with coconut oil in microwave safe dish. On half power, microwave chocolate and coconut oil in 30 second intervals, stirring between each, just until chocolate is melted and coconut oil is fully incorporated. Let cool to room temperature.
Remove baking sheet from freezer and working quickly, use a large fork or your fingers to dip ice cream squares one at a time into chocolate mixture and fully coat. Place dipped squares onto a parchment-lined baking sheet. Return bars to freezer for at least 30 minutes before serving.
If planning longer storage, after the 30 minutes, wrap each brownie sundae bar individually in plastic wrap and store in ziploc bag in freezer.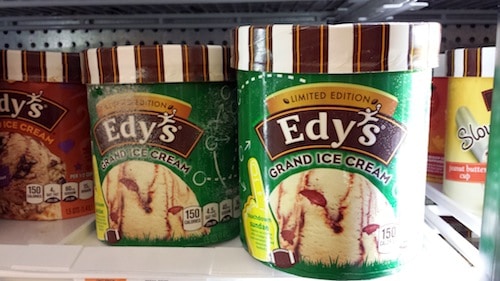 Edy's Limited Edition Touchdown Sundae is available in stores only November through February! But don't worry, you can make these Brownie Sundae Bars year round by substituting one of Edy's many other awesome flavors!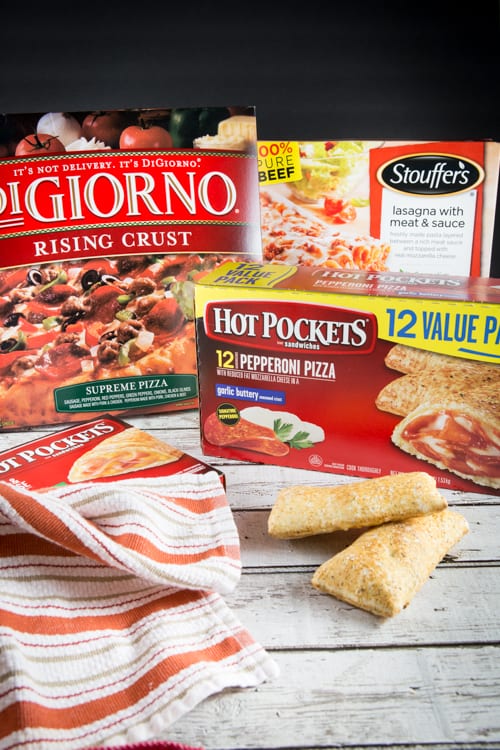 Need more super easy football party ideas? You can easily grab Stouffers Party Size Lasagna with Meat Sauce, Ham & Cheese or Pepperoni Pizza Hot Pockets, or a DiGiorno pizza for the Big Game. Just heat and serve. It doesn't get any easier than that!
Want to play dress up? Cut your hot pockets in half and serve them with some creative dipping sauces. Top your DiGiorno pizza with a few fried eggs. And you could always add some extra cheese to that Stouffers lasagna and serve it alongside some garlic bread. Or transform it into a vegetable lasagna by adding some sauteed mushrooms and spinach on top and covering it with some extra sauce and cheese before baking.