This post is sponsored by Schick Hydro® Systems and Social Stars. As always, all opinions and recipe are my own. Thanks for supporting the brands who support Shared Appetite!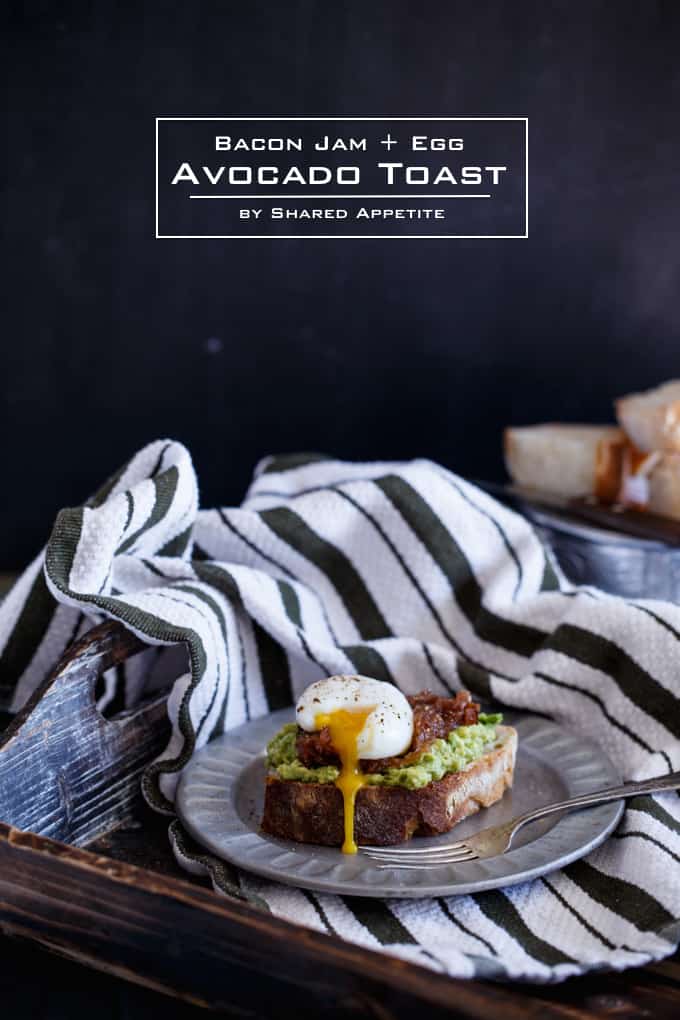 Be trendy. Get your creative avocado toast on. Be epic. Make this Bacon Jam and Egg Avocado Toast for breakfast. It's totally a meal worth waking up for!
Question for all my ladies out there. Did you have any pregnancy food cravings? Asheley really hasn't yet (I have, but that's just because I'm a fatty that loves food). And I mean, she always craves pickles and avocado (separate, not together… that would be gross), but that's not unique to her pregnancy or anything.
I literally had to hide these avocados from Asheley in the garage just so I could actually make this Bacon Jam and Egg Avocado Toast. If I leave 'em on the counter or in the fridge, she has the insane ability to transform herself into a bloodhound and sniff out all traces of the stuff.
Needless to say, Asheley is really happy that Avocado Toast is pretty darn trendy right now. Unique takes on the stuff are popping up in trendy restaurants and are being featured in pretty much every food magazine out there. And since Shared Appetite has become known as a beacon for all things trendy (that's what sarcasm in print looks like), I wanted to get in on the creative avocado toast action.
Enter this epic Bacon Jam and Egg Avocado Toast.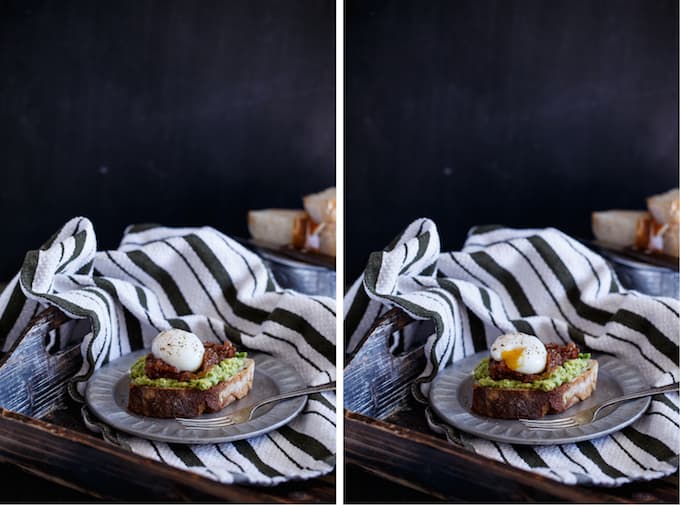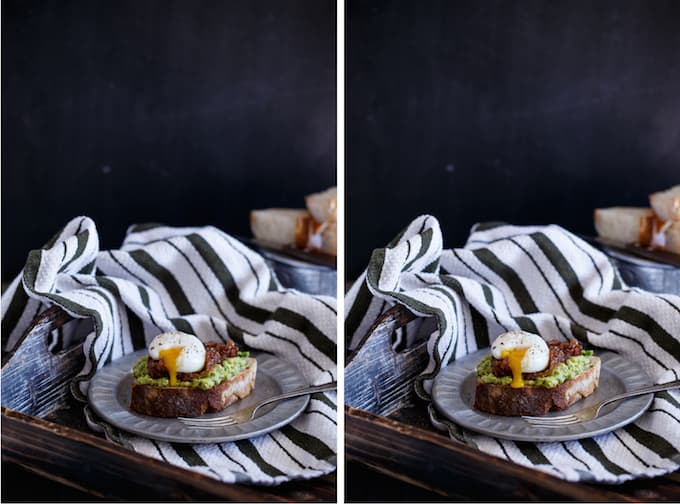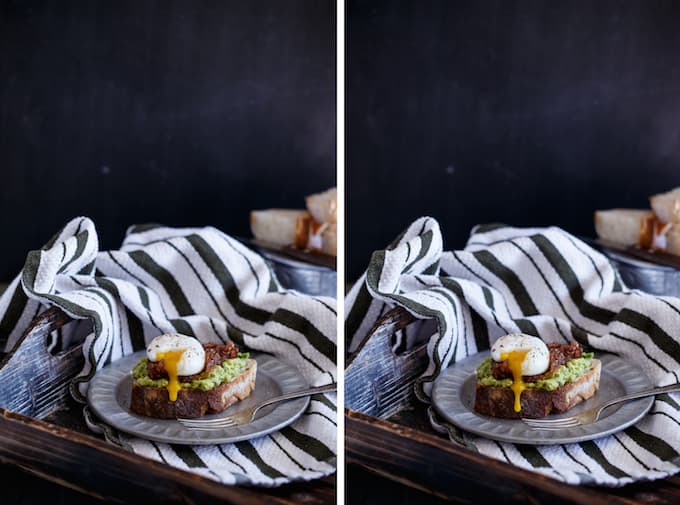 People, let's just get this out of the way. Screw ketchup, mustard, and mayo. There's a new condiment in town that will completely change your life. Bacon Jam.
Say it with me. Bacon Jam.
You will want to put it on anything and everything. You'll find yourself desiring to eat bacon jam straight up, bathe in it, and even snuggle up with it as you catch up on your DVR with The Bachelor or whatever other trashy reality TV show you're obsessed with (how did he know?!).
The jam is a bit sweet. A bit acidic. And most importantly. Full of bacon.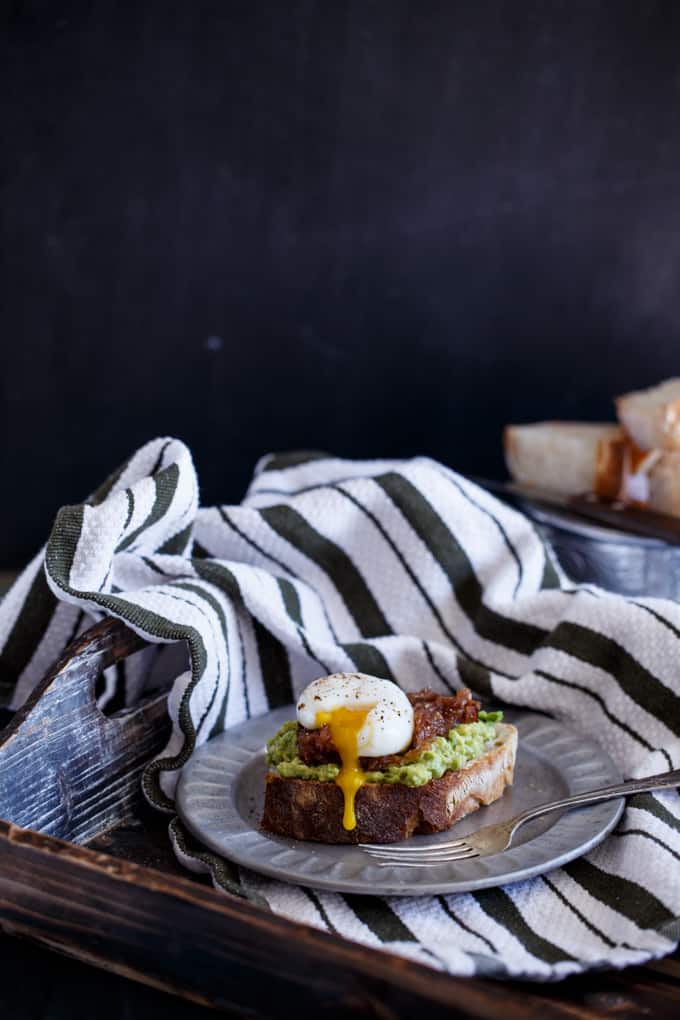 And check it out. This is pretty darn exciting. Are you a creative person? Do you love taking pics with your phone AND dabbling in a bit of customized design? You're totally going to love the Studio App!
You can take or upload a photo, and then add all sorts of design elements like shapes, text, and filters. Even better, for foodies like me, there are all these premade designed stamps that you can add to your photos for a super big impact. I had so much fun playing around the app… it's pretty addicting!
And now you can get in on the action. Join Schick® Hydro's Make It Epic campaign by sharing your epic moments with the Studio App.
I shared this totally epic breakfast with the Studio App and added some fun text to the photo!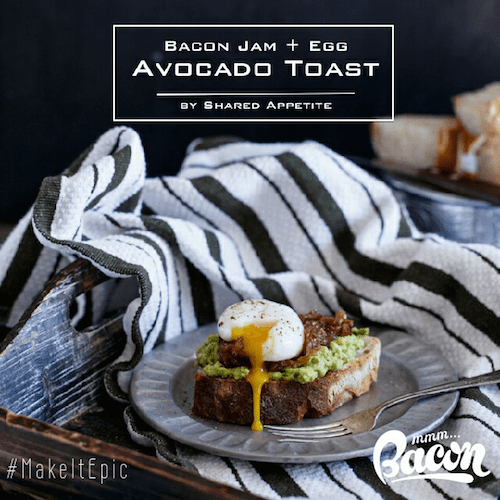 Print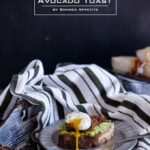 Bacon Jam and Egg Avocado Toast
---
Total Time:

30 minutes

Yield:

4

Servings

1

x
4

thick slices crusty bread, toasted

4

poached eggs

2

avocados
Bacon Jam (recipe below)
Kosher salt
Freshly ground black pepper
for the Bacon Jam
1

(16-ounce) package bacon

1

sweet onion, thinly sliced

1

red onion, thinly sliced

3

cloves garlic, minced

1/2 cup

packed light brown sugar

1 cup

apple cider or apple juice

1/4 cup

apple cider vinegar
Kosher salt
---
Instructions
Mash avocado in a small bowl and season with salt and freshly ground pepper. Top toasted crusty bread slices with a layer of mashed avocado, a heaping spoonful of bacon jam, and a poached egg. Sprinkle egg with Kosher salt and freshly ground black pepper. Devour.
for the Bacon Jam
Cook bacon in a heavy-bottom skillet or dutch oven over medium heat until golden brown and crisp. Remove bacon and drain on paper towels. Once cool, crumble bacon. Reserve 2 tabespoons of bacon drippings in dutch oven and discard the rest.
Reduce heat to medium/medium-low. Cook onions, stirring occasionally, for about 7 minutes or until tender. Add garlic and cook, stirring constantly, for 1 minute. Add brown sugar, apple cider/juice, apple cider vinegar, and season with Kosher salt. Bring to a boil, stirring occasionally, and then reduce heat to low. Add bacon and simmer until onions are very soft and the mixture has thickened to the consistency of jam. If it becomes too dry, add apple cider/juice or water, 1/4 cup at a time (I added 1/4 cup total). You want the onions to be meltingly soft and the mixture to be thick and syrupy.
Let cool and then pulse in food processor or with immersion blender to desired consistency. This will make much more than you need for this avocado toast. Store in refrigerator for several days or freeze. Serve it as a condiment for meats with dinner, with a cheese board, or as part of an epic crostini.
Prep Time:

10 mins

Cook Time:

20 mins