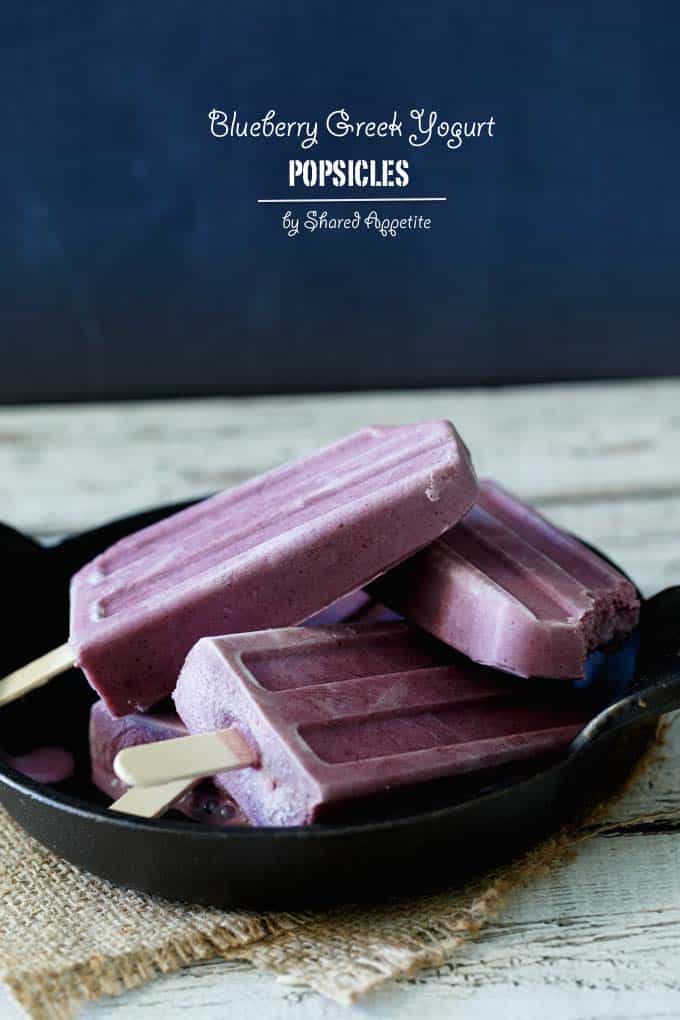 These Blueberry Greek Yogurt Popsicles are a healthy frozen treat to cool down while slimming down this summer!
It's official. My clothes shrunk. I don't know how, I don't know why, but it happened.
Either that, or all that surplus eating I've been doing has finally caught up to me. Remember that operation stop being a fatty I was on back in the winter. Well, it had an adverse side effect. I became a fatty.
So although summertime is pretty much the worst time every to try to eat better and lose some fattiness, it's a necessity.
Don't get me wrong. I'll still be indulging here and there (and there and there and there). But hey, maybe I'll actually put one leg in front of the other for an extended period of time now and again. I believe normal people call that exercise.
And everyday summer eating? It's time to make some better choices. Good news? These Blueberry Greek Yogurt Popsicles are a way to indulge without actually indulging all that much. Heck, I may have even had one for breakfast after a recent run (very light jog).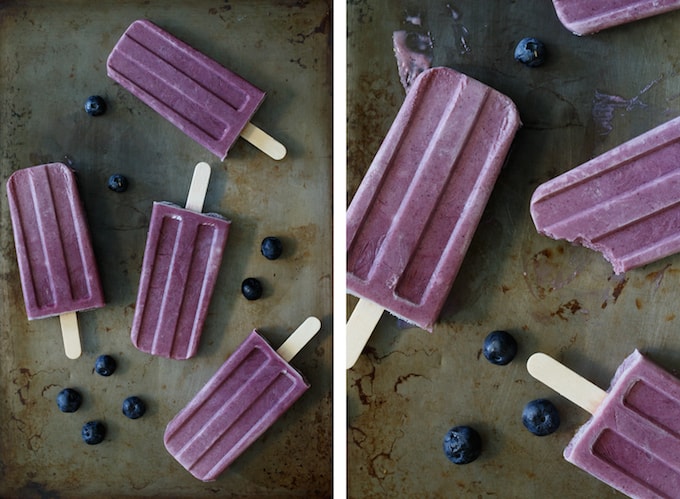 Don't have a popsicle mold yet? C'mon, treat yourself. You deserve it 😉
This is the popsicle mold that I currently own and am loving.
And listen, once you make these bad boys, feel free to get a bit crazy and try these Peach Blueberry Margarita Popsicles on for size.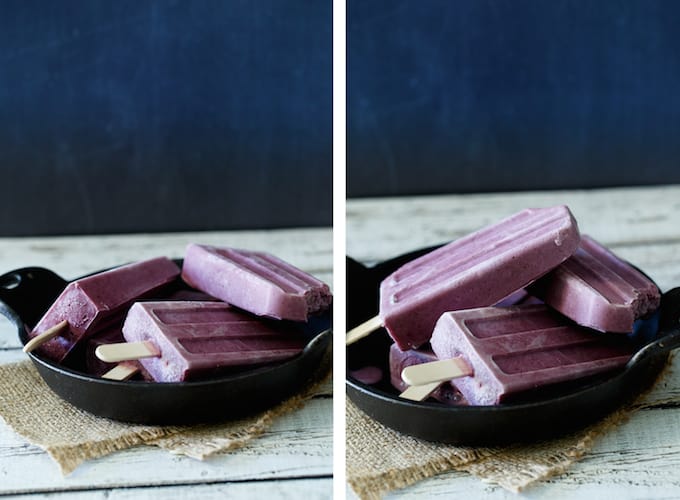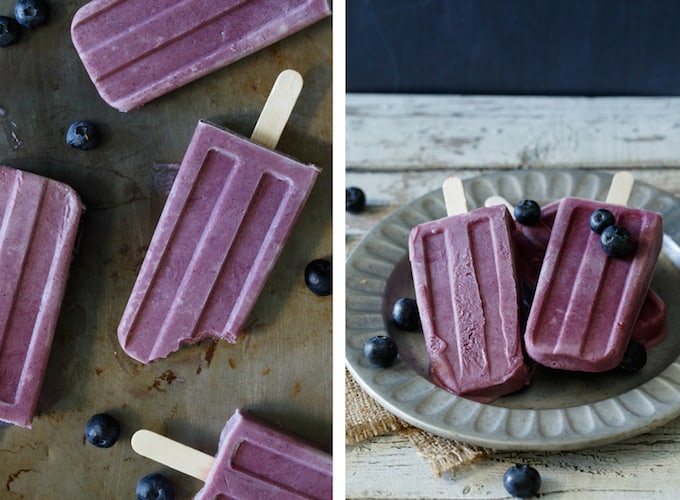 And listen, in the grand scheme of things, these popsicles are a relatively healthy snack or dessert. Heck, maybe not for a superman triathlete like my man Mike.
But for a guy that is one step short of brushing his teeth with milkshakes, I'll take these Blueberry Greek Yogurt Popsicles any day as a healthy alternative 🙂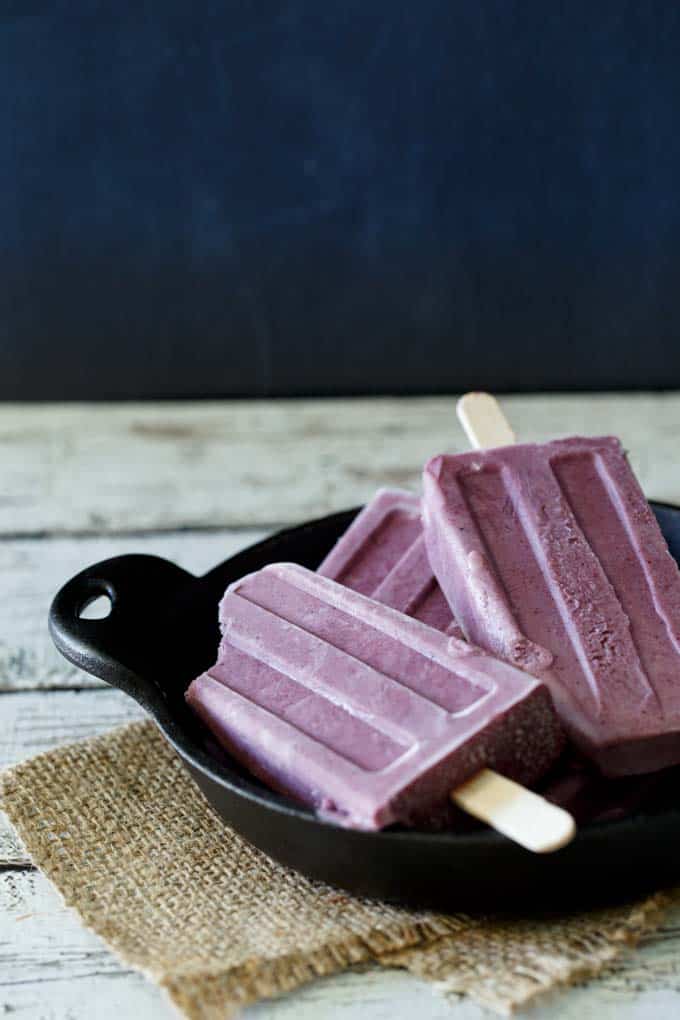 Hey. Guess what? You can now have your very own personal recipe box! To save this recipe, simply click save below the thumbnail image below? Once you start storing all your favorite recipes from around the interwebs in your Recipe Box, you can create Meal Plans and the ingredients will automatically be added to your Grocery List! Download the app to your phone and boom, welcome to the 21st century age of grocery shopping

Print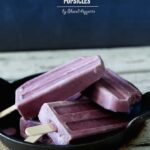 Blueberry Greek Yogurt Popsicles
---
Total Time:

10 minutes

Yield:

4

-

6

Popsicles

1

x
1 cup

plain Greek yogurt

½ cup

half and half

1 pint

blueberries

3 tablespoons

sugar

1 teaspoon

vanilla extract
---
Instructions
Puree blueberries in a blender or food processor until very smooth. Strain blueberry puree through a fine mesh sieve into a medium mixing bowl.
Add yogurt, half and half, sugar, and vanilla extract and stir until combined.
Pour mixture into popsicle molds. Depending upon the size of your molds, you can probably fill 4 to 6. If your popsicle mold does not have a lid, cover the top with foil and outline each well with your fingers. Cut a tiny slit in the middle of each well and insert popsicle stick.
Freeze for 4 hours or overnight, or until frozen solid.
When ready to serve, unmold popsicles. Briefly dipping molds in warm water helps the popsicles to cleanly release.
Ready to up your popsicle game? Try out these Peach Blueberry Margarita Popsicles!