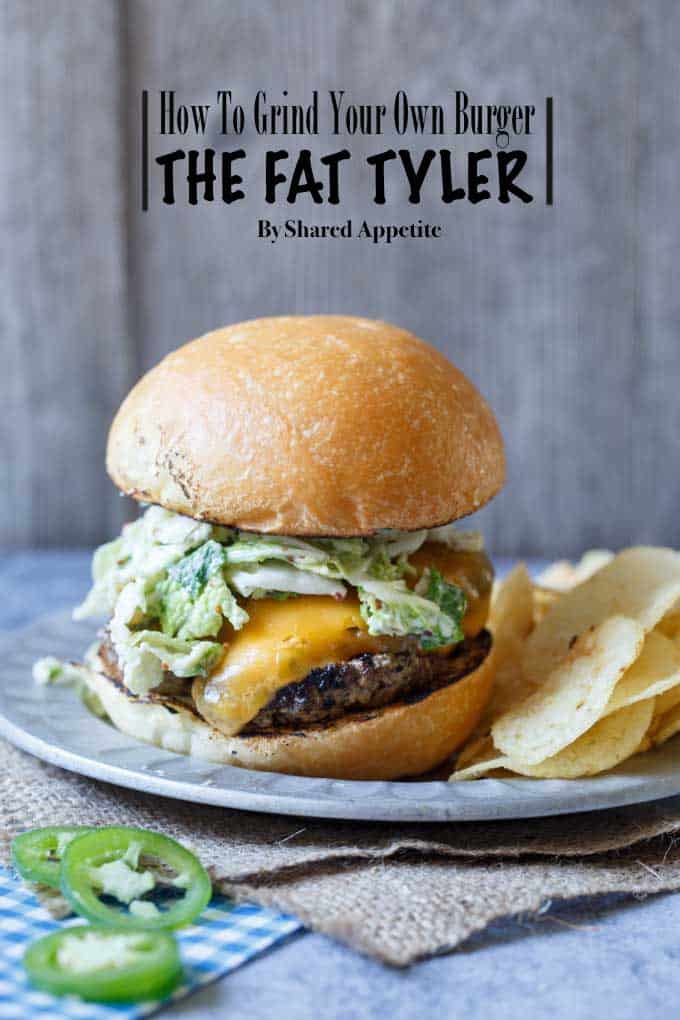 Learn how to grind your own burger and take your backyard bbq to the next level of epicness! Your very own DIY designer burgers will be sure to impress!
You've met Tyler, right?
Of course you have.
He's a great friend. The techie-brains-designer of Shared Appetite. And he's my partner in crime for our wedding photography business, Ashe Photography Studio.
Little known fact. Tyler won the Pinewood Derby as a kid. It's his claim to fame.
But he doesn't just have one award on the mantle. No way. The dude's talented. Like, just-won-a-very-fierce-burger-competition talented. That's right. Granted, it was a contest among his friends. More of a backyard bbq get-together. But still, it was crazy competitive.
And what secret recipe earned him the title of King of the Burger?
That's right... the Fat Tyler.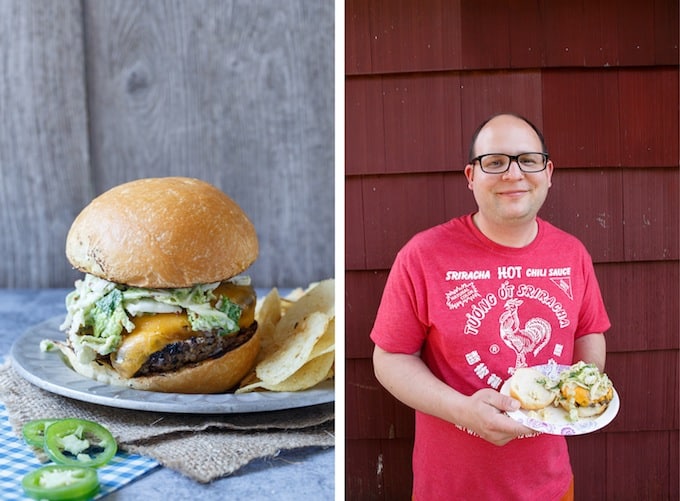 There he is. And for those of you who know Tyler, that little smirk on his face is actually a HUGE smile. And he did it just for you. Be impressed. Feel special.
Tyler has a few culinary obsessions...
First, he built himself a wood-fired oven in the backyard. It gets to like 1,000 degress. No, that's not figurative... literally 1,000 degrees. He cooks up some hashtag legit pizza in that thing.
He also just got his hands on a sous vide machine for his birthday. Tyler's working on perfecting steak and soft-boiled eggs as we speak.
And what we're here to celebrate today... How To Grind Your Own Burger: The Fat Tyler.
So let's break it down...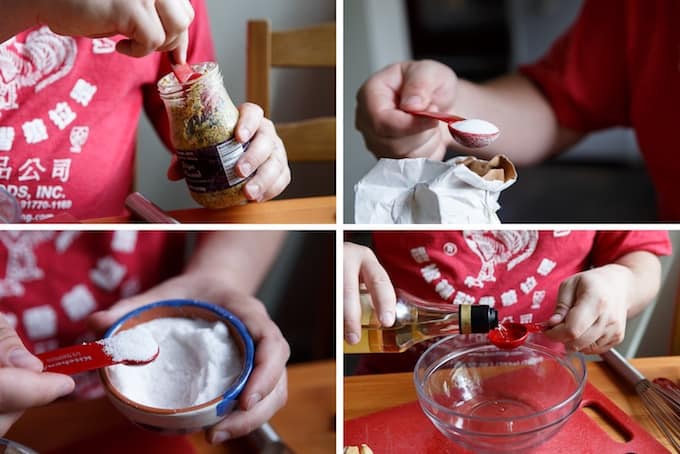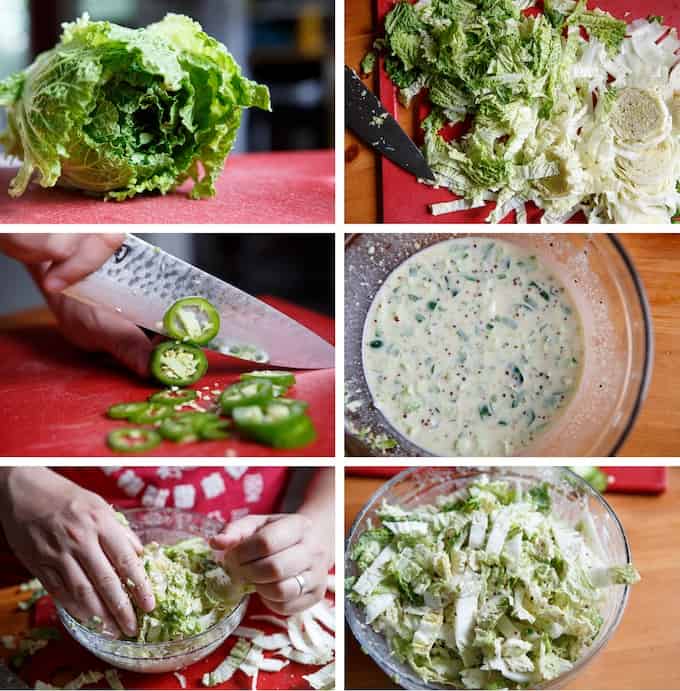 That's the slaw. It's tangy-mustardy-spicy crunchness in a bowl. It's a bit in yo' face by itself, but when slathered on a juicy, rich beef patty... hello flavor party in your mouth.
And now let's talk about grinding your own designer burgers. Why? Because it's cool. And right now, artisan/small-batch/DIY is all the rage. And we want to act cool and be a part of the rage.
You have 2 options for creating your own DIY burger. First, have the butcher grind the meat for you. That'll probably work for you if you:
have an awesome butcher
have a good relationship with your butcher
are a butcher
know somebody that is a butcher
But your local dingy grocery store meat department probably isn't going to do it for you. And if they do, that's amazing and you live in a much nicer, caring part of the world then NYC. But NYC still rocks and I wouldn't trade it for your super nice meat department butcher anyway.
The other option, and the more fun option, is to grind the meat at home with your KitchenAid Food Grinder Attachment
. Just make sure you use the larger "coarse" dial.
And a word of warning... sometimes the grinder likes to splurt out some meat juice. Yea, kinda gross. We just held a disposable plastic cup close to the dial (with enough room for the meat to fall out into the bowl) and that caught all the juices. Make sure you plan accordingly. I'd hate for your kitchen to look like a scene from Dexter.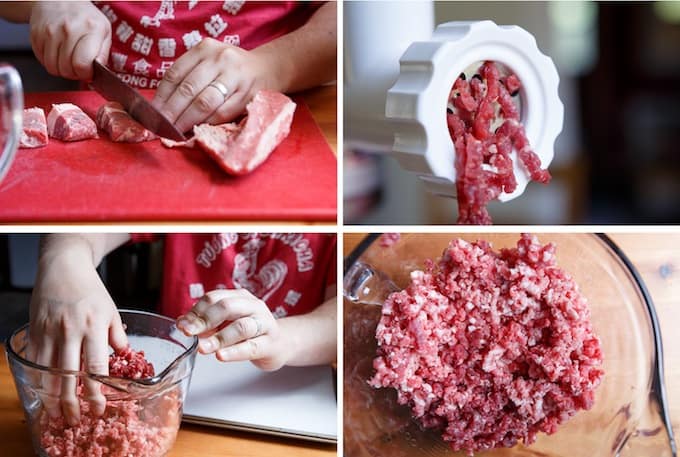 And remember, you don't want to pack the meat tight. That's one way to guarantee a compact, tough burger. Handle it with care. Treat it with some TLC. Talk sweet nothings into its ear (don't do that).
And do yourself a favor and make a tiny depression in the middle of each patty with your thumb. Burgers tend to puff in the middle as they cook, so that indentation helps to make the patty stay flat.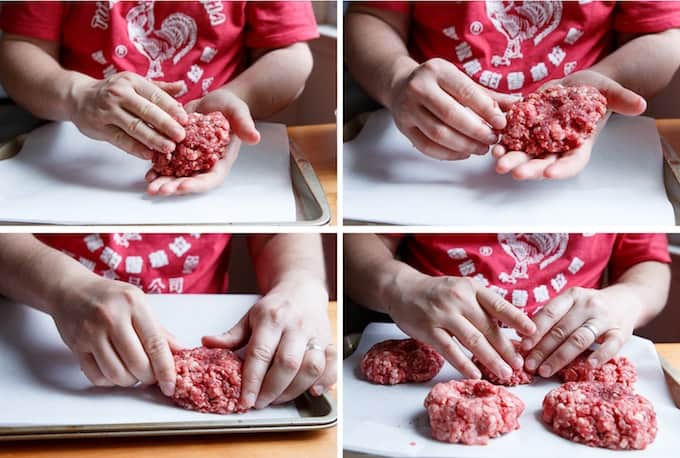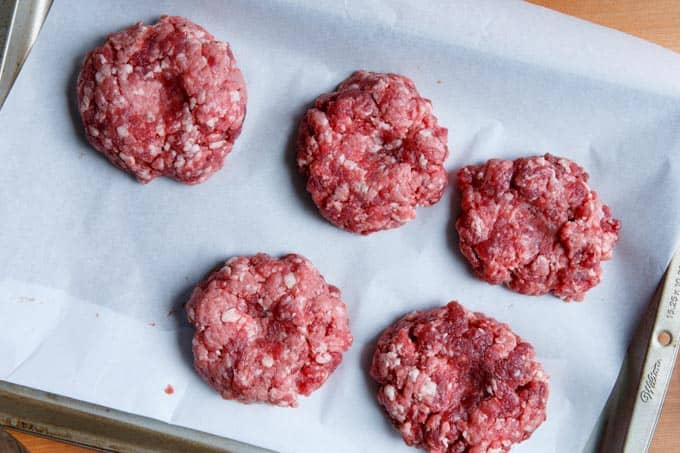 And then boom, cook up those burgers and you have yourself a Fat Tyler.
Now, for it to be a certified Fat Tyler burger, you need a couple things:
a mix of sirloin, short rib, and brisket for your burger blend
the spicy-tangy-mustardy slaw in the recipe below
a brioche bun
melted cheddar or american cheese
cooked to a perfect medium-rare... medium maybe. Maybe.
Nothing more, nothing less. The man is particular about his burger.
And listen, for the record, no... it's not called a Fat Tyler because he's fat. That's just a complete coincidence. This burger is actually Tyler's riff on Michael Symon's famed burger, the Fat Doug.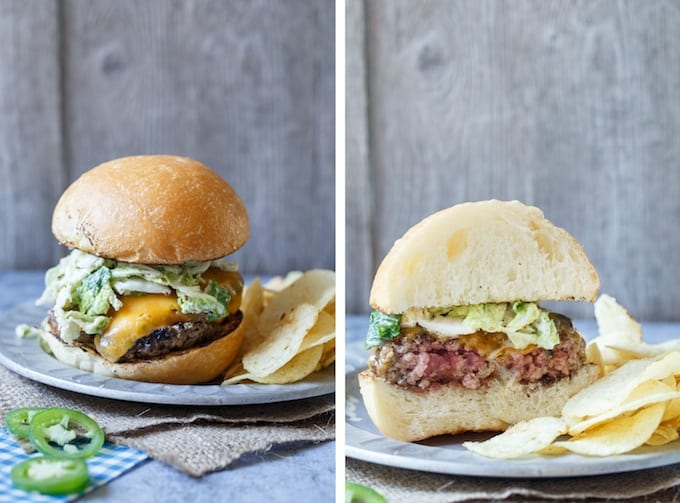 Hey. Guess what? You can now have your very own personal recipe box! To save this recipe, simply click save below the thumbnail image below? Once you start storing all your favorite recipes from around the interwebs in your Recipe Box, you can create Meal Plans and the ingredients will automatically be added to your Grocery List! Download the app to your phone and boom, welcome to the 21st century age of grocery shopping

Print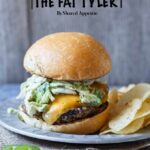 How To Grind Your Own Burger: The Fat Tyler
---
Total Time:

40 minutes

Yield:

4

1

x
For the Burgers:
½

pound ground sirloin

½

pound ground brisket

½

pound ground boneless short rib
Salt and freshly ground black pepper

4

slices Cheddar or American cheese, medium thick

1 ½ tablespoons

unsalted butter, melted

4

brioche or egg buns, split
For the Coleslaw
1

head napa cabbage, shredded

1

clove garlic, minced

½

small red onion, thinly sliced

1

jalapeno pepper, sliced thin

3 tablespoons

champagne vinegar

1 tablespoon

dijon mustard

2 tablespoons

mayonnaise

1 tablespoon

sugar

1 ½ teaspoons

salt

1 tablespoon

Worcestershire sauce
---
Instructions
Cut meat into approximate 2" cubes. Using the food grinder on your Kitchen Aid Stand Mixer, grind your burgers on the larger "coarse" dial into a medium bowl. Sometimes the grinder likes to spit out a bit of meat juice, so it helps to put a cup close to the dial to catch any spurts.
Using your hand(s), gently combine the meats, taking care not to compact the meat to much. Form burgers into 4 equal-sized patties and season liberally with Kosher salt.
If using a grill: Grill the burgers over high heat until medium rare, 3 to 5 minutes per side. Add a slice of cheese to each burger during the last 1-2 minutes of cooking. Brush buns with butter and grill until lightly toasted.
If using a cast iron skillet: preheat over high heat until very, very hot. Place butter in pan and cook burgers over high heat until medium rare, about 3-5 minutes per side. Add slice of cheese to each burger during the last 1-2 minutes of cooking. Remove burgers and add buns to toast slightly.
Let bugers rest for a few minutes, then place onto each bun and top with a few spoonfuls of coleslaw.
For the Coleslaw
In a small mixing bowl, whisk together the vinegar, mustard, mayonnaise, Worcestershire sauce, sugar, and salt until fully combine.
In a medium mixing bowl, mix together the cabbage, garlic, onion, and jalapeno. Pour the dressing over the slaw and toss gently to combine. Cover and refrigerate 1 hour.
Prep Time:

30 mins

Cook Time:

10 mins