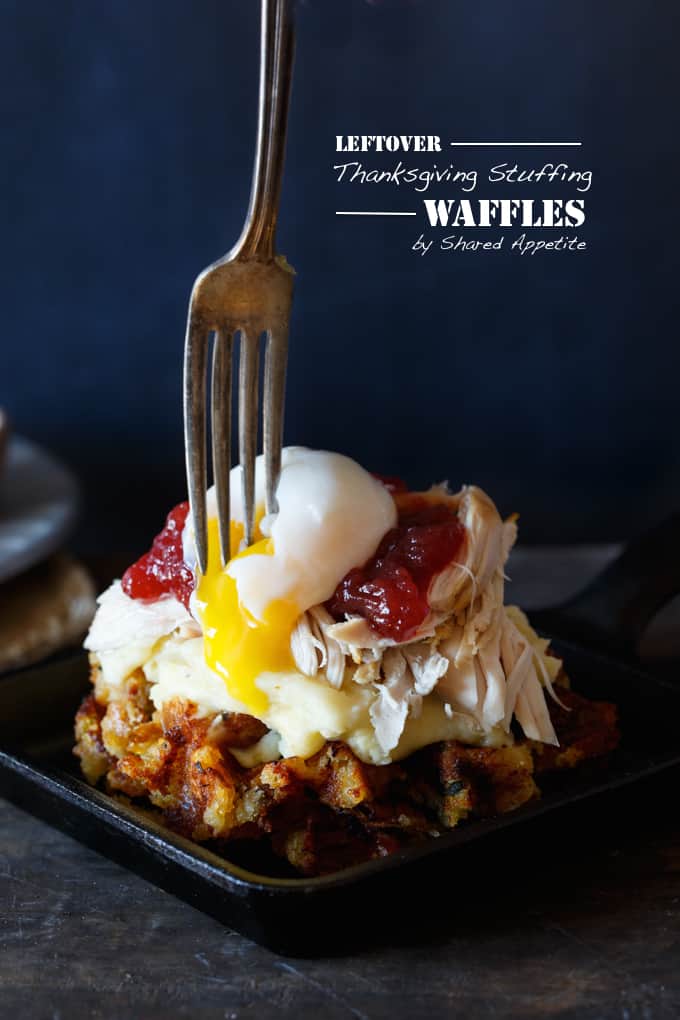 It's time to dust out that waffle iron… these Leftover Thanksgiving Stuffing Waffles are the perfect day after grub for breakfast or lunch!
It's rare that the waffle iron gets pulled out in our house. But lately, I've been getting the waffle itch. And that itch is a direct result of my man Matt over at Real Food By Dad. The dude is a ninja with the waffle iron.
And if you've ever looked at something and said I wonder if I can make a waffle out of that?… you can rest assured knowing that Matt probably already has. If waffling was an Olympic sport, Matt would be Michael Phelps (minus the whole DUI thing).
So yea… if you have leftover stuffing come Friday, you need to dust off that waffle iron. Stuffing on Thanksgiving is fantastic and all, but getting it extra crispy and caramelized the next day a la waffles is where it's at!
Load up your Leftover Thanksgiving Stuffing Waffles with whatever you've got on hand and you have yourself some seriously good chow.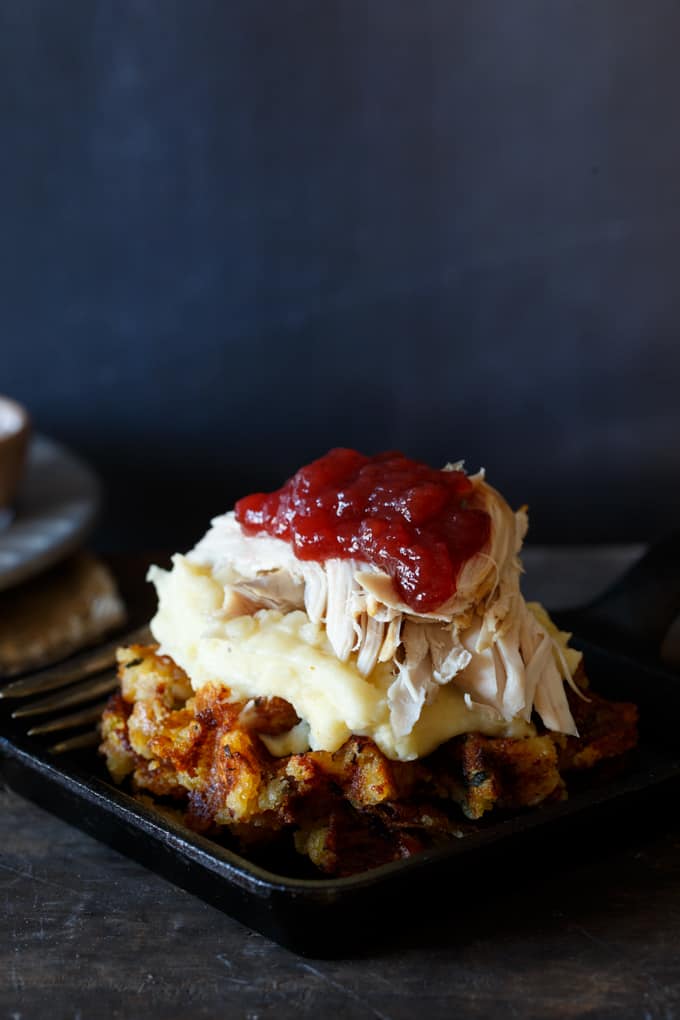 I kept mine pretty classic… mashed potatoes, shredded turkey, and a bit of cranberry sauce. My stuffing was made with cornbread, bacon, and leeks. I highly recommend that combo by the way… that's the trifecta of stuffing goodness right there.
You better believe the day after Thanksgiving, my waffle is going to get a whole lot trashier. I'm talking topping it with sweet potato casserole, caramelized Brussels sprouts… basically whatever I can get my hands on. Heck to the yes.
But people… if there is one thing that can make your Leftover Thanksgiving Stuffing Waffle experience that much better, it's a perfectly poached egg.
#putaneggonit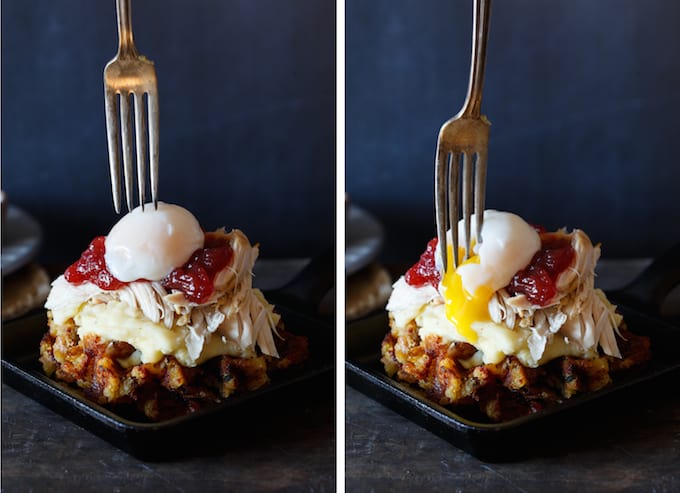 Print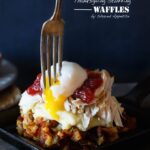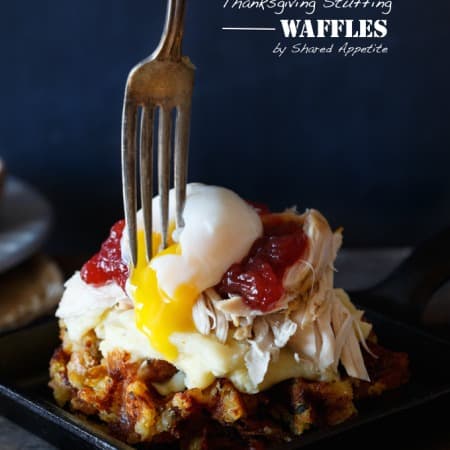 Leftover Thanksgiving Stuffing Waffles
---
Total Time:

15 minutes

Yield:

As many as you want to make!
Stuffing
Mashed Potatoes
Shredded Turkey
Cranberry Sauce
Other Desired Thanksgiving Leftovers
Poached Eggs
---
Instructions
If your stuffing has large pieces, quickly chop into smaller chunks. If your stuffing is moist (it holds together nicely when shaped into a ball), just go ahead and put directly into the waffle iron. If it's dry/crumbly, consider adding a bit of chicken stock or lightly beaten egg to it before cooking in waffle iron.
Place some stuffing in waffle iron and cook until golden brown and crispy. Let cool slighty on the waffle iron, and then very carefully remove to a plate. This step requires a spatula and some finesse.
Top stuffing waffles with desired reheated leftovers and a poached egg. Devour immediately.
Prep Time:

10 mins

Cook Time:

5 mins
Need More Leftover Thanksgiving Ideas?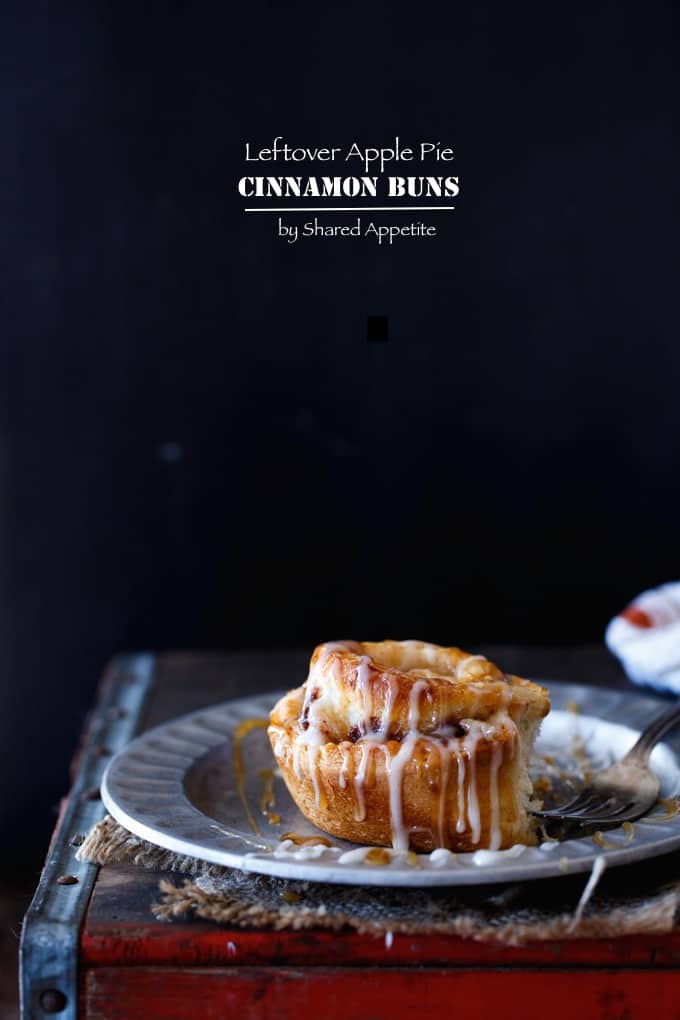 Leftover Apple Pie Cinnamon Buns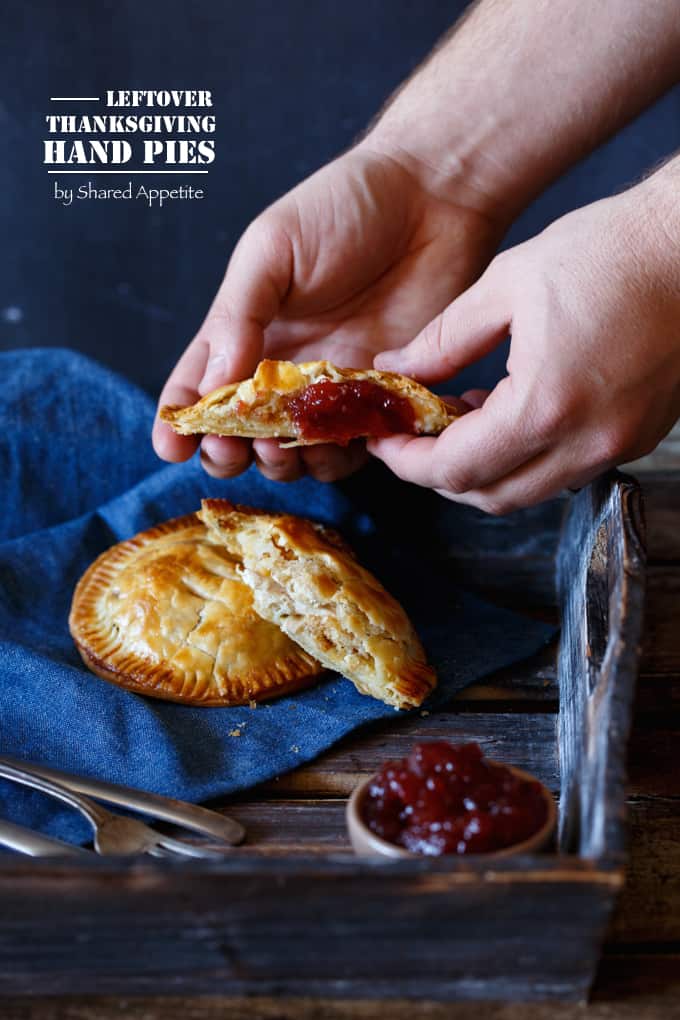 Leftover Thanksgiving Hand Pies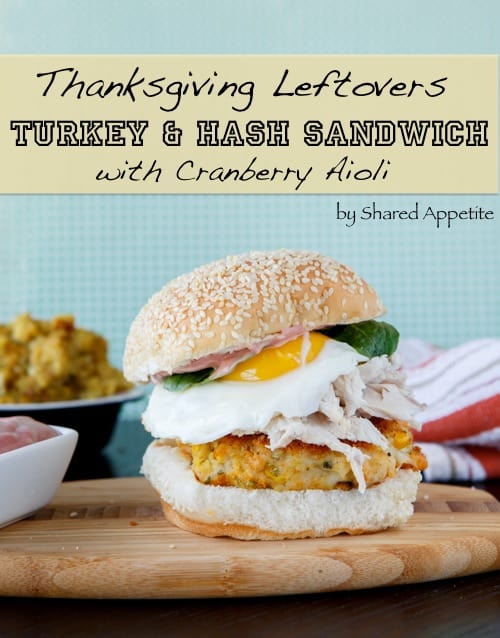 Thanksgiving Leftovers Turkey + Hash Sandwich with Cranberry Aioli