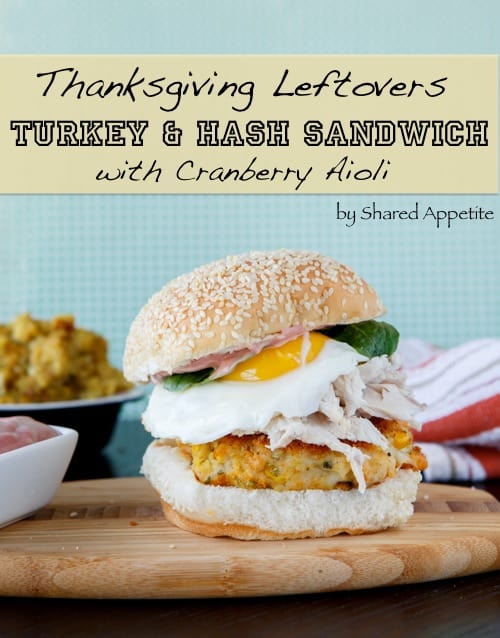 A creative recipe to transform your Thanksgiving leftovers into one unbelievable sandwich: a crispy hash patty made with mashed potatoes, stuffing, and corn, topped with turkey, cranberry aioli, and a fried egg.
Well, that's a wrap. Thanksgiving is over. But before we totally abandon all things autumn and enter the glorious world of Christmas recipes and holiday desserts, let's just savor one more morsel of Thanksgiving leftovers. Let's (cranberry) relish in this one last leftover turkey recipe.
People. This sandwich is so freaking good. It's the epitome of all good things Thanksgiving, stacked neatly between a single bun. Except the sweet potato casserole. I couldn't figure out how to squeeze that into the mix. But you better believe I has some of it on the side 🙂 Oh how I love sweet potato casserole. Side note: I made a big tray of it for Asheley to bring to work on Thanksgiving to share with her coworkers (yup, she had to work on Thanksgiving) and everyone devoured it. Apparently everyone loves sweet potato casserole. 🙂
But anyway, back to this sandwich. It might have a super lame name -- sorry, I couldn't think of anything better -- but you better believe it more than makes up for it in the flavor category.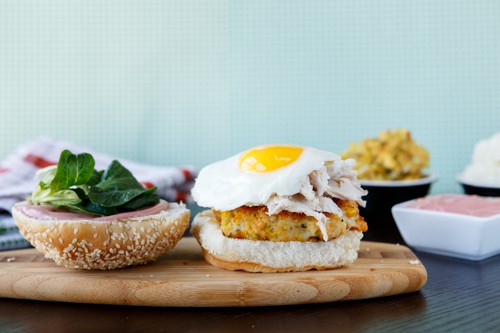 So what makes a great day after Thanksgiving sandwich?
Well we all know stacking layers of mashed potatoes, stuffing, turkey, and whatever other Thanksgiving leftovers you have lying around between two slices of bread makes for one undeniably delicious meal. But that's not enough. No, we are in search of even greater leftover sandwich triumph. Who's with me? (in my head you're all enthusiastically answering yes, we're with you!)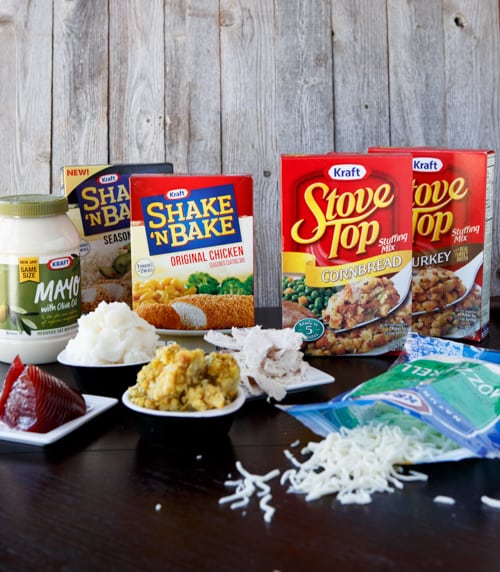 And that's where all these Kraft products come in. I headed off to Walmart to help amp up my Thanksgiving leftovers and create a sandwich masterpiece.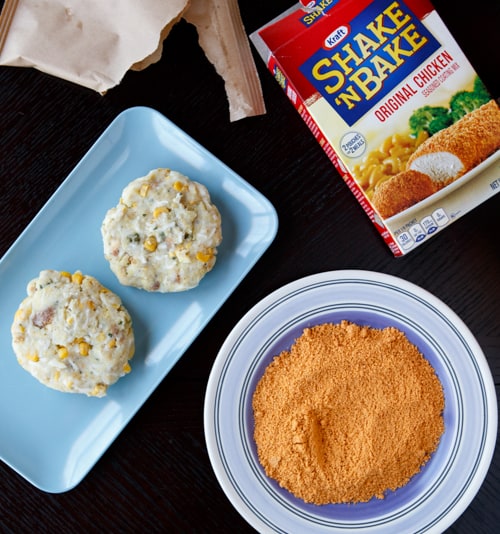 Let's take those mashed potatoes, stuffing, and corn, and then add in some shredded mozzarella cheese. Mix it all up and form them into hamburger-sized patties, and then let it get all close and friendly with a crispy bread crumb coating. A quick visit to a skillet and boom, instant party in your mouth.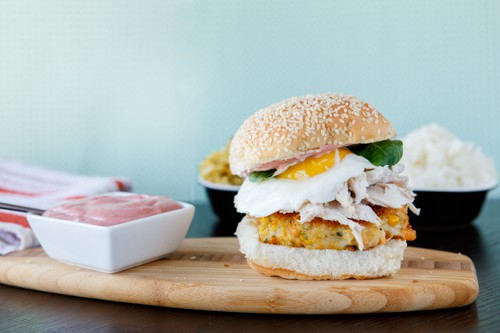 But we're on a roll and noone can stop us. Let's keep going. Add some turkey on top. A smear of cranberry aioli. Sure, you could add some lettuce. That makes the entire sandwich healthy... at least that's what I tell myself. But then, sitting there on top of it all, there's that beautiful crown jewel, a fried egg with it's golden yolk glistening in the sun.
It's a whole new level of Thanksgiving leftover sandwich awesomeness.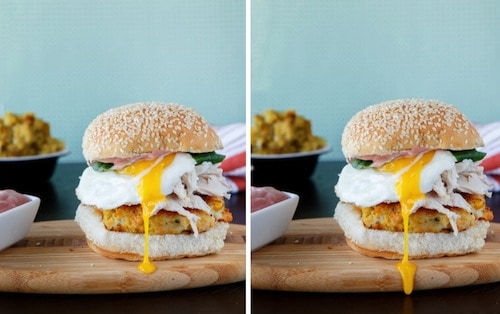 Print
Thanksgiving Leftovers Turkey and Hash Sandwich with Cranberry Aioli
---
Total Time:

20 minutes

Yield:

4

sandwiches

1

x
4

Thanksgiving Leftover Hash Patties (see below)

2 cups

leftover cooked turkey
Cranberry Aioli (see below)

4

hamburger buns

4

eggs
for the Thanksgiving Leftover Hash Patties
1 cup

leftover Kraft Stove Top stuffing (I used the Cornbread variety)

1 cup

leftover mashed potatoes

½ cup

leftover corn kernels

½ cup

shredded Kraft mozzarella cheese

1

packet Kraft Shake n' Bake (your choice of flavor)
Kosher salt
Freshly ground black pepper
Canola or vegetable oil
for the Cranberry Aioli
¼ cup

jellied cranberry sauce (from can)

¼ cup

Kraft mayonnaise
Kosher salt
---
Instructions
On each bun, stack a hash patty, ½ cup turkey, a fried egg, and a spoonful of cranberry aioli. Lettuce (to make it healthy, of course) is optional. Serve immediately.
for the Thanksgiving Leftover Hash Patties
In a medium bowl, combine stuffing, mashed potatoes, corn kernels, and shredded cheese. Season with Kosher salt and freshly ground black pepper. Form into four equal-sized patties (like you would a hamburger). Empty the contents of one Shake n' Bake packet onto a plate and roll patties around in the Shake n' Bake until coated.
Add approximately 2-3 tablespoons of oil to a medium skillet over medium heat. Fry the patties, in batches if necessary, until coating is golden brown, about 2-3 minutes per side.
for the Cranberry Aioli
Combine the jellied cranberry sauce and mayo in a small bowl, or for a super smooth aioli, in a food processor. Season with Kosher salt.
for the Fried Eggs
Spray a large nonstick fry pan or skillet with nonstick cooking spray and heat over medium-low heat. Crack open eggs one at a time and add them into the heated skillet. Season with salt and pepper and cover with a lid. This will help the tops of the whites to set before overcooking the bottom of the eggs. The eggs are done cooking once the whites are just set (the yolk will still be runny).
Prep Time:

10 minutes

Cook Time:

10 minutes
If you are looking for more recipe ideas, check out this Holiday Family Table with Kraft digital magazine:
You can view my Walmart shopping photo on Google+ here.