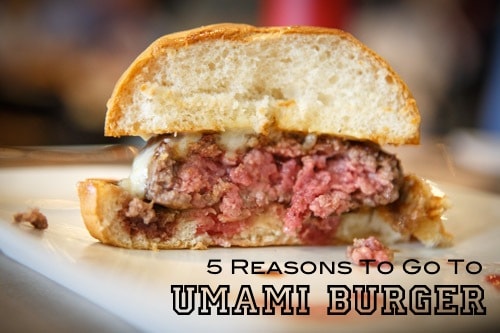 Umami Burger. It was kind of like a love at first sight, err taste, for me. We first met under a sky full of gray in a lush, open field at The Great GoogaMooga Festival this past May. There were hundreds of other people around and tons of other food to choose from, but our eyes locked. There was a definite indescribable chemistry. But it was only a fleeting moment. A brief meeting, then gone.
When Asheley and I went to San Francisco this past summer, I made it a point to reconnect with the one of several Umami Burger locations throughout California. As that Truffle Burger was placed down in front of me, it was like no time had passed at all. We picked up our beautiful relationship right where we left off.
And now, finally, we no longer have to try to navigate the whole "long distance" thing. Umami Burger has found it's way to NYC's Greenwich Village, and it's here to stay.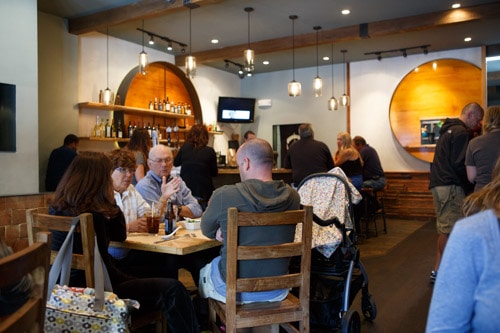 So what's up with Umami Burger? What makes it different? Why have droves of hungry city dwellers been flocking nonstop to Umami Burger ever since it opened its doors a few weeks back?
Well, because it's good. Really good. Duh.
Their burgers, and much of their menu, is jam-packed with umami. Often described as being the new "fifth taste" (the main four are sweet, sour, bitter, and salty), it's savory quality can be found in ingredients such as roasted tomatoes, mushrooms, truffles, and Parmesan cheese.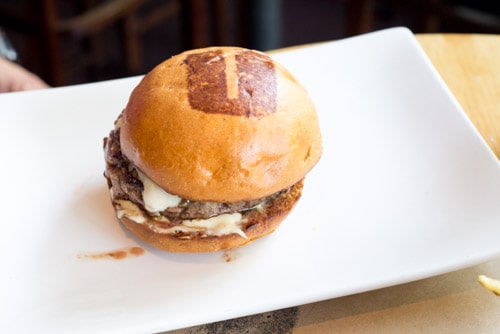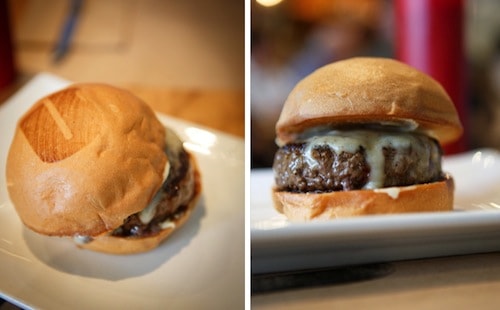 Reason #1: The Truffle Burger ($12.50). This thing is no joke. It is definitely my new favorite burger. The house-ground, hand-formed patty is made from a secret blend of 4 or 5 different cuts of steak and is then infused with this "Umami Master Sauce". The 6 oz. burger is then cooked on a flat top, giving it that handsome crispy exterior. To top it all off, you've got melty, house-made truffle cheese, a truffle glaze, and roasted garlic aioli. And the bun, let's not forget about that. Branded with their signature "U", it always comes lightly toasted with an ever-so-slight sweetness to it.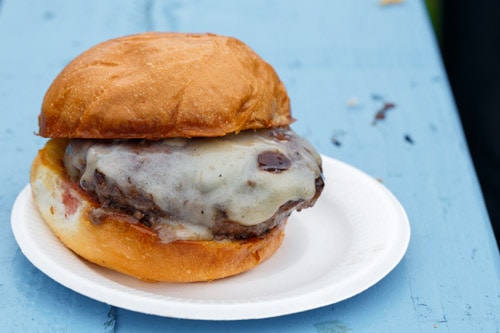 It's so good, here's one more look. This is from the Great GoogaMooga, our very first encounter.
Why is this burger so good? It's got a tremendous balance of flavors. You've got ooey gooey, salty, savory, juicy, chewy, and a slight sweetness. Basically, you've got your taste buds firing on all cylinders.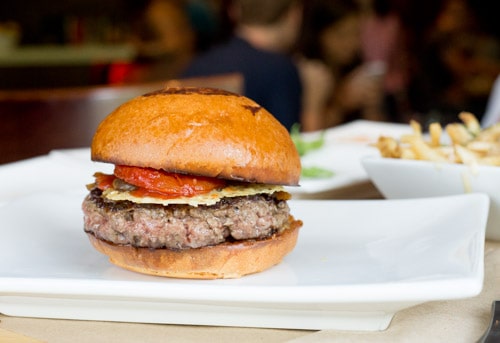 Reason #2: The Original ($12). Same patty as above, topped with carefully chosen umami-packed ingredients... a Parmesan crisp, shiitake mushrooms, oven-roasted tomato, caramelized onions, and a house-made ketchup. The ketchup's also is loaded with umami flavors, from the addition of mushrooms, fish sauce, and star anise, which apparently acts as an umami booster.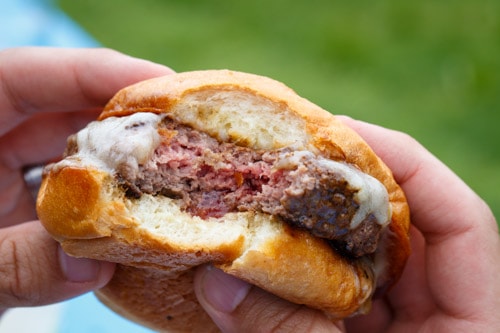 Reason #3: The Burgers Are Cooked Right. Ever order a burger at one temperature and then it comes out not even close? Yea, all the time, even at places that apparently specialize in burgers. Not at Umami. Every time it's been cooked to perfection. And that's a big deal in my book.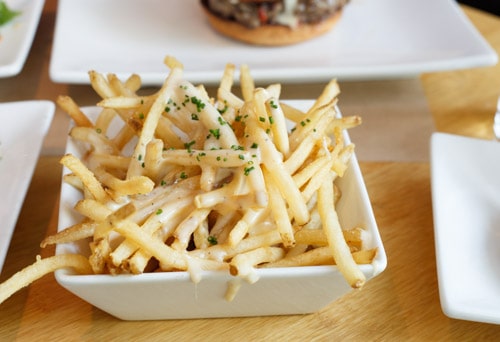 Reason #4: Truffled Fries ($5.50). The fries at Umami Burger can definitely hold their own. It's not just some little after thought. Thin fries are given the royal treatment with truffle cheese and truffle salt. Big enough to share, but you probably won't want to. For the sake of your marriage, friendship, or whatever, you may want to order your own.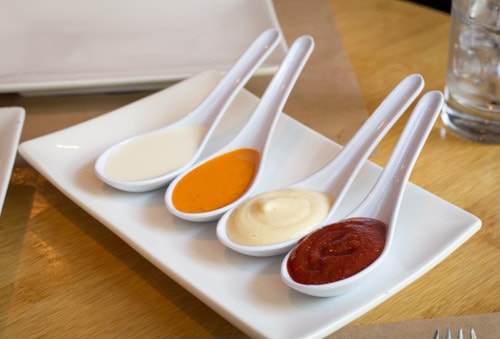 You get four dipping sauces for those fries: Garlic Aioli, Jalapeno Ranch, El Diablo, and some sort of Ketchup. I like the variety, and when I'm feeling especially crazy, I combine them. I know, I'm a rebel.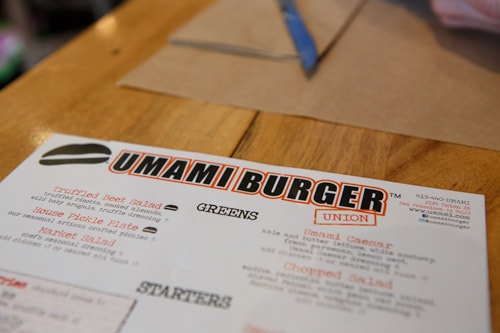 Reason #5: Fast, Friendly Service or Skip the Wait and Order at the Bar. You won't have to wait long for your meal once you're seated. It comes out at a pretty decent rate. You'll never feel rushed, but it's a great choice when you need to do your eating and get on your way. And the service staff is super friendly, which is always a plus.
Can't wait for a table? And right now, you'll have to wait for a table pretty much every day at anytime. It's a popular place at the moment. You can sit at either the 1st or 2nd floor bar and order right there, all without the wait.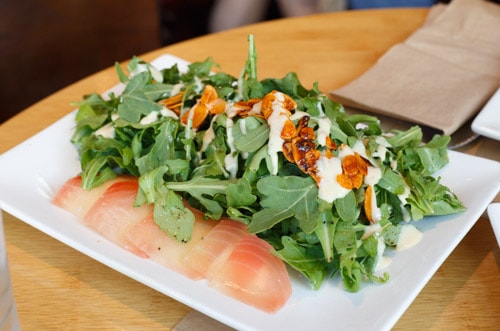 And here are 2 more reasons to go to Umami Burger. Consider it a bonus.
The Truffled Beet Salad ($7.50) with truffled ricotta, smoked almonds, wild baby arugula, truffle dressing is quite enjoyable. I wish there was a better ratio of beets to arugula, but the flavors are on point. It's a great way to not feel so bad you're stuffing your face with just burgers and fries. Add this salad in the mix and you've got yourself a "well balanced meal". Right?
And although I'm not a beer drinker, it looks like they have a pretty decent selection, as well as a long list of cocktails.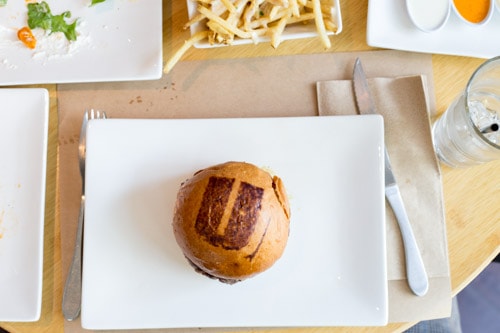 So what are you waiting for? Get there.
Umami Burger 432 6th Ave
New York, NY 10011
(Greenwich Village) 212-677-8626
You may want to also check out...
The Top 10 Foods You Have To Eat In NYC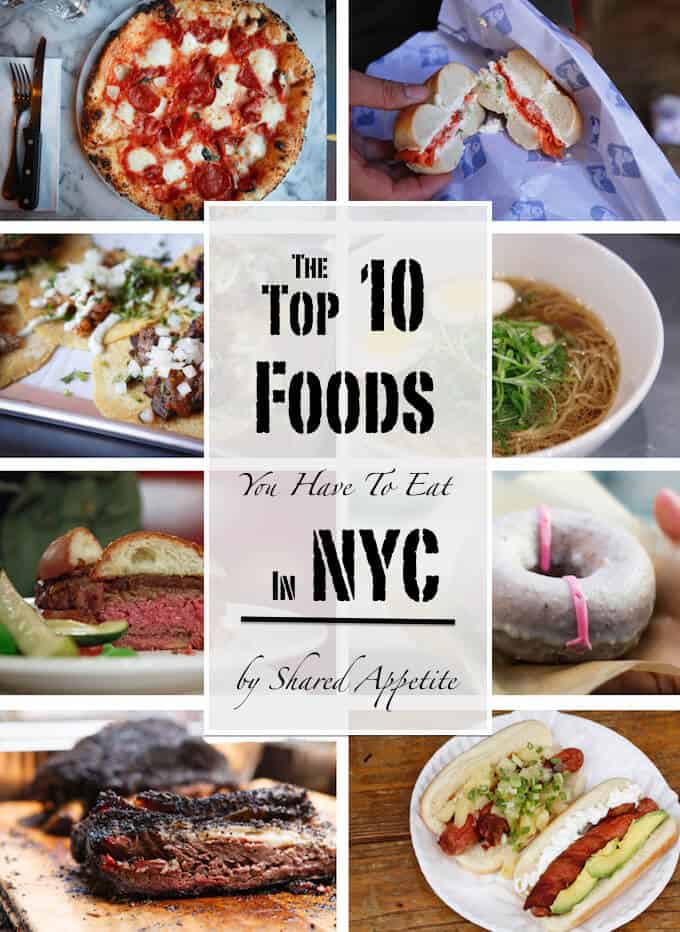 The 10 Best Ice Cream and Frozen Treats in NYC