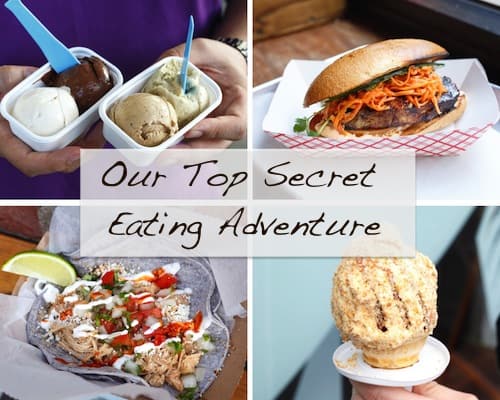 Apparently your secrets are safe with me. This one was really tough to keep for so long, but now that it's out in the open (it's even "Facebook official"), I can finally share with the world...
Our great friends Steve and Valerie are engaged! Asheley and I are beyond thrilled for them. They are both really amazing people all on their own, but together, well, they are extra amazing.
I was really honored and blessed to be with Steve to offer my support and stand beside him as he went through the nerve-racking (and ladies, it is nerve-racking) adventure of purchasing the ring. The piece of jewelry to end all jewelry.
We ended up going to the same jeweler where I found Asheley's ring just a couple years back. Can you believe she still remembered my name? That lady has some serious memory. Anyway, since we were already in the city, it only made sense that some food had to be involved. And it was tough not to tell you about all the food, because I love sharing NYC's good eats with you. But I know you understand this was for a good cause.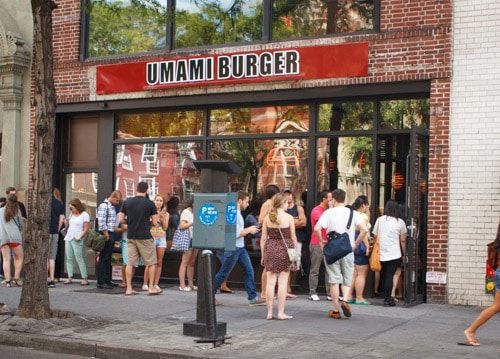 Day 1. The first post-ring browsing meal was at the newly opened Umami Burger. There are many reasons to go to Umami Burger, but let's start with these five.
I've had Umami Burger three times total (once at the Great GoogaMooga Festival in Brooklyn, once in San Francisco, and now finally in NYC) and every time I love it more and more.
We decided to follow up our burger bliss by heading down to Il Laboratorio Del Gelato for some sweetness. On the way, I spotted Chef Danny Bowien just hanging out in front of his wildly popular Mission Chinese Food. Could we possibly fit in a little more food after our burgers? Of course. We're professionals. Don't try this at home.
I quickly found a spot and Chef Bowien was still outside. He was super nice. The photos prove it...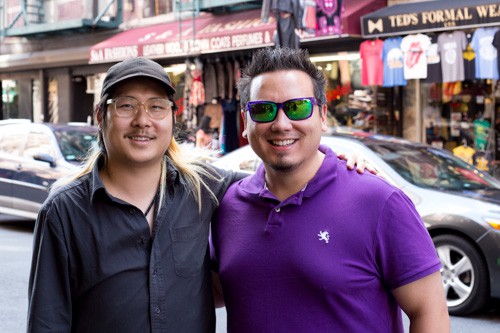 Is Steve super happy because we were standing next to chef greatness or because he was well on his way to finding the perfect ring and becoming engaged to a wonderful woman? I'm going with the 2nd answer.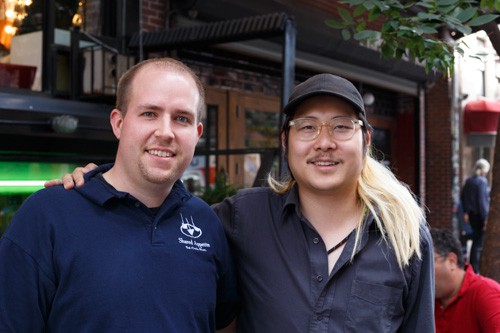 Yes, that is a Shared Appetite polo. No, I don't wear it every time I go out eating. It just so happened to be the only clean polo shirt I had that day.
If you read my Mission Chinese Food post, you already know all about the chef and his super cool restaurant. If not, go there and read about it silly.
We ordered the Thrice Cooked Bacon with Rice Cakes, the Kung Pao Pastrami (both of which Asheley and I had in San Francisco), and a new item for me, the Salt Cod Fried Rice. I wish I took a photo of it, but I didn't. I'm sorry. It was, however, declared "the best fried rice I've ever eaten" by Steve. And the man eats an abnormal amount of fried rice.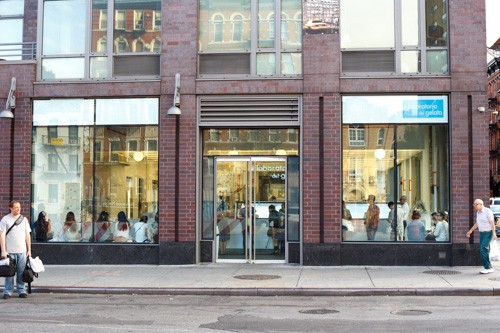 We finally made it down to Il Laboratorio Del Gelato. It's actually right across the street from Katz's and their famous pastrami, if you're into that sort of thing.
And yes, we did eat gelato after already going to Umami Burger and to Mission Chinese Food. Don't judge our fatness.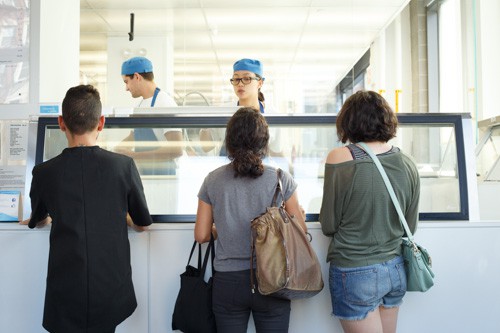 The interior design of the place is pretty sterile. Stark white everywhere the eye can see. The gelato, though, is pretty darn special.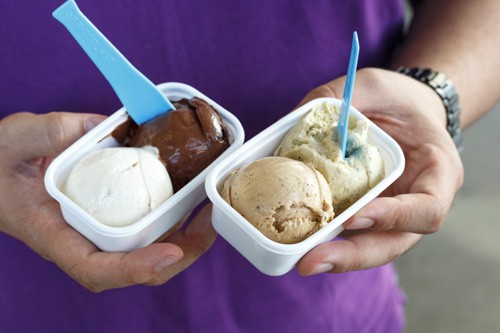 I think Steve got pistachio and some sort of coffee. I got toasted marshmallow and dark chocolate chip. Everything was good, but the standout for me every time, without fail, is that dark chocolate. It's the best I've ever tasted. So intensely, chocolate.
End Ring Shopping Day 1.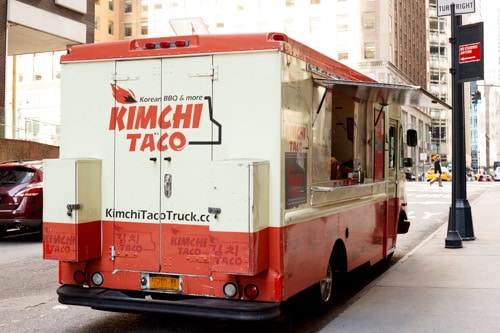 Day 2. Steve went back to the jeweler to finalize the ring details, which of course gave us another opportunity for some good eating. He's never been to Kimchi Taco Truck, which was conveniently parked pretty close to where we were headed. It's definitely one of my favorite food trucks roaming the city streets.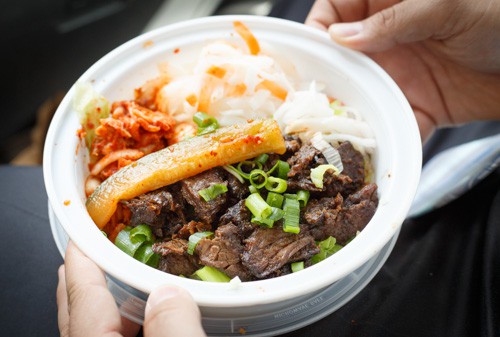 Steve went with the Grilled Korean Short Rib Bowl, served with rice, pickled daikon, cucumber kimchi, and kimchi slaw. He didn't just like it. He loved it, as I knew he would.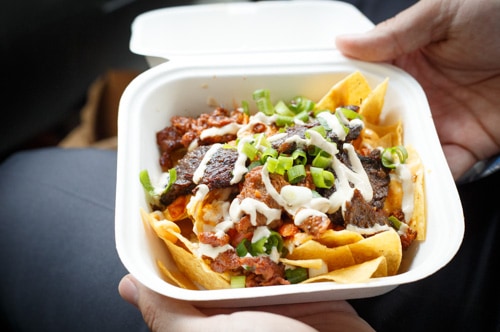 I went with my classic Kimchi Taco Truck order, the BBQ Nachos. The thing is only $4, and it's jam packed with bbq beef, spicy pork, fresh kimchi, queso blanco, cheddar, pico de gallo, and miso crema. It's pretty darn fantastic.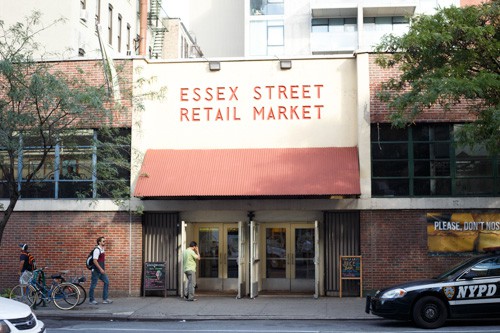 We headed down to the Essex Street Market down on the Lower East Side. It's full of all sort of small specialty food businesses, such as meat purveyors, a cheese shop, produce stalls, a bread baker, and a whole bunch more. More often than not, though, I'm at Essex Street Market for one thing. Brooklyn Taco.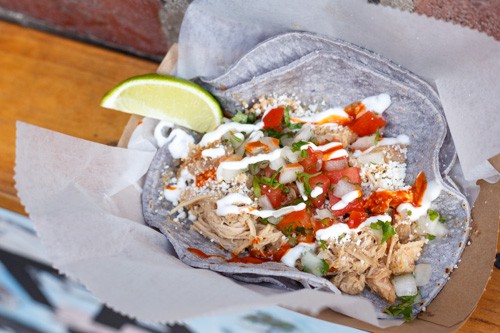 I told Steve he had to get the Chipotle'd Chicken Taco, which for my money is the best one they offer. The shredded chicken thighs are incredibly juicy and flavorful with a nice kick of spice, which they achieve through braising it in a chipotle broth. It's served with some pico de gallo, queso fresco, crema, and hot sauce.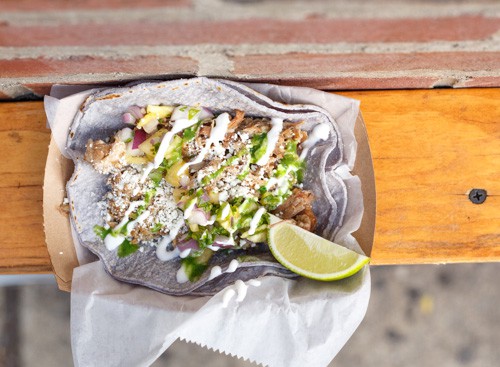 I decided to try the Cola-Braised Pork Taco for the first time. It was good, but it was no Chipotle'd Chicken Taco. The pork shoulder, which was braised in a citrus and cola broth, still didin't have the richness of flavor that the chicken achieves. It was still enjoyable though. Oh, and the other stuff on there is a pineapple salsa, queso fresco, crema, and a habanero sauce.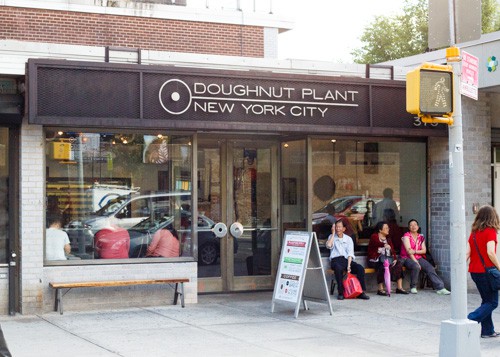 One more stop for the day, just down the block a bit... Doughnut Plant. It's hands down my favorite doughnut joint in the city. Steve's a big fan too, of course. The man knows what's good.
It was pretty late in the day so they ran out of a bunch of their daily flavors. I was in the mood for their Tres Leches or PB&J, but still considered it a win that I walked away with a Blackout Doughnut...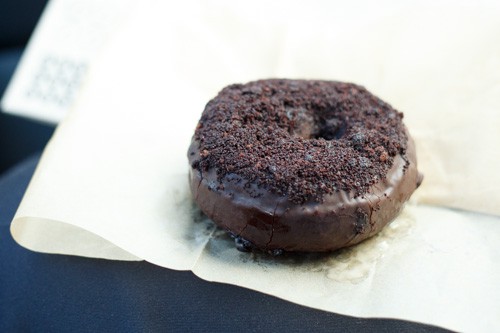 It's a moist, delicate chocolate cake-based doughnut that's filled with chocolate pudding, dipped in chocolate glaze and sprinkled with chocolate cake crumbs. Chocolate, on chocolate, on chocolate. My kind of doughnut.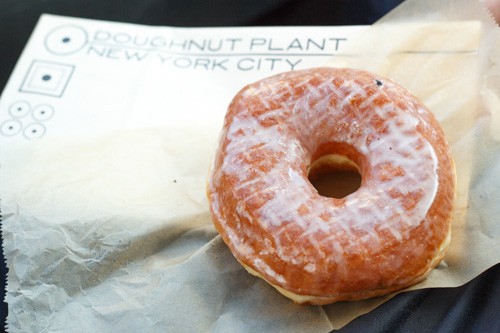 Steve is more of a yeast doughnut fan, so he went with the Vanilla Glazed Doughnut.
End Ring Shopping Day 2.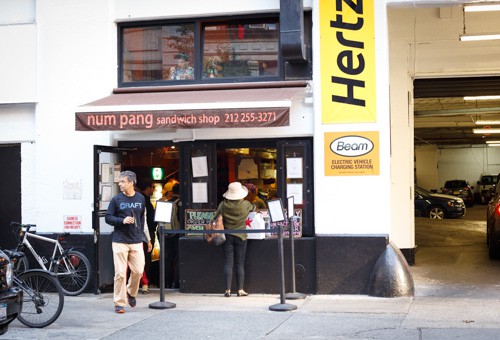 Day 3. And for our grand finale, ring in hand at this point, we made a stop for those amazing Cambodian-inspired sandwiches over at Num Pang. We're both such huge fans of this place. It's pretty sad to look across the street and see the empty storefront that Stand 4 used to occupy, with those amazing Toasted Marshmallow Milkshakes. Good thing I figured out how to make my own to ease the pain.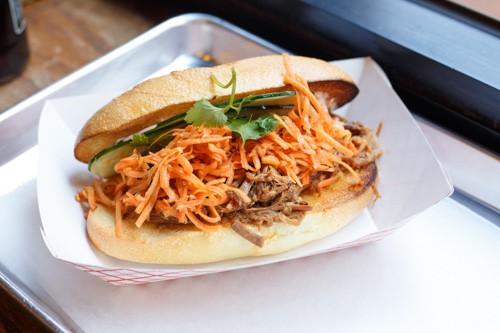 I got a trusty old favorite, the Pulled Duroc Pork with Spiced Honey. It is hands down my favorite sandwich in the city.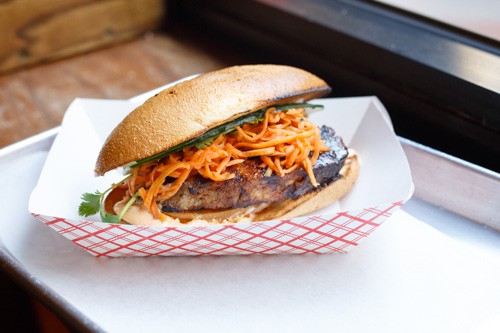 Steve went with the Five Spice Pork Belly.
All of Num Pang's sandwiches are served on a crazy good toasted baguette with pickled carrots, fresh cucumbers, cilantro, and a chile mayo.
Then we popped into some random dumpling joint because Steve's a sucker for dumplings. They weren't that good, and were crazy over priced. C&C Prosperity still rocks our dumpling world. 4 for $1.25 (yea, they raised their prices by a quarter...)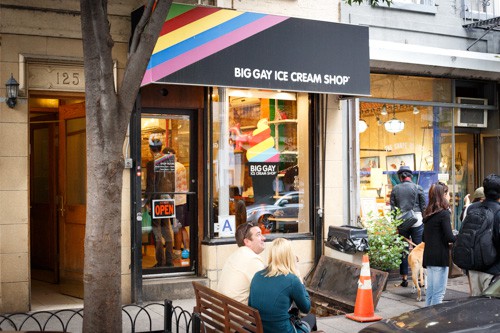 One final stop for the day. One final stop for our super awesome, Top Secret Eating Adventure. Big Gay Ice Cream never disappoints. Ever. In fact, you can pretty much be sure that no matter how terrible of a day you're having, a stop at BGIC will completely put a smile on your face.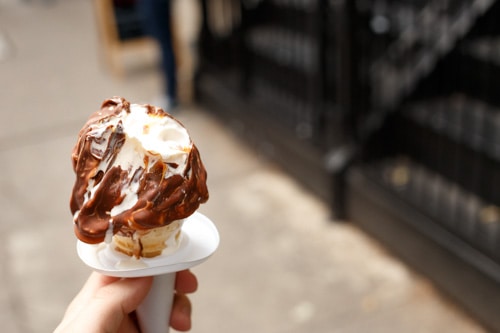 I went with The Salty Pimp (vanilla soft serve, dulce de leche, sea salt, chocolate dip), which unfortunately didn't have enough salt. I'm chalking it up to the guy who made my cone was probably new, since A) the cone was pretty sad looking and B) ever other time I have the Salty Pimp it's perfection.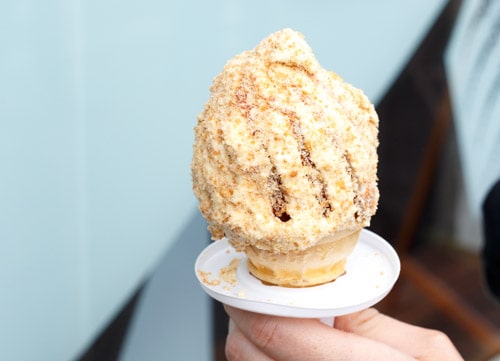 Steve got his and my favorite cone concoction, the Bea Arthur (vanilla soft serve, dulce de leche, crushed 'nilla wafers). It's so good.
So there you have it. Our Top Secret Eating Adventure. But more importantly, two truly amazing, genuinely awesome people now get to enjoy this unforgettable, special time in their lives. Congrats Steve and Val! We love you guys!
You may want to also check out...
The Top 10 Foods You Have To Eat In NYC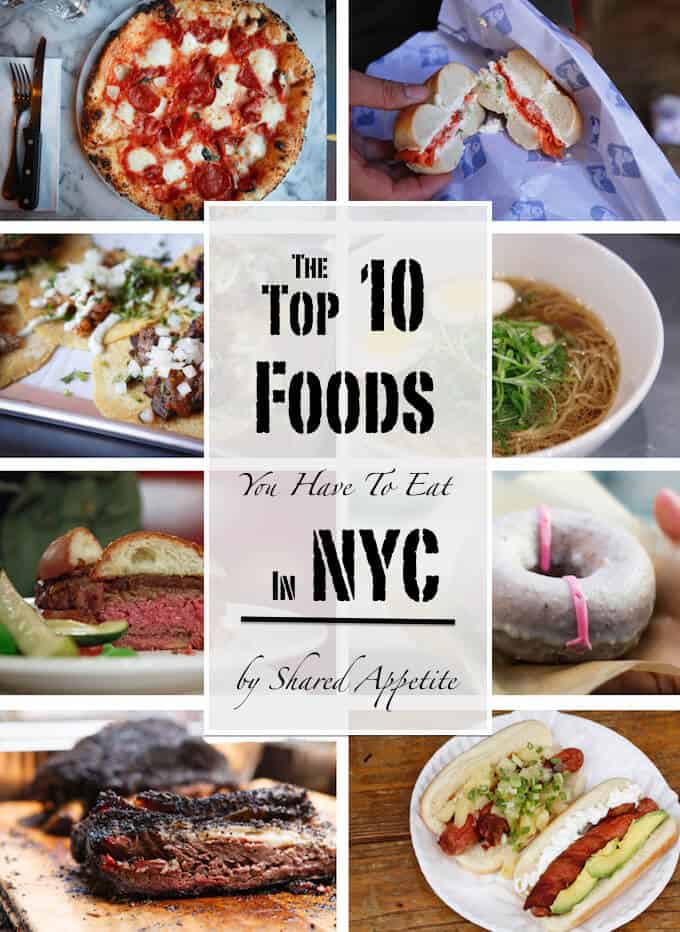 The 10 Best Ice Cream and Frozen Treats in NYC