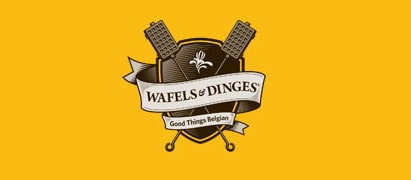 I'll be the first to admit it.  I'm slightly obsessed with Bobby Flay.  I love his shows on Food Network, and I get excited when I'm watching Iron Chef America and he's the one chosen to battle.  Having dined at all 4 of his restaurants numerous times (Bar Americain, Mesa Grill, Bobby Flay Steak, and Bobby's Burger Palace), I can honestly say I thoroughly enjoy his food and the flavor profiles he creates.   He has transformed the way I cook and eat.  With that being said, I  love when he loses on his t.v. show Throwdown.  It is a constant reminder for me that there are SO many great chefs and cooks out there doing their thing day in and day out, without the recognition or fame that comes with being a celebrity chef.  One of those underdogs who sent Bobby packing is Belgian native Thomas DeGeest and his Wafels and Dinges Food Truck.   
Formerly an IBM consultant, Thomas DeGeest quit his job in order to go back to Belgium to learn from master waffle-makers and perfect his recipes.  The Wafels & Dinges founder knew America was in need of a waffle make-over: "Having experienced IHOP and Waffle House, I knew the quality of waffles in the U.S. could be, let's say, improved."   Well, Thomas, mission accomplished.
Wafels and Dinges offers two different waffle options: the brussels waffle and the liege waffle.  The Brussels Waffle is light and crispy.  Quoting from their menu, "This is the 'mother of all wafels' and first came to New York for the 1964 World's Fair.  Now it's back, better than ever."  The Liege Waffle, as DeGeest explains, is the soft and chewy Belgian waffle that Belgians kept secret and never told anyone about, until now!  The dough is different than a normal Belgian Waffle.  It's made with a wheat-based yeast sweetened dough with, (here's the secret), pearl sugar.  Unique to Belgium, the pearls burst and caramelize when the dough hits the waffle iron, resulting in a dense, sugary waffle.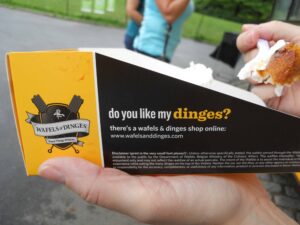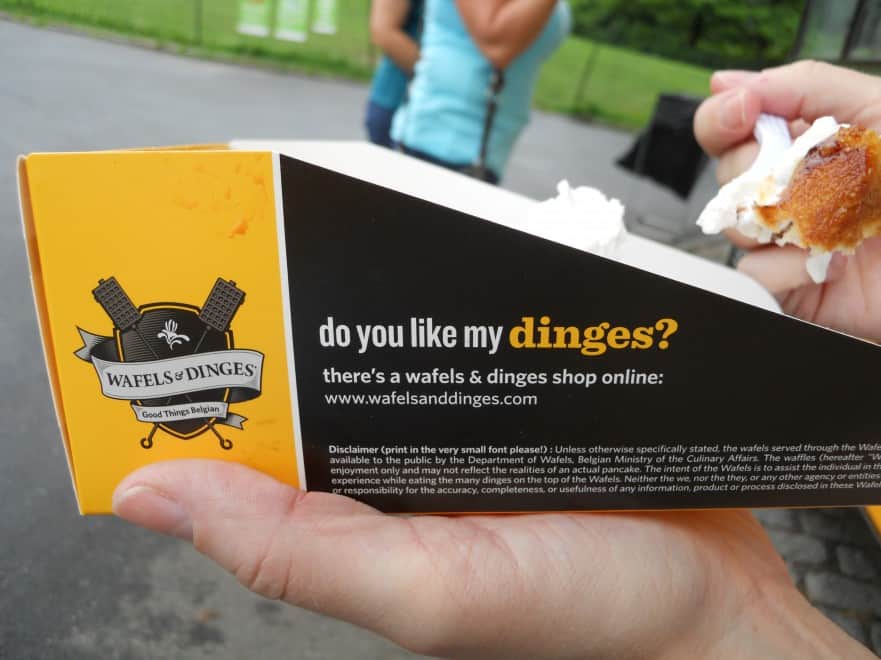 Just as important as the wafels themselves are the dinges.  What are dinges?  According to DeGeest, dinges is Belgian slang for "whatchamacallits", a.k.a. waffle toppings!  Dulce de leche, Belgian chocolate fudge, fresh strawberries, and grade A maple syrup are just a couple of the dinges they offer.  However, the real star "dinges" is the popular spekuloos.  Spekuloos is a spread that looks like peanut butter, but tastes like traditional Belgian gingerbread-cinnamon cookies.  It was named "Best Condiment of 2010" by Time Out NY and has been know to turn any crappy day into a fantastic one.  I personally love spekuloos.  It complements the flavor of the waffle without overpowering it.     
Not in the mood for a sweet treat? No problem.  Wafels & Dinges food truck also serves two savory waffle ideas: their de bacon-syrup wafel with real grade A maple syrup  and BBQ Pulled Pork Wafel!
Wafels & Dinges deserves your business.  The staff is always friendly and the waffles are consistently delicious.  Priced reasonably at approximately $5-$6, New Yorkers just seem a little bit happier and jollier with Wafels & Dinges in hand.  Find Wafels and Dinges locations for the week and their telephone hotline number here.  They have one main truck and one cart that roam throughout the city during the week.  If you like a little more permanence in your life, Wafels & Dinges also has 1 truck at Columbus Circle and 2 in Central Park daily (one by the Great Lawn and one by the Zoo).  I have to admit, whenever my fiance Asheley asks to go for a walk in Central Park while we are in the city, I'll purposely lead us past the Great Lawn and Delacorte Theater so we have to pass Wafels & Dinges.  C'mon, any walk in the park is better with food!  So get out there, have a nice stroll in Central Park, and chow down on a piece of Belgian cuisine.  Try one of the waffles on the menu or create your own!  My waffle of choice?  de Throwdown Wafel.  It's good enough to beat Bobby Flay, so it's good enough for me. 
Have you tried Wafels & Dinges yet?  What's your favorite dinges?  Let me know by commenting below!