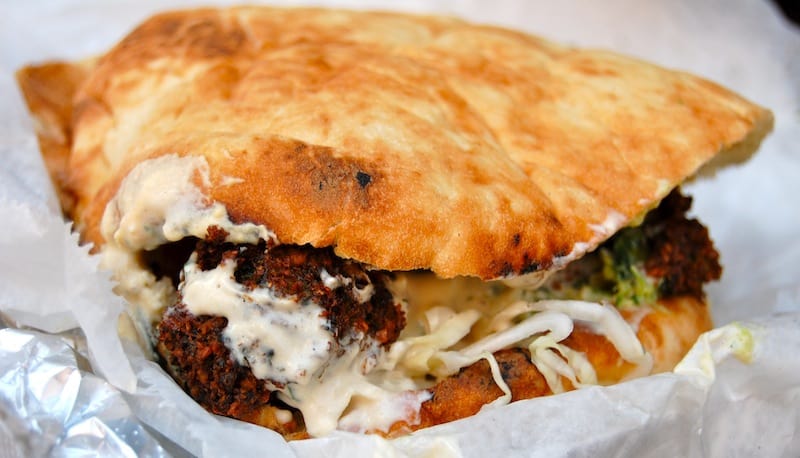 Taïm (Tah-eem) is a place that lives up to its name.  Meaning " highly pleasant to the taste, delicious" in Hebrew, Taïm is home to some of the best falafel in all of NYC.  Falafel, a ball (or patty) of ground chickpeas mixed with various herbs and spices, is nutty, earthy, and deep-fried deliciousness.  It is a dish that has become a staple throughout the Middle East.  With an all-vegetarian menu, Taïm must be doing something right… NY Magazine, Serious Eats, and Village Voice all declared Taïm to have the best falafel in Manhattan.
Taïm Falafel is located at 222 Waverly Place, just steps off 7th Ave and a couple blocks away from amazingly delicious gastropub The Spotted Pig and the overrated Magnolia Bakery (for your cupcake fix, go to Molly's Cupcakes on Bleeker Street instead).  Owned by husband and wife Chef Einat Admony and Stefan Nafziger, the decision to open up Taïm came about as they realized NYC was missing the amazing falafel they were used to eating in their native Tel Aviv.  Creating their take on street food fare with a gourmet twist ended up becoming a winning hit for the pair.  They found instant success with Taïm, and soon gave birth to the eatery's food truck sidekick, Taïm Mobile, which brings the taste of Taïm to the streets of NYC.
The interior at Taïm is quite cozy.  With only 4 stools at window counter and a steady stream of customers packing the house in order to place their orders, I typically find a nice spot on this peaceful, quiet street to enjoy my piping-hot falafel sandwich.
There are three different kinds of falafel at Taïm. The red falafel, made with roasted red peppers,  is quite delicious with just a hint of sweetness from the peppers.  The Harissa falafel, featuring tunisian spices, is good, but probably my least favorite.  The green falafel is the most traditional of the three and is out of this world good!  The parsley, mint, and cilantro gives a burst of bright herbaceous flavor, but the nuttiness of the chickpeas still comes through.
*Attention food lovers with gluten sensitivity:  the falafel at Taïm is gluten-free!
On my first visit to Taïm, I actually ordered the falafel sampler in order to taste each flavor offering:
At only $4 for two of each kind of falafel (6 total), this is a great deal for you to be able to try all the different flavors Taïm offers.  It is served with a side of their Tahini sauce, which is made from ground sesame seeds.
The falafel at Taïm is fried to order, making a perfectly browned crisp crust on the outside without being overly greasy.  The interior manages stays tender, light and moist, which is no easy feat.
The falafel sandwich ($6.25) is pure sandwich wizardry…  hands down one of if not the best falafel sandwich I've ever eaten.  Here's the breakdown: choose either a white or wheat pita, which is then stuffed your choice of one falafel flavor (choose the traditional green!), hummus, pickled cabbage, Israeli salad (chopped tomato, cucumber, and parsley), and tahini sauce.
The pita is fresh tasting and has just the right amount of fluff/chew.  The green falafel, which you read about above, is out of this world.  The Israeli salad is bright and fresh, and the pickled cabbage adds a nice crunch and acidity to the sandwich.   And finally, just the right amount of hummus and tahini sauce adds creaminess and binds the whole sandwich together.
Make Time for Taïm.  It's so worth it.
I'll leave you with this picture, which captures my friend Tyler sitting on a stoop next to Taïm enjoying his amazing falafel bliss.