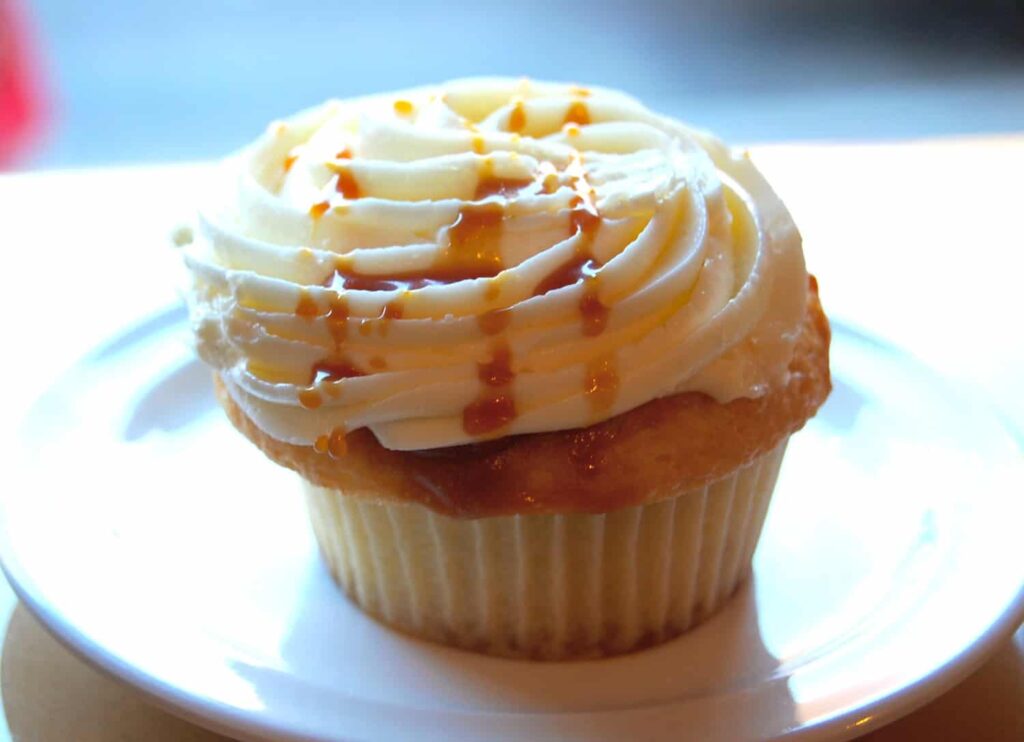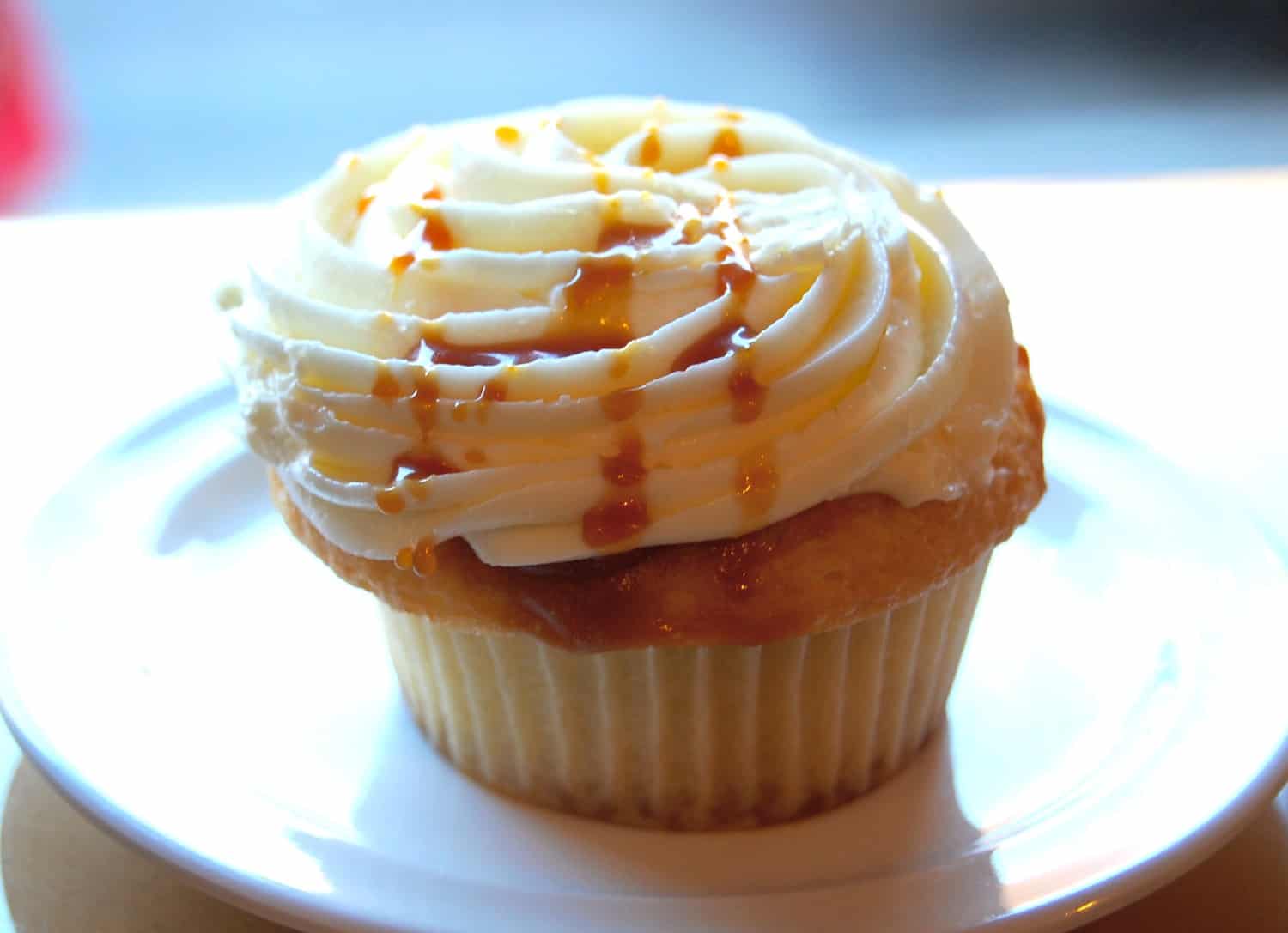 Almost every single place where I choose to eat  in NYC has either been recommended to me by a fellow food lover or was heavily researched by yours truly.  There is good reason for that... I want to find and eat the best the city has to offer!  However, every now and again comes along a chance meeting, fate you may call it, where some unexplainable force in the universe attracts me to someplace new as I'm traveling around NYC.  This was one of those times, and I actually have my amazing soon-to-be wife to thank for it.
Asheley and I were cruising around Greenwich Village checking out some awesome eats at Dos Toros Taqueria, Faicco's Pork Store, and Artichoke Basille's Pizzeria, when we stumbled upon the bright yellow storefront of Molly's Cupcakes.  Asheley stopped in her tracks laughing at the clever sign hanging in the window:
"Unattended children will be given an espresso and a free puppy"
My eyes immediately focused on the adjacent sign in the window declaring that Molly's Cupcakes won an episode of the show Cupcake Wars on Food Network.  Being a sucker for sweets, we had to step inside, and what a magical place we found...
Cupcakes seem to have exploded all over the place in recent years and frankly, I'm usually disappointed by the ones I eat.  Bland, dry cake...  overly sugary globs of  icing... a disproportionate amount of cake to icing ratio... all things that lead me to my typical cupcake blues.  It was pretty safe to say I was skeptical of this Molly's place at first, but as soon as I took one bite, I fell in cupcake love.
Molly's Cupcakes, which owner Johnny Nicolaides named in honor of his 3rd grade teacher who used to bake all the children in her class cupcakes on their birthdays,  is simply amazing.  The cupcakes always taste super-fresh, are made with high-quality ingredients, and the flavor combinations are exciting, whimsical, and fun.
Located across from Father Demo Square and just steps from 6th Avenue on Bleeker Street, Molly's Cupcakes bright yellow storefront is hard to miss.  As you walk in, you are immediately hit with a whimsical, playful design, meant to bring out that inner kid from within all of us.  There is ample seating with scattered tables, a window counter-top, and most fun of all, a line of swings at the coffee/tea bar.
On a typical weekend when Asheley and I visit, we see a smattering of clientele:  families with kids (who are kept busy with classic communal games, provided by Molly's), friends meeting up for a quick cup of coffee and cupcake, Starbucks-esque persons sitting quietly typing away on their laptops, and a steady stream of customers lined up getting a box of cupcakes to-go.
Oh, the cupcakes.  I've yet to eat one I haven't enjoyed, although I definitely have my favorites.  They have a mainstay menu of cupcake choices, but you can also choose the fun "bring you back to your childhood" make-your-own cupcake option.  Pick from your choice of cupcake, frosting, and cupcake toppings, then head over to drown your cupcake with the plethora of free sprinkles if you so choose.  And hey all you vegans out there, yup... there are cupcakes here for you too.
At Molly's, the cake is always moist and fluffy, not dry and dense like some other places out there.  Equally important, there is always a good ratio of cake to filling to frosting, so you are ensured that every bite will be a good one.  And one more big plus: although definitely a dessert, Molly's cupcakes aren't overly sugary, so you don't feel like you are going to enter a sugar coma after taking one bite.
The first time I walked up to the counter and saw all those glorious cupcakes staring at me, I quickly got excited... then overwhelmed with the impossible decision of having to pick just one!  I get the same feeling stepping up to the plate at Doughnut Plant, where every option is so delicious it's ridiculously hard to pick!  I resorted to asking the lady behind the counter what she would recommend.  She was pretty excited about the Peach Cobbler Cupcake, which was the concoction they used to win the episode of Cupcake Wars on Food Network.
My eyes lit up in cupcake bliss as I savored each morsel of this unbelievable concoction: moist vanilla cake with fresh and fragrant peach cobbler filling, topped with a delicate crumby crust of brown sugar streusel, and a tower of light and fluffy homemade whipped cream, all garnished with a fresh peach slice and a sprinkle of cinnamon.  Just look at this cross-section of the cupcake.  It's beautiful!
Of course our visits to Molly's became quite frequent after our successful first visit.  Asheley and I  pretty much make it a point to stop here every time we are in the Greenwich Village area.
On one of our recent visits, we tried the Salted Caramel Butterscotch Cupcake.  If you are a fan of a salty-sweet flavor combo, this is for you:
Vanilla cake is filled with a gooey butterscotch caramel pudding and topped with salted vanilla buttercream and caramel drizzle.  Some critics of this cupcake feel like the salty flavor should be housed in the butterscotch/caramel filling and the caramel filling on top instead of the buttercream.  Although their suggestions are valid, I think this cupcake is still super delicious as is.
One of Molly's Cupcakes best selling cupcakes, for good reason, is the famous Ron Bennington Cupcake.  Named after the comedian who apparently has such a love for cupcakes that there is one named after him, this chocolate - peanut butter - butterscotch concoction is outstanding.  It features chocolate cake with peanut butter filling, topped with a rich chocolate ganache and crushed butterscotch topping.
Now, call me weird, but I'm typically not a fan of chocolate paired with peanut butter (sorry Peanut Butter Cups, you are not for me).   However, this cupcake has made me a believer that chocolate and PB can live in beautiful gastronomic harmony.  The peanut butter is not overpowering.  Instead, it complements and enhances the chocolate cake and ganache, with the butterscotch topping adding some crunchy texture.
Sometimes when Asheley and I hit Molly's, our stomachs are already beyond full... but we just can't say no to their cupcakes!  Luckily, these little cute mini-cupcakes were just the right size:
Exact shrunken down replicas of their full-size counterparts (about ⅓ or  ¼ as big), the mini cupcakes are a bit expensive at about $2 each.  If you are looking for the best value of your dollar these days, the full-size ($3.75) is definitely the way to go.  And let's face it, after taking one bite of these cupcakes, you are going to want to eat a full-size one anyway.
You already know all about the Ron Bennington, but the Boston Cream Cupcake also deserves your attention: classic vanilla cake, chocolate ganache, and vanilla pastry cream filling.  I'll admit it, I was not afforded the opportunity to try any of the Boston Cream Cupcake you see in these pictures.  Asheley wasn't sharing... it was that good.  I literally had to restrain her for a couple moments just so I could take these pictures!
Next time you are in the Greenwich area... heck, the next time you are remotely close to NYC, make sure to stop down to Molly's and grab a cupcake.  A word to the wise, eat your cupcakes the same day.  They are made fresh and should be eaten fresh.  Oh, and remember what the sign says: don't leave your children unattended 🙂
You may want to also check out...
The Top 10 Foods You Have To Eat In NYC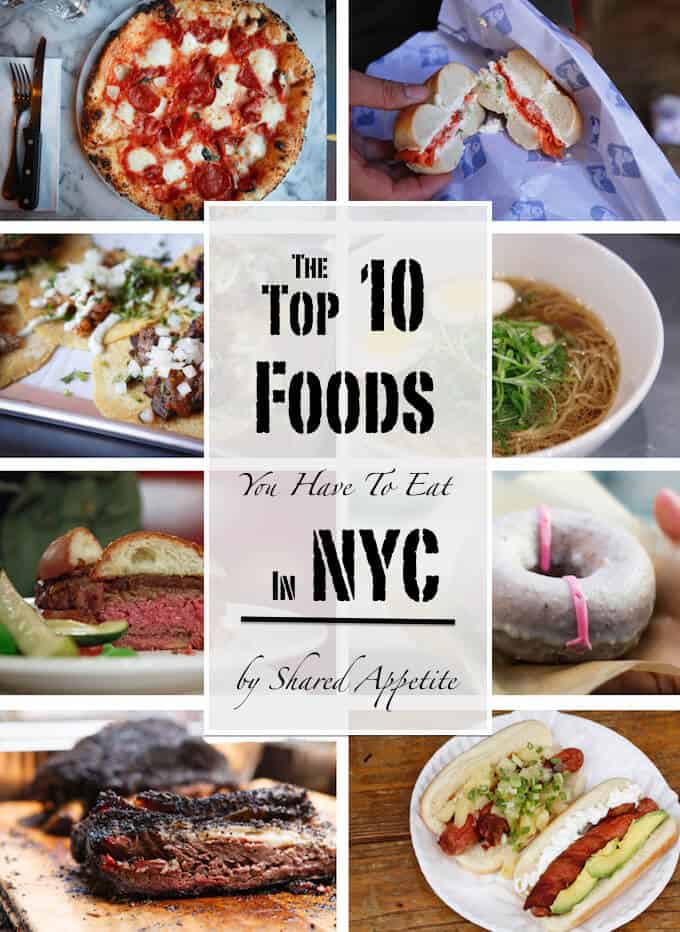 The 10 Best Ice Cream and Frozen Treats in NYC