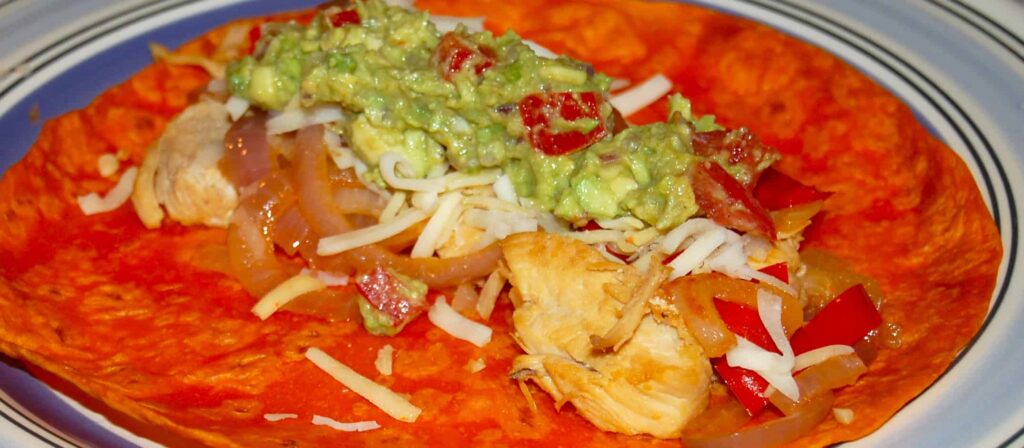 I love Mexican food.  I love to eat it.  I love to cook it.  It's the type of food that  just makes me completely and utterly happy… comfort food if you will (add in some margaritas for extra comfort).  My appetite for Mexican food actually derives from my mother.  Growing up, she used to make a super awesome chicken fajita, one that got everyone in the family running for the dinner table (even my picky "I don't eat anything" father).  Her chicken marinade was delicious, simple, and fresh.  As much as I've tried to replicate it over the years (even with her giving me the recipe), it's just not the same.  Part of the nostalgia of mom's cooking I guess.
Fajitas still excite me to this day.  I love cooking everything up and putting it out on the table family-style for D.I.Y. fajita assembly.  It makes eating fun, casual, and enjoyable.
These fajitas are especially easy to whip up during a busy work week, when you are exhausted from the day but don't want to sacrifice the quality of dinner.  There is no marinating involved, which is convenient for last-minute fajita cravings or "Oh crap, what's for dinner" moments.  This recipe is also perfect for a casual dinner party.  When I have guests over, I typically add in some appetizers: Queso with Blistered Goat Cheese topped with a Poblano Vinaigrette (recipe coming soon) and of course The Best Guacamole.  As a side dish, I tend to go with my secret bean weapon: Home-Cooked Frijoles Charros (Cowboy Beans).
The following recipe for the garlic-lime chicken has been slightly adapted from Mexican Everyday, a cookbook written by the super-awesome award-winning chef/restaurateur Rick Bayless.  The simplicity of ingredients is what makes it so good:  cook the chicken, and then in the same pot saute up some garlic, add fresh lime juice, which then reduces and transforms itself into a perfect, fresh glaze for the chicken.
Cut both ends off of one large red onion in half, cut in half and remove the papery skin.  Then, make approximately 1/8′-1/4″' slices.  For the 2 red bell peppers, remove the seeds and veins and cut into bite size pieces (about 1" in length).
Heat about 1 tbl. of canola or vegetable oil in a large saute/fry/skillet pan over medium/medium-low heat.  Once hot, add the peppers and onions.
Stir the peppers and onions occasionally, until they look cooked and golden brown but still a little crunch to them, about 7 minutes.
Meanwhile, heat 1-2 tbl. vegetable or canola oil in a dutch oven or other large saute pan over medium heat.  Make sure oil is spread evenly on the bottom of the pan.  Remove chicken from refrigerator and give it a generous sprinkling of salt and a little freshly ground black pepper.
Once the oil is hot, add the boneless, skinless chicken breast.  Let cook for about 5-7 minutes, until the bottom forms a nice golden brown crust.  If the chicken seems stuck to the pan, give it a little more time.  It will release from the pan when cooked.
Cooking the chicken in a pan like this creates an irresistible golden-brown exterior crust on the chicken, while keeping the inside nice and moist.
Flip the chicken over and continue to let cook until done, about 5-7 minutes (depending upon the thickness of the chicken).  Remove from pan and let rest for a couple of minutes.
Add in chopped garlic from 3 garlic cloves and cook for 1 minute, stirring constantly to make sure it doesn't burn.  Then add in the juice of  4 – 6 limes (depending upon how juicy they are… to get the most juice out of your limes, roll them on the counter using medium pressure before cutting them open), stirring constantly until it reduces to a thicker glaze consistency.
Cut chicken into strips* and throw back into the pan for just a second in order to coat it with that garlic-lime glaze.
*hopefully the chicken is cooked through for you at this point.  Once in a blue moon if I have really thick breasts it comes out a little underdone… here's an easy fix: when you put chicken back into pan to coat it with the garlic-lime glaze, continue to cook it for a minute or two until it's done.  Of course you will lose a bit of the moisture in the chicken by doing this, but I'd rather have cooked chicken 🙂
While the chicken is cooking, wrap your tortillas (2 – 3 per person)  in some aluminum foil and stick in a 275-300° oven.  By the time the chicken is done, your tortillas will be nice and hot.  I like the Trader Joe's Habanero-Lime Flour Tortillas a whole lot for my fajitas, but you can use any flour or even whole-wheat/grain tortilla.
Assembly time!  Here's what I do: thin layer of sour cream at the bottom, top with chicken, then onions and peppers.  Top with cheese (sharp cheddar and/or pepper jack) and finish with freshly made The Best Guacamole.
Wrap it up and there it is: one awesome chicken fajita!
Print
Garlic-Lime Chicken Fajitas
---
Description
A perfect fajita for busy weeknight dinners, this delicious recipe features no marinating and the fresh simple flavors of a garlic-lime glaze. Just don't forget the guacamole 🙂
---
For the Chicken
2

to

4

– boneless, skinless chicken breasts

3

– cloves garlic, finely chopped

4

to

6

– limes, juiced

1

to

2

tbl. canola or vegetable oil
Kosher Salt
Freshly Ground Black Pepper
For the Vegetables
1

– large red onion, sliced into approximate 1/8" – 1/4" inch slices

2

– red bell peppers, sliced into bite-size pieces

1

tbl. canola or vegetable oil
Kosher Salt
Flour Tortillas (figure on 2-3 per person)
Sharp Cheddar or Pepper Jack Cheese, shredded
Sour Cream
---
Instructions
In a dutch oven (or skillet), heat approximately 1-2 tbl. of oil over medium heat. Season the chicken breasts liberally/generously with kosher salt and freshly ground black pepper. When the oil is hot, carefully place in the chicken. The oil should crackle quite a bit on first contact with the chicken. Let the chicken cook until golden brown, about 5-7 minutes. Using tongs flip the chicken (If the chicken does not release from the pan, it's not ready yet and needs a little more time). Cook on the other side until done, about 5-7 minutes (but depends on the thickness of your chicken). Remove from pot and let the chicken rest for a couple of minutes, then cut into 1/4-inch strips. Hopefully it is completely cooked through. If not, that's okay… you can cook it some more in the next step if needed.
To the pot where the chicken was cooked, add the garlic and cook, stirring constantly and avoid burning, about 1 minute. Add the juice of 4-6 limes (tip: roll the lime back and forth on the counter with your hand using medium pressure. This will help it release more of its juices). Let the juice cook briefly and stir constantly until it starts to reduce to a syrupy glaze. Briefly add chicken back to pot and stir just so the glaze coats the chicken. If the chicken needs any more cook time, now's the time to get it cooked. Since it is sliced at this point, any additional cooking will be brief (1-2 minutes).
Meanwhile, while chicken is cooking, heat approximately 1 tbl. of oil in another fry pan/skillet over medium/medium-low heat. Once hot, add the peppers and onions, season with salt and stir occasionally. Cook until they are slightly golden but still have a little crunch to them, about 5-7 minutes.