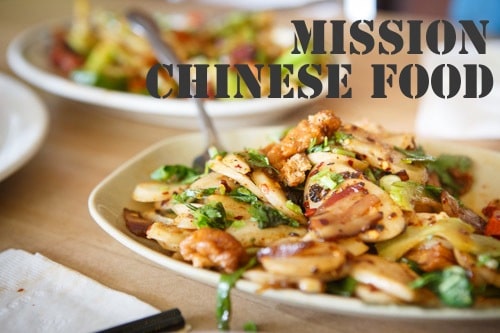 If you don't have the time to read this entire post, let me show you my hand early. Here it is. Go to Mission Chinese Food immediately. There's one in San Francisco and one in New York. Pick one. It's amazing. Go now.
Now for the long version...
I know, I know. We have an outpost of Mission Chinese Food right here in New York's Lower East Side. And I can't believe we haven't been yet (although we did get to experience Chef Danny Bowien's amazing food a bit at a food event in Brooklyn last year). But since we were in San Francisco, the birthplace of where it all began, it only made sense to start there. Right?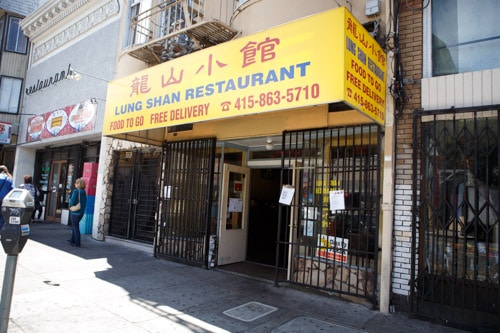 Lung Shan Restaurant. An old-school Chinese restaurant and unlikely entrance way for the trendy and (although used way to much these days and dare I say), hipster, Mission Chinese Food.
Korean-born, American-raised Chef Danny Bowien had the crazy idea (that should have probably failed from the start) to create a pop-up restaurant with a cuisine he's never cooked before within another person's restaurant (and then never change the sign once he permanently took over the dining space). But that, it seems, is what he does best. Screwy brilliance, really.
Both the 2013 James Beard and the 2013 Food & Wine Best New Chef, Chef Danny Bowien is wildly good at making up hallucinogenic dishes that taste unbelievably good. Authentic? Definitely not. But one bite, and you won't even care.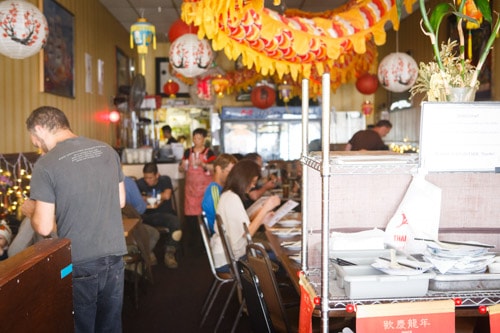 I know that with their cult following, getting a table can often times mean a very long wait at the walk-in only restaurant, but getting a table at lunch time was like taking candy from a sleeping baby.
The service is spotty at best. The tired-looking dining room has minimal decor (a gross overstatement, although various paper lanterns and a giant dragon dangle from the drop ceiling). But that's all part of Mission Chinese Food's charm.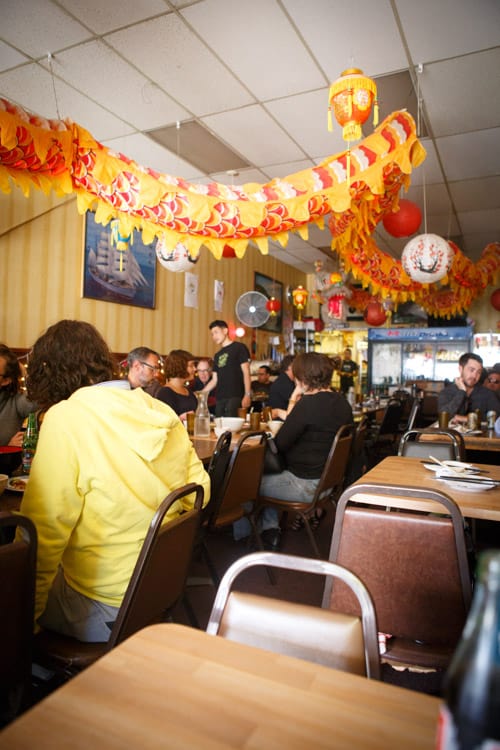 I wish we could have eaten the whole menu. Everything looked phenomenal. But we just had Mama's for breakfast and a big dinner at Flour + Water in our near future. So three items would have to suffice (and it was more than plenty for the two of us and then some).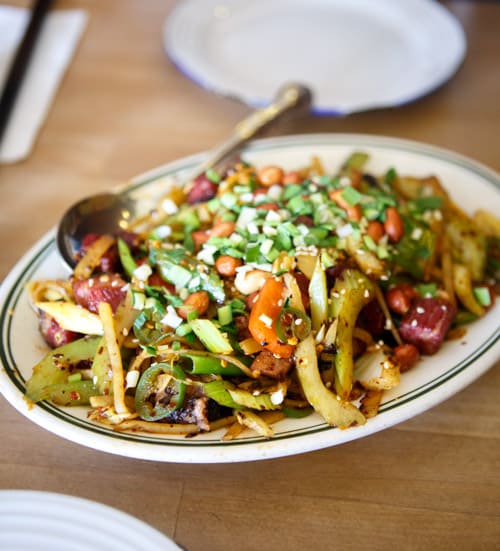 Kung Pao Pastrami with Peanuts, Celery, Potato, and Chili ($12)
Apparently the pastrami is made in house. Even if it's not, I don't really care. It was awesome... so full of flavor. And a shocking secret: I didn't even think I liked pastrami all that much! And even if you don't eat meat, there is plenty of vegetation to make you happy. The dish has a good amount of heat, but not overbearing at all.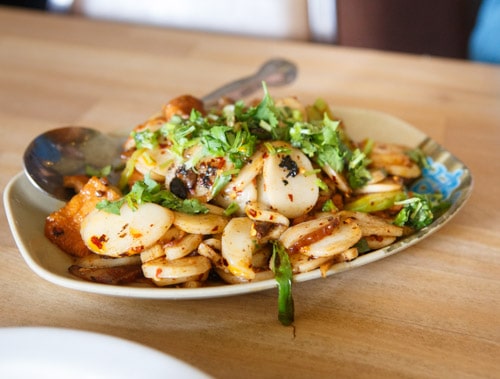 Thrice Cooked Bacon and Rice Cakes with Sweet Tofu Skin, Bitter Melon and Szechuan Pepper ($12)
Thrice cooked? Yea I asked the waiter what that was about. The bacon is smoked (the perfect amount, might I add), then rendered, and then cooked once more when ordered.
And as crazy as this is going to sound, the suprising star of this dish for me was those addicting little bundles of light, fluffy, and chewy delight. Those rice cakes. How? What? I don't even understand the greatness...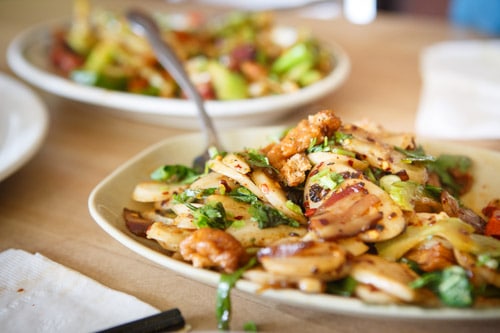 Side note: I wish Mission Chinese Food delivered to my house. Sigh. But good news for those of you who live in San Francisco, since they apparently will deliver to pretty much anywhere in the city.
Another side note: I need to get to the one in NYC. Although funny enough, when Asheley and I had the chance to talk with Chef Chris Cosentino at his restaurant a few nights later, he mentioned how the one in NYC is so crazy popular right now, even he can't get a table (and he's friends with Danny Bowien). True story. You heard it here first.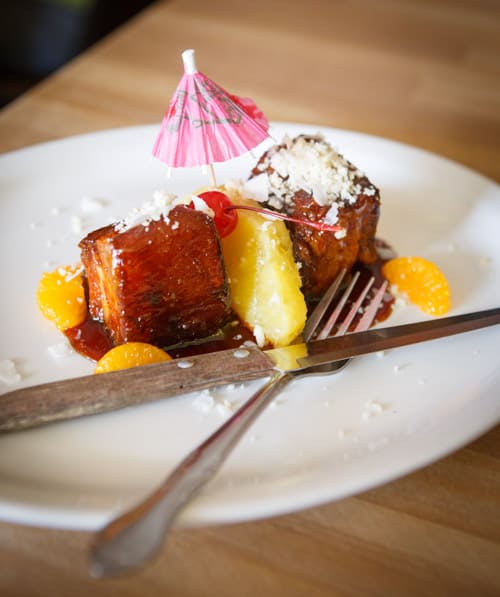 Tiki Pork Belly with Soy Caramel, Mandarin Orange, Pickled Pineapple, Shaved Coconut, and Macadamia Nuts ($10)
As ridiculously cheesy as the dish looks (c'mon, the little umbrella is precious, isn't it?), it's flavor is anything but. Some might find the plate a bit on the sweet side, but I'm all about the sweet. The belly had a good ratio of meat to fat, and had a perfectly crispy exterior.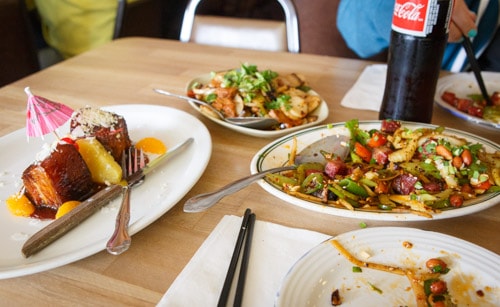 Look at that table of food. 3 full plates of food. Enough to feed three for sure, maybe even four. And how much will it set you back? $32. No, that's not per person. That's total. I'm almost certain they could be charging close to double and the line would still be out the door. But that's not Chef Danny Bowien's style. And I thank him for that.
And the people at Mission Chinese Food are good guys that care about the community. They donate $.75 from every entree to the San Francisco Food Bank (and the NYC location donates to a local food bank as well). That's added up to about a combined $250K to date. That's a lot of wildly inauthentic, bodaciously delicious chinese food. Go get yours right now.
Mission Chinese Food (a.k.a. Lung Shan Restaurant) 2234 Mission St
San Francisco, CA 94110
(Mission District) 415-863-2800 Note: closed Wednesday
You May Also Want To Check Out...
The Top 12 Foods You Have To Eat in San Francisco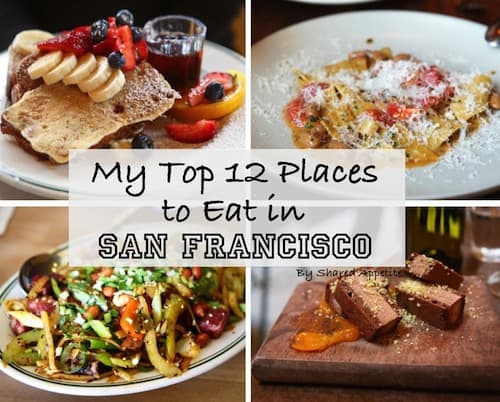 The Top 10 Foods You Have To Eat in NYC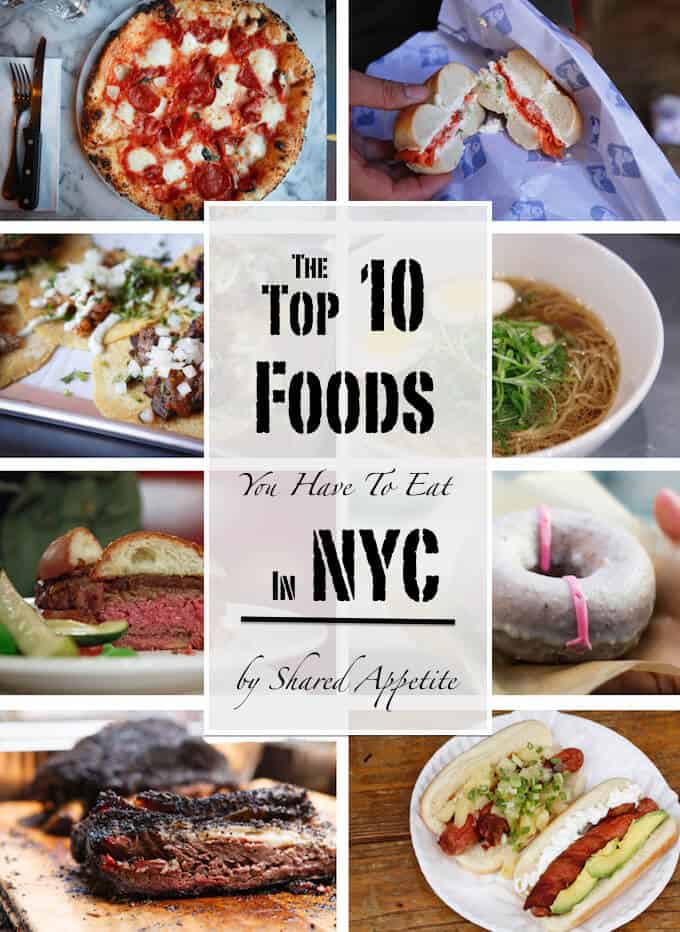 The Top 10 Food You Have To Eat in Paris