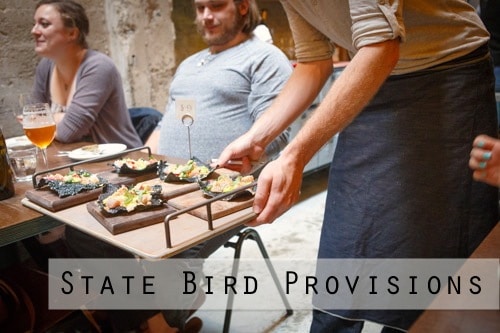 By this point, you know I'm a planner. Type A all the way. I used to deny it. Hide it. Try to suppress it. But the past few years, I've been happily embracing it. And you know what, it kind of comes in handy when planning a vacation. Needless to say, one of the tables I wanted to score the most during our time in San Francisco was State Bird Provisions.
Just named the 2013 Best New Restaurant by the James Beard Foundation, along with a slew of other awards and recognition, getting a seat at State Bird Provisions is a hot commodity right now. Luckily with that trusty Type A planning, securing a reservation two months prior was a big win. Asheley, you're welcome.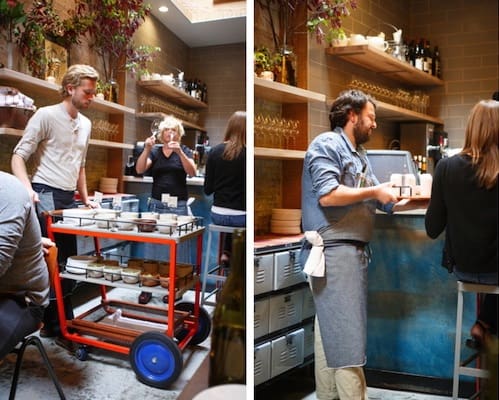 There are restaurants out there that exclusively serve small plates (tapas, if you will), and those that offer a massively long tasting menu made up of tiny bites. But none quite captures the spirit and energy that comes from choosing your food off of constantly roaming carts and trays.
It's pretty much the Chinese dim-sum experience, sans the Chinese food. The dishes are far-out, wildly creative, and possibly not of this world.
Welcome to State Bird Provisions, the wacky and inventive brainchild of husband-wife team Chef Stuart Brioza and Pastry Chef Nicole Krasinski.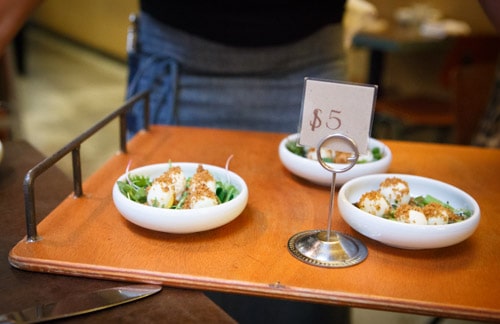 Let me tell you why I absolutely adore this dining concept. I love variety when eating. Small plates is totally up my alley. But then add in the surprise factor as you're squirming in your seat trying to guess what's passing by your table next, it's pure bliss.
It's simple. Order the food that looks and sounds good, pass on the ones that's not catching your eye.
But let me just warn you: these people are smart. They know that almost all the food is going to catch your eye. With a stream of small plates that keeps you in an almost non-stop eating state, pace yourself people. Pace yourself.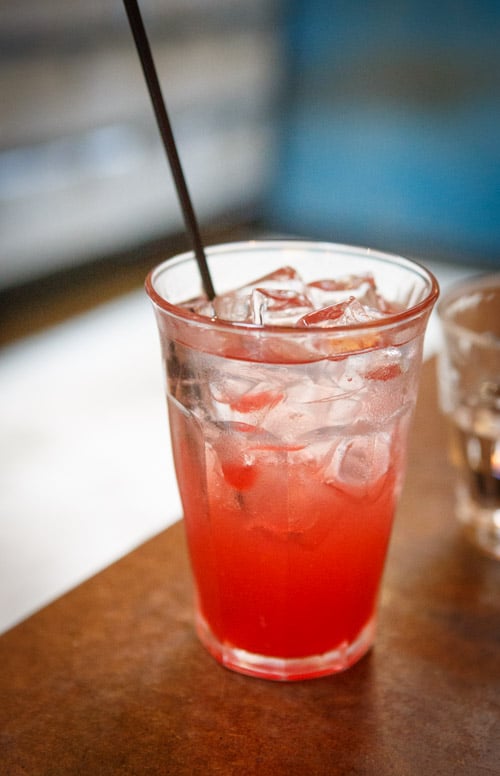 The house-made sodas were on point, and for only $3 a pop, they're pretty much a steal. The Rose Meyer Lemon Soda was enjoyable, albeit a bit too rose-y for me. The winner and standout, however, was the superb Spiced Cherry-Verjus Soda. Dynamite. I may have downed a few of those bad boys.
Onto some food:
The provisions change daily (and are typically between $5-10 a piece), but here's a look at the ones that stopped by our table to say hello:
Curried Scallops with Cucumber, Avocado Mousse, Puffed Crunchy Quinoa
Asheley was a big fan of this dish. How did they know she's a sucker for cucumber and avocado? The puffed crunchy quinoa was a really nice textural element. Good stuff.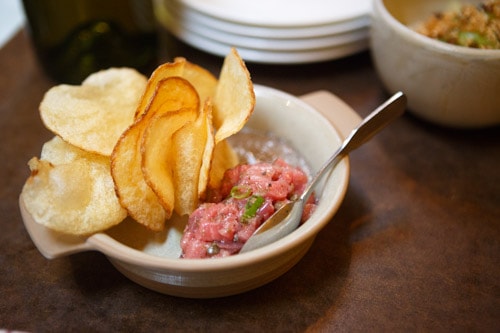 Beef Tartare, Potato Chips, Black Trumpet Ranch
This was beyond excellent and definitely one of my favorites of the entire evening. The black trumpet ranch sauce was super unique and really, how can you go wrong with potato chips and a good beef tartare?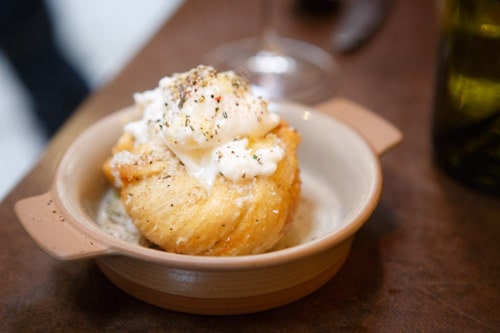 Garlic Bread with Burrata and Seven Spice
This was very good, although in hindsight I regret filling up on this when I was too full to enjoy a bunch of the more creative provisions wafting past our table later in the evening.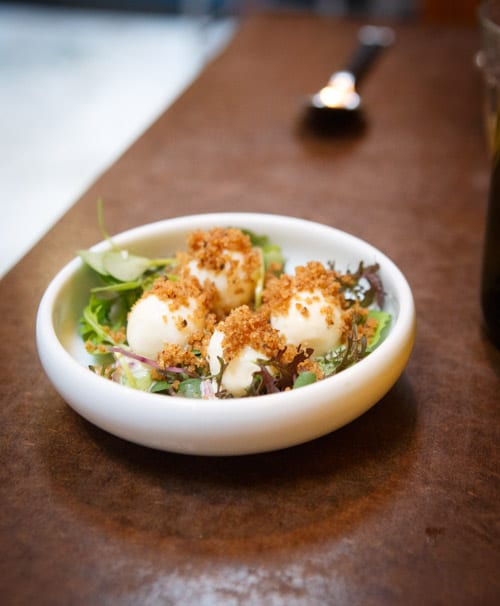 Caesar Salad with Quail Eggs
Asheley was all over this dish. She is a sucker for caesar salad like I'm a sucker for corn (more on that later). It was a good salad, although I personally would have preferred the Quail Eggs to have a runny yolk instead of being hard-boiled.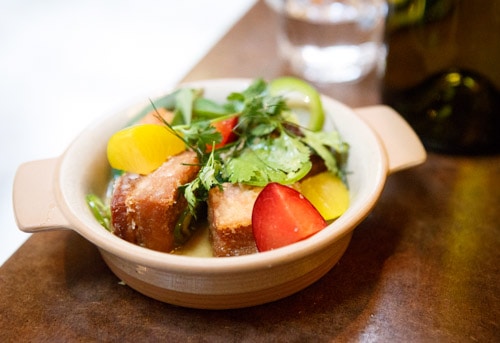 Crispy Pork Belly Salad with Plums
This was my favorite savory course. It was beyond excellent. The pork belly was wonderfully crispy and had a good amount of succulent meat on them (I'm not a fan of almost-all-fat pork belly) and the plums were an excellent bright and fresh counterpart. The bit of jalapeño in the dish also brought that hint of heat to the party.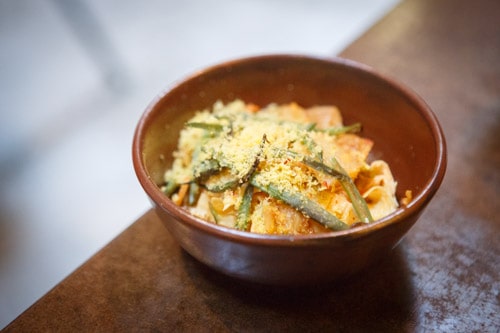 Spicy Kimchi Yuba with Smoked Egg "Bottarga"
This was a bit of a miss for me. The tofu-skin-morphed-into-pappardelle had a weird texture. Really weird actually. A creative dish, nonetheless.
Onto some mainstays on the menu, called Commendables: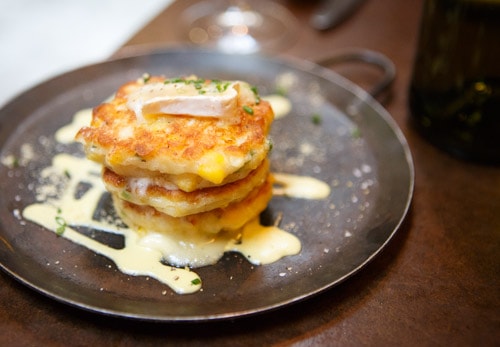 Sweet Corn and Mt. Tam Pancake
I told you I was a sucker for corn. I'll pretty much always order a dish on the menu if the world corn is associated with it. It's my kryptonite.
Mt. Tam, for those wondering (since I was), is a kind of soft cheese.
Overall, the short stack was good with a lot of corn flavor, but was a very one-note dish.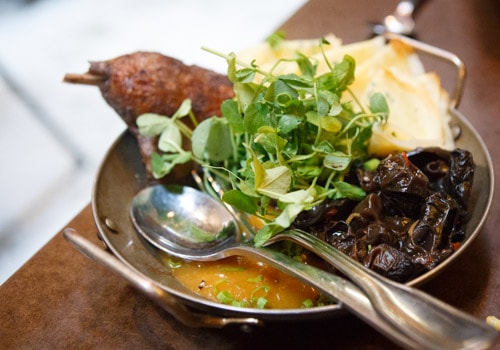 Peking Duck with Cloud Ears, Crepes, and Plum Sauce
This dish had some good, some forgettable, and some ugly. The spiced confit leg of duck was quite tender, moist, and succulent. Mixed with the plum sauce, it strangely reminded me of pork chops and applesauce. No idea why. It just did.
The crepes were forgettable at best, and the cloud ears were just plain creepy. It had an insanely weird texture and was a tad off-putting.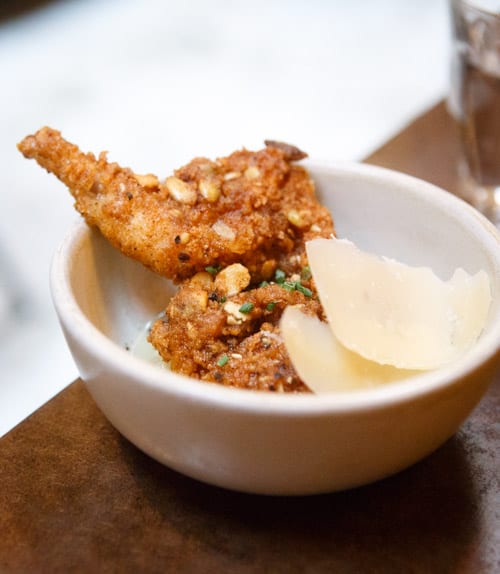 CA Statebird with Provisions
Although quail doesn't really have a lot of meat on it, the crispy coating was perfection. I'm not really sure what creamy substance was coating the bottom of the bowl, but it was freaking delicious.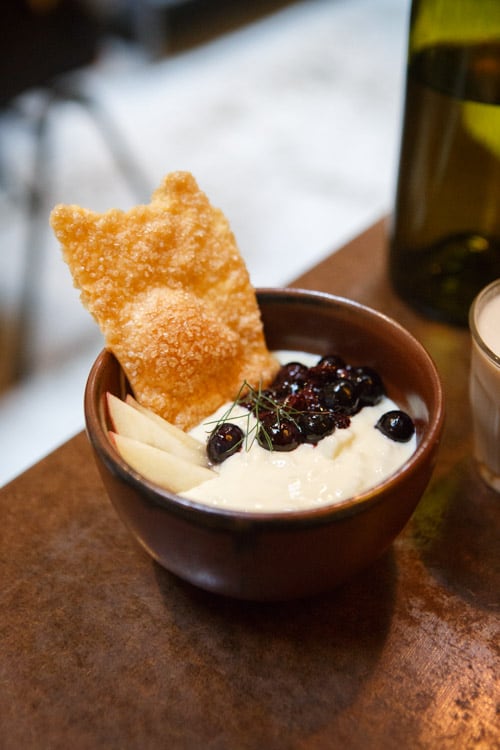 Onto some desserts, shall we? Asheley wanted to share one. We're on vacation. There will be none of this sharing nonsense.
Peach Leaf Rice Pudding, Blueberries, and Peaches
This was a very light dessert with not a whole lot of sweetness outside of the fresh fruit. A lot of people are into that sort of dessert. Personally, I could dip my head into a vat of pure sugar and it wouldn't be too sweet. I appreciated the delicateness of it, though.
The rice pudding was one of the thinnest in texture I've ever had and had a very faint reminder of peach throughout. The macerated blueberries were outstanding with the pudding and that shard of fried pastry was legit.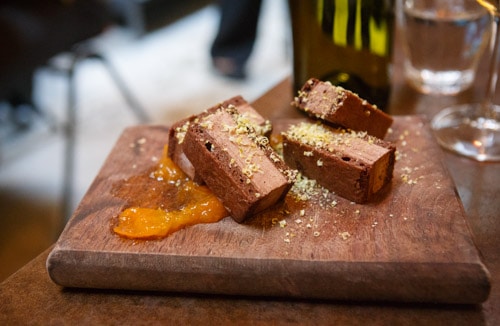 Chocolate "Ice Cream" Sandwich, Apricot Confiture, Pistachios
This was amazing in every sense of the word. We thought chocolate and apricot would be awkward at best, but it was beyond a doubt a match made in heaven. It literally made the entire dish.
I asked why ice cream was in quotations and our server informed us that it has pretty much the same ingredients as ice cream but made with a different process. She said it was closer to a frozen sabayon. I'm not really sure what that means, but it tasted like extra creamy ice cream. The end.
Some final thoughts...
All in all, State Bird Provisions is a pretty decent value. We ate quite a lot of food and the total bill (with a glass of wine for Asheley and a few sodas for me) was $140.
In order to score a reservation, you need to book precisely 2 months out through their website (early in the morning to be safe). A day later and the reservations will be gone. If you can't score a table that way, just show up to the restaurant early. They reserve about a third of the restaurant for walk-ins and apparently people start to line up about an hour prior to opening.
State Bird Provisions has a really cool thing going. It's the only restaurant I know that's doing what they are doing. When we met celebrity chef Chris Cosentino a few days later at his restaurant and we got talking about San Francisco dining, he said he was a big fan of State Bird Provisions as well. That's enough to give it a try, isn't it?
State Bird Provisions 1529 Fillmore Street San Francisco, CA 94115 415-795-1272
You May Also Want To Check Out...
The Top 12 Foods You Have To Eat in San Francisco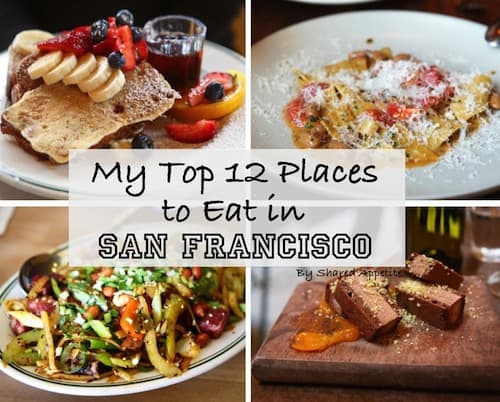 The Top 10 Foods You Have To Eat in NYC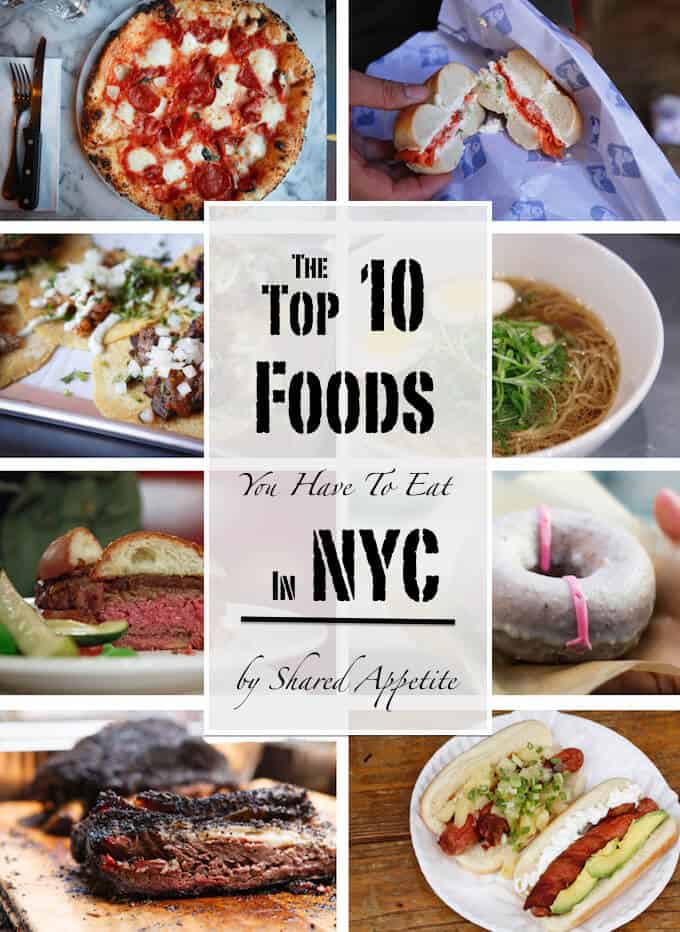 The Top 10 Food You Have To Eat in Paris