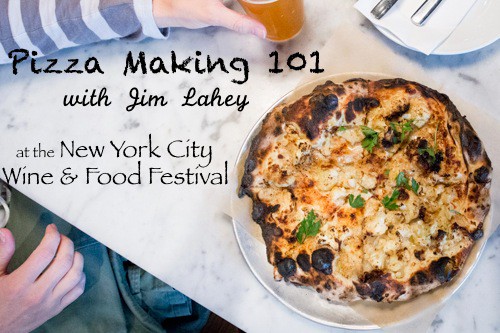 A photo recap of the New York City Wine and Food Festival's Pizza Making 101 with Jim Lahey, featuring his revolutionary no-knead dough recipe.
First off, can we agree to call the New York City Wine and Food Festival "NYCWFF" from here on out. My fingers and wrists thank you. So every year I look forward to the day when the schedule of events is released for the annual NYCWFF. It's totally like Christmas morning. So many classes, talks, seminars, and tasting events... what to choose, what to choose?!
It's kind of overwhelming for someone who wants to go to pretty much every event.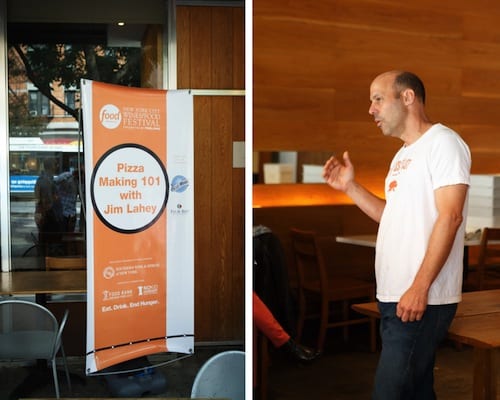 And if I had my way, we'd go to every single event. It would be glorious.... until the bill arrived. Luckily I married a beautiful and intelligent woman who is our voice of reason and the person that keeps my mindless spending in check. But we do make it a point to attend two events at the NYCWFF every year. Typically, we pick one intimate event such as a seminar or a cooking class like last year's Get Pickled with Geoffrey Zakarian, and then one more extravagant tasting event, like this one with all the Iron Chefs or this year's Sunday Slices pizza tasting.
When I saw that Jim Lahey was offering a pizza making class this year, I jumped at the opportunity. His no-knead dough recipe is pretty darn spectacular, and Tyler, who is just a wee-bit obsessed with pizza making and wood-fired ovens at this current point in his life, would probably give up a kidney to attend.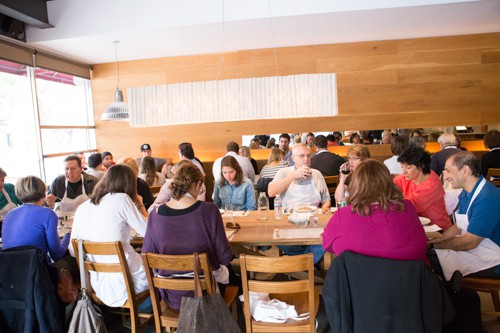 So off the three of us went (Tyler, my Asheley, and I... his Ashley preferred a quiet day of relaxation at home), one big happy NYCWFF couple. The class was held at Jim Lahey's Co, his pizza restaurant in Chelsea located right next door to his popular Sullivan Street Bakery.
With just about 30 or so of us at the class, it made for a pretty fun, intimate, and candid afternoon together.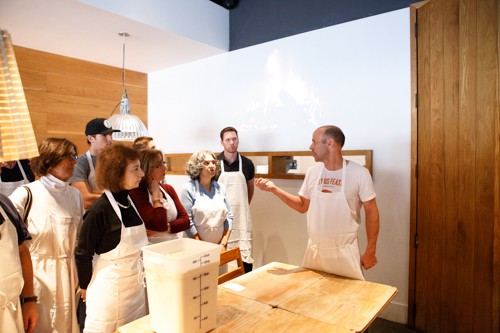 Jim Lahey has some stories, man. And he's not afraid of sharing his opinions, either. He pretty much says whatever comes to his mind, although with his PR guy there, maybe there was a little bit of coarse filtering of words. Not much though, not much at all.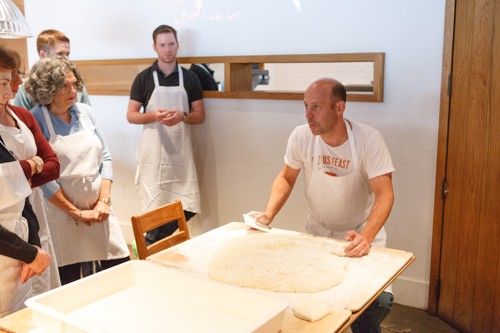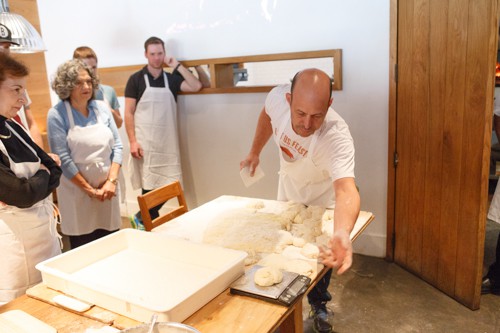 The class started with a talk and demonstration of his no-knead dough recipe. He also showed his lightning-fast ninja dough-portioning skills. He didn't even need the scale. He just brought it out to show how close he could get to the ideal weight just by using his eye.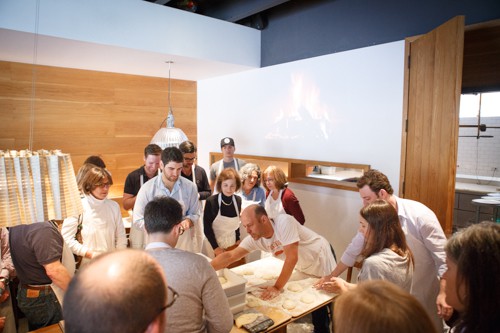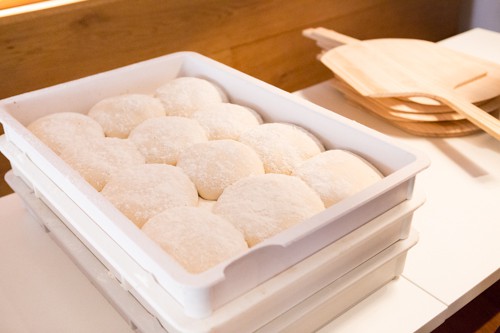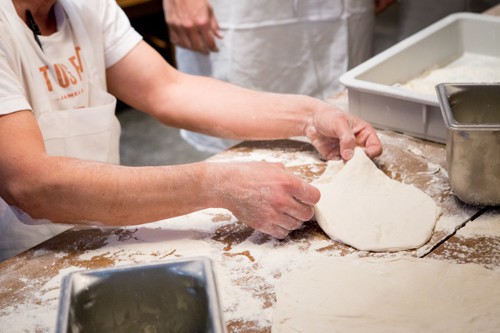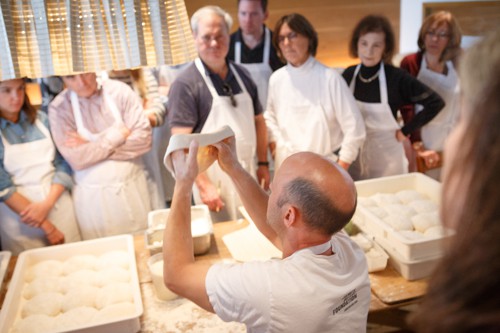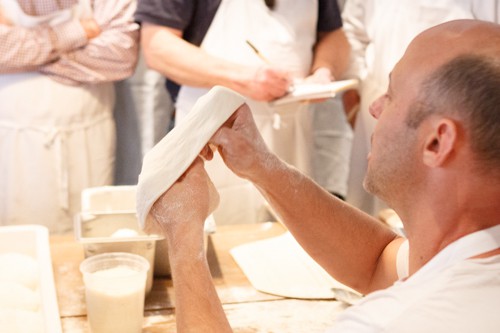 After a detailed demonstration and talk about all things dough (and how people are currently trying to pretty much steal and take credit for his no-knead method), Jim Lahey unleashed us upon the floury globs to make our own pizzas.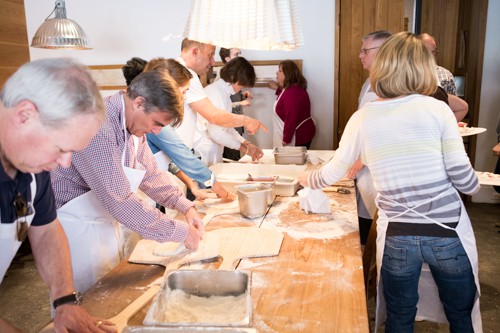 That's Asheley on the right with her her back turned to us. She had a blast making (and moreso, eating) her pizza.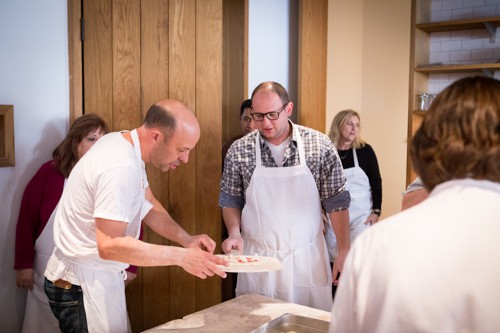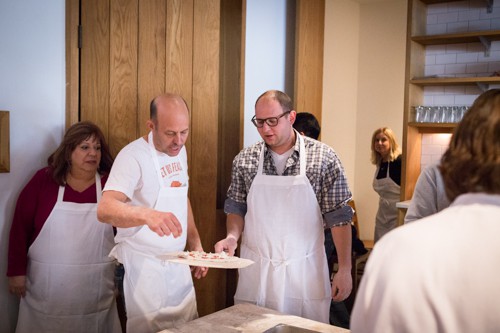 And who's that handsome guy standing next to Jim Lahey? Oh, you know him. That's Tyler, getting some insider advice from one wood-fired pizza oven lover to another.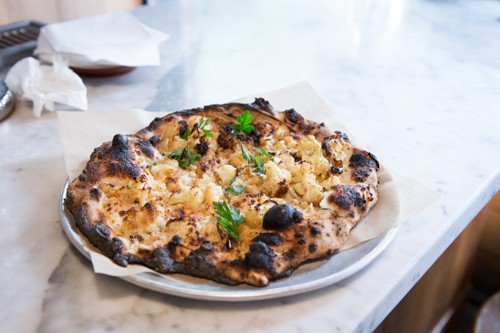 This wasn't the pizza I actually made. Jim Lahey brought out some of his favorite house pies at the restaurant. This cauliflower one was pretty good. Look at that beautiful char on the crust.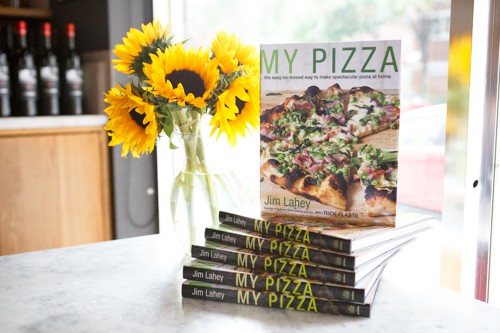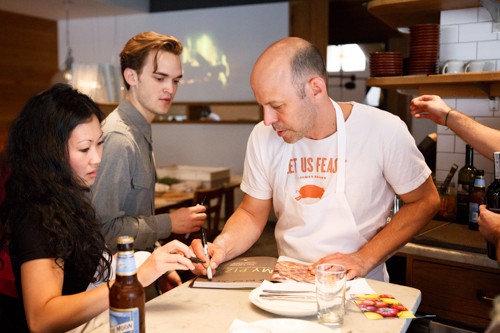 And Jim Lahey was nice enough to sign his cookbook, My Pizza, for all those who decided to make the purchase. Apparently there are a couple mistakes in the book as well, which he was quick to point out and correct for everyone. I wish I brought my book from home for him to fix!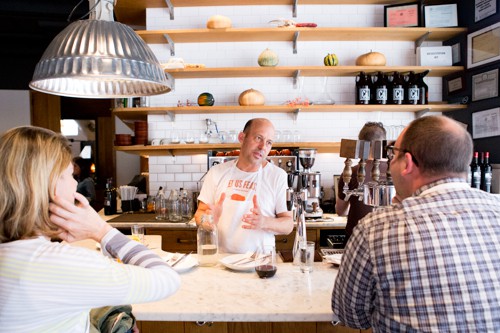 Tyler even got some private Q & A time with the chef. It was pretty cool how down to earth Jim Lahey was.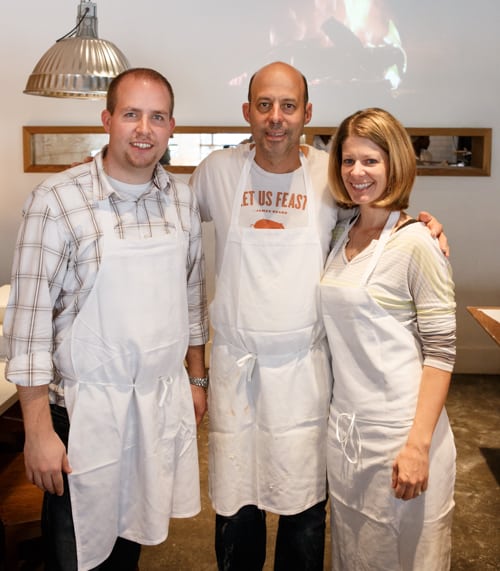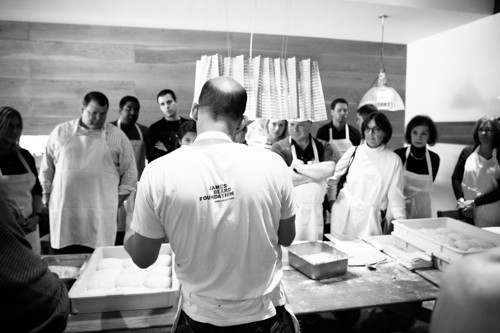 I love the NYCWFF. It's a lot of fun. The tasting events are a blast. But for me, these cooking classes are where it's at. You get to hang out with a chef and really learn from them. Get inside their heads. Ask questions. And, in my opinion, these types of classes are really a much better value than the tasting events. You get more bang for your buck.
If you are interested in Jim Lahey's book, My Pizza, you can check it out here
.
Co.
230 9th Ave (between 24th St & 25th St) New York, NY 10001
(Chelsea) 212-243-1105