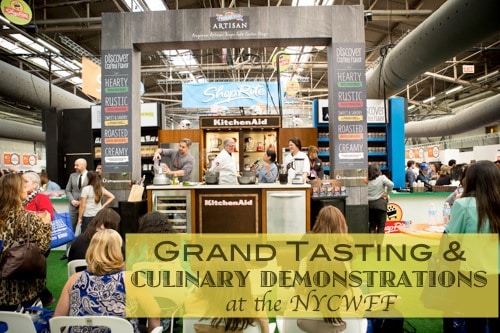 The people on over at the New York City Wine and Food Festival were nice enough to grant Shared Appetite (i.e. me) access to their annual signature event, the Grand Tasting and Culinary Demonstrations. Big thanks to you, NYCWFF.
As you already know, Asheley and I are big fans of the festival. We go every year to two events, typically one smaller more intimate cooking class or seminar, and then a big tasting event like this one or this one. They are always a lot of fun and we consider it money well spent. Some people spend their hard-earned dollars of fashion or gadgets, others on their children and other responsible stuff, and us, well, it's typically food-related.
I've been wanting to check out what this gigantic Grand Tasting & Culinary Demonstration event was all about for a couple of years now. It always sounded like a bunch of fun. Lots of food vendors, both local and national, handing out samples of their products, as well as a full day of cooking demos and book signings by a long list of celebrity chefs. All-day, all-inclusive. Sounds great, right?
Well let's take a look around, shall we?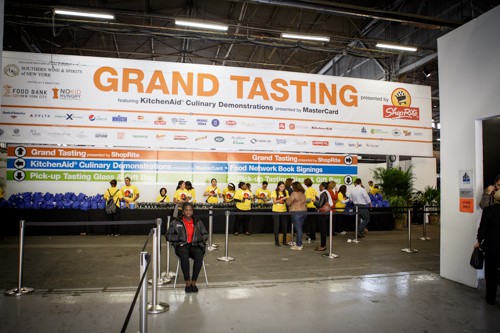 Pier 94 on Manhattan's not-quite-upper–but-getting-there west side was home to this year's Grand Tasting. In years past it had been at a pier more downtown closer to Chelsea Market, home to Food Network Studios.
Walking into Pier 94, you are greeted by a barrage of blue bags being handed out to guests, as well as the all important wine glass on a lanyard (more on that later). The blue bags are full of promotional food goodies from all those sponsors wanting to earn your business. Side note for next year… I wonder if it's possible to grab a blue bag at the end of the Grand Tasting instead of the beginning. The thing got heavy on your shoulder as you're trying to get all cozy with your food and wine glass.
The best I could explain to what you experience next would probaly be equal to what a child feels when they walk into an arcade. No, amusement park. No, Magic Kingdom at Disney World. Yea, that's more like it. Magic. Kingdom.
Food as far as the eyes can see. Clinging of (full) wine glasses. It was a feeling of overwhelmed excitement. What do I try first? Where should I start?! Should I take a quick walk around to get my bearings first or just dive in?! What should I do?!?!!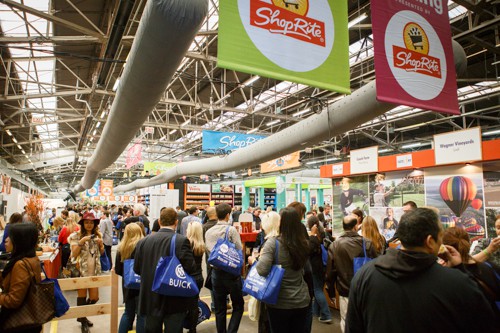 I wasn't joking. The place is ginormous!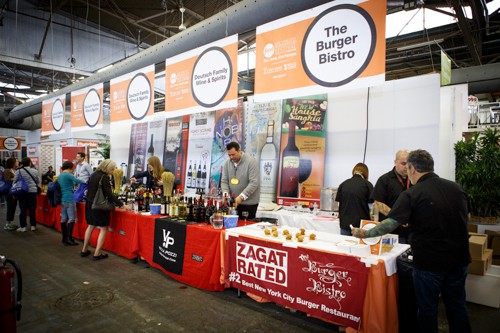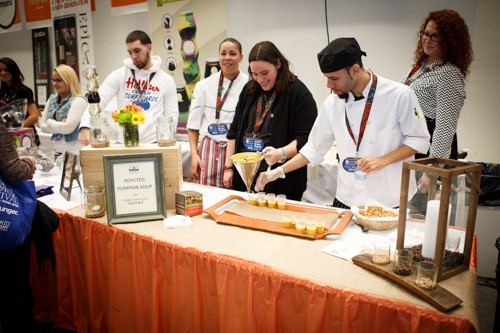 There was a big range of different vendors at the event. Many were national suppliers trying to peddle their products. I have to be honest. I wasn't too interested in them. I see you on the grocery store shelves every day guys. I was more intrigued by the stuff I don't see everyday. The artisan. The local. The bites from restaurants in the area.
Here are some of the little food tidbits I grabbed while I was there. A small note. If I would have known the incredible size of this event, I would have planned to spend more than 2 hours here. You could seriously spend all day here and still not get to everything. See, just like Magic Kingdom. The place is freaking huge!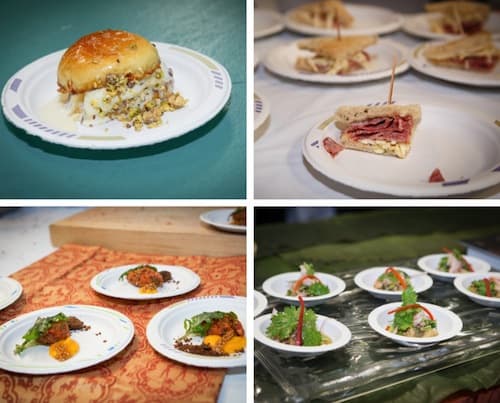 Upper Left: Pistachio Honey Ricotta Ice Cream on a Butter Toasted Brioche with Crushed Toffee, Pistachios, and Black Pepper. This was definitely the best sweet at the event, offered up by Keith Schroeder of High Road Craft Ice Cream in Georgia. Lucky for us, as Keith told me when I spoke with him briefly at the event, he's working on expanding his business to NYC soon, and you can already enjoy his ice cream in several Whole Foods and other stores in the area.
Upper Right: Some sort of Braised Tongue sandwich.
Lower Left: Smoked Fillet Mignon Tartar with Butternut Squash Moustarda, Oranic Baby Kale, and Pumpernickel from Chef Michael Vignola at Strip House.
Lower Right: I literally have no idea what that was. I completely forgot. But let's use our imaginations and make something up instead.
Upper Left: Osso Bucco Burger from The Burger Bistro. It was good, but forgettable.
Upper Right: Pumpkin Ice Cream from Blue Marble. I'm not really a big fan of pumpkin, so ehhh.
Lower Left: Cured Ocean Trout with Golden Beet Yogurt, Crispy Black Bread, and Pickled Beets from Chef Owen Clark at Gwynett St. It was great and Gwynett St. restaurant is actually on my list to get to soon. I've heard great things.
Lower Right: Tuna Tartar with Avocado and Soy-Lime Dressing by BLT Restaurants ESquared Hospitatlity, whatever that means.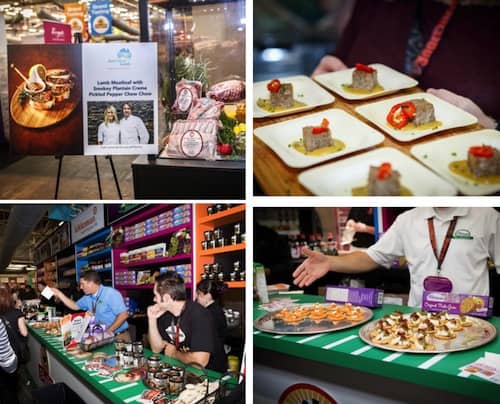 The major players in the food industry were also on hand. Since I was running low on time, had to save some stomach room for the upcoming Sunday Slices pizza tasting event, and quite frankly, wasn't really interested in products I see everyday, I skipped all of their booths.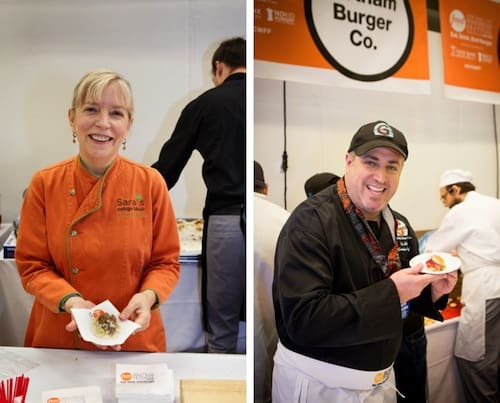 Remember Sara Moulton? She had a show on Food Network at one point, didn't she? She was on hand at some booth serving up these little mini duck tacos. The tacos themselves were boring, but Sara Moulton was super nice and friendly with everyone.
I have no idea who this other guy is, but he's holding up one of my favorite savory dishes from the Grand Tasting. Here it is up close…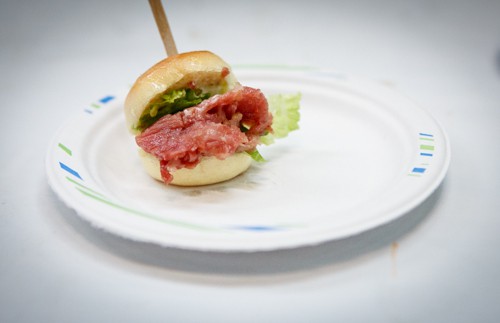 It's the Gothan Burger Co. BFLT Bites, with Applewood Smoked and Maple Glazed Beef Fry (what even is beef fry?) served with House Roasted Garlic Mayo on Ciabatta with Lettuce and Tomato. Quite the tasty little bite, and from the constant crowds surrounding his table, it seems other people liked it as well.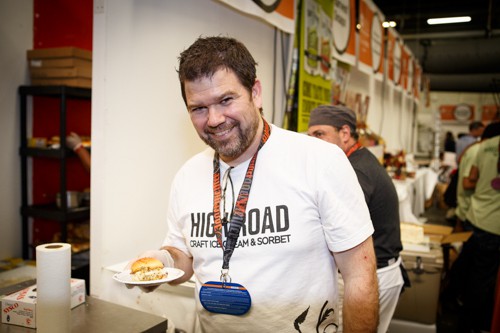 Anyone else listen to Alton Brown's new podcast? It's pretty awesome and you should totally start downloading it. One of his guests a couple months back was Keith Schroeder, founder of High Road Craft Ice Cream. Apparently Alton Brown is a big fan of the stuff, and even went so far as to say it's his favorite ice cream.
I put that into my memory banks but kind of forgot all about it, since High Road Craft Ice Cream is a local company… in Atlanta, Georgia. But then I saw this gigantic crowd around a table, trying to get there hands on what looked like mini ice cream sandwiches. And then I read the sign, "High Road Craft Ice Cream". Could it be true? Keith Schroeder, here in NY, with his ice cream?!

Since I was on official Shared Appetite duty, I didn't take full advantage of the superfluous amounts of free wine and liquor being poured at the event. There was literally at least a 100 different wine and spirit vendors, all with multiple varietals being offered. You could seriously spend all day just enjoying wine tasting after wine tasting. Not a bad way to spend a day at all, right?
Remember I told you about those wine glasses they hand out at the beginning of the event. They are pretty crafty. You put the lanyard around your neck, and it holds the wine glass for you, hands free. That's a pretty cool contraption, if you ask me.
Anyway, one beverage I did try and absolutely loved was that chocolate liquor from Dorda, shown above. It was delicious.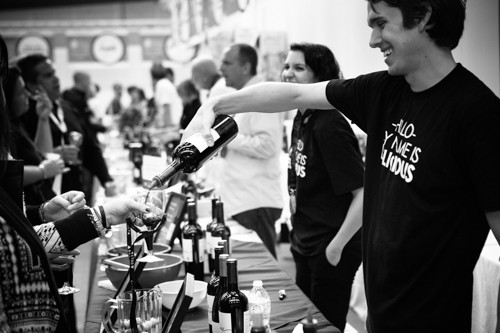 If you need a break from all that eating and drinking, there is a constant stream of cooking demonstrations scattered throughout the day by various celebrity chefs. There was a little informal stage set up admist all the food and wine tastings…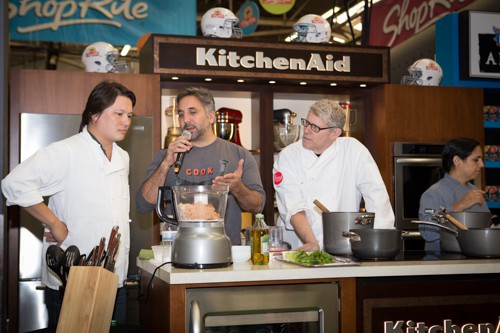 Recognize any of those guys? The man with the mic is probably one of my new favorite chefs, considering I was recently blown away (twice) by his East Village restaurant, Hearth. He was also a contestant and runner up on one of those The Next Iron Chef competitions, although he was sporting a ponytail back then. Yup, it's Chef Marco Canora. The man is crazy talented.
The two pearly-white dressed lads were the MCs for the demo and are from the very popular food blog, Serious Eats: Kenji Lopez-Alt of "The Food Lab" and creator/all-around-boss Ed Levine.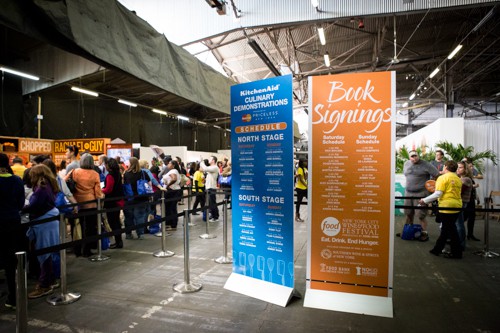 On the other side of the gigantic warehouse-pier-hanger thingy were both main cooking deomos. Sponsored by KitchenAid, the culinary demonstrations had scheduled celebrity talent running all day long simultaneously on their two stages, followed immediately by the chance to meet them up in person at a book signing. You could seriously sit there all day long and just watch as one celebrity chef after another cooked live, right in front of you. Pretty cool stuff.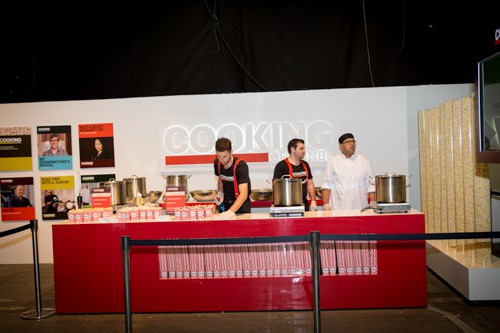 Cooking Channel had a big display set up and were handing out free popcorn. Who doesn't love popcorn, including Chef Scott Conant, who I spotted and chatted briefly with. He was super awesome and was gracious enough to take a photo with me. Head over to my instagram to see our two handsome faces, and him holding a bag of said popcorn.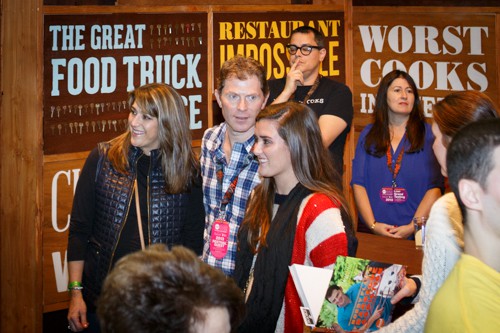 Right next door to the cooking channel setup was the book signing area. It just so happened I spotted this guy signing books at the time. I swear I know him from somewhere. I wish I could remember his name… it's on the tip of my tongue.
I'm kidding, I know it's Bobby Flay.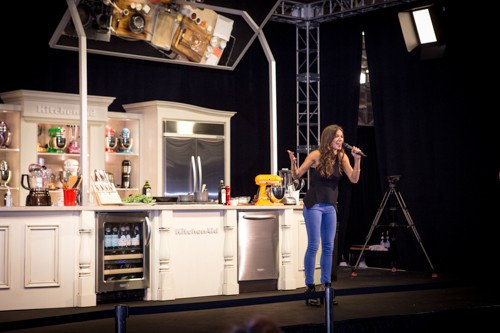 Our friend Ashley (Tyler's wife) is obsessed with this chick Eden Grinshpan from Cooking Channel's Eden Eats. I personally have never heard of her, but she was just rambling on and on about her earlier in the day and who is the first person I see on stage when I walk up?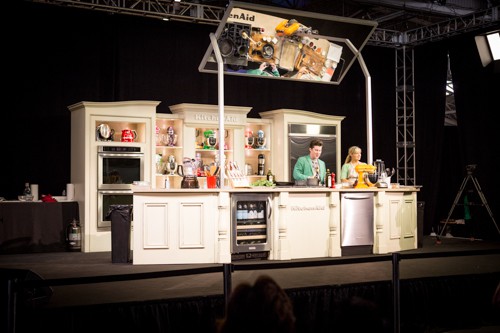 She was there to introduce these two food personalities and winners of the last 2 seasons of Food Network Star… Justin Warner and Damaris Phillips. I kind of felt bad because they did not have a huge turn-out and a lot of seats were empty. I wonder why… what's going on at the other stage?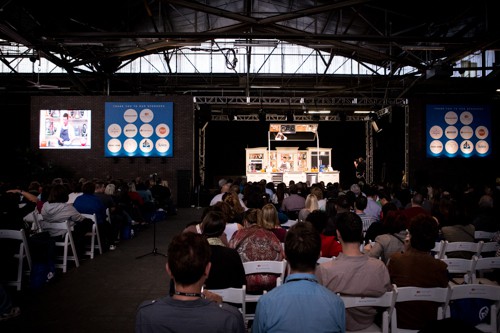 Oh wow, this one was packed. Who is that guy up there?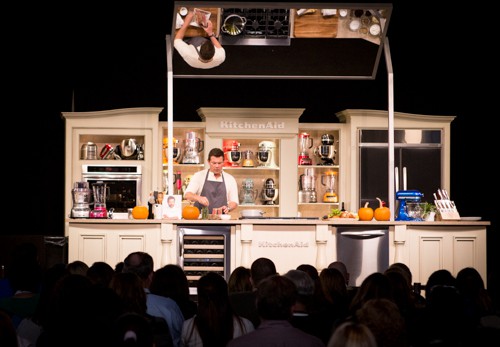 Oh wow, hi Tyler Florence. By the way, how cool is that mirror? I want to install that in my kitchen so friends and family can watch my every move as I prepare meals.
So there you have it, a little peak inside the biggest, craziest event at the NYCWFF. It was pretty epic.