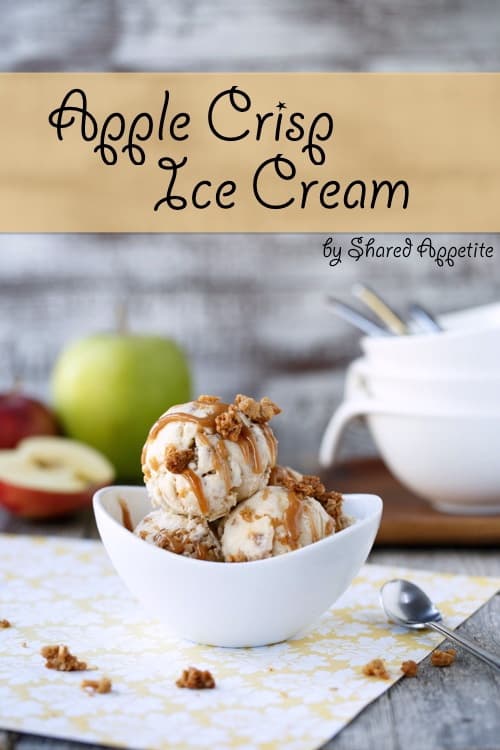 My favorite fall dessert gets a makeover with this Apple Crisp Ice Cream recipe. Apple Crisp with Ice Cream? Delicious. Turning Apple Crisp into Ice Cream?! It just may be my favorite creation yet.
There was a time in my life (pretty much from birth through my early 20s) where I was a strong proponent of the fact that any dessert containing fruit could not be classified as a dessert. It was a snack. No matter how much sugar or chocolate it contained or how bad it was for me, if fruit was involved, I called it a snack. Who knows why. I was weird back then.
I pretty much refused to eat anything with fruit in it at dessert time. I was a pretty annoying kid. But then one day I decided to finally try my mom's apple crisp. It was nothing overly unique. In fact I think she uses the recipe from her old beat up Betty Crocker cookbook. But at that moment, my life changed forever. Apple Crisp. Where were you all my life?!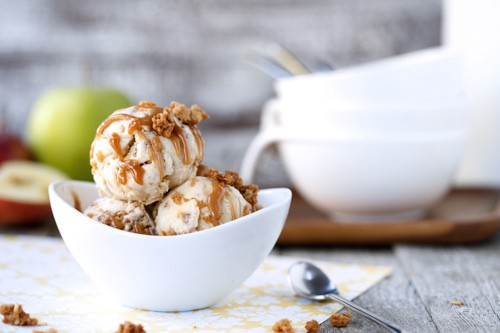 And since that moment, apple crisp has always been, and probably forever will be, my absolute favorite fall dessert. And you know what? I like apple crisp even more than apple pie. That's right, I said it. And it's the truth. Crisps, in my mind, are so much better than pies.
Now before all you crazy pie fans start chasing after me with pitchforks and lighted torches, let me explain.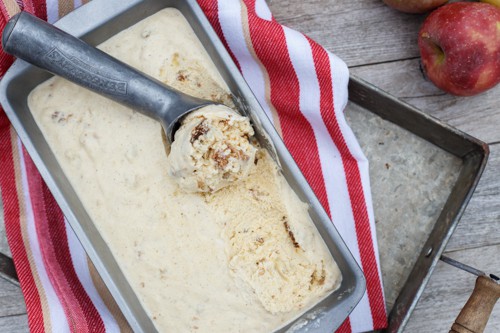 Don't get me wrong. I like pie. I enjoy pie. My Aunt Maz makes a mean apple pie. It's great and I couldn't imagine holiday dinners without it. And if anyone ever serves me apple pie, I'll happily eat it. Really now, do I look like a type of guy that says no to pie? My belt, holding on to the 3rd hole from the end for dear life, proves it.
But here's where the crisp totally trumps the pie:
1) Crisps are like a billion times easier to make. No annoying pesky pie crusts to deal with. Just slice up some apples, mix together a quick crumb topping, and bake. It's way less fussy.
2) I actually like the taste of the buttery, brown sugar oat crisp more than pie crust. Call me crazy. I just find it texturally more interesting and a whole lot more flavorful.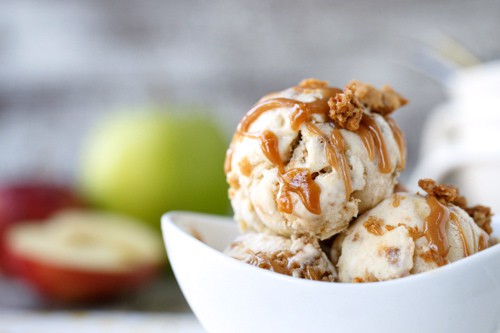 My last round of apple crisp making, I had this crazy light bulb moment. It was the same kind of moment like when I decided to make Pad Thai with Spaghetti Squash. Except a whole lot less healthy.
I love apple crisp. I love ice cream. What a minute... what if...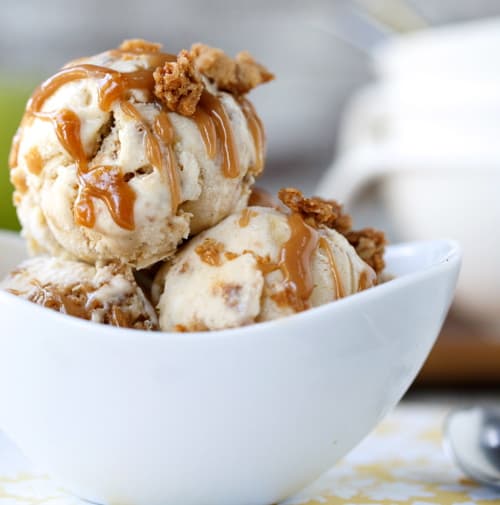 A word about this ice cream. It is insanely good right out of the ice cream maker. It's like apple crisp ice cream soft serve. It's the perfect creamy consistency. Of course you could go ahead and throw your ice cream in the freezer if you plan on serving it later on.
But here's the deal with that. This ice cream freezes pretty hard. Before serving, it'll need some time to thaw out a bit. Once it does though, it's time to go crazy, cover it with gooey caramel and bits of that oat crisp topping, and dig in.
Print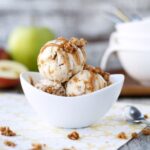 Apple Crisp Ice Cream
---
Yield:

About

1 Quart

of Ice Cream

1

x
for the Custard Base
1 ¾ cups

heavy cream

1 cup

whole milk

½ cup

sugar

1

vanilla bean

1

cinnamon stick
Pinch Kosher salt

6

egg yolks

¾ teaspoon

vanilla extract
for the Apples
2

Granny Smith apples, peeled, cored, and thinly sliced

1

Honey Crisp apple (or other similar variety), peeled, cored, and thinly sliced

3 tablespoons

brown sugar

1 tablespoon

unsalted butter, softened

1 tablespoon

flour

½ teaspoon

cinnamon
for the Oat Crisp Topping
4 tablespoons

unsalted butter, softened

¾ cup

old fashioned rolled oats

6

tabelspoons light brown sugar

4 tablespoons

flour
Dash cinnamon
---
Instructions
for the Apples
Combine brown sugar, butter, flour, and cinnamon in a small mixing bowl. Add in apples and briefly mix to coat. Place in an oven-safe dish, cover with foil, and bake in a preheated 400°F oven for 30-40 minutes, until apples are fork tender. Let cool completely, then puree in a food processor. Refrigerate until ready to churn ice cream. Can be made up to 3 days in advance.
for the Oat Crisp Topping
Combine all ingredients using your hand in a small mixing bowl until coarse crumbs form. If mixture is too wet, add a little bit of flour. Spread out crumbs in a single layer on an aluminum foil lined baking sheet and bake in a preheated 350°F oven for 10 minutes. Remove from oven, break apart any big crumbs and give it a quick stir, and return to oven for about 7 minutes more, until the crumbs are golden brown. The crumbs will still feel soft but will harden as they cool. Once cooled, oat crisp can be refrigerated for up to 3 days.
for the Custard Base
In a large saucepan over medium heat, combine 1 cup of the heavy cream, whole milk, sugar, cinnamon stick, and a pinch of Kosher salt. Halve vanilla bean and scrape the seeds into the milk mixture and add the bean as well. Bring mixture to a scald (just under when it starts to bubble), stirring occasionally, being careful to not curdle the cream. Remove pan from heat, cover, and let mixture steep for about 30 minutes.
Towards the end of that 30 minutes, in a separate medium bowl, whisk together the egg yolks.
Remove the vanilla bean and cinnamon stick from the cream mixture. Slowly add the cream mixture into the bowl with the egg yolks, whisking constantly to avoid eggs from scrambling. Once eggs are fully incorporated, pour mixture back into the saucepan.
Cook custard over medium/medium low heat, stirring constantly, until it thickens to a consistency that coats the back of a spoon. When you run your finger across the spoon, it should leave a definite trail. If using a thermometer (which I always do), aim for 170°F-175°F.
Meanwhile, add remaining ¾ cup of heavy cream and vanilla extract to a large bowl with a mesh strainer set on top. Strain the ice cream mixture into the bowl and stir. Immediately place bowl over an ice bath, stirring constantly to cool the mixture quickly.
Refrigerate ice cream base until very cold, preferably at least 1 day and up to 3 days.
When ready to churn your ice cream, combine the pureed apple mixture with your custard base. Pour ice cream custard into an ice cream maker and churn according to the manufacturer's directions. During the last few minutes of churning, add ¾ of the crisp topping. Once churning is completed, either serve immediately (it will be the consistency of soft serve) or transfer ice cream to a container and freeze until ready to serve.
*Ice cream will freeze pretty hard, so plan on thawing it a bit before serving.
Scoop ice cream into bowls and top with caramel sauce (store-bought or make your own) and a few bits of the oat crisp topping.