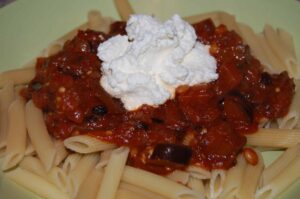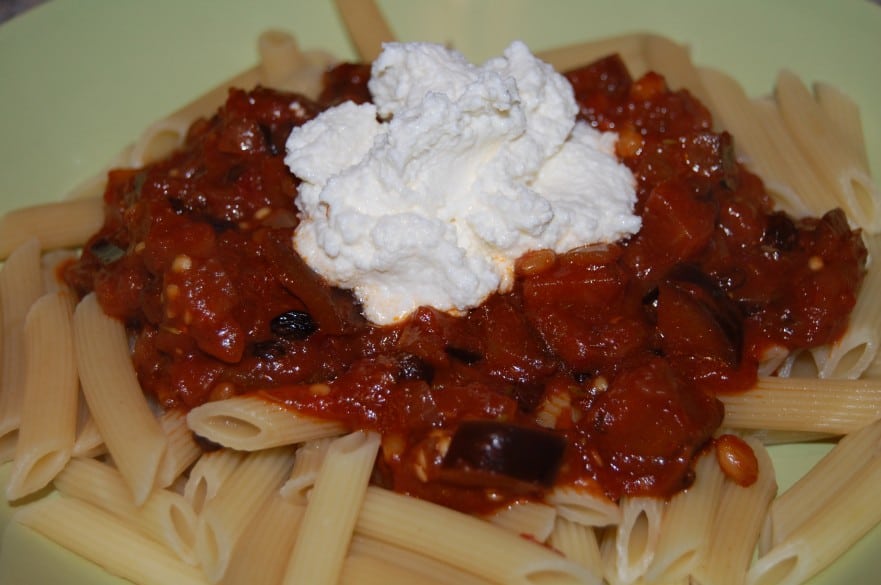 Are you bored with your weeknight dinners?  I don't know about you,  but mid-week when Asheley and I are both exhausted from work, errands, and life in general, our "go to" dish always seems to be pasta.  It's fast, cheap, and easy to whip up some pasta with a  filetto sauce (quick tomato sauce), and at this point it is pretty effortless for me to make.  Although absolutely delicious and completely satisfying in its own right, we definitely craved some variety in our mid-week pasta dinners!   And so enters the Eggplant Caponata Pasta..
Dining at Mario Batali's Otto Enoteca and Pizzeria, I quickly fell in love with his Eggplant Caponatina.  After my first experience with the delicious cold antipasti, I was hoping to find the recipe and relive the memories of Otto at home.  I soon stumbled upon Batali's recipe for Eggplant Caponata.  Although not identical in flavor to his Otto version, it was quite delightful and has become a staple pasta dish in our house.  Wait, what?  A pasta dish? I thought it was served as an antipasti?  Although typically served as an appetizer on crostini at room temperature or chilled, this eggplant caponata is equally amazing served hot in a pasta dish.  The eggplant is hearty and meaty, the sweet and sour components add complexity and depth of flavor, and the entire dish is the answer to the variety we were craving in our mid-week pasta excursions.
(As a side note, I've been told that Caponata and Caponatina are identical.  Different regions of Italy call the dish by different names.  Other people suggest  that Caponatina is the same as Caponata, except that the ingredients are more finely chopped).
Here is my adapted version of Mario Batali's Eggplant Caponata dish.  I tried to include specific measurements and many I referred to his recipe to see what he suggested.  As always, cook by look and feel.  Use this as a guide, but if you want more or less of something, try it!  Also, please comment below to let us know how your version came out!
Eggplant Caponata Pasta
Ingredients
[list style="red"]
2 medium sized eggplants, diced into small cubes
2 large onions, finely diced (spanish or yellow)
6-8 cloves garlic, minced
1/4 – 1/3  cup currants
1/4 – 1/3 cup pignoli (pine nuts), toasted**
1/3 cup balsamic vinegar
2 cans crushed tomatoes
Olive Oil
sugar
2-3 tsp. dried thyme (or 4 tsp. fresh)
1-2 tsp. basil
1 tsp – 1 tbl. chili flake (depending on how spicy you like it!)
1 tsp. cocoa powder
1 tsp. cinamon
Salt and freshly ground pepper
ricotta or other cheese, optional
[/list]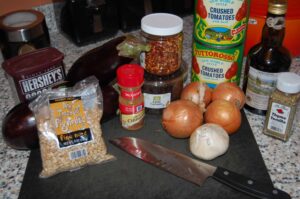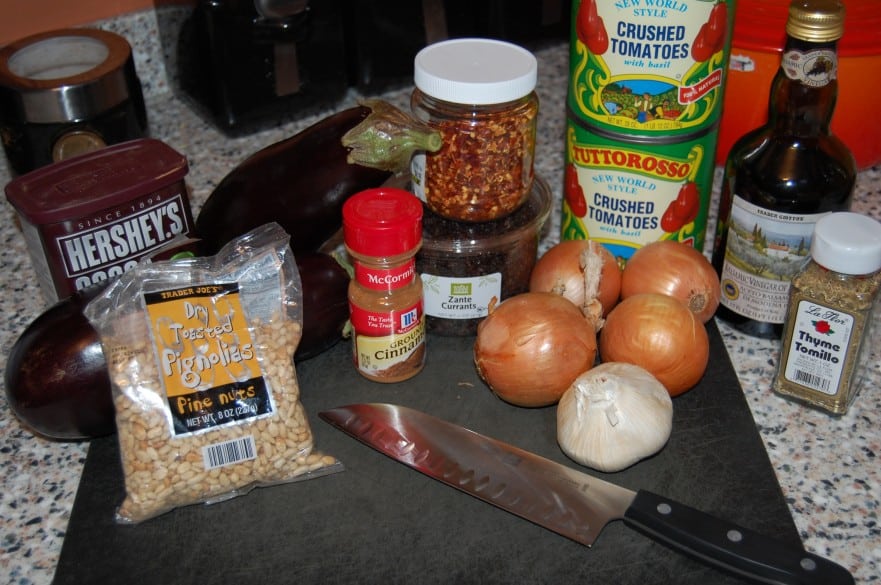 1) Prepare a quick tomato sauce.  Over medium-low heat, heat about 2 tbl. of olive oil to a pot (I usually use a saute pan for sauce  but since that will be used for the eggplant mixture, I use a small casserole/stock pot).  Finely dice 1 onion and add to the pot with a pinch of chili flake (if you like some heat).  Sweat those down for about 4 minutes, stirring occasionally.  Add 3-4 cloves of minced garlic, cook for another 1-2 minutes.  At this point, you want to add some sweetness to the sauce.  You can either grab some leftover wine that's sitting around and add a couple glugs (I guess around 1/4-1/3 cup) or add a teaspoon of sugar.  If using wine, cook for several minutes to let the alcohol burn off.  Add the crushed tomatoes and as much thyme and basil as you would like (I use around a teaspoon or two).  Bring to a boil and then reduce heat to low and let simmer.
2)  As the tomato sauce is simmering, start on the eggplant mixture.  In a large saute pan or other large pot, heat 1/4 – 1/3 cup olive oil over medium-low heat.  Add the other diced onion, currants, pine nuts, and a pinch of chili flake (optional).  Cook for about 4 minutes, until the onions look softened.  Add 3-4 cloves minced garlic.  Cook for 1-2 minutes.
3)  Add diced eggplant, cocoa, cinnamon, and sugar.  At this point my pan is very full, so stir carefully.  The eggplant will reduce down as it cooks, so you will soon have more room in the pan.  Also, that darn eggplant will soak up the liquid very quickly, so you may need to add a little bit more olive oil while it is cooking.  Stir occasionally and cook until eggplant is softened, about 8-10 minutes.
4)  Add thyme, balsamic vinegar, and as much tomato sauce as you would like to get it to the "sauce consistency" and tomato to eggplant ratio you prefer.  I usually have some tomato sauce leftover after this step, which is perfect for me (a future quick meal ready to go).  Season to taste with salt and freshly ground pepper.  Let the sauce simmer as you cook the pasta.
5) Once pasta is cooked al dente and drained, return pasta to the pot you cooked it in and add as much eggplant caponata to it as you would like.  Stir and cook for 30 seconds to 1 minute to let the flavors absorb into the warm pasta.  Plate and personally, I love ricotta cheese so add a dollop of that if you would like.  I also keep some warmed bread handy to scrape up every last bit of the scrumptuous sauce.  Enjoy!
**toasting pine nuts releases it's full potential flavor.  To toast pine nuts, add them to a dry skillet and cook on medium-low heat until you start to smell their nutty flavor and they are golden brown.  Make sure to shake the pan frequently so they don't burn.  It is always better to under-do it than let them toast too much and burn them (especially when you consider how much those darn buggers cost!)  You can also oven roast them by preheating the oven to 350 and using a rimmed cookie sheet.  Again, keep a closeful eye on them.