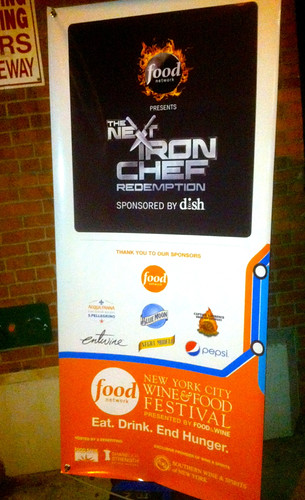 Iron Chef…  It's the top coveted spot in the culinary food television world.  Over the past couple of years, Food Network has sponsored The Next Iron Chef competition, which allows chefs the opportunity to win that priceless Iron Chef jacket and a place in Kitchen Stadium.  Past winners have included Michael Symon, Marc Forgione, Jose Garces, and Geoffrey Zakarian.  This year's season of The Next Iron Chef is all about one thing: redemption!  Previously eliminated chefs who are hungry for a second chance have the opportunity to again compete for the title of Iron Chef.
To celebrate the impending anticipation of the season premiere on Sunday, November 4 and as part of the New York City Wine and Food Festival, all the current Iron Chefs (minus Bobby Flay, who was hosting his annual taco event across town) and the Next Iron Chef hopefuls came together to throw an unbelievable kick-off gastronomic party, hosted by who else but Alton Brown!
The late-night, walk-around tasting was held at the Meatpacking District's Highline Stages, directly across the street from Food Network Studios housed in Chelsea Market.  Each chef prepared a unique and creative offering, and drinks were a flowing all night long courtesy of Southern Wine & Spirits.
Here is a picture recap of this epic event…
This was quite the party.  Walking into Highline Studios, the music was pumping, colored spotlights everywhere.  Huge screens were mounted to the wall, showing various promos from the upcoming season.  Two full bars were serving up Entwine wine and other various concoctions.  As we entered, eight of the Next Iron Chef contestants were busy getting their dishes ready for service.  We walked right past them, however, in order to get to the back of the venue where all the Iron Chef stations were housed. We wanted to taste all of their food before the hungry mass of people descended upon us, which soon happened anyway:
Entering the Iron Chef room, I must admit, it was really cool to see all of them in their official Kitchen Stadium jackets!
First up was Iron Chef Michael Symon's station:
Please forgive the weird lighting in some of these photos.  There were tons of colored lights and getting consistent photos was near impossible.
They served up this tasty Duck Rilletes with Pickles and Mustard…
Iron Chef Michael Symon was nice enough to take a picture with us both… that got Asheley really excited (okay, me too).
Just to the left of Michael Symon was Iron Chef Jose Garces…
I got the chance to briefly talk to Iron Chef Jose Garces about how much I enjoyed all the food at his taco truck and the Foie Gras Burger with Duck Fat Fries from Village Whiskey at Revel Casino in Atlantic City during my Bachelor Party Food Fest.
He served up this delicious Pozole Verde – Green Hominy Soup with Crab, Green Chile, and Herbs.
On our way to the next station, I spotted the winner of the Next Food Network Star, Justin Warner.  He was being catered around like crazy by a camera crew that was shooting promos of some sort.
I watched this past season of The Next Food Network Star and he was super interesting to watch.  Justin has really creative culinary ideas and shows many similarities to Alton Brown.  Could it be that he's being groomed to replace Alton Brown in Kitchen Stadium at some point?  Only time will tell, but if he does, you heard it here first!
Justin was happy to stop and pose for a picture… he's a super funny guy.  When our camera didn't work for a second, he said "No worries, try again.  I'm not going anywhere, just going to drink more and more as the night goes on".
We made our way Iron Chef Masaharu Morimoto's station.  He was super involved in every plate that went out, putting the finishing touches on each slider in between taking photos with guests.
He served up some amazing Yellow Pastrami Sliders with Truffle, which was one of my favorite dishes of the night.
Asheley was most excited to meet the newest Iron Chef, Geoffrey Zakarian.  She blushes and smiles just saying his name.  In her own words, "He is my Silver Fox."  Ok, enough Asheley.
He brought along his Executive Chef from The National, Paul Corsentino.  Asheley and I actually went to their Get Pickled event the following day, which was ridiculously outstanding (stay tuned for that post coming soon!)
Besides serving up some terrifically rich pork belly, Iron Chef Geoffrey Zakarian was handing out the now famous Hello Kitty Bandaids he always wears.
Here is his Glazed Pork Belly…
Iron Chef Marc Forgione was serving up his version of an "Everything Bagel: Gougeres, Gravlax".  Gougeres is a French savory pastry of dough mixed with cheese, and gravlax is a Scandinavian dish consisting of raw salmon cured with salt, sugar, and dill.
Marc Forgione had his team of chefs doing all the cooking and plating for him…
while he just interacted with all the guests, including this guy:
We then made our way on over to the pseudo-Kitchen Stadium Altar to say hello to good ole' Mr. Alton Brown.  He  was looking quite dapper and was super friendly and chatty with all the guests.  Isn't he just the coolest?
Back to some eating, courtesy of the Next Iron Chef contestants:
First up was Chef Nate Appleman, who had one of Asheley's favorite dishes of the night…
Pork and Chicken Meatballs with Green Curry, Green Papaya Slaw, and Peanuts.
Next up were these three chefs…
Chef Spike Mendelsohn, who you might also remember from Top Chef, had one of my favorite dishes of the night: Grilled BBQ'd Sweetbreads.  He paired it with some housemade kimchi and pineapple.  All the flavors played really nice together, creating a super flavorful and well balanced dish.
Spike was out in front of the table expediting all the plates…
Chef Jehangir Mehta, who's two NYC restaurants I've been wanting to get to but still haven't had the chance, was serving up  an Indian Street Burger.  I seemed to capture him in a pose where he looks kind of angry/scary, but in reality he was all smiles throughout the night…. and his burger was really interesting and delicious!
Chef Alex Guarnaschelli served up some superb one-bite Ribeye Steak Sandwiches.  She scored major points in my book by also being the only chef to make a dessert, which was absolutely outstanding.
Moving on down the line…
Chef Elizabeth Falkner, who I really enjoyed watching last season in the Next Iron Chef competition and who just lost out on the Iron Chef title when Geoffrey Zakarian defeated her in the final round, made Fregola con le Sarde.  I have to admit, I wasn't a big fan, but Asheley really enjoyed it.
Chef Amanda Freitag's Lamb Meatballs with Greek Yogurt was simple yet quite delicious…
Chef Eric Greenspan's Grilled Cheese had some timing issues with plating due to the "made to order" nature of grilled cheese.  He seemed to always have a line of people waiting for it to be done cooking on the griddle… but Eric's humor kept all those hungry people laughing and laughing.  I didn't know he was such a funny guy!
Here is his "Greenspan's Grilled Cheese", which was really great!
Finally, the last dish we tried was from Chef Marcel Vigneron, who you might remember from his stint on Top Chef.
His cleverly-titled dish, "Cheeks and Leeks", was absolutely fantastic and one of my favorites.
On the way out of the event I spotted Chef Marc Murphy, owner of Landmarc in NYC and one of the regular judges on Chopped.
What an amazing event filled with tons of unique and inventive food, opportunities to meet and get up close and personal with the Iron Chefs and Next Iron Chef hopefuls, and just have a great time with other people who love food!  I can't wait for this season of The Next Iron Chef… should be awesome!  And make sure to save the date for next year's NYC Wine and Food Festival: October 10-13, 2013.  Try to attend an event and a part of the incredible gastronomic weekend!