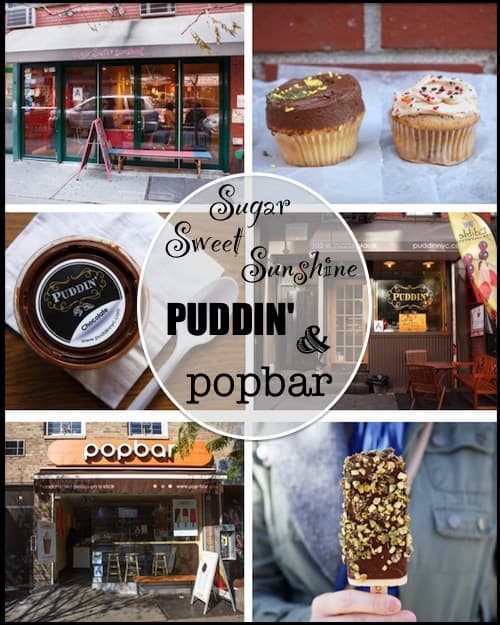 Three places to get some seriously delicious sweet treats in NYC. Cupcakes, pudding, and gelato on a stick. What else could a guy want?
I have a tremendous sweet tooth, as my gut can surely attest. The good news is that my waistline is slowly waning. The bad news is that trying to eat healthier means a whole lot less dessert. Goodbye my after-lunch sweet fix. So long my post-dinner 4th meal dessert.
Once in awhile I'll still splurge and slowly devour a little piece of dark chocolate (Asheley will eat about a half a bar while I'm still trying to nurse and savor my one little self-allotted morsel).
So if I can't currently indulge in all the desserts that occupy my dreams at night, at the very least I can look back at some of the NYC sweets that I recently grazed upon back before Operation Stop Being A Fatty commenced.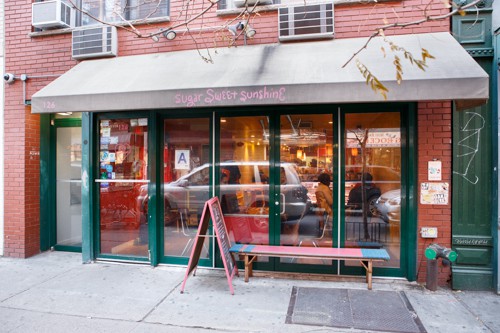 It took me way too long to finally check out Sugar Sweet Sunshine. I've walked right past the Lower East Side bakery several times, always making a mental note that I really need to get there one of these days.
I love the laid-back, neighborhood vibe of Sugar Sweet Sunshine. It feels homey. And the staff is always super nice. They must get paid in cupcakes and pudding.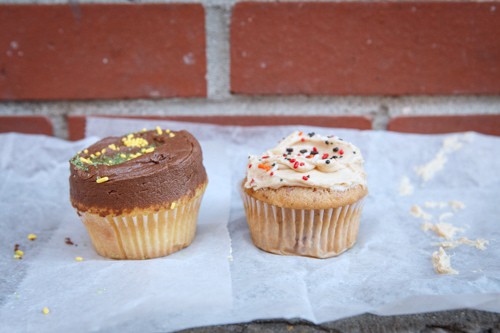 I already have two favorite cupcake spots in NYC. I wasn't sure if I had room for a third.
But oh my gosh, these cupcakes are good. They are simple but extremely well done. Moist, fluffy, and beautifully pure flavors. And at only $2 a piece, they are a steal.
I'll definitely have fun working my way through their many cupcake flavors in the near future. But on my inaugural visit, I tried the Strawberry Cupcake with Peanut Butter Buttercream (which I know sounds totally weird, but was freaking good) and the Bob (Yellow Cake with Chocolate Almond Buttercream). Both spectacular.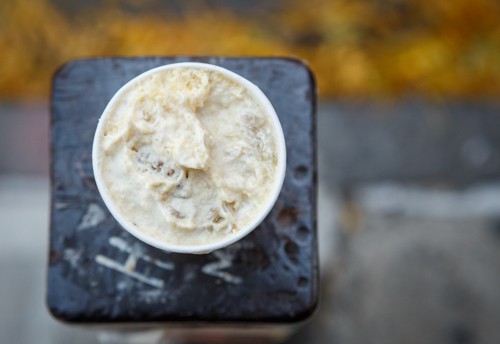 I couldn't leave without trying some of Sugar Sweet Sunshine's famous pudding. They've got a bunch of flavors to choose from:
Banana Puddin', Chocolate Bomb, Chocolate Chip Deliciousness, The Coffee Java Xpress, and Schmapple Puddin'.
I went with a shot ($2.50) the Schmapple, which was nothing short of phenomenal. Seriously some of the best pudding I've ever had. The vanilla pudding base was jam-packed with apple, vanilla cake, toasted walnuts, and caramel whipped cream.
My only mistake was getting just a shot. Next time I'll be getting a small ($4)…. eh probably a medium ($5)… okay who am I kidding, I'll be getting a large ($6.50).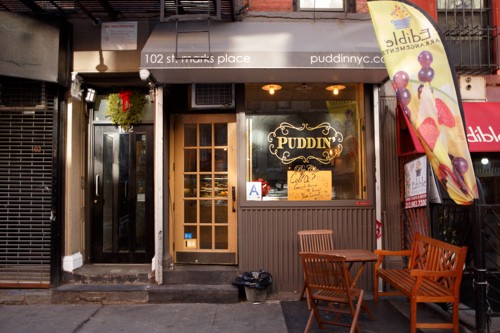 Talking about pudding, here's Puddin'. Just down the block from my hot dog haven Crif Dogs and around the corner from Big Gay Ice Cream (as well as some of my new favorite places like Otto's Tacos, Spot Dessert Bar, and Xi'an Famous Foods), this East Village shop knows pudding.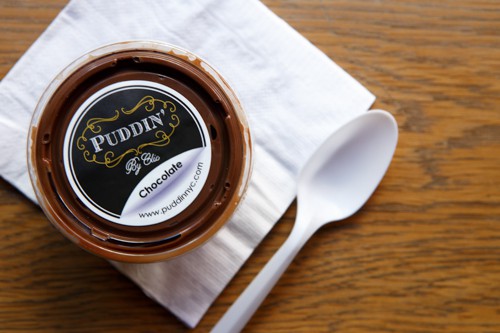 My good friend Rachelle actually first introduced me to Puddin'. And Rachelle, thank you 🙂
Growing up, I thought the best that pudding could be was the powdered kind that comes in a little box and requires some milk and a whisk for precisely two minutes.
Goodbye childhood, hello the adult, sophisticated world of pudding.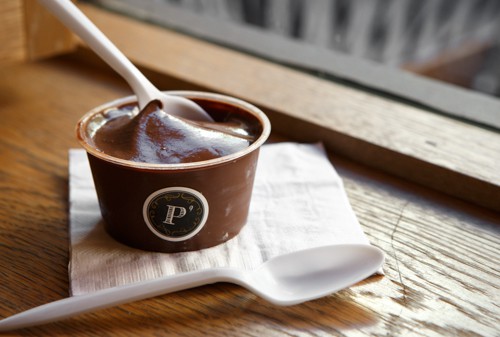 I've only tried the chocolate pudding here. And to be honest, that's probably all I'll ever try, because it's so darn good. They use this 70% dark chocolate from an Icelandic company called Nói Síríus for their pudding.
It's intense. Like if someone pumped chocolate directly into my veins through an IV.
Rich, pure, decadent chocolate.
The mini ($4) is definitely a good satisfying size for me since it's so rich, but if you're feeling like living dangerously, feel free to go for the regular ($6.50) or large ($8.50).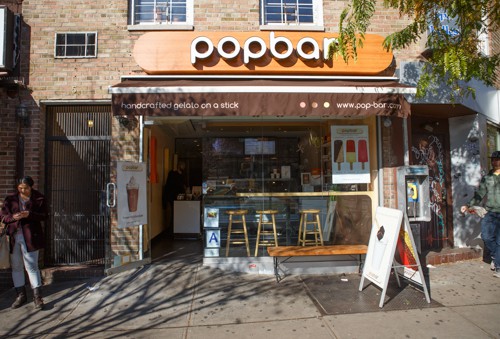 I love gelato. LOVE.
So when popbar offers to slap it on a stick, thereby removing the need for the whole spoon thing, I'm totally game.

And it helps that it's right by a bunch of my other food favorites in the West Village…. Umami Burger, Molly's, Faicco's, Victory Garden, Dos Toros (and I could keep going, but let's move this along).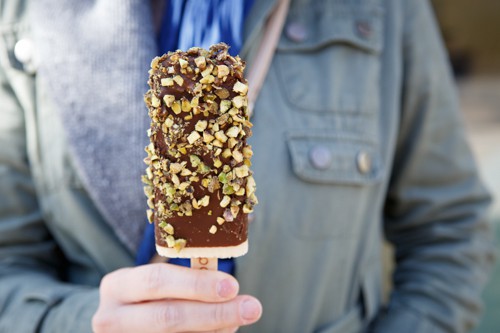 Now listen, yes, it's a bit on the expensive side. $4 for an ice cream bar is a bit steep. And then add in $.50 for unlimited dips and $.50 for unlimited toppings, and you're looking at a $5 investment.
But it's good. Especially when the gelato is dipped in chocolate and rolled around in pistachios. So I don't mind spending the cash. I guess I roll deep.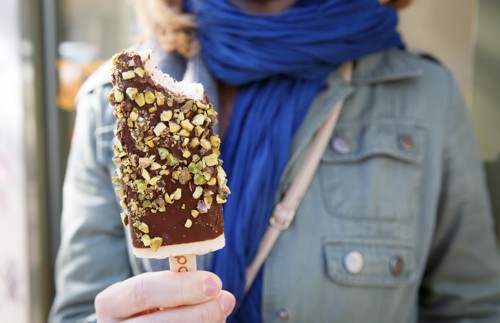 Not in the mood for gelato? (blasphemy). They've got a bunch of different fresh fruit sorbetto options and a few yogurt choices for you as well.
And of course since it's the dead of winter right now and snow is literally everywhere, you may not be feeling the whole frozen dessert thing. No worries… just file this in your memory bank for when NYC decides to thaw out 🙂
Sugar Sweet Sunshine Bakery 126 Rivington St
(between Norfolk St & Essex St)
New York, NY 10002
(Lower East Side) 212-995-1960 Puddin' 102 St Marks Pl
(between Avenue A & 1st Ave)
New York, NY 10009
(East Village)
212-477-3537
PopBar 5 Carmine St
New York, NY 10014
(West Village) 212-255-4874
You may want to also check out…
The Top 10 Foods You Have To Eat In NYC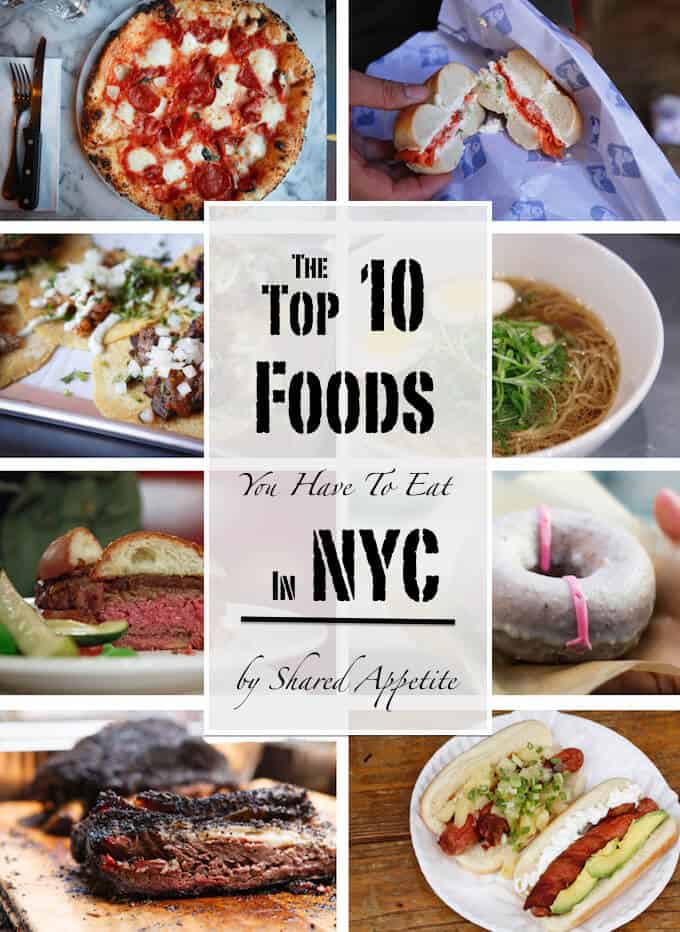 The 10 Best Ice Cream and Frozen Treats in NYC