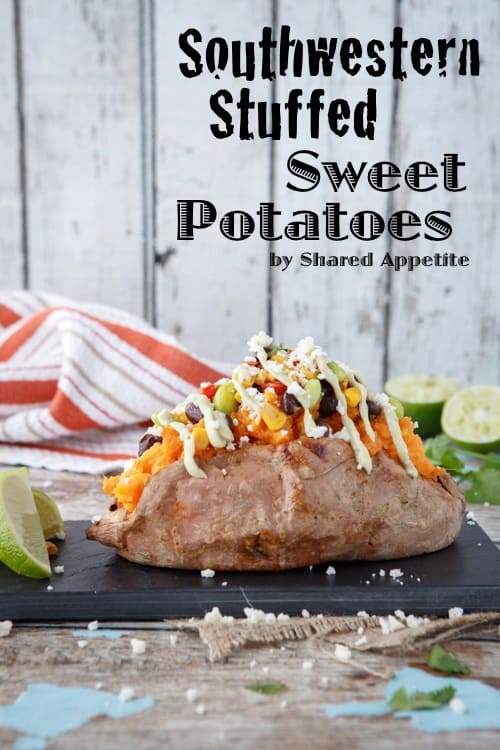 A gluten-free and vegetarian recipe for Southwestern Stuffed Sweet Potatoes, topped with a healthy avocado crema made with greek yogurt.
Wait a second… this looks a lot like that succotash and avocado crema that was on top of the Southwest Spaghetti Squash.
Guilty.
Asheley really loved that spaghetti squash.  But we wanted to get all wild and crazy the other night and change things up a bit for dinner.  Actually, not really.  We just didn't have any spaghetti squash in the house.
I wasn't going back outside in the cold to go get one.  And Asheley sure as heck wasn't going either.
But the sweet potatoes I bought the previous week were staring at me from our little vegetable bowl on the kitchen counter.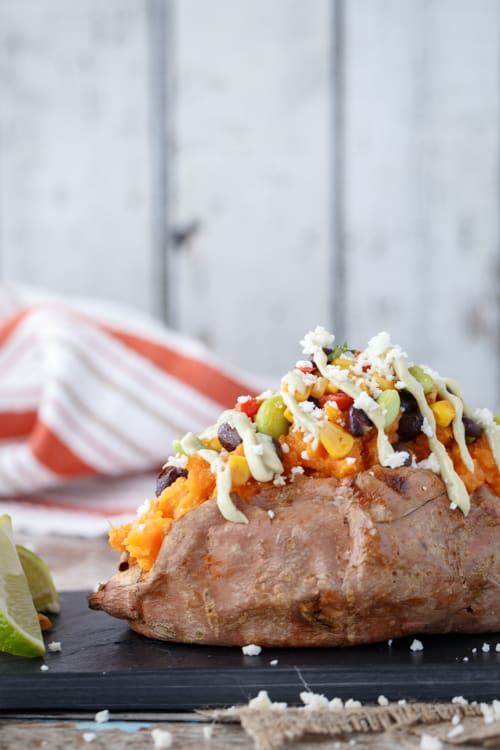 And you know what?  We like both pretty equally.  It's hard choosing a favorite.
The good news is that you can feel pretty darn good about serving this for dinner.  There's a bunch of healthy going on in here.  And that creamy avocado sauce?  It's made using greek yogurt.
So go ahead, slather it on.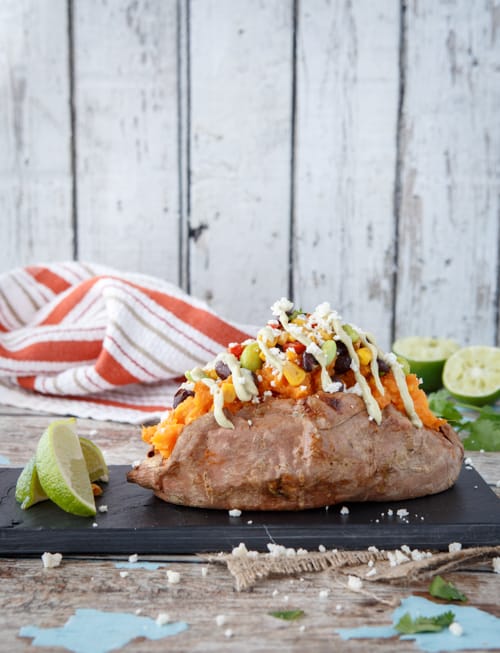 Print
Southwestern Stuffed Sweet Potatoes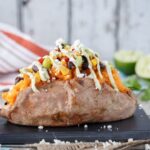 Ingredients
4-6 medium-sized sweet potatoes
2 tablespoons olive oil
1/2 red onion, finely chopped
1 red bell pepper, seeds removed, finely chopped
1 jalapeno, seeds removed, minced
2 cloves garlic, minced
1/2 teaspoon cumin
1/2 teaspoon paprika
1/2 teaspoon Mexican oregano
1 (15 ounce) can black beans, rinsed and drained
1 1/2 cups frozen corn kernels, thawed, or 1 (15 ounce) can corn, rinsed and drained
1 cup cooked edamame beans
1 lime, juiced
Kosher salt
Freshly ground black pepper
Avocado Crema (recipe below)
Queso fresco, crumbled, for garnish
Cilantro, roughly chopped, for garnish
for the Avocado Crema
1 ripe avocado, roughly mashed
1/2 cup plain Greek yogurt
1 lime, juiced
1 clove garlic
1/4 cup extra virgin olive oil
Kosher salt
Freshly ground black pepper
Instructions
Preheat oven to 400° F. Pierce each sweet potato several times with a fork. Place the sweet potatoes on an aluminum-foil lined baking sheet. Bake until tender, about 45-60 minutes, depending upon size of sweet potato.
Let cool slightly, then Make a slit in the top of each sweet potato.
Meanwhile, heat olive oil in a skillet over medium heat. Add onion, red bell pepper, and jalapeno. Season with Kosher salt and cook for about 4 minutes, until vegetables have softened a bit, stirring occasionally. Add garlic, cumin, paprika, and Mexican oregano, and cook for 1 more minute, stirring to avoid burning garlic. Add beans, corn, and edamame. Season with Kosher salt and freshly ground pepper, stir to combine, and cook until heated through. Squeeze in the juice of the lime and give it one last quick stir.
Top each sweet potato with a couple generous spoonfuls of the succotash, a drizzle of avocado crema, crumbled queso fresco, and cilantro.
for the Avocado Crema
Combine avocado, Greek yogurt, lime juice, garlic, and extra virgin olive oil in a food processor until smooth. Season with Kosher salt and freshly ground black pepper.