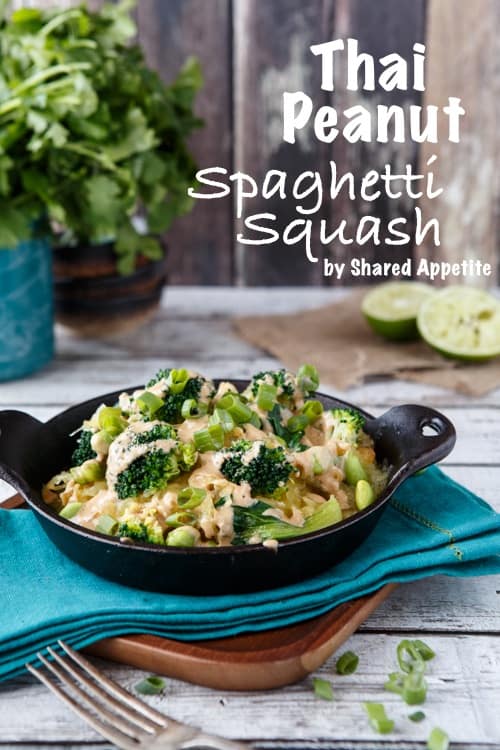 An easy and healthy vegan recipe for a Thai-inspired spaghetti squash topped with broccoli, bok choy, edamame, and creamy peanut sauce.
It's been a crazy couple of weeks.
Asheley and I enjoyed a rare outing to the movie theater for date night recently. Normally we just catch up on DVR or rent a movie through RedBox, but we were feeling extra crazy that night and splurged to see American Hustle. It may or may not have been due to Asheley's minor obsession with all things Bradley Cooper.
We got home from the movies to find that a valve from our water heater broke and a whole lot of the carpet in the basement was squishing under our feet. This is where Asheley, my amazing and beautiful wife saved the day.
She had off from work the next couple of days anyway, so she got all Holmes on Homes on the situation, ripped up the carpet, removed the soaked carpet padding, rented an industrial fan and steam cleaner to dry and clean the carpet, and got a carpet guy to come over and re-lay the carpet down for us. All by herself. Isn't she the best?
And then this past week, Asheley (and by pure association, I) enjoyed a lovely little vacation to the ER and then admission to the hospital. She's totally okay and back to her normal self now, so no worries, but we literally just laid there (well she laid there and I sat in some ridiculously uncomfortable chairs) watching a bunch of movies. Specifically, The Internship (she has a thing for Vince Vaughn, too), Meet The Millers, and Last Vegas.
In some weird, backwards way, it was a way for God to say… okay you two. You are always working opposite schedules and rarely just sit and spend a lot of time together. Now you are GOING to just have a couple days to just be together. It was an odd, yet effective, extended date night.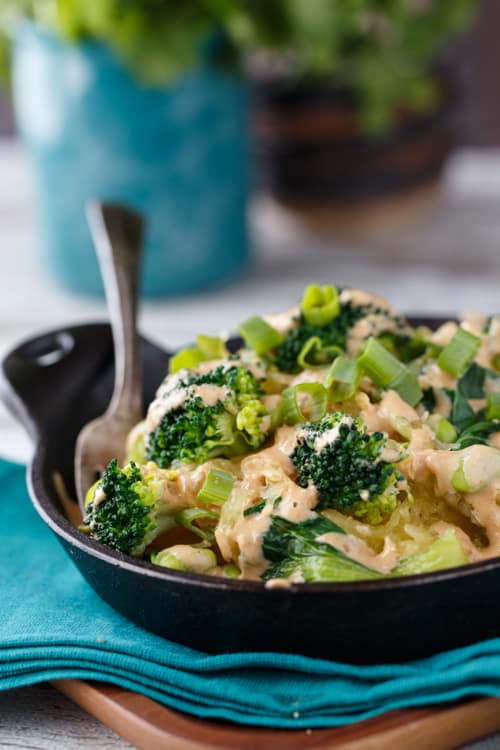 So that's a life-according-to-Chris update.
Now onto this spaghetti squash. I know I just posted this Southwest Spaghetti Squash with Avocado Crema, but you know by now how I kinda get all consumed by one ingredient for extended periods of time. Case in point? My crazy amount of cookie butter recipes.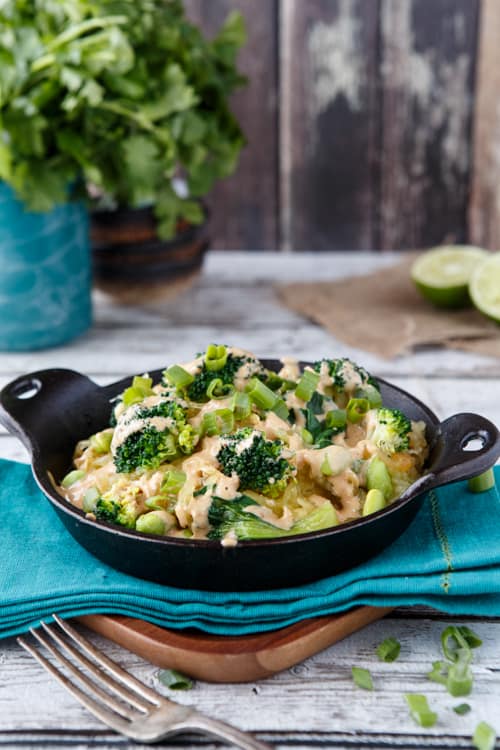 A couple of things about this spaghetti squash with peanut sauce…
these photos should have chopped peanuts on top for a garnish. Of course I forgot. Palm to forehead… Doh!
I used broccoli, bok choy, and edamame, but you can feel free to use whatever vegetables you're feeling.
Want some protein? Go crazy and add in some chicken, steak, tofu, shrimp, or whatever else you're thinking.
Print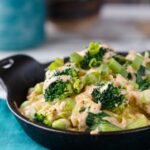 Thai Peanut Spaghetti Squash
---
1

spaghetti squash

1 tablespoon

olive oil

1

large head of broccoli, cut into bite-sized florets, steamed

2

bunches bok choy, roughly chopped, steamed or stir-fried with a little oil

1 cup

cooked edamame beans

1/2 cup

peanut butter

1 cup

coconut milk (from a can, not a box)

2

cloves garlic

1/2 tablespoon

fresh ginger (about the same size as the

2

cloves garlic)

1

tablespon soy sauce

1/2 tablespoon

rice wine vinegar

1/2 tablespoon

sugar

1/2 teaspoon

crushed red pepper flakes

1

lime, juiced

1

bunch scallions, chopped, for garnish

1/2 cup

chopped peanuts, for garnish
Kosher salt
Freshly ground black pepper
---
Instructions
Preheat oven to 400°F. Carefully cut your spaghetti squash in half with a large, sharp knife. Remove seeds and stringy guts, and brush the cut sides of the squash with 1 tablespoon of olive oil. Season with Kosher salt and freshly ground black pepper. Place spaghetti squash, cut side down, on an aluminum-lined baking sheet and roast until tender, about 45-60 minutes.
To test if your squash is done, scrap the flesh with a fork. If the strands come off easily, it's done. Let the cooked spaghetti squash cool for about 5 minutes, then scrape all the flesh into a beautiful pile of spaghetti strands. Taste and season with some more Kosher salt and pepper if needed.
Place peanut butter, coconut milk, garlic, ginger, soy sauce, rice wine vinegar, sugar, crushed red pepper flakes, and lime juice into a blender. Blend on high until completely smooth. Add a little more coconut milk if a thinner consistency is desired.
Mix together the squash with cooked broccoli, bok choy, and edamame. Divide among four bowls. Drizzle with peanut sauce and sprinkle with scallions and peanuts.