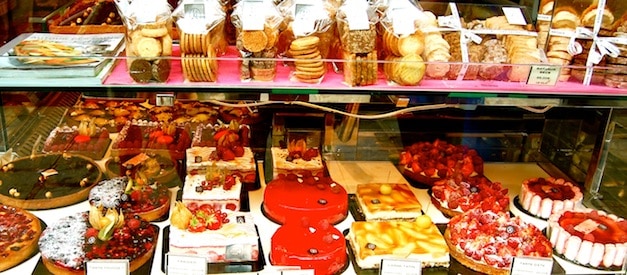 Imagine this for a second: You wake up tomorrow morning to find that you have every "IT" chef on speed dial. Your inner circle of friends includes a plethora of Michelin chefs, wine producers, chocolatiers, and a smattering of other superstars in the culinary world. You are so tapped into the local and global culinary scene that you can score that impossible reservation every night of the week. Your phone rings and it's one of the many international celebrity chefs, food journalists, sommeliers, or other industry professionals that knows your name, calling to ask if you could show them around Paris when they arrive on vacation. Your little black book of contacts is every food-lovers dream and fantasy come true, and that is just the tip of the gigantically amazing culinary iceberg that is your life.
Meet Wendy Lyn. It's her real life, and she's sharing it all with a steady stream of food-loving visitors in her home city of Paris…
Photo by The Paris Kitchen and used with their permission here.
A born and raised Southern girl from the United States, you can say Paris and Wendy were love at first sight. It was August 29, 1989 when they first met, as Wendy spent a weekend there as she finished up her journalism degree in London. Even with a job lined up back home with Southern Living Magazine, she decided to leave her roots in the Deep South, knowing that Paris was her destiny. Mentored by 3-Star Michelin Chef Guy Savoy (he's a pretty big deal in the food world), Wendy soon had the Paris culinary scene pumping through her veins. Professionally, she made a name for herself as an international public relations & restaurant consultant to some of the biggest celebrity chefs in the world, as well as launching the first USA red Michelin Guide in NYC.
Since retired, Wendy Lyn now focuses all her love and passion for the Paris culinary scene through leading private food tours and sharing her gastronomic experiences with food-lovers like me and you through her website, The Paris Kitchen. Declared "One of the Top 10 Culinary Guides in the World" from the Wall Street Journal, Wendy's food tours have also been featured in many other various publications and media, including Travel + Leisure, the TODAY Show, and the Chicago Tribune.
Traveling to Paris and want restaurant recommendations? Wendy's Curated List of French Restaurants is the perfect place to spend some time to learn about the best Paris has to offer.
So why all this talk about Wendy? To answer that, let's quickly backtrack to about a year before our honeymoon to Paris, when I first starting planning our trip. I delved into the copious amount of information available online about the Parisian food world, attempting to zero in on the best restaurants, chocolatiers, boulangeries, patisseries, fromageries… the best food, plain and simple, in Paris. As I started to create a list of gastronomic destinations to visit within Paris, Asheley and I agreed we didn't just want to eat their food. We wanted to experience food. We wanted to understand food. We desired a deeper understanding of the culinary landscape, getting a glimpse into the rich history and culture of the Paris food scene. We needed to go on a food tour.
From the moment I stumbled upon The Paris Kitchen, I knew Wendy Lyn was someone special. Her Private Paris Food Tours immediately peaked my interest and intrigued me, so I quickly emailed Wendy about the possibility of booking a tour. What followed was not a business transaction, but a building of a friendship. I was deeply engrossed by Wendy's charming Southern hospitality, which was apparent even though thousands of miles separated us and our only mode of communication was through simple words on a computer screen. After meeting, I came to experience that Wendy's deep love for her home city and vast knowledge of its food is only surpassed by the genuine passion she has with sharing it with others.
During our time together, we learned more about France's food, culture, and customs than through all my countless hours of research prior to our honeymoon (and there was a lot of research, right Asheley?!). Even better, a Wendy Lyn food tour isn't just some routine cookie-cutter excursion. Every single tour is private to your party of 2 – 4 people and is completely customized to your interests. No two tours are identical, each being tailor-made to you!
Often, the places she takes you are off the beaten path… it could be a farmers market featuring small family producers of the best produce and foie gras, an artisan bread-maker where you get a lesson in French baguette and pastries, a look inside the mind of an award-winning chocolatier, a wine bar that she brought Anthony Bourdain to just a few weeks prior, or maybe even her favorite cheese-ager to get a lesson on ordering fromage like a pro. Every place is special, ones that locals love and cherish.
For Wendy, her Paris Food Tours is not a job, but a love. A true passion. Her eyes literally light up talking about the food she loves, and Wendy grins ear to ear as she watches you enjoy the various tastings along the way. For her, it's not just about the food. It's the people and the story behind the food. We had the opportunity to learn about the artisans that live out their labor of love, we witnessed the detail with which food is prepared in Paris, learned the etiquette and culture behind the way Parisians shop for and eat their food, and even got to meet several industry professionals (including chefs, restaurant owners, and sommeliers) along the way!
She's knowledgeable, charming, hospitable, and passionate, but one of my favorite parts of Wendy Lyn is her generosity. Any time I had a question regarding a restaurant or other eating opportunity, Wendy was very quick to email me back her thoughts and recommendations. She even contacted a couple of her chef and restaurant owner friends to let them know we were dining at their restaurants… we received amazing service and even got some waves from the chefs in the kitchen.
And one part of our trip that still blows my mind: Wendy knew we really wanted to dine at Frenchie, but were unable to get a reservation at the 18-seat restaurant. With hundreds of reservation requests an hour, it is pretty much easier to win the lottery than score a table. At the conclusion of our tour, Wendy said she had a little surprise for us:
She brought us to Frenchie. And she didn't just bring us to Frenchie. She brought us to Frenchie's private party, celebrating their 3rd anniversary and also the completion of the newly expanded Frenchie Wine Bar across the street.
The party spills into the street at Frenchie.
A big thank you to Gregory Marchand, chef/owner of Frenchie, for his extreme generosity and hospitality. Even amidst various media interviews, he still came over to welcome us and thank us for coming. He served an amazing spread of food and wine. A class act, just like his good friend Wendy Lyn!
We had the opportunity to mingle with various industry professionals, including sommeliers, wine producers, pastry chefs, butchers, restaurant owners, and the amazing Chef Kevin O'Donnell. Although clients should not expect access to private events like this one, they will 100% experience Wendy's warm generosity throughout their time together.
Asheley and I truly had a fantastic honeymoon. One filled with seeing all the famous sights and eating at many of the best restaurants Paris has to offer. But even so, we both still agree that the very best thing we did while in Paris, 100%, unequivocally, was our time spent on a Paris Food Tour with Wendy Lyn. If you are planning a trip to Paris, do yourself a favor: meet Wendy Lyn. It will definitely be the highlight of your trip, and you will most likely walk away with a friend for life.