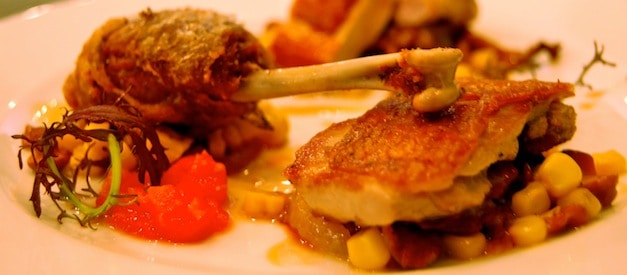 Food. It's everywhere in Paris! You can barely walk down one rue (street) without finding at least one eating option. However, eating well in Paris does require a little bit of work on your part. Luckily for us as we prepared for our trip to Paris, I am very "Type A"... so I researched... and researched... and ended up finding a lot of great information about the Paris culinary scene, as well as tips and advice for eating like a local. I found myself spending a lot of time on two fantastic Paris food websites that I highly recommend you check out before your trip: Wendy Lyn's The Paris Kitchen and David Lebovitz's Living The Sweet Life in Paris.
After eating our way through Paris and now reminiscing about our little time spent there, I've compiled the following tips for you to eat like a local (If you are looking for what you absolutely need to eat while you are in Paris, the foods you shouldn't miss under any circumstance, look no further: check out my post on The Top 10 Foods You Have To Eat In Paris.) So here it is, enjoy eating like a local:
Reservations
Reservations are an absolute must in Paris. Restaurants have very limited seating capacities and dinner service hours are shorter than in America. The best restaurants always book up fast, with the top places getting hundreds of reservation requests a day. Even if you walk into a restaurant and it's empty, they still appreciate if a reservation was made so that way they know you're coming.
I started making arrangements for reservations approximately 4 months prior to arriving in Paris. Most restaurants accept reservations anywhere from 2 weeks to 2 months in advance, with a couple here and there taking them several months in advance.
Use your hotel concierge for help with reservations. They speak the language, are on local time, and they typically know the best times to call for reservations. Our concierge was extremely helpful in not only making us reservations, but also confirming them as well. Make sure when you arrive to Paris, have your concierge confirm all your reservations.
Want to know more about getting reservations in Paris? Wendy Lyn wrote a wonderful article: Why Restaurant Reservations Are Tough To Get.
As an American, you will most likely get one of the earliest reservations of the night, just as the restaurant opens for dinner service (around 7:30 or 8 p.m.). Why? Actually, for your benefit: most likely you don't speak French (we didn't), and that means you will need the menu translated for you. Since there are only a couple servers for the entire place, the beginning of service is the slowest, allowing them the time and patience to warmly translate for you. As your meal progresses, you will see locals start filling up the place (if you chose a good restaurant, that is) and the servers get more and more hurried.
One more thing regarding reservations: Here in the U.S., if you have a 7:30 reservation, it is customary to arrive a little early, probably around 7:15. In Paris it's quite different. People don't arrive until at least their reservation time, if not a little later. If you have a 7:30 or 8 p.m. reservation, remember that it's the first of the night. If you arrive early (like we did a lot), the restaurant won't even be open yet.
Eating Schedule
Here in New York, restaurants are pretty much open all day, from lunch all the way through the end of dinner service. In Paris, there are two distinct service times: Lunch is typically from around 12 until 2:30, and dinner around 7:30-11 p.m. If you are hungry in between, you can always step into a patisserie or boulangerie. We took full advantage of late afternoon bakery runs!
Laminated Menus? See ya later...
You're hungry. You don't have a reservation anywhere and you are looking for a good restaurant. Here's a good tip: Laminated menus tell you something very important about a restaurant: they never (or very rarely) change the menu. In a city where food is driven from seasonal and local ingredients, menus at good restaurants change frequently, sometimes even daily. At every restaurant we dined, the menu was either written in chalk on a giant chalkboard or told to us orally.
One day we visited Brussels and by the time we got back to Paris, it was around 10 p.m. We were so exhausted from the day, we only had enough energy to visit the bistro right around the corner from our hotel. I knew what we were in for... they had laminated menus. Was the food terrible? No. Was it standard tourist "bistro" food of mediocre quality, including overcooked creme brulee and soggy crepes. You betcha.
Prix-Fixe = Your Friend
Many restaurants offer prix-fixed lunch and dinner options. This is often the best bargain at a restaurant and is generally a great value. You typically have a choice of Entree + Plat (appetizer and main), Plat + Dessert (Main and Dessert), or you can choose to have all three courses.
Tipping
The waitstaff in Paris restaurants all receive a full salary unlike here in the states. The service charge (a.k.a. "tip") is already included in the price of your food. Additional tip is not required. However, most people do leave a little extra for good service. I typically added around 5-10% to the total. For instance, if the check was 27€, I usually left 30€.
What To Drink
Just Get Tap Water
They will ask you when you sit down if you want a bottle of still or sparkling water. Just ask for tap water. It is perfectly safe to drink and it's free! According to Paris food blogger David Lebovitz, most locals just drink the tap water.
Wine
Wine and soda is pretty much the same price in Paris. And the soda will most likely not come cold. Go for the wine! A glass will run you around 3-5€.
Finish It
There really aren't any "doggie bags" in Paris. Not one person we saw on the entire trip requested one. You can't bring leftovers home, so you might as well finish it there! In addition, it is frowned upon to leave an abundance of food on your plate. Asheley was so full a couple of times and left a little too much on the plate. The server worriedly asked if everything was to her liking, and when she responded that the food was great and it was just she was so full, the waiter gave her a disappointed look.
Ordering Steak
Gradations of doneness don't quite line up between the U.S. and France. For instance, medium-rare in the United States is not the same as medium-rare in France. Here's a handy chart... it helped me a ton when ordering my steak au poivre. Even my server loved this chart. She said so many Americans don't realize when they order that their system is a little different in Paris.
How do you want it done?
Bleu -French Rare // American very very Rare, pretty much not cooked.
Saignante - French Medium-Rare // American Rare
**A Point - French Medium // American Medium-Rare
Bien Cuit - French Well Done // American Medium-Well
**A Point is the most common order for steak from Americans.
French Rude? Myth Busted
One of the most popular misconceptions that exists about the French is that they are rude towards tourists. From our experience, that couldn't be further from the truth. Almost every single local we interacted with was warm, friendly, and generous. Maybe it's because I'm used to a higher level of rude being from New York and all, but the French were all very welcoming. Everyone was helpful, happy to translate menus, and the majority spoke at least some English.
During your visit in Paris, you will most likely come to realize the French adhere to some very different customs than that of Americans. I think this is why sometimes we feel like they are rude. Follow their customs and culture, and you will be welcomed with open arms. Here are some tips I followed:
1) When you walk into a restaurant or store, it is expected that you will say "Bonjour/Bonsoir" to greet the employee(s). Add "Madame/Monsieur" for good measure. You will get a much warmer welcome this way. As someone delivers your meal in a restaurant and/or as you leave a place of business, make sure to say "Merci" or "Merci Beaucoup".
2) When you pay at a register for anything, in America it is customary to hand the cashier the money in their hand. People here think it's kind of rude when you just put it down on the counter. It is the exact opposite in France. You should place your money on the counter, do not put it in their hand. I placed the money in someone's hand on the first day and they gave me the strangest look.
3) In a restaurant, your server will not bring your check until you request it. It may seem like they are ignoring you, but in reality they are letting you relax and enjoy your time in the restaurant. As soon as you request the check, they bring it promptly.
4) The French really don't snack on food as they are walking around. The only exception to that is on occasion I saw a couple workers snacking on a baguette tucked under their arm as they were walking to work. The French like to sit and relax while eating. If you go into a bakery for a treat, simply find a bench to enjoy your snack.
M.O.F.
The title Meilleurs Ouvriers de France, MOF for short, is given out to the best of the best in the different areas of food industry. One can be a MOF in pastry-making, butchery, cooking, chocolatiers, cheesemongers, etc. Becoming a MOF is incredibly difficult and considered the highest honor in the France food world. It's like winning "The Lifetime Achievement Award" at the Golden Globes. We visited a couple of MOFs while in Paris, including Laurent Dubois Fromagerie (cheese), Patrick Roger Chocolatier, and Franck Kestener Chocolatier. Definitely seek out these and other MOFs while in Paris!
Choose Variety
When picking out where to dine in Paris, I tried to hit on a couple different types of French restaurants: Haute (Guy Savoy), Neo-Bistro (Le Chateaubriand, Chez l'Ami Jean), the traditional Bistro (Bistro Paul Bert, Les Papilles), Market-Driven (Spring), Wine Bars (L'Avant Comptoir), Fusion (like French-Italian cuisine at l'Office) and even Falafel (L'As Du Fallafel)!
Don't be afraid to pick places that are far away from your hotel. The metro in Paris is your best friend. It is extremely easy to use, it's very clean, and there are metro stops everywhere!
Baguettes and Croissants
Since coming back to NY, finding a good baguette is crazy difficult. Nothing really compares to the amazing baguette that is readily available in many Paris boulangeries. Enjoy the bread while in Paris. Get at least one baguette a day. When choosing a baguette, look for pointed ends. These are the ones that are made by hand. Rounded ends mean that they were made by machines.
The French love their bread well done so the baguette is nice and crusty, and as Wendy Lyn of The Paris Kitchen told me, "It's all about the crust!" When you give a gentle knock on a baguette, it should sound hollow inside, and when you give it a squeeze, you should hear lots of crunch.
Croissants made with butter are actually straight. These croissants are, by law, the only ones allowed to be straight. If you see a curved croissant (like the ones we are used to seeing in NY), it can be made with any substitute, usually margarine.
Look, Don't Touch!
Finding a supermarket in Paris is very rare. Instead, you will find specialized stores for produce, meats, wine, cheese, chocolate, and bread/pastries. You will also see various farmers markets throughout Paris. When approaching any of these shops, there are some general guidelines to follow:
* Find the line and wait in it, especially at the produce, cheese, and bread shops. Don't just walk in and start grabbing what you want.
* Look, don't touch! At the produce store, you tell them what you would like and when you would like to eat it. For instance, if you want six peaches to eat three days from now, they will pick out peaches that will be perfectly ripe in 3 days.
* In the cheese shop, there are consultants who will help you find the perfect cheese. Once you decide on a cheese, they will find one that will be perfectly ripened one the day you plan on eating it.
Map It Out!
Once I decided upon what boulangeries, patisseries, chocolatiers, restaurants, wine bars, and fromageries I wanted to visit, I went to work on creating a map. I used one of the pull out ones that you get in all the guide books nowadays, and made little dots (color-coded by category of food) indicating where each place was located. This ended up being extremely handy as we went out on our touristy sightseeing adventures... whenever we got hungry, we knew exactly what food was in the area.