I'm going to be completely honest with you, because I think we're cool like that.  You take time out of your day to come on over and spend some time with me, so it's only fair I'm open with you... right?
Here's the deal.  Originally this was going to be a burrito post.  But for the life of me I could not get a good photo of all the different components wrapped up in the tortilla.  It didn't look appetizing at all!  Ah the woes of food photography.
And really, I don't know why I was so fixated on making this a burrito anyway.  Asheley always prefers hers as a burrito bowl.  And I'm totally happy with a bowl as well.. as long as I still have a tortilla or some tortilla chips nearby so I can scoop up some of the goodness and eat it that way.  What can I say?  I'm tortilla dependent.
What I love about burrito bowls is that they are pretty darn flexible depending upon how much time you have to whip up dinner.  When I have the whole day to hang around the house and cook, I'll take the time to make Cowboy Beans and Cilantro Lime Brown Rice.  I'll slowly braise pork shoulder for mouth-watering, irresistible carnitas.
But let's get real.  Sometimes you just have to get dinner on the table.
You can easily cut some corners to make this a quick weeknight meal.  Store-bought salsa.  Crack open a can of beans and heat.  Some quick-cooking rice.  And maybe throw some chicken or steak on the grill.  Heck, even one of those rotisserie chickens you see cooking away in the supermarket could do the trick.
There is, though, one thing that Asheley will never skip on: guacamole.  If it's burrito bowl night and there's no guacamole, you know there's gonna be problems.
Burrito bowls are also a great way to stretch out meals.  You don't need a big quantity of any one thing, so there's almost always leftovers for a quick meal the following night (and even the night after that).
And listen, no worries if you don't have queso fresco lying around.  I personally like it for it's salty kick, but Asheley prefers a big mountain of shredded cheddar or monterey jack on her burrito bowl.  And a mountain might be an understatement.  She has a thing for cheese.
Print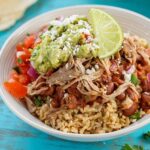 BetterThan Chipotle Burrito Bowl
---
[Cilantro Lime Brown Rice|
cilantro-lime-brown-rice/]
[Cowboy Beans (Frijoles Charros)
how-to-make-perfect-home-cooked-cowboy-beans/]
[Carnitas|
how-to-make-perfect-carnitas/]
[Pico de Gallo|
simple-pico-de-gallo-recipe/]
[Guacamole|
the-best-guacamole/]
For Garnish
Queso Fresco, crumbled
Cilantro, roughly chopped
Lime Wedges
---
Instructions
In bowls, layer cilantro lime brown rice, cowboy beans, and carnitas on top of one another. Top with pico de gallo and guacamole. Garnish with queso fresco (or any of your favorite cheese), cilantro, and a wedge of lime.