It has many names.  Pico de Gallo.  Salsa Fresca.  Salsa Mexicana.  I've even heard some restaurants call it "mild salsa".  Hey, it's flexible.  Like my wife, it will answer to almost anything.
We actually just had this conversation yesterday.  Her name has an extra "E" in it: Asheley.  Do you see it?  So naturally, she always gets the question, "Do you pronounce it Ashley or Ash-e-ley?"  And her answer is always indifferent.  Either way.  It doesn't matter.  You can call me whatever.  I avoid this conundrum all together and affectionally just call her hun.  It's easier that way.
So feel free to call this popular Mexican condiment whatever you wish.  I just wouldn't recommend "hun".  That would be weird. This is the best Simple Pico de Gallo Recipe I have been able to make.
I know pico de gallo is barely a "recipe".  I'm with you.
But I do think there is a general misconception that sometimes results in a subpar finished product.  I know because it used to happen to  me... all the time.
I always thought pico de gallo was all about the tomatoes, with a supporting cast of a tiny bit of onion, jalapeño, cilantro, and lime.  And my pico de gallo was always totally lame.
(And disclaimer: Some people don't add lime, but I like lime.  So I add it.  And that's that.)
But then I read somewhere that pico de gallo is not all about the tomato.  All the ingredients should be on equal footing, all sharing the spotlight.  And pico de gallo victory was mine.
Of course it's great with a big bowl of tortilla chips.  I'm always a fan of chips and dip.  You already know that.  But pico de gallo is also the perfect condiment for burritos, tacos, fajitas, nachos, and the like.
You'll see I'll be adding it to the burrito bowl I'm bringing to you within the next day or two 🙂
Print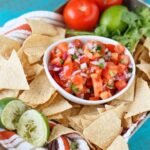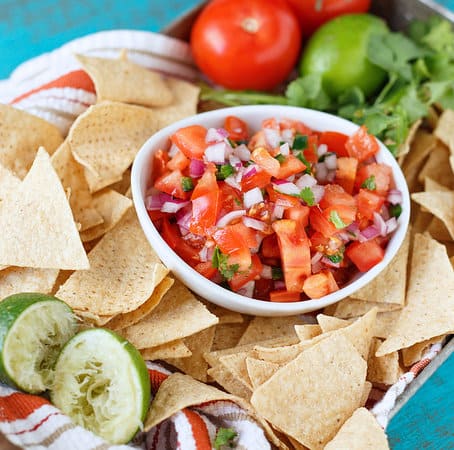 Simple Pico de Gallo Recipe
---
3

small-ish vine-ripened or plum tomatoes, diced

½

medium red onion, finely diced

1

jalapeño, seeded and minced*

1

lime, juiced
Cilantro, finely chopped
Kosher salt
*if you prefer a spicier salsa, leave the seeds in.
---
Instructions
Soak the finely diced red onion in a small bowl of ice water for 10-15 minutes. This will remove the strong "bite" from the onions and mellow them out a bit.
Combine tomatoes, jalapeño, and onion in a small mixing bowl. Add the juice of ½ the lime (to encourage it to release its juices, roll your lime back and forth under the heel of your hand on the countertop using medium pressure for a few seconds).
Finely chop a good handful of cilantro leaves and stir into the pico de gallo. Season with a pinch of Kosher salt. Taste and add the juice of the other ½ of lime if needed. (Personally, I love lime, so I always just add the juice from the entire lime in the first place).
Let sit for at least thirty minutes or up to a couple of hours so that the flavors get a chance to meld. You can cover and refrigerate for a day or two, but the tomatoes start to break down at that point and it gets a bit watery.