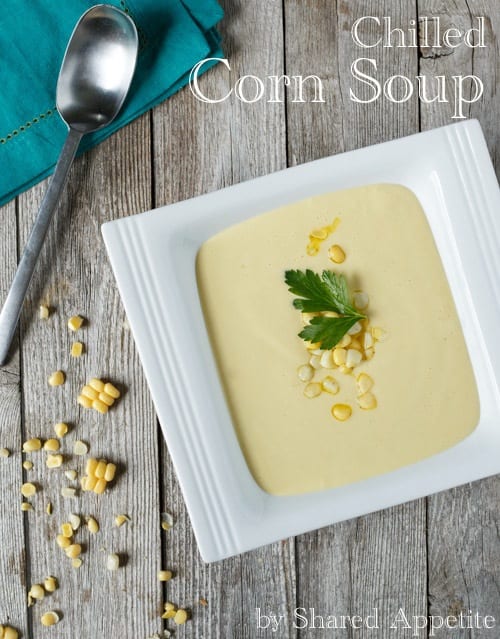 Another corn recipe? No, no, you're saying it all wrong. It should be, another corn recipe! That's much better, thanks 🙂
You know when you bite into a piece of perfect corn on the cob. Like, it tastes like everything corn wants to be, should be, and yearns to be. Corn so amazing that you almost are afraid to eat it again because it will probably just disappoint and pale in comparison?
This chilled sweet corn soup tastes like that corn perfection. It's basically corn flavor overload in a bowl, which as you probably know by now, makes my tastebuds quite happy.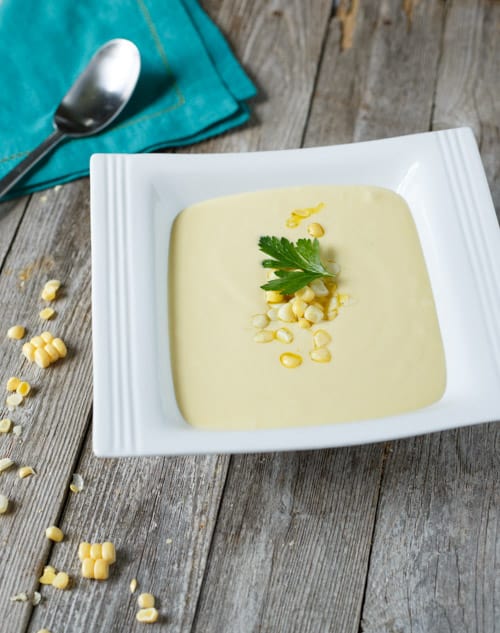 So I guess you could probably also call this chilled soup a corn gazpacho. It's pretty terrific on a hot day as an appetizer to cool you down. I recently served it up as a first course when our friends Matt and Caitlin came over to the house. And what made it extra simple... I made it the day before. Just scoop and serve 🙂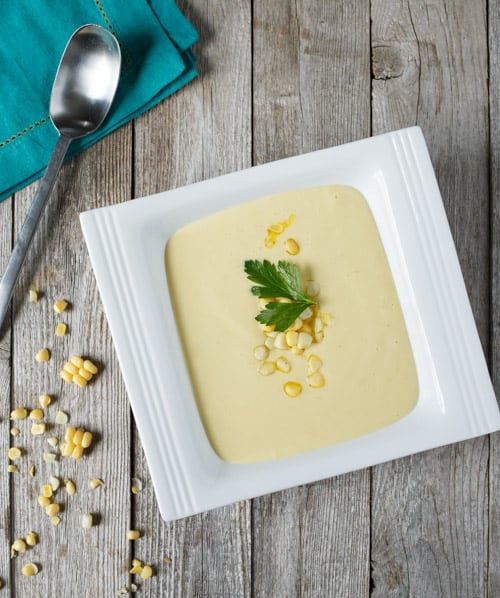 And if you are a fan of this recipe, I highly recommend you getting your hands on Secrets of the Best Chefs
by Adam Roberts (also known as fellow food blogger The Amateur Gourmet). He traveled around the U.S. hanging out with some top notch chefs, learning their tips, tricks, and recipes like this one. It's a really cool book.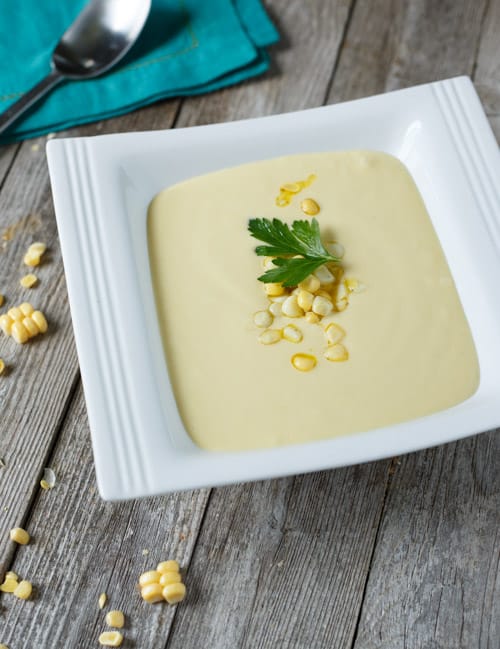 Print
10

ears fresh sweet corn, husk and silk removed
Splash of extra virgin olive oil
Kosher salt
Freshly ground pepper

1

Lime, juiced
---
Instructions
Cut kernels off the cob. Reserve about 1 cup of kernels and place the rest of the kernels in the blender. Using the back of a knife, scrape down all the cobs to release its milk and other clingy bits. Add to blender.
Blend corn with just enough water (I used about a ½ cup) so the mixture resembles a wet smoothie. Strain all the liquid mixture through a fine mesh strainer into a pot, using a rubber spatula or spoon to press all the liquid through strainer.
Rinse blender. Bring corn liquid to a boil over medium heat, stirring frequently. Allow to come to a full boil and cook for about a minute more, until it looks like a soft custard. Transfer mixture to blender.
Blend for 1 minute, being careful to hold the top on the blender very firmly (the steam will try hard to blow the top off the blender). Add a splash of olive oil and season generously with Kosher salt and a small pinch of freshly ground pepper. Blend and taste, adjusting seasonings as needed.
Let cool and then refrigerate until ready to serve, up to 3 days ahead of time.
Meanwhile, bring a small pot of salted water to a boil over high heat and add the 1 cup of reserved corn kernels. Boil for 3-4 minutes, until the starch is cooked out but the kernels are still firm. Drain kernels, allow to cool, and toss with lime juice, a splash of olive oil, and season with salt and pepper.
Divide soup among bowls and garnish with a spoonful of the corn kernel mixture.